How Democrats Could Take Back the Senate – and What It Would Mean for Israel
Republicans are under pressure in 11 Senate races, and five Democratic victories would be enough to flip the chamber for the first time since 2014. These are the key races to follow
Democratic senatorial candidate Sara Gideon speaking to people near a polling station, July 14, 2020, in Portland, Maine.
Credit: Elise Amendola/AP
The presidential race between Donald Trump and Joe Biden is drawing most attention in the U.S. media right now. But the fight for control of the Senate in November's elections is just as important and fascinating as the battle for the White House.
Republicans currently hold a 53-47 majority in the upper chamber, but Democrats are in striking distance of having a Senate majority for the first time since 2014.
Thirteen of this year's 35 senatorial contests are considered competitive, and in only two of them are the incumbents Democrats: Alabama, where Sen. Doug Jones is facing an uphill battle to protect a seat he won against all odds in 2017; and Michigan, where Sen. Gary Peters has a lead in the polls over his Republican challenger John James, despite the fact Trump narrowly won the state in 2016.
The other 11 competitive seats are currently held by Republicans, which means that if Jones loses in Alabama (as expected), the Democrats will need to win four or five Republican-held seats in order to gain a majority. Four will be enough if Biden wins the presidential election and Kamala Harris, in her new role as vice president, would get to cast a tie-breaking vote. Five will be required if Trump wins a second term.
Veteran pollster and political consultant Mark Mellman, who heads the Democratic Majority for Israel organization that's working to ensure the party remains pro-Israel, told Haaretz that he believes Democrats retaking the Senate is a "realistic possibility" this year. When it comes to Israel, he said, that would be good news: most Democratic senators are "very strongly pro-Israel, and the new people to come share those views."
Mellman added that a strong supporter of Israel, Sen. Chuck Schumer of New York, is almost certain to become Senate majority leader if the Democrats flip the chamber.
But while fighting to secure a Senate majority, Democrats now also face a new battle: for the Supreme Court, following the death of Justice Ruth Bader Ginsburg on the eve of Rosh Hashanah. Over the weekend, Trump nominated conservative legal scholar Amy Coney Barrett to replace Ginsburg, and most Republican incumbents up for reelection are planning to vote in favor of the appointment before the November 3 elections.
Speaking to Haaretz, author and political commentator Prof. John Pitney said that while "conventional wisdom says a Supreme Court battle favors Republicans, that may not be the case this time."
Pitney noted that once the court has a 6-3 conservative majority, it's very likely that this majority will rule to overturn Roe v. Wade – the famous 1973 ruling that effectively legalized abortion across the United States.
The fear of Roe being overturned, Pitney noted, "resulted in a record surge in Democratic fundraising" following Ginsburg's death. Democratic Senate candidates in battleground after battleground received millions of dollars in donations, giving them a critical cash advantage over their GOP opponents.
A conservative majority on the Supreme Court would also be expected to rule in favor of the Trump administration and Republican governors' lawsuit that calls to cancel the Affordable Care Act (Obama Care), leaving millions of Americans with pre-existing health conditions without medical coverage.
Here are some of the key races that will determine who controls the Senate in 2021.
Arizona
Arizona is the most likely pickup for the Democrats, Pitney said. The incumbent, retired Air Force pilot Sen. Martha McSally, 54, is running far behind retired naval pilot and astronaut Mark Kelly in most opinion polls. For those looking for an Israeli connection, Kelly was stationed in Houston with the Israeli astronaut Ilan Ramon, who died in the space shuttle Columbia disaster in 2003.
Mellman told Haaretz that Kelly is "a strong pro-Israel Democrat," adding that the former astronaut traveled to Israel just months before announcing his Senate run with his Jewish wife, former Congresswoman Gabby Giffords – who suffered a serious brain injury after being wounded during a mass shooting incident in 2011.
McSally already ran for the Senate in 2018, narrowly losing to the Democrats' Kyrsten Sinema. She was then appointed to Arizona's other Senate seat after the death of Republican incumbent Sen. John McCain in August 2018.
Pitney pointed out that senators who were appointed rather than elected for office usually have a "bad track record" when it comes to winning on their own. In his politics classes this semester, he added, he has begun referring to her as "Martha dead meat McSally."
Colorado
Colorado is considered another state where Democrats have the better odds. The incumbent senator, Cory Gardner, is serving his first term in the Senate and most analysts believe it will also be his last. His opponent is former Colorado Gov. John Hickenlooper. Gardner is the last Republican holding statewide office in Colorado, which was once considered a swing state but has voted consistently for the Democrats in most elections since 2008.
Hillary Clinton won Colorado by five percentage points in 2016 (48 percent to Trump's 43 percent), and Democrats also had a strong showing in the 2018 midterms. Like McSally, Gardner is a vulnerable Republican who has vowed to support Trump's Supreme Court pick even before the election.
Mellman said that Hickenlooper, who briefly ran for the Democratic presidential nomination last year, is in a strong position to win. He noted that the former governor was "very supportive of Israel during the Democratic presidential primaries, condemning Gaza rocket fire on Israel during the summer" of 2019.
Maine
Susan Collins is the last Republican senator in the entire geographic region of New England, and most analysts think she will no longer hold that title after November. University of Maine Prof. Amy Fried told Haaretz that in recent polling, a quarter of Collins' previous supporters seem to be abandoning her.
The political scientist noted that throughout Collins' long career, the 67-year-old has been very popular in Maine, reelected in 2014 with 69 percent of the vote – in a state that favors leaders with more independent and centrist positions. Her approval rating today hovers in the low 40s.
Fried explained that Collins had regularly drawn support from labor unions, LGBT organizations and environmental groups, but her support among the 40 percent of Democrats and 66 percent of women who voted for her in 2014 is tanking. This is most likely due to her vote to confirm Brett Kavanaugh's Supreme Court nomination in 2018 and her support of Trump's tax policy.
Mellman said that Collins' opponent, Speaker of the Maine House of Representatives Sara Gideon, was endorsed by Democratic Majority for Israel in the primary, where she defeated an "anti-Israel" candidate.
Gideon's sister is author Melanie Gideon. In her 2009 memoir "The Slippery Year: A Meditation on Happily Ever After," she recounted that Sara had made a deal with her Jewish husband to convert to Judaism in return for him taking her last name. "He followed through on his part of the bargain," Melanie Gideon wrote, "but seeing as they hosted Christmas at their house last year, I'm not so sure she's holding up on hers."
Georgia
Georgia was considered a Republican stronghold in most recent elections, but things changed in 2018 when Democrats flipped a competitive House district in the Atlanta suburbs and only narrowly lost the gubernatorial race.
This year, the state has two Senate elections: one of them a "regular" election, the other a special election to replace retired Sen. Johnny Isakson. Polling shows both races to be very competitive, with the Republicans holding a slight edge.
In the "regular" election, Republican Sen. David Perdue, 70, is seeking a second term against 33-year-old Jewish media executive Jon Ossoff.
The latter is well-known in the state following a narrow failure to win a House of Representatives special election in 2017, and has been polling within the margin of error since July. Ossoff has been endorsed by JSTREET PAC, which is affiliated with the left-wing Jewish groups that is fighting for a two-state solution.
The format is different in the special election: First, there's a "jungle primary" in which several candidates from both parties compete. The top two candidates, no matter from which party, will then compete against each other in a runoff in January.
The incumbent, Sen. Kelly Loeffler, was appointed to the seat by the Republican governor in January. Her main competitor in the primary stage is Republican Congressman Doug Collins, who is seen as the preferred candidate by Trump.
Collins' first reaction to the death of Justice Ginsburg was a tweet about "the more than 30 million innocent babies that have been murdered during the decades that Ruth Bader Ginsburg defended pro-abortion laws."
Democrats may squirm at the thought of Collins being responsible for future Supreme Court appointments, but a split among Democratic voters is currently Collins' best hope of being elected. That's because the leading Democratic candidate, Pastor Raphael Warnock, is in a tight competition with Collins for the second ticket for the runoff election.
Warnock's problem is that a small but significant number of Democrats are planning to vote for Matt Lieberman, the son of former Connecticut Sen. Joe Lieberman. Lieberman Jr., running in fourth place, has only a slim chance of making it to the runoff, but does have a good chance of playing the role of spoiler – thus ensuring it would be the two Republicans competing in January.
Iowa, North Carolina and Montana
These are three conservative-leaning states Trump won in 2016 but in which Democrats, for unique reasons, are very competitive this year.
In Montana, their candidate against incumbent Republican Sen. Steve Daines is the outgoing Democratic Gov. Steve Bullock, who has demonstrated cross-over appeal throughout his political career, regularly receiving a high number of votes from Republicans. Despite Trump's strong support in Montana, the state's other senator, Democrat Jon Tester, won reelection in the 2018 midterms.
Pitney said it will be a very close race, as "Bullock often polls within the margin of error." Furthermore, since the Green Party's candidate was removed from the ballot in a court decision, "Bullock has a chance of squeaking it out." Bullock has spoken out against the idea of cutting or conditioning military aid to Israel, stating that it would harm U.S. national security.
In North Carolina, a state that's also very competitive in the presidential election, incumbent Republican Thom Tillis is facing a tough challenge from Cal Cunningham, a retired U.S. Army lieutenant colonel who's running a centrist campaign with bipartisan appeal. Most polls show Tillis lagging behind Trump's level of support in the state, but the Republican is hoping that the Supreme Court appointment will help him solidify conservative support in this key Bible Belt state.
Pitney explained that North Carolina today is a Southern state "with a large and growing suburban, educated population with metro areas demographically more like California than the South." RealClearPolitics' average of the latest polling has Cunningham with a four-point lead. Cuningham said earlier this year that he opposes unilateral settlement annexation by Israel, and favors a return to negotiations that should lead to a two-state solution.
In Iowa, Republican Sen. Joni Ernst is in trouble as the economy and trade there are major issues dragging her down. Pitney told Haaretz that Iowa "is a state where free trade is actually popular," and Trump's trade wars with China have taken a major toll on the state's economy.
The latest Des Moines Register poll has Ernst's opponent, Theresa Greenfield, up by three points and Biden and Trump tied in the state – which Trump won by a whopping nine points in 2016. Greenfiled released a statement on annexation earlier this year, saying that "As a strong supporter of Israel and the mother of a son in the U.S. Army, I am strongly in favor of a two-state solution that would provide peace and security for Israelis and Palestinians, and promote stability throughout the region. I cannot support one-sided efforts to annex the West Bank that will only set us back from this critical goal."
The Israel issue
Races in South Carolina, Kansas and Alaska are additional possible pickups that could give the Democrats the majority and elevate New Jersey Sen. Bob Menendez to become chairman of the Senate Foreign Relations Committee.
Mellman told Haaretz that Menendez, a strong ally of the American Israel Public Affairs Committee and a regular speaker at the lobby group's Policy Conference, is "very pro-Israel" and in line with both Biden and Schumer on specific issues. Menendez is against Israeli annexation of the West Bank, as is Biden, while being a strong advocate for U.S. support of Israeli security – including opposing any additional conditions to U.S. military aid to Israel.
Additionally, both Menendez and Schumer were against then-President Barack Obama's landmark nuclear deal with Iran, being two of the four Democratic senators voting to disapprove the deal in 2015.
A Democratic Senate majority with Schumer in the leadership position and Menendez chairing the Foreign Realtions Committee would very likely continue to promote and support U.S. military aid to Israel, despite calls from Senator Bernie Sanders and others on the left to place conditions on such aid. Biden has called Sanders' position on the issue "outrageous."
On Iran, a Democratic Senate majority would probably support Biden's stated policy of recomitting to the Iran nuclear deal, while expanding its scope to also cover issues that were not part of the original deal, including Iran's ballistic missile program.
The states that will decide which party holds the majority, except for Colorado, are all relatively more right-leaning than the U.S. as a whole, which means that the Democratic candidates trying to win these seats are not likely to adopt the positions of the Sanders-led wing on many issues, including Israel. If they get to become part of a Senate majority, these candidates will likely adopt a policy closer to Biden's pro-Israeli line than to Sanders' calls for conditoning aid. But before they get to formulate such policies, first of all they must win their contests in November.
Click the alert icon to follow topics:
ICYMI
Ken Burns' Brilliant 'The U.S. and the Holocaust' Has Only One Problem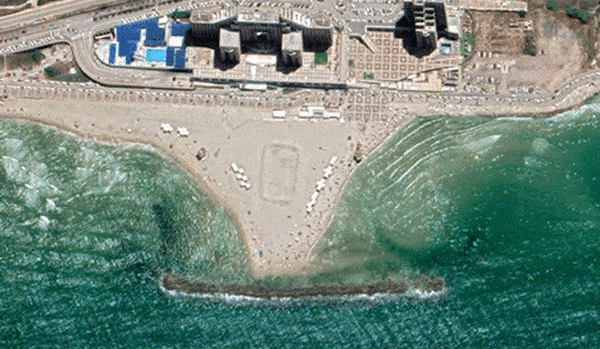 Facing Rapid Rise in Sea Levels, Israel Could Lose Large Parts of Its Coastline by 2050
Lapid to Haaretz: 'I Have Learned to Respect the Left'
The Mossad's Fateful 48 Hours Before the Yom Kippur War
As Israel Reins in Its Cyberarms Industry, an Ex-intel Officer Is Building a New Empire
How the Queen's Death Changes British Jewry's Most Distinctive Prayer