Opinion |
Inside the Jewish Fundamentalists' Joyous, Deadly Strategy for COVID-19
Praying as usual, playing with death: Ultra-Orthodox Jews will shape the Jewish future. That's why their response to coronavirus is our problem too
Young ultra-Orthodox men in a Jerusalem neighborhood. 5 July 2020
Credit: Ohad Zwigenberg
I spent half an hour on the first day of 5781 in the ultra-Orthodox Jerusalem neighborhoods of Mea Shearim and Bet Yisrael. I had set out to simply establish the fact that despite the government's detailed guidelines on how to conduct High Holiday prayers, in the strongholds of the Eda Haredit they were going about their festive business without taking heed of COVID-19 precautions.
Sadly, that was the case. The shuls of the hardcore Hassidic sects which make up the community that opposes any formal cooperation with the secular Zionist state were packed with men and boys. There were no "capsules" or even bubbles of polystyrene sheeting. And the police, despite being stationed very near by on the invisible border with Palestinian east Jerusalem had no thought of intervening.
It was complete Haredi autonomy in which the only rule was that of the rabbis who edicts blared out from posters on the wall, to worship God this Rosh Hashana just "like every year."
How could they be conducting themselves this way? They've suffered more deaths from coronavirus than any other community. They all know someone whose died. Don't they want to protect themselves and their elderly parents? Did I mention that no-one (besides myself) was wearing a face-mask, and everyone was smiling? I could literally feel their joy of the chag on the narrow streets.
Of course, the Eda Haredit are by no means a majority among the ultra-Orthodox. They're less than ten percent of Haredim. Their defiance against any outside imposition is what gives their existence meaning.
But a large proportion of other ultra-Orthodox groups, in particular other Hassidic courts, have also been flouting the pandemic prohibitions on gathering in crowds in synagogues for months now, and on Rosh Hashana as well. Not only in Israel. Similar scenes exist in New York and elsewhere. And the infection levels in these neighborhoods are correspondingly higher.
2020, the year of the pandemic is almost three-quarters over, but since we have our own Jewish calendar and new year, we can already do some reckoning. The original shock of the arrival of the mysterious virus has worn off and most of us have found a way of adapting to life with it, at least until a vaccine is developed and deployed.
In large parts of the Haredi autonomy, they haven't adapted, but instead, chosen to ignore it. Whatever the price in lives and in the additional workload to an already strained health system, which they don't maintain and barely pay for, some of the rabbis at least have decided that continuing their isolated existence, unchanged, is more important.
This should concern us, and not just because ultimately, we share with them the limited number of ICU beds available and the increasingly divided attention of medical teams.
We need to spend a lot more time thinking about the ultra-Orthodox communities, in Israel, the United States and other countries where they live in significant numbers, because they represent our future. Not just because of their numbers and the demographic trends that could conceivably make them in a generation or two a majority of all Jews (though this is by no means certain to happen).
But because at some point, some of them at least will want to be part of the wider Jewish commonwealth. The days in which Haredi Jews in the Diaspora could be ignored and in Israel, bought off, are passing. It goes way beyond a few hours of vicarious interest while bingeing on Netflix shows like Shtisel and Unorthodox. What is happening in their lives concerns us.
The post-Holocaust period of Haredi separatism, during which their representatives rarely tried to be part of the organizations representing the majority of Jews is nearly over.
In Israel, the ultra-Orthodox politicians are increasingly involved in matters that do not just concern their own constituents, as they used to be in the past.
The old-school Haredi establishment still has no part in the large national, continental and international Jewish congresses, but that is starting to change as well. In last year's elections for the World Zionist Congress, two parties that identify with Shas and its Sephardi brand of ultra-Orthodoxy ran and won a few seats.
Both on an organizational and a personal level, anyone involved in Jewish life will have to contend with the Haredim. Either in the shape of those trying to be part of the mainstream while maintaining their ultra-Orthodox lifestyle, or the many thousands who are increasingly leaving the fold and taking the first failing steps in a new world without the support of their community and its certainties.
In one way or another, either as members of the Haredi collective or as ex-Haredim, today's generation of young ultra-Orthodox men and women will demand to be counted.
Since the rest of us non-Haredi Jews will not be spending this Yom Kippur in our synagogues, which are dutifully closed by the pandemic, here are a few things to contemplate.
Do we really have within us the openness and tolerance to share space with Haredim? What do we have to offer as alternative to those who have left their Haredi life but still yearn for a Jewish identity and belonging? And how confident are we of that identity? Can it stand up to the unyielding nature of Jewish fundamentalism?
Today's Haredi leadership in Israel is less prepared to compromise on the "public space," whether it's allowing businesses and services to operate on Shabbat or the encroaching attempts to segregate and force women off the public stage.
Their growing parliamentary power and the reliance of the Netanyahu government on his ultra-Orthodox allies has increased the appetite of a new group of Haredi politicians, emboldened by like-minded partners from the more fanatic wing of the national-religious community.
The old guard, who knew not to push things too far, can no longer make quiet deals behind the scenes with the secular parties. Now everything gets out on Haredi websites, that unlike the old newspapers, are not regulated by rabbinical committees.
But the web goes both ways. While it has hardened the official positions, it has opened up many thousands of Haredi individuals to the outside world and is slowly eroding the ghetto walls.
These trends were already in place before COVID-19, but the frustration at the self-imposed isolation and poverty which was simmering, could well be sent into hyperdrive, as many realize that the rabbis and their politicians were playing with the lives of an entire community.
Many young and less-young Haredim can, off the record, be quite frank about their leaders' failings. And then they'll add, "But what's out there for us." It's not just the lack of nearly any infrastructure for education and social support for those exiting the Haredi world. It's the absence of a compelling Jewish life and identity, of that simple joy in the tradition, which is keeping many from leaving.
The Haredim have a strategy for dealing with the plague. Change nothing. It may cost more lives in the short-term, but once this is finally over, they will have preserved their institutions and communal framework. They they believe that birth-rates will make up for the losses, just it has since the Holocaust and one day the autonomy will become a majority.
It's a strategy that relies on the continuing blind belief of young men and women in feeble aging leaders who have less and less connection to the world they live in, but at least they have a strategy. No-one else does.
Click the alert icon to follow topics:
ICYMI
Ken Burns' Brilliant 'The U.S. and the Holocaust' Has Only One Problem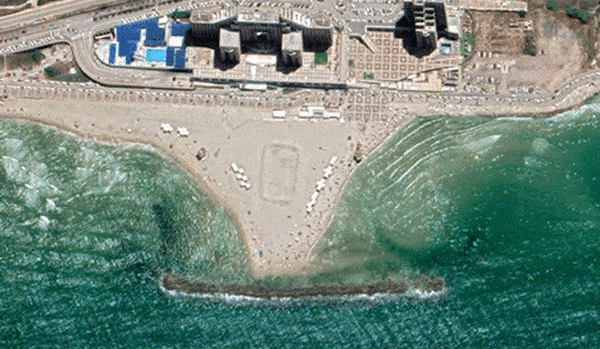 Facing Rapid Rise in Sea Levels, Israel Could Lose Large Parts of Its Coastline by 2050
As Israel Reins in Its Cyberarms Industry, an Ex-intel Officer Is Building a New Empire
How the Queen's Death Changes British Jewry's Most Distinctive Prayer
Chile Community Leaders 'Horrified' by Treatment of Israeli Envoy
Over 120 Countries, but Never Israel: Queen Elizabeth II's Unofficial Boycott