Young Israelis Are Finally Taking to the Streets. Here's What's Driving Them
As the coronavirus ravages the Israeli economy and job prospects wither, young Israelis are waking up to a new reality – and they're holding one man responsible
A young demonstrator standing in front a line of Israeli police officers during a protest against Prime Minister Benjamin Netanyahu in Jerusalem, July 18, 2020.
Credit: Oded Balilty/AP
For nearly four years, Amir Haskel would stand at key intersections around Israel, holding up signs demanding Prime Minister Benjamin Netanyahu's resignation. Sometimes, a handful of protesters – mostly in their sixties and seventies – would join the retired air force brigadier general. For the most part, though, it was a one-man protest movement.
Try as he might, Haskel failed to interest young Israelis in his crusade against the nation's longtime leader. As he lamented in an interview with Haaretz last December, "They're terribly apathetic."
No longer. Over the past week, thousands of young Israelis have taken to the streets of Jerusalem and Tel Aviv to protest the government's handling of the coronavirus pandemic and to demand that Netanyahu step down. The protests have been loud and lively, spilled out from city squares into the streets, and in some instances culminated in clashes with police and arrests.
Following his highly publicized arrest during a small, peaceful demonstration last month, Haskel, 66, has emerged as a leader of this rapidly growing protest movement.
Two Saturday nights ago, by his account, young Israelis made up about 25 percent of those protesting outside the prime minister's residence in Jerusalem. By last Tuesday, when another big protest was held at the site, they accounted for about half the crowd. This past Saturday, they were the overwhelming majority.
To Haskel, it's clear what's bringing young Israeli out in droves. "The coronavirus is definitely a factor," he says. "Young people, by nature, don't like to be locked up at home. They don't like to wear masks. They don't like to be told what to do. And they like their freedom. Many of those fresh out of the army would either be traveling abroad now or working, were it not for the pandemic. Today, they can't travel and there are no jobs out there. But instead of taking care of them, their government is busy fighting for special tax allowances for the prime minister."
Haskel is happy to share the limelight these days. "The success of a movement like ours depends on getting out the masses," he says. "These young people are key to that."
No safety net
The young protesters don't yet have their own leaders or a real agenda. The main reason they're taking to the streets is that, for the first time in a long while, they fear for their future.
"This was a generation that up until a few months ago saw open doors everywhere," says Roby Nathanson, director of the Tel Aviv-based Macro Center for Political Economics. "They had their pick of employment and educational opportunities, and they were free to travel around the world. When the pandemic struck, all this blew up in their faces, and they understood that they're going to have to pay a heavy price for what's going on."
Unlike previous generations of Israeli workers, who tended to be unionized, these young Israelis are for the most part self-employed and freelancers with little, if any, safety net. "Many of them are not even eligible for unemployment pay," notes Nathanson, who has conducted numerous studies on young Israelis.
Many have also taken to the streets, as the signs they hold attest, to protest what they perceive as the growing "disconnect" of the government from the people. That disconnect, they say, is evident in the decision to set up a bloated government – with dozens of ministers and deputy ministers, many with little substance in their portfolios – at a time when unemployment has been running rampant, and many Israelis can barely pay their rent or buy groceries.
That disconnect, they say, is also evident in the excessive amount of time and energy spent by the government on the issue of West Bank annexation, while disregarding the urgent need for a strategy that might have prevented a second wave of the pandemic.
Amit Ribak, 17, belongs to a small minority of young Israelis whose main motivation for hitting the streets is fierce opposition to any form of annexation. (July 1 was Netanyahu's target date for moving forward with plans to "extend sovereignty" to the West Bank, but that date has come and gone with no course of action announced.)
"I understood that this could have a huge impact on me, as someone who is about to enlist in the army, as well as on the entire future of the country, and I felt it was my responsibility to do what I could to block this," says Ribak, who lives in Haifa. He recently became active in Darkenu, a grassroots movement that describes itself as representing the "moderate majority" in Israel and supports the establishment of an independent Palestinian state alongside Israel.
Ribak, who completed his high school graduation exams last week, recently attended a large demonstration in Tel Aviv's Rabin Square to protest the annexation plan as well as the government's handling of the coronavirus crisis. "Unlike previous protests I'd attended, this one seemed to have many more young people," he reports.
Perfect timing
As part of his growing political activism, Ribak also regularly joins what have come to be known as anti-government "black flag" protests, held every Saturday evening on highway bridges across the country.
"I have to say, I'm amazed and thrilled to see many of my friends also becoming active in recent days," he says. "They've been publishing posts on Instagram attacking the government – and I'm talking about kids who up until a few weeks ago could have cared less about such things. I really believe that the young generation is starting to wake up, and it's because they feel they have the ability to bring about change. Otherwise, they wouldn't be wasting their time."
Along with ideologues like Ribak, there are also young Israelis out in the streets because, well, there's little else to do these days. "The cafés and the clubs are closed, but there's lots of action in the streets," as Haskel notes.
The timing for such protests has also been ideal, says Tamar Hermann, director of the Guttman Center for Public Opinion and Policy Research at the Jerusalem-based Israel Democracy Institute.
"It's summer, people have free time, they're outside and the weather is good," she says. "Let's not forget that it was exactly this time of year in 2011 that the big social protests broke out. Those were also protests dominated by young people."
The social protests of 2011, which drew nearly half a million participants at their peak, erupted over the rising cost of living. As is the case with the current protests, Hermann notes, most of those participating in the movement nine years ago were motivated more by concerns about their bank accounts than by lofty ideological principles.
"I don't mean to sound judgmental, but most of the young people protesting in recent weeks are those who lost their jobs as waiters or lost their small businesses," she says. "Still, most of the protest movements in the world that have succeeded began this way."
Former Labor Party lawmaker Stav Shaffir, one of the leaders of the social protests nine years ago, isn't surprised that young Israelis are coming out in force again. "Most revolutions around the world have started with young people," she says. "Maybe the reason it took so long to get them out again is that most young people in Israel today don't know any other leader besides Netanyahu. They were born either after or shortly before the assassination of Yitzhak Rabin [in 1995] and don't really know anything else. What's bringing them out to the streets is that they suddenly feel that they're being strangled and losing their freedom, and that's there's no alternative if they want to fight back."
Leading by example
Dean Salzberger, 25, remembers attending the 2011 social protests with his parents as a teenager. "I've been to many protests since then but they were a lot quieter," he says. Last Tuesday, he was among the thousands attending the protest outside the prime minister's residence. "Suddenly, the energy, the anger and the hope that I saw in people's eyes – it reminded me of the 2011 protests," he recounts.
Having grown up knowing only one prime minister for most of their lives, he says, many of his peers have grown cynical about politics. "Rather than go out and protest, they've channeled their ideals into educational work," says Salzberger, who will be studying law in the fall. "They became youth movement leaders, they did a year of community service before joining the army, and they did community service while in the army. But what I've noticed in recent weeks is that many of my friends are starting to rediscover the power of the streets."
Anxiety about their economic future has been a key trigger, he says, but so has anger at the political leadership.
"Here in Israel, we take on leadership roles at a relatively young age, whether in the youth movement or in the army, and we're constantly told that leadership is about setting a personal example," Salzberger says. "Looking at Netanyahu, not only is there no personal example being set, but he is actually trying to destroy all our democratic institutions."
Unlike many of the young Israelis standing shoulder to shoulder outside the prime minister's home this past week, Tamar Schneck, 30, regularly participates in demonstrations and has been active in left-wing causes since she moved to Israel from Maryland five years ago. "It's been really nice seeing more and more young people come out, because generally it's a much older crowd," says Schneck, who suffered a concussion at last week's protest when she was thrown to the ground after taking a direct hit from a water cannon.
Schneck, a third year law student, says her fear that "Netanyahu is taking advantage of the coronavirus emergency to grab more power and avoid trial" brought her out to the streets in recent weeks.
Darkenu CEO Yaya Fink says there's a growing sense among young Israelis that "the basic contract between the state and its citizens has been broken. These are young people who feel the country they love, the country they've given so much to, is not fulfilling its side of the contract and is not giving them any reason for hope," he says. "This, I believe, is what these protests are about."
'Something in the air'
Last Tuesday was the first time Natan Ginzburg, 29, ever attended an anti-Netanyahu protest. "I felt that I couldn't not go any longer," he explains.
For Ginzburg, who studies jazz at the Jerusalem Academy of Music and Dance, joining protesters outside Netanyahu's home would have been unthinkable growing up: he was raised in a religious home in a West Bank settlement. "But I'm glad I went," he says. "There was something special in the air, and I will definitely be back. I, for one, believe this movement will grow."
In recent weeks, protesters have gathered outside the prime minister's home every Friday afternoon for a so-called "Shabbat welcoming" event. Last week, a student named Itay was called to the podium to deliver remarks on behalf of the growing number of young demonstrators in attendance.
Until a few weeks ago, Itay told the crowd, he couldn't understand why Israelis would spend their time protesting. But then he happened to see footage of the protests taking place outside the Jerusalem courthouse where Haskel was taken after his arrest. "Suddenly I understood that we've reached the stage of political detentions in Israel," he said. "Political detentions aren't a red light – they're a red projector." Since then, he has attended every single protest.
The ultimate goal of many of the protesters is to bring down Netanyahu. Nathanson is not sure they'll succeed.
"If things in the country get worse, this movement will probably gain more steam," he says. "But if Netanyahu decides to start handing out money left and right, that will probably quiet everything down. And let's not forget that there's no real political alternative at the moment."
Hermann concurs. "It's really hard to predict at this point where this will all lead," she says, "but I don't see this leading to a revolution. Netanyahu can easily stop everything in its tracks if he chooses to by throwing money at the protesters. If that happens and if jobs start opening again, many of these protesters will pack up and go home."
Click the alert icon to follow topics:
ICYMI
Ken Burns' Brilliant 'The U.S. and the Holocaust' Has Only One Problem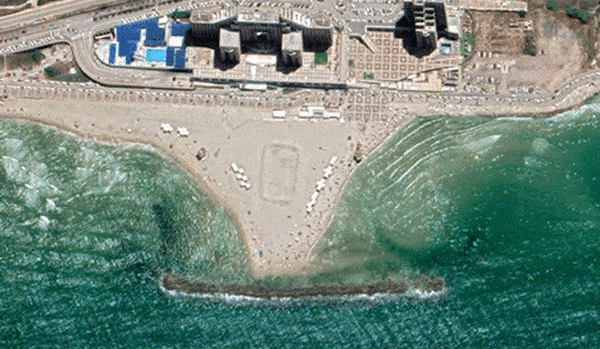 Facing Rapid Rise in Sea Levels, Israel Could Lose Large Parts of Its Coastline by 2050
Lapid to Haaretz: 'I Have Learned to Respect the Left'
The Mossad's Fateful 48 Hours Before the Yom Kippur War
As Israel Reins in Its Cyberarms Industry, an Ex-intel Officer Is Building a New Empire
How the Queen's Death Changes British Jewry's Most Distinctive Prayer