Attorney General Orders Prosecutor to Speed Up Evidentiary Phase of Netanyahu Trial
Netanyahu's lawyers likely to seize any argument they can find to delay the stage in his corruption trial as long as possible
Prime Minister Benjamin Netanyahu at a government meeting at the Foreign Ministry in Jerusalem, July 5, 2020.
Credit: Amit Shabi
Even in recent months, with the coronavirus crisis raging, Benjamin Netanyahu found the time to hold lengthy discussions with jurists and advisers ahead of the next stage of his trial. The three cases in which he's been indicted are always uppermost in his mind, and his fantasy of blocking legal procedures through political power has not been dispelled.
When he set up the emergency cabinet with Benny Gantz, people who know him well said that for him this coalition is but a way station, and that at an opportune moment he would dissolve the Knesset and call another election, after which he would establish a narrow right-wing government with the support of Haredi parties. This will allow him to pass the so-called "French law," which would proscribe the prosecution of an incumbent prime minister, as well as legislation allowing the Knesset to overrule a Supreme Court decision, which would remove the High Court of Justice as an obstacle. The man accusing jurists of an attempt to wage a coup was planning a counter-coup.
However, his failure in managing the second wave of the coronavirus pandemic and the ensuing economic collapse have disrupted his plans, reducing his room to maneuver. When dark clouds cover the sky, it's hard to market yourself as an exceptional genius who has on his own prevented the skies from falling, or as someone who has fallen victim to a dark conspiracy of corrupt jurists. It's even more difficult to drag the country into a fourth election in two years and into another vicious campaign against law enforcement authorities. On the backdrop of these crumbling props, no more attention has been paid to a campaign of delegitimization which Netanyahu viewed as a strategic weapon. Any moves he makes in the interest of his personal survival will be perceived as selfish and disengaged at this point. This is the reason why the heavy barrages against Attorney General Avichai Mendelblit delivered on his behalf in the past, have dwindled of late.
Mendelblit attributes great importance to the second hearing in Netanyahu's trial, scheduled to begin on Sunday in Jerusalem District Court. He has assigned prosecutor Liat Ben-Ari one clear objective, to insist that the date for opening the hearing of evidence be determined as soon as possible. According to Mendelblit, there is no reason that testimony in this fateful trial, the most talked-about one of the past decade, cannot start being heard within three or four months. He is interested in marathon sessions, holding four sessions a week, until the court reaches a decision about whether Netanyahu, Arnon Mozes and Shaul and Iris Elovitch are innocent or guilty as charged.
Ostensibly, a rapid trial is in Netanyahu's interest as well. If he truly believes the cases against him were concocted by a "deep-state" clique which blackmailed the attorney general, it would seem that he would seek to rapidly expose this tumor lurking within the legal system. However, it is doubtful that he'll instruct his lawyers to speed up the process. It's more likely that they will seize any argument they can find to delay the presentation of evidence stage for as long as possible.
The person who will determine whether the trial which has riven society in two will be fast-tracked or drag its feet is the head of the panel of judges, Rivka Friedman-Feldman. If she decides to speed things up, there is no reason the trial should drag on for years. The Holyland trial, with its 13 defendants and 377 witnesses, was heard by a single judge, who issued a verdict a year and nine months after the first witness took the stand.
Along with a request to receive further investigative material, one argument Netanyahu's lawyers are expected to make this week will be with reference to the sparse defense team. Since the investigation began at the end of 2016, the prime minister has replaced his lawyers as quickly as the revolving door of a hotel in peak season. Several refused to continue representing him for lacl of payment. He has been hoping that a Permits Committee at the State Comptroller's office would allow him to receive 10 million shekels ($2.9 million) for financing his defense from his friend and benefactor, American businessman Spencer Partridge.
Partridge has already made his private jet available to Netanyahu, has purchased at Netanyahu's request half of the latter's late parents' home, and has bought him cigars and elegant suits. "He looked shabby," explained the tycoon in his testimony to the police, "so I dressed him up a little better." Lately, with an astronomical delay, Mendelblit shattered hopes that Partridge could pay Netanyahu's legal fees, and ruled that this would amoung to a proscribed gift. A few of Netanyahu's associates suggested he try a public crowdfunding campaign, but he has apparently realized that such a step, especially during such an economic low point, would damage his image.
Netanyahu will be represented by attorneys Amit Hadad and Yossi Segev. Segev, who specializes in civil law, will focus on a defense using claims of misjustice, including faulty investigation and selective law enforcement. Hadad has accompanied Netanyahu for years, but Netanyahu doesn't see him as someone who can lead the defense team, and is therefore looking for another first-class lawyer. Someone who's been mentioned as a leading candidate is Boaz Ben Zur, who represents businessman and film producer Arnon Milchan (who has been accused of providing illegal gifts for Netanyahu in the lavish gifts case). As long as Netanyahu does not open his wallet, he will not be able to foot the bill for the defense team he had hoped would face his prosecutors. "I have no problem digging deep into my pockets," Netanyahu told police investigators in the gifts case, noting that he had "a sensitive problem in this context related to relations within my family."
If the problem is not resolved soon, Netanyahu will have another option, that of using a public defender. For Shula Zaken (in the trial of former prime minister Ehud Olmert), this option ended with a plea bargain, which spared her years in prison. In Netanyahu's case, a plea bargain is not an option. A senior jurist recently heard from Mendelblit that the latter believes that only a few cases should not end in a deal. The cases against Netanyahu definitely falls in this category. A court verdict is essential, particularly after a campaign in which Netanyahu's side has claimed that the charges were trumped up. "The public interest requires a court ruling," he said.
Jurists advising Netanyahu from time to time believe he should be present in court during the presentation of evidence phase and look witnesses in the eye, stay in control of details and show involvement. If he listens to their advice, he will spend much of his time in court. Then we'll face the full implications of the cruel reality the legislature has allowed and the Supreme Court, headed by President Esther Hayut, has approved: having a prime minister managing the toughest crisis the state has ever faced while standing trial on charges of criminal wrongdoing.
Click the alert icon to follow topics:
ICYMI
Ken Burns' Brilliant 'The U.S. and the Holocaust' Has Only One Problem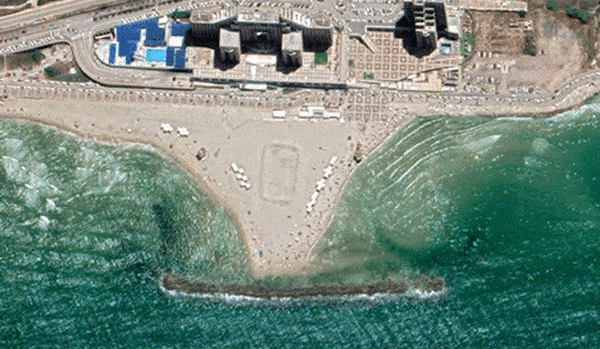 Facing Rapid Rise in Sea Levels, Israel Could Lose Large Parts of Its Coastline by 2050
Lapid to Haaretz: 'I Have Learned to Respect the Left'
The Mossad's Fateful 48 Hours Before the Yom Kippur War
As Israel Reins in Its Cyberarms Industry, an Ex-intel Officer Is Building a New Empire
How the Queen's Death Changes British Jewry's Most Distinctive Prayer