Analysis |
Bitter Brouhaha Proves Beinart Struck Raw liberal-Zionist Nerve
His argument for a non-Jewish one state solution may be flawed but nonetheless exposes deepening angst of two-state supporters
A protest against Israeli annexation of the West Bank in Tel Aviv, June 2020.
Credit: Tomer Appelbaum
Full disclosure obligates me to state from the outset and on the record that I hold Peter Beinart in high regard. I appreciate his intellect and originality. I admire his maverick courage. I envy his editorial acumen and writing skills. I've known him for over a decade and consider him a personal friend.
Which is why my gut reaction to Beinart's disruptive duo of articles in Jewish Currents and the New York Times, in which he advocates abandonment of the Zionist aspiration for a Jewish and democratic Israel, was, first and foremost, one of sorrow and regret. Beinart is jumping ship, I thought. He is sailing off into the sunset on a different vessel and in a completely opposite direction, bidding farewell to his loyal and liberal, two-state supporting Zionist fans and leaving them to their fate.
I wasn't surprised by Beinart's pivot: Anyone who has followed him in recent years could have anticipated his shift. I acknowledge that Beinart is likely to sway some of his younger and ardent fans to follow in his path. I reject most of Beinart's premises and conclusions but deplore the cacophony of vicious criticism and personal defamation he's been subjected to in recent days following the publication of his articles.
I agree with the substance of Anshel Pfeffer's bemused dismissal of Beinart's proposal for one, democratic state between the Mediterranean and the Jordan River as naive and utopic. As others have written, some in sympathy but most with derision, Beinart's vision seems untethered to the current reality of the enduring conflict between Israel and Palestinians: There may be a growing and exasperated Palestinian minority willing to toy with the concept of a unified democratic dominion, but the overwhelming majority of Israelis, including the dwindling minority of left-wingers, view it as a nightmarish recipe for their own destruction.
Beinart cites and then inflates the early willingness of some Zionist leaders to make do with a "Jewish home" rather than a full-fledged state. Such views, however, were often the result of disbelief in the chances of securing full Jewish independence, were overwhelmingly rejected by the majority of Zionists in Palestine and in any case were rendered moot by the Holocaust and by the simple fact that Jewish statehood was achieved. Beinart wants to undo history, and in doing so, to reverse Zionism's crowning achievement.
Beinart cites the increasing acceptance in Israel of the mostly-Arab Joint List and the growing prominence of its leader Ayman Odeh and extrapolates that both could serve as an avant-garde for his proposed "Israel-Palestine" democracy. He fails to account for the fact that the newfound tolerance for the Joint List in Israeli public opinion derives precisely from the perception that it is now prioritizing the plight of Israeli Arabs rather than championing the struggle of Palestinians as a whole.
Palestinians, for their part, have traditionally taken a dim view of those Arabs who weathered the Nakba and remained behind to prosper in the Jewish state: It will take a complete and currently inconceivable sea change in attitudes for them to accept the Joint List as leaders, trailblazers or role models.
It is true that the recent racial unrest in the U.S. and the rising popularity of the Black Lives Matter movement have influenced not only Beinart and other liberal American Jews but have also subtly altered Israeli views of its own Palestinian-Israeli minority, which comprises about 20% of the overall population. The Israeli-Palestinian narrative as a whole, however, is not one of a suppressive Jewish majority that discriminates against an Arab minority but of two national movements engaged in bitter, relentless struggle over the same piece of land. Few Palestinians and even fewer Israelis are anywhere near the paradigm shift needed to abandon a century of bitter conflict and to adopt an idyllic concept of shared rule or sovereignty.
I concur with Beinart that Israel shares much if not most of the responsibility for the current impasse due to its lopsided superiority, status as the occupying power, perpetual settlement expansion and the rejectionist policies adopted in recent years by Benjamin Netanyahu. But even if one accounts for the fact that Beinart's plea is mainly aimed for Jewish ears, his article falls woefully short in apportioning significant responsibility to the Palestinian side as well.
Israeli propagandists may exaggerate the historic Palestinian preference for "armed struggle", refusal to recognize Israel's right to exist or failure to countenance reasonable diplomatic proposals, but all have played a prominent role in perpetuating the occupation and blocking previously open paths to achieving peace. Placing the onus exclusively on Israel distorts the history and reality of the conflict.
Rejection of the main thrust of Beinart's premises or conclusions, however, does not detract from appreciating his impeccable sense of timing. Love him or loath him, the vociferous rejection and often-derisive condemnation of Beinart's latest articles highlight his elevated stature among left-leaning American Jews and his status as bête noire for much of the pro-Israel community. The bitter brouhaha that has erupted in recent days proves that Beinart has struck a raw Zionist nerve.
Whether or not his proposals are utopian, naive, simplistic or completely detached from reality on the ground, as claimed, Beinart's treatise exposes the current excruciating angst of liberal Zionists in the U.S. as well as center-left Israelis. His formulae might be fanciful, but it is nonetheless creeping into the hearts and minds of Zionists who concur with Beinart's overall assessment of the current dead end, even if they won't admit it, even to themselves.
It's been exactly ten years since Beinart's New York Review of Books article "The Failure of the American Jewish Establishment" exposed the previously concealed groundswell of disillusionment among young American Jews with their organizational leadership's unyielding defense of Israel's right-wing policies. Similarly rejected at the time by Zionist stalwarts and defenders of the status quo, Beinart's prescient article accurately foresaw the disaffection and radicalization of younger and more liberal American Jews as well as the sidelining of the American Jewish establishment as a whole.
Beinart's 8,000 word treatise on "Yavne: A Jewish Case for Equality in Israel-Palestine", provocatively repackaged in the shorter New York Times version as "I No Longer Believe in a Jewish State" is sending similar shock waves throughout the liberal majority of the American Jewish community. The overwhelmingly negative and often abrasive reactions to his articles reflect more than simple rational rejection of Beinart's views. To paraphrase Hamlet's mother Queen Gertrude "They doth protest too much", exposing a deep Zionist fear that Beinart's proposed one-state solution is gaining momentum among younger American Jews and could potentially evolve into a rallying cry for a wider and far more influential movement.
Beinart's articles incensed moderate Zionists and Israel-supporters for driving one more nail into the open coffin of the two-state solution. Former U.S. Ambassador to Israel Dan Shapiro described Beinart's proposal as "ahistorical" and a "disaster in the making". Yehuda Kurtzer eviscerated Beinart's reliance on the precedent of Yavne, where Jews embarked on their path to prayer and learning in the wake of their calamitous defeat by the Romans, dubbing it "rhetorical conceit" and "memory malpractice".
Reactions on the right were far more personal and vicious, reflecting first and foremost the bitter diatribe that has replaced respectable discourse as the right's lingua franca. The right's rage was directed less at Beinart's desertion from the two-state camp, which right-wingers oppose anyway, and more at what was portrayed as his defection from the Zionist camp as a whole. Traitor, terrorism supporter and, of course, "self-hating Jew" were just some of the harsh epithets attached to Beinart's name.
One of the first and most prominent rebuttals of Beinart's blueprint came from Jerusalem's Shalem College's Daniel Gordis, who for a few years was Beinart's favorite foil in public debates and a joint podcast. Gordis describes Beinart's articles as "an astonishing array of sleights of hand and misrepresentations ...that is an insult to the intelligence of his readers," no less.
In making his argument, however, Gordis contends that contrary to Beinart's assertions, Israelis do not live in "fear of annihilation" and therefore do not project such fears on the Palestinians. Gordis ascribes annihilation fears to American Jews alone and asserts, "The miracle of Israel is that we no longer worry about annihilation." Beinart's presentation, Gordis claims, shows "how little he knows of about Israel."
I envy Gordis' peace of mind, but have no idea which Israel he is referring to. It's not one that I am in any way familiar with. "Fear of annihilation" is ingrained in the personal DNA of the multitudes of Israeli descendants of Holocaust survivors, is entrenched in the country's national psyche and has, does and will continue to play a singularly crucial role in shaping Israeli attitudes and policies.
Gordis dismisses Beinart's claim that Israelis project fear of annihilation on Palestinians and other enemies. The analogy, however, has been propagated by Israeli prime ministers, from David Ben Gurion through Menachem Begin to Benjamin Netanyahu. It was Netanyahu, after all, who tried to undercut Palestinian legitimacy by fabricating the crucial role played by mid-20th Century Palestinian leader Haj Amin el-Husseini in the development of Adolf Hitler's "final solution".
It is this primal, omnipresent fear of annihilation that cements Israeli fears of destruction by its enemies - Palestinian, Iranian or otherwise. Throughout Israeli history – in the Six Day War, 1973 War, Gulf War missile attacks and Second Intifada suicide bombings, for example - collective fear of annihilation permeated the Israel's public's reactions. Fear of annihilation plays and will continue to play a major role in shaping Israeli politics and perpetuating right-wing majorities.
And yet Gordis' own blatant "misrepresentation" underpins his entire article, which has nonetheless been hailed as the definitive, knockout response to Beinart.
Despite the harshness and personal venom directed at Beinart, however, none of his critics provide an adequate response to the main impetus for his dramatic shift: The diminishing if not vanished prospects for a two-state solution and Israel's inexorable advance to a fateful decision between an apartheid-like state and the non-Jewish bi-national entity Beinart is now promoting.
Beinart's detractors on the right rely on Israel's just cause and Palestinian rejectionism to rationalize not only 53 years of occupation but also perpetuation of the status quo "until Palestinians come to their senses." For Beinart and a growing number of liberal American Zionists, the status quo has long been unsustainable. His articles assert that it is no longer acceptable either.
Beinart's critics also fail to acknowledge the erosion of support for Israel in general and the two-state solution in particular were precipitated by Netanyahu's recent pledges of annexation, even before his words turn into action. Netanyahu has seemingly abandoned long-held Israeli support for direct negotiations and an agreed solution and discarded its declared opposition to unilateral moves or imposed solutions. It is seen as a deliberate sabotage of any remaining prospects for a two-state finale.
Netanyahu has suggested that Palestinians included in annexed territories would not be granted Israeli citizenship or equal rights. After years in which Israel rebuffed accusations of apartheid, its prime minister seems to be advocating the odious, race-based regime out in the open, for the entire world to see. Netanyahu, in fact, has done far more than Beinart ever could to scuttle the two-state solution, push Israel towards the bi-national state that Beinart is now advocating and undermine the liberal, democratic and Zionist Israel that Beinart once believed in.
Under such circumstances, it is becoming harder and harder for peace-seeking Israelis to reconcile their Zionist beliefs with the reality of eternal occupation. They are increasingly cognizant of the possibility that their support for a two-state solution has served as cover and pretext for eternal occupation and averting foreign criticism and interference. Unlike Beinart, the paralyzed and despondent Israeli left has failed to come up with any exit strategy, plausible or fanciful, from the current stalemate.
Beinart's articles may not provide a realistic solution but they could very well spur a renewed conversation on extracting Israel out of the occupation quagmire. Given the growing frustration with current reality and the dearth of hope for change, Beinart's articles, flawed as they may be, could be viewed in retrospect as etching out the writing on the wall about the sad shape of things to come.
Click the alert icon to follow topics:
ICYMI
Ken Burns' Brilliant 'The U.S. and the Holocaust' Has Only One Problem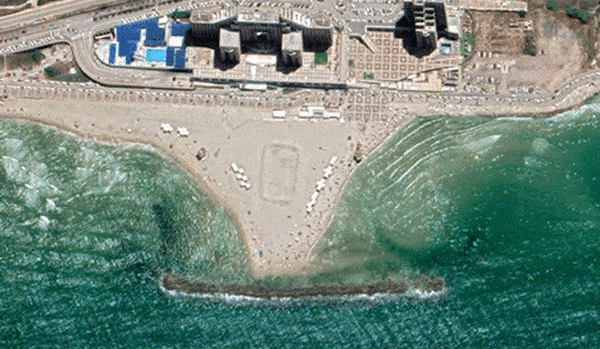 Facing Rapid Rise in Sea Levels, Israel Could Lose Large Parts of Its Coastline by 2050
As Israel Reins in Its Cyberarms Industry, an Ex-intel Officer Is Building a New Empire
How the Queen's Death Changes British Jewry's Most Distinctive Prayer
Chile Community Leaders 'Horrified' by Treatment of Israeli Envoy
Over 120 Countries, but Never Israel: Queen Elizabeth II's Unofficial Boycott