'The Shining' on Jesus' Turf: I Stayed at a Deserted Hotel for Christian Pilgrims
An American cleric on a mission from God, two ultra-Orthodox travel agents and one famous musician. The pandemic is a time of bizarre experiences – such as being the only guest in a 200-room hotel at the Sea of Galilee
Larry rubbed his eyes, trying to take in what had happened. God had been revealed to the Christian spiritual leader in a dream. It is incumbent upon you to lead a pilgrimage tour from America to the Holy Land, a mysterious voice commanded him, before disappearing under the cover of dark. Like a prophet fleeing from his mission, Larry tried to get back to sleep, even though he knew that this night he would not sleep another wink. He curled himself up into a comfortable fetal position; maybe he would drift off after all. Finally he flipped over to his back and reminded himself that sometimes all you need to do is let go. It was 3 A.M. He stared at the ceiling, and gradually the abstract shadows morphed into a concrete shape, identical to the one that had visited him in the dream: an airplane with wooden oars in place of wings, floating on an endless sea of clouds.
Larry's heart was pounding. He wasn't sure whether he was having a panic attack or a heart attack. He looked over at his wife and tried to recall if he had looked at her in that way before, during their 42 years of marriage. Her face was relaxed and calm, while he was overcome with distress. He got out of bed and went into the hall, noticed the vibrating phone, and his heart vibrated along with it: God had sent him a sign in the form of a newsletter (that had gone to his spam folder) from the Israeli travel agency he had used to book flights and a hotel for his flock – before the pandemic broke out, before his dream.
Now, sitting on the bed, he wrote quickly to the agent: Coronavirus or not, do not under any circumstances cancel the plane tickets and hotel rooms we reserved. I will find a way to get to Israel.
As I drove to the Sea of Galilee Hotel, I didn't know about Larry's existence or about the divine commandment he had received to seek accommodation there. My mission was to spend two days in an empty hotel and write about it.
Located on the western shore of Lake Kinneret (the Sea of Galilee) between the small town of Migdal and Kibbutz Ginosar, the hotel is the fulfillment of a dream for Avihu Tal, 61, second generation in a family of Tiberias hoteliers, a cool and easy-going person. Thirty-five years ago, the family built the Restal Hotel, in Tiberias, which was geared to Christian pilgrimage tourism. In 2014, Tal acquired land for a new hotel, and spent four years devoting himself to its construction, virtually with his own hands, functioning as entrepreneur and chief contractor, and drawing on the assistance of Noam Ohana, a childhood friend from Tiberias.
"We opened the hotel a year and a half ago," Tal relates. "It was the realization of a life dream. We were happy, we were booked solid with guests from abroad – in fact we were overbooked until 2021." The rising level of Lake Kinneret in last winter's heavy rains also drove up the euphoria level in the hotel. The water covered the reeds and washed over the island the drought had created in the lake. But then the coronavirus struck and everything ground to a halt.
Hotels started reopening in May, "but in our situation I didn't see any point in opening. We had zero exposure in terms of domestic tourism," Tal says. "No one in the local market knows us, we didn't even have a kashrut certificate."
Apart from a small staff, consisting partly of members of Tal's family, the hotel remained empty and inactive. Which was enough for me to decide that this was the place for me.
Shades of 'The Shining'
It feels a bit odd to pack a bag for a deserted hotel where you are the only guest (except for the Haaretz photographer who came for an hour). On the one hand, items that seemed basic to me, like nice clothes for the evening, or deodorant, became unnecessary adornments. On the other hand, in the absence of a functioning dining room or room service, I packed a bag as though I were some sort of unpopular kid on the annual school outing – heaps of canned food left over from the period of the pandemic's first wave. For weeks my partner and I had held out, but in the end we surrendered to the toilet paper and tuna panic, and ordered a supermarket delivery worth hundreds of shekels.
The truth is that I'm a confirmed fan of canned food. In 2012-13 my diet was based mostly on 3-shekel sesame snacks, and on carp liver packed in its own oil, which is the kid-in-its-mother's-milk of canned foods and typical hiking fare for the ultra-fit. Its smell and consistency remind one of wet cat food. I always envied pets for their food. The reason probably had to do with the marketing approach: Whereas food in tins for humans is considered inferior and survivalist, canned food for animals is presented as a luxury for bourgeois folk who want the best for their pet. The word "delicacy," which appears on every can of cat food, aims to entice not those who consume it but the humans who buy it.
As I finished packing, I almost yielded to self-inflicted social pressure to take a book. But I knew very well that during my two-day vacation I wouldn't read a word.
This is the place to acknowledge that, like their cousins vinyl records, books have undergone a transformation from products with meaningful content to decorative objects. As such, they have joined the family of vases, wallpaper and succulent plants. It's amazing that there is no profession called library designer: "After a get-acquainted meeting in the client's home, the library designer will choose the best books for you, those that will highlight your personality to the utmost and turn you into a genuine intellectual overnight." Now that is a profession that could save thousands of people with degrees in humanities (such as myself) from chronic unemployment, or at least reduce ongoing dependence on one's parents.
The night before the trip I couldn't help thinking of Stanley Kubrick's film of "The Shining," whose plot revolves around how a writer who's staying in an isolated hotel with his family loses his mind. I was happy to be going alone, and anyway I'm not suited for casting as a psychopath of the Jack Nicholson school, but am more like some chubby Slovenian caretaker named Ralph, a minor character who is slaughtered after one line – "Are you going to eat all that goulash?" – and reappears at the end of the film hanging from a hook.
The drive north from Tel Aviv along Highway 6, the Trans-Israel Highway, went relatively smoothly. At the lake, the access road leading to the hotel brought back memories of the roads leading to abandoned hotels in Sinai. The asphalt created the impression that this was a new road, but one that was hastily paved, dotted all over with manhole covers. The palms by the roadside were dry, yellow and tired, and seemed to have been planted the wrong way.
I was relieved to enter the lobby. It was air conditioned, clean, full of windows, well lit and empty. The front desk was deserted, but a television was broadcasting some daytime talk show, where Paula explained to Leon what a bummer the coronavirus is. I called out and asked if there was anyone around, and out of nowhere the front desk clerk appeared, handed me a card to Room 304 and vanished.
Later Avihu Tal showed up in an Aloha shirt (black and white) and gave me a short tour of the hotel. We went out to the broad veranda for a view of Lake Kinneret. A well-tended green lawn stretched down to the waterline with a path of basalt stones cutting through it. Huge Washingtonia palms lined the beach. I felt like the son of a prime minister who had received a seaside estate in Florida for a weekend from one of his dad's rich Republican donors.
Pointing to the waterline, Tal said, "Do you see the holy ficus tree here? Well, 34 years ago, when the level of Lake Kinneret was at its low point, two brothers from Kibbutz Ginosar, Moshe and Yuval Lufan, found the Jesus Boat here, which is dated to between 50 B.C.E. and 70 C.E. You get it?"
I made a mental note to read about the Jesus Boat, and Tal continued, "You should wake up for the sunrise, we have incredible sunrises here. In the morning the pilgrims go down to the shore, recite a mass or a prayer, play the guitar or blow a shofar. It's quite touching."
Sounds like their religious devotion will bring them back the moment flights resume.
"People tend to think of them as fanatical tourists who will come in any situation, but the Christian pilgrim market is actually much broader than that. It's usually people who chose to go on a religious trip, but could just as easily go on a Caribbean cruise. It's a market segment that is sensitive to issues of security and, now, to the coronavirus; they won't be back in a hurry. But there are exceptions. For example, there is Pastor Larry's group from the United States, who are still registered here. I called the agent and told him to erase the group, plunked on my calendar for no reason, but he told me he'd spoken to Larry, who paid everything up-front and explained that God had visited him in a dream and commanded him to make the trip, so he's not canceling."
Suddenly, two guests
After Tal left me, I remained alone in his 210-room hotel, except for three maintenance workers. I went up to Room 340, got into my bathing suit and attacked a tin of white beans in tomato sauce. After a dip in the pool, I lay down on a tanning bed and found myself sucking in my stomach, even though there was no one else around to see it. I put on a tank top and an ultra-Orthodox man and woman passed me, on a tour of the hotel. They were Rachel and Avi Cohen, from Jerusalem, a married couple who own a "glatt kosher" travel agency, Avi Nofesh Mehadrin.
Nice to meet you. What are you doing here?
Rachel: "We've been in the business for 17 years and have never heard of this hotel. We got here by chance, and I'm in a state of shock! How could there be a hotel in Israel that we don't know about? So we went inside, to see the place."
Does the owner know you're here?
"No, that's the thing, we don't like to coordinate things in advance. We arrive unexpectedly, go into the bathrooms, look the place over, speak to the person not as an agent. That way we get to see the service and the politeness and the level of cleanliness. I only tell them who I am after getting an impression."
What conclusions have you reached so far?
"This could be an ideal hotel for us. There's a shortage of hotels for Haredim who want [very strict] mehadrin kosher. How many hotels like that are there in Israel, anyway? Five? Six?"
What needs to be done to make this hotel mehadrin?
"Not all that much. The beach could be easily separated [according to gender] with a divider in the water, and there's the kashrut."
Avi: "You bring in a team to kosher the place, it's doable."
Do you know that the hotel is geared primarily to Christian pilgrims?
Rachel: "Then let's kosher it, we'll raise up the level a notch. Look, if I discover crucifixes and swastikas here, of course they will have to be removed. That's our motto: We adapt the hotel to our public. By the way, this place would be suitable for the pensioner public, too, even though they are now an at-risk group so they won't be coming this year."
How was the coronavirus lockdown for you?
Avi: "We took comfort in our home, shifted into low gear."
Rachel: "We came up with a lot of insight, including about our business. You understand that you have no control over what is happening, it's only the Lord, blessed be he, who manages the world. Only he decides what will be and how much you will earn."
What's the division of labor between the two of you?
Rachel: "I'm mostly on the marketing side, and he's involved with the kashrut."
Avi: "And being sure the decor and the staff and their clothing are modest enough for our people."
What's it like working as a couple?
Avi: "Totally sababa [terrific]."
Rachel: "For us it's wonderful; we have no problem with it."
Is it rare for a Haredi couple to work together?
Rachel: "No. It seems as if you don't know the Haredi public the way you should. Today the wife is the main breadwinner in the Haredi world. Unequivocally."
Avi: "Man is born to toil."
Whiskey and Larry
I took a dip in Lake Kinneret. The cormorants and white herons hovering over the submerged plants and occasionally plunging into the thick greenery to catch their supper, made me hungry. The sun began to go down, I went up to my room. A last shaft of sunlight from the third-floor corridor lit up the door to Room 342, next to mine, where Larry would be staying, as I'd learned earlier, by chance. I opened some tins of pickled cabbage, canned beef with buckwheat and hearts of palm, and read about the Jesus Boat.
I discovered that, like the brothers Lufan from Kibbutz Ginosar, who had discovered the boat, Jesus' first disciples, Simon Bar Jonah (aka Peter) and Andreas (Andrew), were fishermen-brothers who rose to fame during Jesus' first miracle of the fish: "And as he walked by the Sea of Galilee he saw two brothers, Simon who was called Peter and Andrew his brother, casting their net into the sea, for they were fishermen. And he said to them: Come now and follow me, and I will make you fishers of men" (Matthew 4:18-19).
I went down to the bar, poured myself a whiskey and started to look online for something about Larry, who apparently works for a Christian services organization. One thing led to another and I got to the site of an American travel company called Ya'lla Tours USA. I looked for the company on Facebook and went through all the posts and photos, until I got to an image of our Larry. His profile shot was taken some time ago in the ancient City of David in Jerusalem. He is standing, hunched over in a striped shirt, smiling into the camera and looking happy.
I went on pouring myself whiskey and developing an obsession about an American guy of 70-plus, thinking that this must be how religions start.
After polishing off my drink I went back up to my room. Stepping out of the elevator onto the third floor I heard an awful racket coming from inside Room 342, like someone was having trouble opening the door. I ran into my room and called the reception desk, but no one answered. To calm myself down, I opened a can of sardines, maybe to be redeemed by some sort of miracle of fish. I gorged on the sardines and realized that I was just very drunk in some empty hotel and that what I'd heard was all in my mind, so there was nothing to worry about. But then I remembered "The Shining." I went out into the hall and waited. After a few minutes I heard the noise again. I followed it and discovered that it wasn't Larry; it was an ice machine.
I woke up the next day with a gruesome hangover. In the lobby I saw the staff eating shakshuka and salad; they offered me some of their omelet and saved me. Then I went to the beach and had another swim. A motorboat appeared on the horizon, hurtling toward the shore. At a certain stage I could see that it carried two white-haired men. When it got to within a few meters of me I thought I must be hallucinating. I started to mumble to myself, "No way this is Nansi Brandes and Larry, no way this is Nansi Brandes and Larry, no way this is Nansi Brandes and Larry."
But it was Nansi Brandes, the veteran Israeli actor-musician, and next to him was a man who looked exactly like the Larry I'd seen on Facebook. They docked and walked past me. I heard Nansi call the person next to him Yaakov, but to me that made no difference. As far as I was concerned, Larry – to whom I introduced myself later – had done it: He had reached the Holy Land.
Irmy Shik Blum is a screenwriter, comedian, actor and journalist who lives in Tel Aviv.
Click the alert icon to follow topics:
ICYMI
Ken Burns' Brilliant 'The U.S. and the Holocaust' Has Only One Problem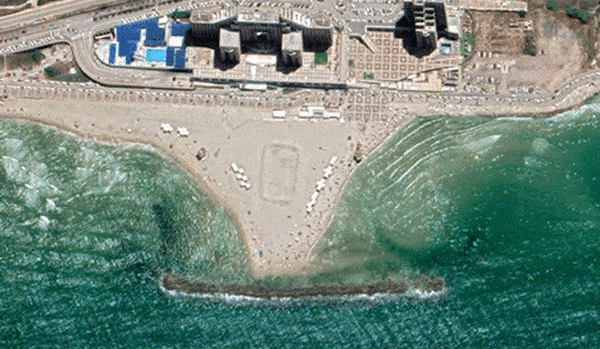 Facing Rapid Rise in Sea Levels, Israel Could Lose Large Parts of Its Coastline by 2050
As Israel Reins in Its Cyberarms Industry, an Ex-intel Officer Is Building a New Empire
How the Queen's Death Changes British Jewry's Most Distinctive Prayer
Chile Community Leaders 'Horrified' by Treatment of Israeli Envoy
Over 120 Countries, but Never Israel: Queen Elizabeth II's Unofficial Boycott