Analysis |
With Annexation, Netanyahu Displays His Scorn for the World 'From the Springboard'
West Bank land grab extends Netanyahu's subterfuge, greed and disdain for the rule of law into the international arena
Prime Minister Benjamin Netanyahu delivers a press statement in Jerusalem, June 16, 2020.
Credit: Ohad Zwigenberg
Early this week, the Prime Minister's Office asked the Knesset's Finance Committee to approve funding for the post of "alternate prime minister" concocted in the coalition agreement between Benjamin Netanyahu and Benny Gantz. In essence, the Knesset was asked to bestow the perks and privileges hitherto reserved for the prime minister on his alternate as well, including an official residence, security guards for his entire family and public funding for most of his expenditures.
The request compounded the public outcry against – and ridicule of – the very creation of the new position. Given that their "rotation agreement" stipulates that Gantz is first in line to serve as "alternate prime minister" in the year and a half before he replaces Netanyahu, it was he who bore the brunt of the widespread criticism unleashed by the PMO's request to the Knesset.
Gantz, however, quickly distanced himself from Netanyahu's submission. The Kahol Lavan leader announced that he would rather stay in his private home in Rosh Ha'Ayin near Tel Aviv and would forego any and all other perks sought by the prime minister's office for the "alternate." Netanyahu's aides, it seems, were not surprised. They knew in advance that Gantz would reject the proposed funding. Their request was actually meant to ensure that Netanyahu would be able to maintain his prime ministerial lifestyle if and when he vacates his office for Gantz and assumes the title of "alternate" for himself.
The submission to the Finance Committee was, in fact, a deception. It was presented to the media as pertaining, first and foremost, to Gantz. By the time the reporters realized that it was actually meant to cushion Netanyahu's departure from the Prime Minister's Office – a development most Israelis believe will never happen – the brouhaha dissipated and public attention shifted elsewhere.
Israelis soon discovered that Netanyahu's ruse was even more elaborate. Inside the detailed presentation of the funding needed for the "alternate," Netanyahu's wise guys included clauses that would divert funds to the current prime minister, i.e. Netanyahu.
Among other demands, Netanyahu is seeking unlimited government funding for the upkeep and upgrade of his private home in Caesarea. And because a Knesset law enacted in 2018 exempted Netanyahu from paying income tax on his home improvements from that day forward, he is also demanding an exemption from paying the taxes he has failed to pay on his Caesarea home from the day he took office in 2009, a sum estimated by experts as about half a million shekels.
As con jobs go, Netanyahu's efforts to camouflage his well-documented lust to live at the country's expense behind so much smoke and mirrors was painfully amateurish, and for good reason. Netanyahu has learned in recent years that even though the public generally disapproves of his well-known stinginess and greed, the opprobrium comes with no political price tag attached. Even the chutzpah of his demand for a hefty tax exemption at a time of coronavirus-induced economic depression that has left close to a million Israelis unemployed would make nary a dent in Netanyahu's public support.
Like Donald Trump, Netanyahu has reached the stage where, as far as his political base is concerned, he can lie, deceive and spread falsehoods to his heart's content.
There is a popular and Israeli saying that describes such behavior, which derives from the vulgar tendency of some people to piddle in public pools when others aren't watching. By extension, when a transgression is committed in public, for all the world to see, with no sense of remorse or shame, it is called "peeing from the springboard" or, in its abbreviated and more genteel version, "from the springboard."
Many of Netanyahu's moves over the past two years qualify as "from the springboard." He has taken Israel to three superfluous elections, launched total war on the judicial system, set up the most bloated cabinet in Israeli history and continues to manipulate the alleged severity of the coronavirus epidemic to suit his political needs. Most Israelis realize that Netanyahu maneuvers are ultimately aimed at averting his criminal trial but enough of them are willing to accept his flimsy cover stories at face value and to allow him to carry on, "from the springboard."
Netanyahu's efforts to persuade Trump to allow him to annex the Jordan Valley and Jewish settlements in the West Bank under cover of the so-called Deal of the Century takes "from the springboard" to a new level, for him personally and for Israel as a whole. Netanyahu realizes full well that annexation will inflame Palestinians, enrage Jordan, antagonize the international community and be condemned by jurists as a clear violation of international law, but he is pushing ahead nonetheless, from the proverbial springboard.
Netanyahu has managed to persuade Israelis that Trump's approval is the sole remaining obstacle to his proposed unilateral land grab, as if international isolation, the derailment of the two-state solution and potential violence in the occupied territories are of no practical, never mind moral, consequence. He has succeeded in cajoling the cabinet, the Knesset and the public as a whole to join him on the diving board and display their collective disdain for Palestinians in particular and for the world in general.
Eleven straight years in power and repeated successes in snatching victory from the jaws of defeat instilled in Netanyahu a sense of privilege and empowerment, but it is Trump's blanket support over the past four years that has sealed in a sense of superiority and immunity as well. Trump's abandonment of the Iran nuclear deal along with his recognition of Israeli sovereignty in the Golan Heights and Jerusalem as the capital all qualify for the "from the springboard" label. Annexation is simply more of the same, with one dramatic difference: Here it is Netanyahu, not Trump, and Israel, not the U.S., which are showing their scorn for the world.
Unilateral annexation defies conventional modes of international behavior. It casts Israel as a "rogue state" rather than the upstanding member of the international community it has long sought to be. It is seen as an outrageous violation of international codes and could undermine Israel's efforts to be perceived as the just side in the Israeli-Palestinian conflict. It is to Israel's traditional foreign policy as Netanyahu's conspiracy theories are to truth and his war of defamation on investigators, prosecutors and judges to the rule of law: violation, aberration and disruption, all rolled into one.
The outrageousness is compounded by the fact that Netanyahu is racing headlong to complete annexation before Trump's tenure is terminated, possibly in four months time. He knows full well that the furtive, underhanded effort to exploit the U.S. election campaign will infuriate Democrats and enrage international opinion. But he also realizes that in four short months, he and Israel could face an entirely different and far harsher political landscape, which means that his days on the springboard could be numbered.
Critics claim that under such circumstances, Netanyahu should exercise caution and restraint. The prime minister, however, true to his form in domestic affairs, plans to exploit the platform supplied by Trump until the very last minute, when the lifeguard might catch him in the act and eject him from the pool altogether.
Click the alert icon to follow topics:
ICYMI
Ken Burns' Brilliant 'The U.S. and the Holocaust' Has Only One Problem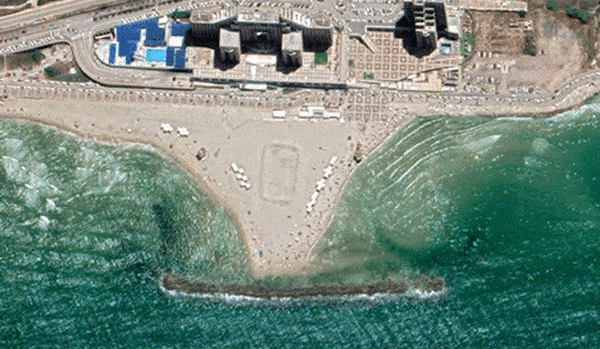 Facing Rapid Rise in Sea Levels, Israel Could Lose Large Parts of Its Coastline by 2050
As Israel Reins in Its Cyberarms Industry, an Ex-intel Officer Is Building a New Empire
How the Queen's Death Changes British Jewry's Most Distinctive Prayer
Chile Community Leaders 'Horrified' by Treatment of Israeli Envoy
Over 120 Countries, but Never Israel: Queen Elizabeth II's Unofficial Boycott