Analysis |
Bolton Revelations Cast Unintentional Harsh Light on Trump-Netanyahu Alliance – and Annexation
Pre-publication details of bombshell book portray a reckless, dangerous and ultimately unreliable U.S. president
Banners depicting Trump and Netanyahu, part of a new campaign by the umbrella Yesha Jewish settler council bearing the words in Hebrew, "No to a Palestinian State" and "Sovereignty Do it right!"
Credit: AMMAR AWAD/ REUTERS
The pre-publication excerpts from John Bolton's new book "The Room Where It Happened" have so far included only one tidbit pertaining to Israel. Bolton claims Prime Minister Benjamin Netanyahu was doubtful about the appointment of presidential son-in-law Jared Kushner as czar of the Israeli-Palestinian peace process. Given that Kushner is now portrayed as the last remaining obstacle to Netanyahu's plan to annex territories in the West Bank, the prime minister deserves credit for his prescience.
Nonetheless, and even before it is published in full on Tuesday, Bolton's book indirectly illuminates the problematic Trump-Netanyahu alliance and raises troubling questions about its essence. Bolton claims that most of Trump's foreign policy moves are driven by their perceived contribution to his re-election in November. Perhaps he hasn't decided yet whether the all-out, in-your-face occupation advocated by U.S. Ambassador David Friedman will garner more votes and contributions than Kushner's more restrained approach.
Trump's foreign policy is transactional, claims Bolton. Perhaps the give and take served him well as a real estate mogul in Manhattan, Bolton observes, but it's no way to handle international affairs of state. Netanyahu has effusively praised Trump's "give" - Jerusalem, the Golan, Iran nuclear deal and now annexation - but he has been more reticent about the "take" he expects to receive in return. Perhaps the debt will be at least partially repaid in Netanyahu's intervention on his behalf in the upcoming election campaign.
Some Washington observers believe the exchange is more financial in nature: Behind Trump's unyielding support for Israel stands Sheldon Adelson, they suggest, who is said to have pledged to break his previous records for generous donations to GOP candidates in the upcoming November elections. If we take such not-completely-unfounded speculation one step further, one can posit that the dispute within the administration over the scope of the proposed Israeli annexation could be resolved in a bidding war between Adelson and Saudi Crown Prince Mohammed Bin Salman, who is also in hock to the president.
Bolton asserts that Trump's support for MBS in the wake of the October 2018 murder of journalist Jamal Khashoggi inside the Saudi Consulate in Istanbul was actually meant to divert attention from reports that Ivanka Trump used a private email account for official U.S. government business, a la Hillary Clinton. A Middle East brouhaha over annexation could theoretically fulfill the same purpose; God knows that Trump could use a little distraction from his current woes.
Whether or not Bolton's full manuscript deals at length with Trump's policies on Israel – the former adviser's support may have constrained his candor – the book sows doubt not only about the proposed July 1 annexation but also about the staunch Trump-Netanyahu alliance as a whole. Trump, according to Bolton, is a complete ignoramus in world affairs: He didn't know that Britain is a nuclear power or that Finland isn't actually a part of Russia.
It seems safe to deduct that Trump knows very little about the fundamentals of the Israeli-Palestinian conflict that he presumes to settle. It's doubtful he's ever read Kushner's "Prosperity to Peace" plan from cover to cover. It's an open bet, in fact, whether Trump can find the West Bank – or Israel itself – on a map.
Bolton's book confirms the claim that Israel has placed its fate in the hands of a vain, corrupt and reckless president, who cares only for himself and who subordinates U.S. foreign policy to his personal interests.
Israelis, it turns out, adore a U.S. president who encouraged his Chinese counterpart to build concentration camps for his Muslim minority. They worship a president that Vladimir Putin believes he can "play like a fiddle." This is the man that Netanyahu has repeatedly lauded as the greatest friend Israel has ever had.
Bolton's book reiterates, perhaps unintentionally, how far and wide Israel has strayed, beyond any reasonable claim of pragmatism or realpolitik. It accentuates the sheer recklessness of Israel's madcap race to annex now, in what could turn out to be Trump's last months in power, under the auspices of a president who is now reviled in his own country no less than he is despised abroad.
The book serves as a warning of how Israel might be perceived after it carries out an annexation, like thieves in the night, hurrying to finish the job before the cops arrive. In addition to all of its diplomatic, security and moral pitfalls, the collaboration with Trump will forever stain annexation for its deviously cynical timing.
Bolton's book highlights the severity of the cognitive dissonance that the alliance with Trump has inflicted on Israeli public opinion. Israelis have crafted an artificial disconnect between the deluge of reputable accounts of Trump's misdeeds, from cuddling up to dictators to his mismanagement of the coronavirus pandemic and the mass protests following the killing of George Floyd by Minneapolis police and his pro-Israelis policies, which most perceive as a manifestation of justice, morality and diplomatic wisdom.
Almost everyone else, however, views Trump's policies on Israel and the Palestinians, including his so called "deal of the century," as an integral part of his divisive and destructive foreign policy as a whole. Trump, in this view, is just as dangerous a dilettante in the Middle East as he's been vis a vis Russia, China, North Korea and other arenas.
But perhaps the biggest surprise in Bolton's supposedly bombshell revelations is that there's no surprise at all. Bolton adds details, but no new insights: Trump emerges from the book exactly the same as he's been portrayed in countless press reports and previous "confessions" of former aides and advisers.
We already knew that Trump tried to hold up aid to Ukraine until it announced criminal investigations against his rivals Clinton and Joe Biden. He even called on China publicly to do the same. The revelation, therefore, that Trump encouraged China's President Xi to buy U.S. agricultural produce in order to satisfy Trump's rural constituency adds colorful trivia, but not much else.
We knew that Trump sees foreign policy as a means of aggrandizing himself, advancing his interests and currying favor with the dictators he admires. Bolton corroborates previous Washington Post reports about Trump's dealings with Turkey's Erdogan about the investigation into Halkbank, which is suspected of contravening sanctions against Iran, no less.
Trump's promise that the investigation might be curtailed once "his people" replace Obama's appointees in New York's Southern District Attorney's office is not only true to the form we have come to expect from him, it rings familiar from Netanyahu's own railings against the supposedly politicized state prosecutors who have indicted him for bribery, fraud and breach of trust.
The same is true, sadly, about Bolton's claim that Trump called critical journalists scumbags "who should be executed." For now, Netanyahu has made do with advocating a prison sentence for a journalist who published recordings of his illicit deeds, but he still has time to meet the standards set by his hero in the White House.
Bolton is now coming under harsh attack for making a mint off of a testimony that might have proven crucial to Trump's impeachment proceedings: He refused to testify before the House intelligence Committee and then agreed to appear before the Senate, knowing full well that the Republican majority would never agree to summon him. Rightly so, it turns out, from their point of view.
Bolton's testimony, however, wouldn't have swayed the GOP majority to convict Trump under any circumstances. Its damage may be more acute now, corroborating the growing public sentiment, in the wake of his failed handling of the coronavirus crisis and racial justice protests, that Trump is simply unfit for his job. For his loyal base, of course, the facts don't matter: Bolton is now being consigned to the ranks of the other wacko nutball failures, as Trump calls them, who dared speak ill of the president they served.
Bolton is now morphing into public enemy number one on the right, a role he has played for many years on the left as well. He never met a war he didn't support, Bolton's critics claim. After all, he didn't resign because of the malfeasance he now complains about but rather because Trump decided not to retaliate in force for the June 2019 Iranian downing of a U.S. drone. If Trump had decided in favor of the move, which could have escalated to war, Bolton might still be singing his praises, as would Netanyahu.
Trump's opponents are nonetheless reveling in Bolton's embarrassing revelations just as they are sitting back to enjoy a ferocious mud fight between the president and his former national security adviser. As Menachem Begin once said of the Iran-Iraq War, leftists and liberals around the world are united in wishing both sides full success.
Click the alert icon to follow topics:
ICYMI
Ken Burns' Brilliant 'The U.S. and the Holocaust' Has Only One Problem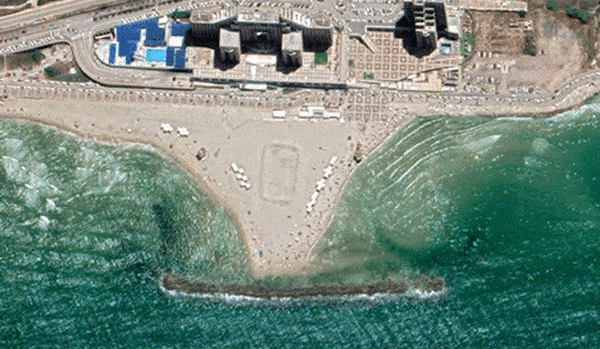 Facing Rapid Rise in Sea Levels, Israel Could Lose Large Parts of Its Coastline by 2050
As Israel Reins in Its Cyberarms Industry, an Ex-intel Officer Is Building a New Empire
How the Queen's Death Changes British Jewry's Most Distinctive Prayer
Chile Community Leaders 'Horrified' by Treatment of Israeli Envoy
Over 120 Countries, but Never Israel: Queen Elizabeth II's Unofficial Boycott