Analysis |
As Gantz Implodes, Netanyahu Is Dreaming of Another Election
The Kahol Lavan leader, who seems to have fallen in love with the trappings of power, is determined not to give Bibi an excuse to break up the unity government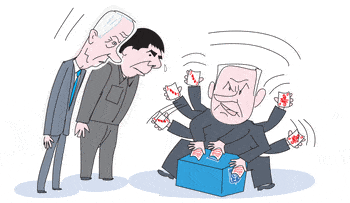 Illustration by Amos Biderman.
Credit: Amos Biderman
That chilling, repulsive word "election" comes up in almost every conversation Prime Minister Benjamin Netanyahu has with ministers and Knesset members from his Likud party.
If Kahol Lavan doesn't agree to an annexation, we'll call an election. If that party's chief, Benny Gantz, refuses to reopen the coalition agreement's section on the "alternate prime minister" when the High Court of Justice is threatening, we'll call an election. If his party's ministers don't stop making provocative statements, everything will fall apart.
Three times since the unity government was sworn in, Likud has demanded changes to the coalition agreement whose ink was not yet dry – more ministers, a two-year budget or only an adjusted one in the last quarter of this year, and the High Court's eventual decision allowing the "alternate prime minister" position for Gantz and then Netanyahu in their rotation government.
When Netanyahu's interlocutors ask him about annexation – how much, where, when – he replies, with rare frankness, that he doesn't know. Donald Trump is having his own electoral troubles, he explains.
Relations with Trump's adviser and son-in-law, Jared Kushner, aren't as intimate as they once were, if they exist at all. He has disappeared from our radar, someone well-versed in the subject said this week. Apparently he's busy trying to salvage a second term for his father-in-law – which, at the moment, looks more in doubt than ever.
If Kushner thinks (and he may have already reached this conclusion) that annexation really might spark chaos in the Middle East, or that Arab states aligned with American interests might turn their angry backs on Washington a few months before the election – and thus hurt Trump's chances – he'll hold Israel's horses.
Even now, the Prime Minister's Office calls him the "leftist" of the trio that also includes Secretary of State Mike Pompeo and the settlers' champion, Ambassador David Friedman. (The latter, incidentally, is supposed to fly to Washington soon to figure out exactly which annexation cards are on the table. The way the White House looks now – and in general – who knows if he'll get clear answers.)
Netanyahu's effort in scraping up consent to some version of applying sovereignty out of his defense and foreign ministers, Gantz and Gabi Ashkenazi, is puzzling senior Likud officials for whom annexation is a burning issue. You have a majority for anything in both the cabinet and the Knesset, they tell him.
Netanyahu explains that this is due to his fear of November 3. What will happen if Joe Biden is elected? A Democratic president, likely to be backed by a solid majority in the House (though not the Senate), is a whole different ballgame. Therefore, any move in the West Bank that could ignite a fire must receive a seal of approval from the two former military chiefs in his cabinet.
In any case, the talk about an election is getting more and more blatant. This virus, a congenital condition, tends to incubate in every coalition government until erupting after three years or so. And now it has undergone a lethal mutation. It has been taxing the unity government's immune system since that outfit's third week of existence.
The polls are predicting 40 to 41 Knesset seats for Likud, with Kahol Lavan plummeting to 10 or 11. And given the trend line of the past two months, Gantz's party might find itself in the single-digits in a week or two.
Thus, with the rightist/ultra-Orthodox bloc winning 64 to 65 of the Knesset's 120 seats (not including Avigdor Lieberman's Yisrael Beiteinu), Netanyahu's temptation is understandable. A swift rush to the electoral playing field would find it nearly empty of other players. Unless some phenom appears off the opposition bench, Netanyahu will easily dribble the ball toward an open goal.
Yesh Atid Chairman Yair Lapid is proving to be an active opposition leader, and most of the Knesset seats Gantz has lost are moving to him. But it's still not a serious number of seats; it doesn't even match Yesh Atid's achievement in its first election back in 2013.
Lapid has worked hard to market himself as prime ministerial material. But when he wasn't yet at the halfway mark, he was set aside in favor of Gantz. That set him back in the public's eyes, and it's hard to see when, if ever, he'll be a real candidate for the top job.
If a party representing the self-employed runs, it will take seats from him as well. And unlike Lapid, who vowed never to join a government led by someone charged with bribery, any such party will be a ready partner for a Netanyahu-led coalition.
The electoral catastrophe that has befallen Kahol Lavan since it entered the government – it has lost around eight seats in five weeks – brings to mind the tragedy known as Kadima. A party packed with talent, with nearly 30 Knesset seats over a decade ago, evaporated from the political map after a brief and deadly fling with Netanyahu and Likud.
A similar fate befell Ehud Barak's Atzmaut party. And Yesh Atid lost almost half its seats in the 2015 election, after less than two years of a painful partnership in Netanyahu's government.
Whether below him or beside him, in the government or in the opposition, on the right, center or left, hardly a party escapes Netanyahu's steamroller. (Except for the ultra-Orthodox parties, whose God is always with them, and Lieberman, who, whether with Netanyahu or against him, keeps surviving, sometimes against all odds.) The man who has now ruled us for 11 years straight, and 14 years in total, is deadly to the Israeli political system.
He's the sun in Greek mythology that melted the wax in Icarus' wings. Anyone who gets near him is burned.
The politics of despair
A brief period of basic training with Netanyahu was enough for Gantz to understand who he was dealing with. An orderly transfer of power on November 17, 2021 seems like science fiction, even to gambling addicts. In what world would a party polling at 40 seats hand the Prime Minister's Office to a party with 10? And if it did, how long would the new government last?
What's going through Gantz's mind only he knows. For now, while his confidant Hod Betzer is busy building the alternate prime minister's office, its occupant – optimistic or naive, it's all in the eye of the beholder – is already casting people for jobs for when Gantz would become prime minister.
Maj. Gen. (res.) Amir Eshel, who came with Gantz to the Defense Ministry as its director general, is slated for national security adviser. Gantz is also interviewing candidates for other key positions, like cabinet secretary.
People who have spoken with him say he has fallen in love with the trappings of power – the motorcades with their wailing sirens, the two armored vehicles, the battalions of bodyguards. He's counting the days, and he's determined – insofar as it depends on him, of course – not to give Netanyahu any excuse to break up the government prematurely.
On Monday afternoon, Netanyahu, Knesset Speaker Yariv Levin, Gantz, Ashkenazi and Friedman met to discuss annexation. No progress was made.
After the ambassador left, Netanyahu began harping on the issue that's really bothering him – what will happen if the High Court nixes the whole idea of the alternate prime minister sometime after November and the Knesset dissolves? In that case, according to the coalition agreements, Gantz would become prime minister in a caretaker government until the election.
We have to change the agreement, Netanyahu demanded, so that if the High Court sticks it to me, I'll continue to serve as prime minister until the election. (In other words, a law to circumvent the court.) Gantz said nyet.
Netanyahu began clucking about the so-called Norwegian Law, which lets ministers resign from the Knesset and be replaced by the next people on their ticket. The bill was supposed to come up for its final vote in the Knesset later that day, and Kahol Lavan, which lacks worker bees in the Knesset because almost all its MKs are serving in the cabinet, desperately needed this bill passed.
But Gantz turned stubborn. We can talk about anything, he said, but not as a precondition.
Levin was with Netanyahu for this discussion. This is unprecedented in the history of relations between our executive and legislative branches. The fact is, the prime minister doesn't trust any politician except Levin, so the Knesset speaker – who's supposed to be independent and statesmanlike, even replacing the president if the latter is incapacitated – is still the Likud chairman's operations officer and chief adviser on annexation and coalition problems.
There are authoritarian governments in Africa where the separation of powers is clearer. Or at least appears to be.
Let's go back to Monday. The prime minister and his alternate both left the meeting angry. Gantz arrived at the Knesset and summoned Justice Minister Avi Nissenkorn, his equivalent of Levin, and party whip Eitan Ginzburg. The Norwegian Law won't come up for a vote today, he told them sadly.
Gantz was still disappointing them when the phone rang; the Knesset speaker was on the line. The speaker asked the justice minister to come talk to him. Nissenkorn went, returned 15 minutes later and announced, "It's settled! The Norwegian Law is in our hands!"
Gantz and his colleagues were surprised; they couldn't figure out what the catch was. They've gotten used to this partnership being run like a naive senior citizen who signed a deal with a shyster company that set him up with a credit card. There are no free gifts. And even something agreed on and signed isn't delivered without extortion.
Even toward the end of the week, they still couldn't understand what had changed. I tried to find out and got nowhere.
But one thing did become clear: The Prime Minister's Office was angry, very angry, when the media reported Monday afternoon on the agreement between the justice minister and the Knesset speaker. Something apparently went wrong. Maybe there was a short circuit between the Prime Minister's Office and the Knesset speaker's office. It's not clear.
Netanyahu didn't want the bill to come up for a vote, but he couldn't prevent it. He had to make do with being conspicuously absent from the vote.
What reconciliation?
The photograph of Gantz, Nissenkorn and Attorney General Avichai Mendelblit strolling side by side in the Justice Ministry sent the prime minister's residence into the kind of rage only that insane, volatile entity is capable of.
Gantz looked like a general who had gone out to the field to review his troops. (Incidentally, a week earlier, Ashkenazi also paid a victory visit to that same ministry on Jerusalem's Saladin Street, but without the cameras.) What Kahol Lavan sees as a signal to its voters – we are here! – and an essential gesture toward emboldening the battered, slandered law enforcement system was seen in the prime minister's residence as a brazen provocation, a "finger in the eye," as one person close to the throne called it.
I asked someone close to Gantz, "Since when do party leaders pay demonstrative visits to the ministries their party controls?"
"There will be other visits to other ministries of ours, and not only ours," he promised. "Gantz is preparing to be prime minister. He's learning about the different ministries. But yes, there was also a message here."
"What happened to the reconciliation cabinet?" I asked. The nation is crying out for reconciliation.
"There are meetings at various levels on this issue," he said. "We're looking for two or three issues that can be brought to the reconciliation table."
Interesting. The rule of law evidently won't be one of those issues. On this matter, perpetual war will be waged.
The Arab community won't be an issue either, or the role of a free press in this country. And apparently also not the relationship between destructive employers and the wretched workers hired through manpower agencies at facilities funded by the state.
So I asked what those issues will be. "One issue we considered that won't be raised is the relationship between religion and state," he replied.
Okay, so what will? What major issue is it possible to reconcile over?
"We'll have to find something," he said. "We're looking."
It has been over a month since the government was sworn in, based on an agreement whose inclusion of that preposterous phrase "reconciliation cabinet" was celebrated as a real achievement for Kahol Lavan. Yet not only have the parties not bothered to convene this forum, they haven't even discussed who will sit on it.
During that month, we have seen everything but reconciliation. The mutual contempt, most of which was initially theoretical, doubled the moment the parties were sitting around the same table and got to know each other up close and personal.
A commitment to this body seems more needed by the coalition partners than the exhausted public, or even by the Twitter warriors whose positions are immutable. The reconciliation cabinet is like a couples therapist hired in advance for a bride and groom who forced themselves into an arranged marriage and reached the wedding canopy with mutual loathing bursting from them.
Behavioral science
In one of the many times Miri Regev's brain couldn't keep up with her mouth, she let fly an outburst that belongs near the top of political statements best left alone: "The next two ministers after me won't manage to fix what I did." She was referring to her five-year stint at the Culture Ministry that just ended.
This week, at another government ministry, we learned that sometimes all you need is one minister and 30 days to undo a deplorable decision by the predecessor and right a wrong. You can rehabilitate the fragile image of a ministry with little funding and influence.
The miracle occurred at the Science, Technology and Space Ministry, where Izhar Shay of Kahol Lavan has replaced Ofir Akunis of Likud. Shay approved the appointment of Prof. Yael Amitai, a leading neuroscience scholar, to the board of the German-Israeli Foundation for Scientific Research and Development.
Akunis had refused to appoint Amitai two years ago because she had signed a petition supporting young Israelis who refuse to be drafted into the army. Akunis, a political operative lacking charisma or special talents, is a breed of McCarthyite who describes himself as a "democrat" even though he probably wouldn't recognize democracy if it banged him on the head.
So, to win a few headlines that would massage his base, Akunis brought up a 15-year-old petition. Three-hundred and fifty prominent academics, among them Amitai, had called on universities to give conscientious objectors who had served their punishment the same benefits offered to reservists.
Akunis the judge decided that the professor had committed a "criminal offense" and therefore could not represent Israel in contacts with other countries (a statement that the High Court said was "unreasonable to the extreme").
His steadfast refusal led to the resignation of Amitai's German colleagues and a halt in the foundation's work. The consequence was that joint research projects between the two countries worth 200 million euros weren't launched.
Shay forgot about the affair. On his first day on the job, his director general informed him that the ministry had to present its position on the matter to the High Court within three days. The brand-new minister told the ministry's legal adviser to request a postponement so he could get up to speed. He studied the minutes of previous High Court hearings and consulted with scientists and legal advisers. He even spoke with Akunis to show respect to the one who didn't know how to show respect to Israeli scientists.
The decision to approve the appointment made the Germans ecstatic. They heaped praise on the new minister. "I disagree with what she wrote, but that's not enough to disqualify her," Shay told me this week about Amitai.
The committee will be reestablished. It will take time. We'll never know how much groundbreaking research was missed and how many jobs weren't created during these 22 months.
What did we learn? We learned that even a marginal minister, inflated like a balloon at a tiny ministry that used to be a department at the Education Ministry, can mar relations with a friendly country. He can gnaw at the heart of his ministry's work and badly damage his country's interests. Instead of being sent to the Knesset's backbenches, he's the designated regional cooperation minister.
Akunis is supposed to enter the job after the current minister, Gilad Erdan, is cleared by the cabinet to become UN ambassador. Erdan asked for a delay until July 5.
He might ask for another delay. The coronavirus situation in New York is better but still not encouraging. Erdan prefers to wait. Is Akunis impatiently stomping his feet? Let him sit patiently. Prof. Amitai waited a lot longer.
Click the alert icon to follow topics:
ICYMI
He's From a Small Village in the West Bank, One of Three at His School Who Went to College
'There Are Similarities Between the Hasidic Community and Pornography'
'RRR': If Cocaine Were a Movie, It Would Look Like This
Yair Lapid's Journey: From Late-night Host to Israel's Prime Minister
Lake Kinneret as You've Never Experienced It Before
Roe v. Wade: The Supreme Court Leaves a Barely United States