Opinion |
How Long Can Trump Bully Israel to Downgrade Ties With China?
Three years ago, Netanyahu told a Beijing audience that Israel-China ties were a 'marriage made in heaven.' Since then, Israel has folded to intense U.S. pressure to rollback Chinese investment – but how long can it last?
Israel's Prime Minister Benjamin Netanyahu, left, prepares to shake hands with China's President Xi Jinping at the Great Hall of the People in Beijing. May 9, 2013
Credit: ASSOCIATED PRESS
Under Prime Minister Benjamin Netanyahu, Israel has been tied by a political umbilical cord to the United States, and U.S. President Donald Trump. This placental connection was perhaps best evinced by Netanyahu's massive 2019 election campaign posters showcasing their rapport.
Netanyahu's Trumpian embrace has not, however, dissuaded him from deepening Israel's ties with China — even as the American president has ramped up and made anti-China rhetoric, from coronavirus to trade, central to his reelection efforts.
Jerusalem has long sought to maintain good relations with Beijing while avoiding specific acts that antagonize Washington. This balancing act is reflected in public opinion: Both Trump and China enjoy near 70 percent approval ratings in Israel.
But since 2018, the Trump administration has become increasingly concerned with Chinese investment in Israel, complaining to their Israeli counterparts about the depth of Chinese involvement. The pressure has so far paid off.
After U.S. Secretary of State Mike Pompeo visited Israel in May, Jerusalem announced that an Israeli company had beat out a Chinese-controlled firm for the rights to build and operate what is billed to be the world's largest desalination plant, near Tel Aviv and next-door to ultra-sensitive sites: an air base and a nuclear research facility. The United States had repeatedly expressed its objections to Chinese control of that plant. Under pressure too is China's successful bid to upgrade the Haifa port.
American influence evidently still carries unparalleled weight in Israel's halls of power, but China's offers are attractive to leaders in Jerusalem. The Trump administration indeed has pivoted away from conditioning alliances on normative behavior (see: Saudi Arabia), but Beijing, citing its historic foreign policy doctrine of non-interference, offers more complete carte blanche for its allies' violation of human rights norms.
Israel has so far folded under American pressure, but Washington cannot keep the Jewish state out of the People's Republic's orbit forever.
Washington's protests against Chinese involvement in Israel have recently become increasingly vociferous. The U.S. Senate in 2019 criticized Israel for deepening economic ties with China, promoting a bill expressing "serious security concerns" about a contract allowing Shanghai International Port Group, which is majority-owned by the municipality of Shanghai with the state-owned China Merchants Group as its second-largest stakeholder, to operate the Haifa port for 25 years beginning in 2021. The U.S. Sixth Fleet has long docked at that same port.
Washington's concern is not unfounded: China's "civil-military fusion" frequently erases the line between private and state interests, meaning that the Haifa port could serve some Chinese strategic purpose. There was talk that if China were "handed the keys" to the Haifa civilian port the U.S. navy would have to reassess its close relations with their Israeli counterparts, one of whose bases — where the Israeli submarine fleet is stationed — abuts the civilian port.
Since this episode, discord between Washington and Jerusalem over the "Chinese issue" has only grown. In bilateral meetings, American leaders have "raised the specter of China exploiting its ties with Israel to boost its strategic position, and to acquire sensitive intelligence and classified technology," referring to Chinese activity at the Haifa and Ashdod ports, the Tel Aviv light rail, and the Carmel tunnels. American officials even told their Israeli counterparts "that the United States could not be friends with a country for whom China was building ports."
Pompeo later cautioned that if Israel did not reduce its cooperation with China, the U.S. might reduce "intelligence sharing and co-location of security facilities." Then-U.S. National Security Adviser John Bolton had previously warned against allowing the effectively Chinese state-owned telecommunications company Huawei to establish a presence in Israel. The Jewish state later barred Huawei from operating its 5G network in the country.
And yet, all the while Israel has deepened its Chinese ties. China in 2018 imported more than $4.6 billion of Israeli goods, while China exported more than $10.9 billion worth of goods to Israel. Chinese investments in Israeli high-tech companies totaled around $600 million in 2017, and the two countries are reportedly on the verge of signing an official trade pact.
But the U.S.-China storm, rather than blow over, has only intensified. Now, as we approach the eye of the storm, countries like Israel are being forced to choose between the two Great Powers. And while Israel has folded twice to U.S. pressure in recent memory — on the desalination plant and Huawei — some in Jerusalem may yet be considering Beijing's patronage preferable.
The terms of Chinese engagement are unapologetically authoritarian and explicitly rival what has traditionally been a hybrid offer by Western countries, led by the United States: human rights and democracy alongside pragmatic economic and strategic benefits.
It is not hard to see why Netanyahu and other right-wing Israelis might find a Chinese partnership — complete with Beijing's economic and diplomatic backing and non-interference on human rights — attractive. Although Trump's rhetoric has earned him the sobriquet the "transactional president" in terms of foreign policy, his administration continues to sanction human rights violators in Cambodia and Myanmar, among others.
Israel is a survivalist nation. Israelis have a deeply pessimistic view of relationships, even "special" relationships, between Jews and other nations. Israel thus ignores much criticism from Europe and beyond, citing history to dismiss inconvenient criticism from the outside world as based on irredeemable hostility to Jews. Equally, Israel's current government sees no issue in embracing countries who cultivate or appease antisemitism, if it contributes towards the defense of the Jewish state.
Foreign policy relationships for survivalist Israel are, therefore, built not on ideals but on pragmatism. Israel, perhaps more than any other country — even transactional Trump — embraces the shared Palmerstonian and Kissingerian maxim that states have no permanent friends or enemies, only permanent interests.
Indeed, the Jewish state's ties with countries like Russia, Hungary, Oman, the United Arab Emirates, Chad, and Saudi Arabia are rooted not in shared values, but shared interests. The Chinese story is similar.
Beijing, unlike Berlin or Paris, largely does not pressure Jerusalem on pesky human rights issues; its geopolitical demands — such as abiding by the "One China policy" — are similarly onerous to (albeit less morally sound) than those from Washington.
For right-wing Israelis, the Jewish state's relative embedding of itself within a China-helmed illiberal world order could provide both political and financial benefits. There are similar attractions for China: Israel, the so-called "only democracy in the Middle East," was curiously absent from a July 2019 letter by 22 leading democracies criticizing China's abuses of the Uighur Muslims.
The contemporary state of the U.S.-Israel-China nexus is not tenable, however. Washington will not tolerate much more intimacy between Jerusalem and Beijing; and yet, neither the Jewish state nor the Asian giant are ready to break off the relationship.
Still, Netanyahu cannot yet afford to side wholeheartedly with China and rebuke Trump, not least before the 2020 U.S. elections and the new Israeli government's plan annex the West Bank annexation in the coming months. A full-scale re-pivot towards China remains more than unlikely.
But the fact that Israel now needs American aid perhaps less than before has obviously weakened the power of American irritation. Chastisement from the White House will not prevent Israel from further cultivating ties with Beijing — and will only further reinforce the notion, not entirely popular in Israel, that the United States seeks to wield their country as a pawn.
Israel, willing to test its American alliance for Chinese billions, will not cower forever to American rhetoric and pressure. Jerusalem will only readdress its Chinese relationship when Washington, rather than offer blasé condemnations, truly throws down the political gauntlet and makes it clear that the special U.S.-Israel relationship will not withstand the Jewish state's Chinese embrace. Until then, the China-Israel relationship will only deepen.
"There is an extraordinary capacity for China to assume its rightful place, as it's doing, on the world stage. We are your perfect junior partner for that effort," Netanyahu told a Beijing audience in 2017. "I believe this is a marriage made in heaven."
But perhaps Netanyahu should have been more cautious in his matchmaking. If America's demands sometimes seem onerous, China's embrace is hardly unconditional either. Israel has particular outsize strategic value for, and disproportionate political resonance in the U.S., whereas it's a mere minnow for Beijing.
Amid the ongoing U.S. campaign to blame China's opaqueness for the spread of COVID-19, Beijing is already deploying trade sanctions against international partners to try and silence criticism. It's a sign of what's to come: Israel should not be surprised when the Beijing regime, like its imperial predecessors, one day demands deference and tribute from its vassals.
Charles Dunst is an associate at LSE IDEAS, the London School of Economics' foreign policy think tank, and a journalist who has written for The New York Times, The Atlantic, and The Washington Post, among other publications. Twitter: @CharlesDunst
Click the alert icon to follow topics:
ICYMI
Ken Burns' Brilliant 'The U.S. and the Holocaust' Has Only One Problem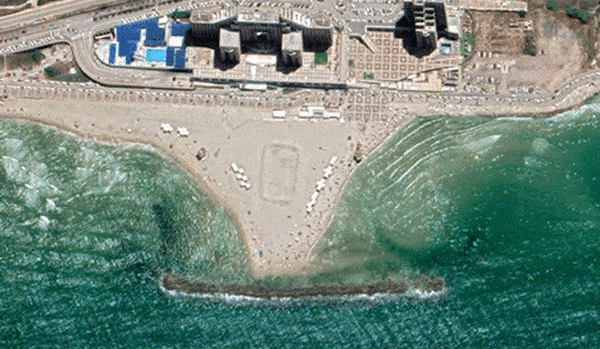 Facing Rapid Rise in Sea Levels, Israel Could Lose Large Parts of Its Coastline by 2050
As Israel Reins in Its Cyberarms Industry, an Ex-intel Officer Is Building a New Empire
How the Queen's Death Changes British Jewry's Most Distinctive Prayer
Chile Community Leaders 'Horrified' by Treatment of Israeli Envoy
Over 120 Countries, but Never Israel: Queen Elizabeth II's Unofficial Boycott