'Not Really Welcome': These Interfaith Couples Wanted to Live in Israel. Now They're Living in Limbo
For Israelis with non-Jewish foreign spouses, obtaining a partnership visa is a bureaucratic headache at the best of times. So what happens when the country's borders are closed? Haaretz speaks to three desperate couples to find out
Nir and Julia Shemesh.
Credit: Courtesy
It was supposed to be a love story with a happy ending. Nir Shemesh was sure he had an airtight plan to bring his pregnant new bride, Julia, from California to start their life together in Israel.
He had researched the complicated bureaucratic twists and turns that other Israelis had encountered after they married a non-Jewish foreigner, trying to learn from their mistakes. Checking and double-checking that he had collected all of the necessary documents, he was sure he had planned for every eventuality.
Then the coronavirus pandemic shattered his plans.
"It's crazy unfair," he says, in a telephone interview from Newton, Massachusetts, where the couple is crowded into his family's home – even as he continues to pay rent on his two-bedroom apartment in Tel Aviv. "My wife is really amazing. She deserves to call Israel her home. And I really want my baby to be born in Israel," he adds.
Nir and Julia are among several couples whose lives have been put on hold by Israel's announcement on March 18 that the country's borders were closed to non-Israeli citizens – including those legally married to Israelis. The process of obtaining a residency visa for foreign spouses was already a complicated and extensive one that can take more than eight months. Now, the coronavirus has added another level of frustration.
For couples who are residing in Israel, it extended their wait as appointments were canceled and rescheduled. But for those with unlucky timing, it has meant temporary exile. And while COVID-19 infection rates have plummeted in Israel and the country has returned to routine, their lives remain in limbo.
Shemesh, 36, was born in Israel but moved to the United States with his parents as a young child; he grew up in Boston and Los Angeles. He and Julia Eda Planine-Troiani were childhood sweethearts who stayed in touch as adults, and their connection remained intact even after Nir moved back to Israel five years ago, where he runs his own web design and marketing business in Tel Aviv.
They rekindled their relationship late last year, got engaged and began planning her move to Israel. In February, Nir flew to Los Angeles and the couple "had a very small, very nice wedding in Griffith Park." Julia ended her lease, packed up or sold her belongings, and they prepared to move to Israel, including beginning the process of securing her partnership visa by making an appointment in Tel Aviv on June 6.
By that time, they had discovered Julia was pregnant. Concerned that she would be unable to afford health care as a noncitizen, Nir "immediately" signed her up with an Israeli health maintenance organization and began monthly insurance payments to cover the costs of prenatal care and hospitalization when she gave birth.
Financial stress
As coronavirus fears grew, their original flight to Israel was canceled. They rescheduled the trip for a few weeks later, delaying their departure after realizing they were missing a test that would permit them to bring their beloved dog to Israel. Unfortunately for them, the ban on foreign entry began by the time of their scheduled flight. They were informed by the local Israeli consulate that Julia would be denied entry, even with their notarized marriage certificate.
With Julia's apartment lease ending, they took themselves, her belongings and their dog to his parents' home in Massachusetts. From there, they've continued their battle to both enter Israel.
They felt triumphant when the Israeli consulate in Boston registered their marriage in Israel. "I was told that this could take three months, but an amazing clerk at the consulate expedited it and got it approved in a few days," Nir says. "Our hopes were sky high – we were even given a form for Julia to sign, promising that she would quarantine when arriving in Israel."
But on Monday, the couple's hopes "were crushed yet again," when the consulate informed them that the Interior Ministry was denying her entry.
And because of her pregnancy, the clock is ticking. "We are about ready to give up on Israel and have our daughter here," Nir says. "We only have one month until she is at month seven, and then Julia won't be able to fly. We're going to miss our appointment at the Interior Ministry on June 6; I've run out of options."
Financial stress is adding to the pressure: Nir is paying rent and utilities on an apartment he can't occupy, in addition to expenses in the United States. Meanwhile, his clients have been hit hard by the health crisis and his income has essentially disappeared
"I wake up every day angry that my country has deserted me," he says. "I feel horrible that I'm stuck here. I miss Tel Aviv: I volunteered there twice a week with a group of schoolkids – I can't see them. I'm close to my family there, I'm missing their kids. It makes me have this bitter feeling toward Israel. You move to Israel, Israelis are like 'Are you crazy?' and don't understand why you would choose to live there. But for me, Israel is home and I love living there and have a lot of friends and family there. Really, it's heartbreaking."
Julia adds: "We want to put our roots down and start our family in Israel. Every day that passes makes it feel like doing so is less and less of a possibility."
Yadin Elam, a Tel Aviv lawyer who specializes in human rights and immigration, says there is no reason Israel "can't be more generous right now when it comes to the right to have a family life. While we can understand that Israel isn't allowing tourists at this time, there is no reason to bar couples that are already legally recognized as couples, and allow them to live their lives in Israel. Exceptions can be made to the rules."
Elam says it is "ridiculous" that Israeli citizens who never lived in the country, or who have been abroad for years, have been permitted to leave coronavirus hot spots like New York and ride out the pandemic in Israel, while those who "want to continue to live here with their foreign spouses are not allowed to do so."
'Not really welcome'
Roni Valenci, 39, and her Norwegian husband Eric Jacobsen, 51, are currently living in a rented apartment in Paphos, Cyprus. Although they are geographically much closer to Israel, they are still barred from entry as a married couple.
The pair met in Tel Aviv in early 2018 when Jacobsen was a tourist, and a long-distance romance began. Complicating their romance, and making their present situation difficult, is Valenci's medical situation: She has a benign tumor on her spinal cord – a chronic condition for which she is treated in Israel with a spinal cord stimulator implant.
After moving in together in Tel Aviv last August, Roni and Eric were married in Norway four months later. Valenci began the application process for her husband's partnership visa on February 6, with the couple waiting in Cyprus for news that it was approved and he could enter Israel legally.
The coronavirus has extended that stay far beyond their expectations. While Valenci isn't expecting a child, her physical condition makes her anxious to return to Israel.
"My health situation is too complicated to be treated here – and I'm not insured, I need help," Valenci says. "From what I hear, the Interior Ministry isn't bothering to move ahead for visas in cases like ours until foreigners are permitted into the country," she adds.
"I get it. I understand what they're doing by barring foreigners, and I respect the rules. But they can't treat people like us as if we're tourists and not let us in. We aren't tourists. We're people with homes and families in Israel, and our lives are on hold."
Their predicament is taking a toll both financially and emotionally, Jacobsen says.
"We have to pay rent here [in Cyprus] and on the apartment we aren't living in in Israel, in Karkur [between Tel Aviv and Haifa]. It's like your life is at a standstill: you aren't getting anything done. I was meant to be in ulpan, and I'll have to wait for that. Roni's safta misses her, and misses me, too. We have her uncles and aunts and family there who we're used to visiting several times a week. Israel is such a special country in that way: it's so family-oriented. Foreigners like me were right in the process of becoming a new member of a family. And then you get the message from the country that, no, you're not really welcome."
Joining his family in Norway isn't an option either. Even if Valenci's health problems made moving to Norway possible, that country, like most European states, is also closed to foreigners.
"It's difficult, but at least we can wake up every morning and be happy we're together," she says.
Tough times
Dan Lilienbloom, 32, and his Japanese wife Kana, 25, don't even have each other. For now, the only place they can be together is on video chat: he's in Tel Aviv and she's in Osaka.
Lilienbloom, originally from Moscow, immigrated to Israel last summer and Kana, his girlfriend of two years, joined him shortly afterward. In October, they were married abroad and, like Shemesh and Valenci, their union was registered with the Interior Ministry.
Following a recent visit to his family in Russia, Lilienbloom returned to his high-tech job and to begin the process of arranging Kana's partnership visa. She went back to her family in Osaka while continuing to work as a stock trader. Then the coronavirus struck and all appointments for visa approval were canceled. At the same time, she wasn't allowed to enter Israel as a tourist either.
"As things stand, I can't enter Japan and she can't come here," Dan says. "It's been tough on both of us psychologically – she's staying with her family, trying to keep busy and hoping for the best."
Dan Lilienbloom now has a rescheduled appointment with the Interior Ministry at the end of September to submit his wife's visa documentation. However, if Kana is not permitted to enter the country soon, he thinks they'll reunite in the first place they're able to be together.
"Once some other country opens, I'll probably have to leave Israel – and I don't know if I'll be coming back," he says. "It really stinks, but if she can't come here, I don't think I have a choice."
Haaretz asked the Interior Ministry for comment about these cases and the issue of Israelis awaiting partnership visas for their non-Jewish foreign spouses. The ministry failed to respond by press time.
Click the alert icon to follow topics:
ICYMI
Ken Burns' Brilliant 'The U.S. and the Holocaust' Has Only One Problem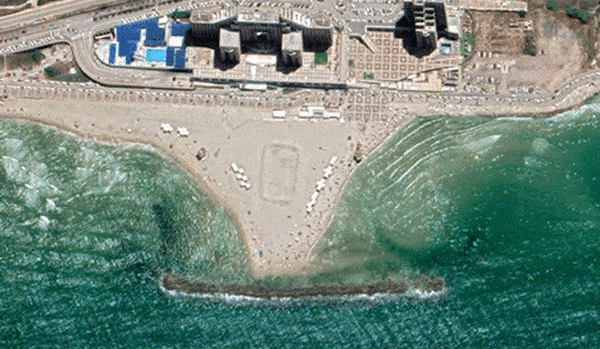 Facing Rapid Rise in Sea Levels, Israel Could Lose Large Parts of Its Coastline by 2050
Lapid to Haaretz: 'I Have Learned to Respect the Left'
The Mossad's Fateful 48 Hours Before the Yom Kippur War
As Israel Reins in Its Cyberarms Industry, an Ex-intel Officer Is Building a New Empire
How the Queen's Death Changes British Jewry's Most Distinctive Prayer