Northern Drift: What Happened to a Thriving Border Town After Israel Withdrew From Lebanon
Once a gateway community for Israeli troops entering south Lebanon, Metula is now more likely to house students than international journalists. Yet before the May 2000 withdrawal it was a place 'full of life and action,' as locals recall
Abandoned kiosks in Metula, at the old border crossing with Lebanon. "Aunt Marie blesses all the soldiers in the IDF," part of the sign reads. "Go and return in peace."
Credit: Gil Eliahu
Ronit Antler was among a handful of women from the northern border town of Metula active in Four Mothers – a protest movement formed in 1997 aimed at pulling Israeli troops out of Lebanon.
Widely hailed as Israel's most successful anti-war movement, Four Mothers has been largely credited with the Israel Defense Forces' eventual withdrawal, completed 20 years ago this week.
Yet, as Antler recalls, when her prayers were finally answered and the last Israeli soldiers stationed in Lebanon returned home on May 24, 2000, she couldn't help feeling somewhat ambivalent.
"Of course I understood it was a terrible situation," the 65-year-old says, referring to the more than 1,000 Israeli soldiers who lost their lives during the IDF's 18-year occupation of southern Lebanon. "But my house is about 100 meters [330 feet] from the border fence, and for months following the evacuation I just couldn't sleep. I was so terrified that without Israeli soldiers on the other side, the terrorists would storm the fence."
When a few months passed without any unusual incidents, Antler says, she started to feel that life, for her at least, could go back to normal.
But that could not be said for Metula itself, which virtually overnight was transformed from a bustling town – a site of pilgrimage for dignitaries, journalists, army generals and families of soldiers stationed just across the border – into a sleepy village of no interest to much of the world.
"In those years, Metula was a place full of life and action," recalls Antler, a descendant of one of the original families to build their homes in this former agricultural colony, founded 124 years ago. It is currently home to nearly 2,000 residents.
"Prime ministers, defense ministers, chiefs of staff – you name it, they'd all come through," she says. "And on weekends, you'd also have the families of the soldiers serving in Lebanon come up for visits. There were reporters from all over the world making trips up here because this was their gateway into Lebanon. And, as you can imagine, the hotels and restaurants were always full."
Back in those days, the traffic into Metula came from the other direction as well, with Lebanese citizens – mainly Christians – crossing the border into Israel daily. Some made the trip in order to receive medical care in Israeli hospitals, while others worked in factories and fields in northern border communities.
"Almost every family in Metula employed a housekeeper from south Lebanon," Antler notes.
A producer for a local television station, Antler still believes the 2000 withdrawal was "the best thing ever to happen to Israel," even if it brought a sudden end to an era of prosperity for her beloved hometown.
David Azulai, the mayor of Israel's northernmost town, puts it more bluntly: "The withdrawal was good for Israel but bad for Metula."
A different kind of flag
In the mid-'70s, after the civil war began in Lebanon, Israel began allowing some Lebanese citizens to cross the border through the "Good Fence" – aka Fatima Gate – in Metula. A symbol of Israeli-Lebanese coexistence, as well as a popular tourist attraction, this crossing served as a major passageway in and out of Lebanon from 1976 through the Israeli withdrawal in 2000.
The Israeli side of the fence featured a famous compound where soldiers reporting for duty in Lebanon would grab a last cup of coffee and a sandwich before making their way across the border in armed convoys. All that remains of this once bustling meeting point are the frames of the old kiosks where food and drinks were served to the troops.
An old sign, still intact, reveals the name of a woman who handed out free coffee from one of them: "Aunt Marie blesses all the soldiers in the IDF," it reads. "Go and return in peace. Remember, soldier, that when you enter Lebanon, you've left behind a worried family. For them and all the residents of the north, come back home in peace."
A few meters away, what was once a major border crossing is now overgrown with weeds, barely recognizable. The only indication of the Israeli and Lebanese flags that once waved proudly here side by side is a pair of rusty poles. "Someone stole the flags years ago," Azulai explains.
A former career officer, Azulai – who has been the town's mayor since 2015 – grew up in the nearby town of Kiryat Shmona. He spent most of his 25 years in the Israeli military stationed in Lebanon.
"You'd have anywhere between 2,000 and 3,000 people passing through here every day," he says, pointing in the direction of the border crossing. "There was an entire division of the army up here, so you'd have soldiers and commanders, UN troops, journalists, Lebanese citizens – they'd all come through here. Parents coming to visit their sons would wait here to see them, and some would even leave packages for them at the kiosks."
On a drive along the border road, a yellow and green Hezbollah flag pops into view. "That is not something you would have seen here 20 years ago," Azulai notes. During the 2006 Second Lebanon War, Metula was hit by some 120 rockets fired by Hezbollah, with most of the residents fleeing for the duration of the fighting. Antler recalls those 34 days as a "traumatic" period for her and her neighbors.
'Fun place to be'
Yitzhak Segev, 67, was a battalion commander based in Metula during the late '70s and early '80s. "It was a thriving town back then, a happening place," he says.
He recalls with special fondness a group of women known as "the aunties." "I imagine most of them are probably not alive today, but these were women who would come out of their homes and restaurants, carrying cakes and cookies – and sometimes even entire meals – for the soldiers," he recounts. "They'd often invite soldiers to spend Shabbat in their homes or in their zimmers [guest rooms]. They treated us as if we were family."
Because it is surrounded on three sides by Lebanon, there is only one road leading in and out of Metula. This main drag, known as Harishonim Street, is lined with old stone houses, quaint hotels and restaurants. On a recent midweek visit, hardly any pedestrians were in the street and only one café was open for takeout. With coronavirus restrictions still in place and the temperature topping 40 degrees Celsius (104 degrees Fahrenheit) that day, Israel's withdrawal from Lebanon 20 years earlier was obviously not the only reason for the eerie quiet.
In its heyday, the Arazim Hotel located on this street could count on a steady clientele of foreign journalists and IDF officers. The family-run hotel, opened in 1942, was where Israel's top generals would convene with their Lebanese Christian allies to discuss military strategy. UNIFIL troops, patrolling the border area, often reserved blocks of rooms here, as did the IDF's spokesman's unit.
Ian Black, former Middle East editor for The Guardian, served as Jerusalem correspondent for the British daily in the mid-'80s. "I would often stay at the Arazim," he says. "It was kind of a fun place to be. It wasn't luxurious by any means, but there was this sense of camaraderie among the journalists at the time – a feeling that we were covering a very important story."
As Black recounts, it was very easy in those days for journalists to enter and exit Lebanon via Metula. "I don't recall any sense of crossing a border," he says.
Israeli-American journalist Ze'ev Chafets recalls spending a considerable amount of time at the Arazim in the '80s, both in his capacity as then-director of the Government Press Office and as a reservist for the IDF spokesman's unit. "I remember being up there for a stretch of a month at a time when I was doing my reserve duty," he says. "Every time there was a big bombing, we'd take journalists into South Lebanon. It was a very tense time."
But once the journalists were back in the safety of their hotel, he recalls, "there was a lot of drinking by all."
The Arazim has been closed in recent months because of the coronavirus, but on a visit to the premises, the owners said they were planning to reopen for the Jewish holiday of Shavuot later this week.
College town
Twenty years after the withdrawal from Lebanon, most hotels and boardinghouses in Metula can no longer rely on a steady flow of visitors to keep them afloat. Indeed, many have been repurposed into student rentals for young Israelis enrolled at the nearby Tel-Hai Academic College. Today, residents say, Metula feels more like a college town than a military zone.
And that is not the only big demographic change the town has experienced: The Lebanese citizens who once tilled the local fields have been replaced by Thai workers. According to Azulai, some 700 students and 300 Thai workers currently live in Metula, in addition to its nearly 2,000 full-time residents.
Amir Shoshani, 58, moved here after he finished his army service in the early '80s and today, with his wife Orly, runs a bed-and-breakfast that offers a breathtaking view of Lebanon. "In those days," he recalls, "when the army unit in charge of Lebanon was headquartered here, Metula was a different place. You could even say it had a cosmopolitan feel to it. And then came the pullout of troops and, suddenly, total quiet. There were many businesses, especially those that relied on tourism, that shut down."
Antler left Metula in 1973 but returned 25 years later, drawn back to the mountain air, the year-round greenery, the spectacular landscapes and the intimate, small-town feel. Not long after she returned, she unsuccessfully ran for mayor. She is proud, though, to have been the first woman ever to sit on the local council.
On her daily morning strolls, Antler's view is of the Lebanese villages just across the border. "On a really clear day, sometimes I can even see into the homes," she relays. "I'll see a Lebanese woman preparing kibbeh in her kitchen and I want to shout, 'Wait, save me some of that!' Those are the days I think about how wonderful life would be if the border were open."
ICYMI
Ken Burns' Brilliant 'The U.S. and the Holocaust' Has Only One Problem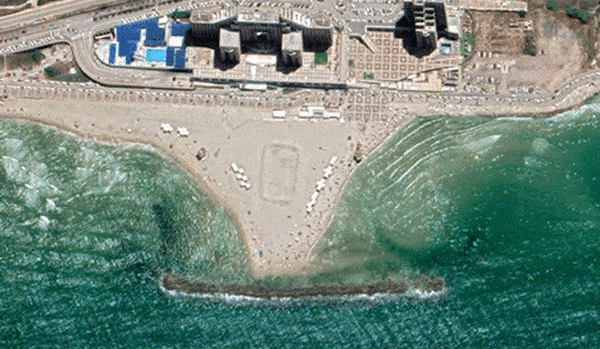 Facing Rapid Rise in Sea Levels, Israel Could Lose Large Parts of Its Coastline by 2050
As Israel Reins in Its Cyberarms Industry, an Ex-intel Officer Is Building a New Empire
How the Queen's Death Changes British Jewry's Most Distinctive Prayer
Chile Community Leaders 'Horrified' by Treatment of Israeli Envoy
Over 120 Countries, but Never Israel: Queen Elizabeth II's Unofficial Boycott