Coronavirus Offers Glimpse Into Future of Holocaust Remembrance
Holocaust survivors are passing away daily and the coming years are the last chance to hear directly from those who were in there. The coronavirus pandemic radically changed their plans for Remembrance Day
Participants at the 'March of the Living' to commemorate the Holocaust at Auschwitz, Brzeznika, Poland, May 2, 2019.
Credit: KACPER PEMPEL/ REUTERS
Gidon Lev knew exactly where he was supposed to be on Holocaust Remembrance Day this year.
The 85-year-old Ramat Gan resident usually goes into Israeli classrooms to share his Holocaust story with high school students, but this time it was going to be special. Instead of speaking in Israel, he was planning to travel to Santa Cruz, California, to address his grandson's high school class – many of whom are not Jewish and are unfamiliar with the events of the Holocaust.
"My daughter turns 55 this year and I was going to go celebrate with her. Since it is near Holocaust Remembrance Day, we contacted my grandson's school and they were very excited. I was supposed to speak to his whole grade and explain the background, geography and events of the era, and then I was going to go into the classrooms in smaller groups and tell the more personal stories."
The coronavirus radically changed those plans, as they have changed everything.
Lev won't even be able to speak locally on Tuesday as the country stops to remember the Shoah's victims and heroes. Age and, in many cases, fragile health have kept the survivors confined to their homes for both the past month and the foreseeable future. And even if he had been able to leave his home, the pandemic has led to the cancellation of all the traditional ceremonies and other gatherings.
"It's a little sad – I actually get a great deal of satisfaction doing it," Lev says in a phone interview. "I try to relate to the students on as personal a level as possible, make a real connection and make my experiences as real as possible for them – which I think I'm able to do as I was so young when I lived through it."
The lack of in-person testimony by survivors at Holocaust Remembrance Day commemorations this year is particularly tragic at a time when they are becoming more rare and precious than ever before.
With survivors passing away daily, the coming years are the younger generations' final opportunities to hear about the Holocaust from those like Lev who actually lived through it and witnessed events personally.
That loss is compounded this year by the fact that thousands are missing the opportunity to participate in the annual March of the Living from Auschwitz to Birkenau, which was set to take place on Tuesday – part of the mass cancellation of annual trips by Israeli schoolchildren to Poland.
Personal gatherings
As the restrictions for the coronavirus became more apparent throughout March and into April, the organizations dedicated to memorializing the Holocaust have scrambled to adapt long-held traditions to the new reality, working to bring as much activity as possible online.
The annual Yad Vashem ceremony marking the start of Holocaust Remembrance Day in Israel will be broadcast as usual on Monday night on local television, YouTube and Facebook. As they have in previous years, six survivors will light torches in a moving ceremony that includes prayers and music, and short film clips telling their stories.
But this year, for the first time, the ceremony will be prerecorded and without an audience. In place of the ceremonies in locations across the country where the names of Holocaust victims are read aloud, Yad Vashem, the World Holocaust Remembrance Center, is holding a "virtual name-reading" – asking people around the world to shoot video of themselves reciting the names of Shoah victims provided from lists that are online and then upload them to social media using the hashtags #RememberingFromHome and #ShoahNames. Yad Vashem will edit the videos into an online Holocaust Remembrance Day global name-reading ceremony.
The largest amount of online commemoration has been initiated by Zikaron BaSalon (Hebrew for "Memories in the Living Room"). The volunteer organization has worked for a decade to shift Holocaust remembrance away from bombastic ceremonies, turning them instead into more personal gatherings in homes. They feature firsthand testimonies from survivors, offering participants an opportunity to be active storytellers in a forum that allows for questions and discussion.
"Zikaron BaSalon is all about intimacy, having smaller, more personal conversations about the Holocaust – and this hasn't changed" says Dana Sender-Mulla, a group co-founder and board member. "In planning what we were doing this year, we had to think about how the survivors can participate in a way that respects them and keeps them safe."
Over the past month and a half, the organization has worked to help – often with the aid of families and caretakers – some 300 survivors learn the ins and outs of video-conferencing app Zoom, preparing them to participate in virtual Zikaron BaSalon gatherings for which over a million people worldwide have signed up online.
Still, Sender-Mulla notes, there were far more people who wanted to participate in Zoom sessions than there were survivors to go around. It was proved helpful that for the past year the organization's board has been confronting the reality of the dwindling numbers of survivors and working to develop the program in a way that does not rely solely on firsthand testimonies.
This, she says, left them better prepared to confront the coronavirus crisis.
Many of the Zoom sessions will begin with recorded personal testimonies from survivors and the discussions will be facilitated by second-generation survivors. In addition to the real-time Zoom sessions, Zikaron BaSalon has also provided a downloadable "family kit" for creating individual commemorations in family living rooms.
"We had already decided that, even in the 'in-person' Zikaron BaSalon gatherings that we had before the coronavirus, we were going to have to begin using recorded testimonies and second- and third-generations testimonies, because there are increasingly fewer survivors left to testify," Sender-Mulla explains.
Last year, the organization committed to continuing its program even when there are no survivors left, and developed an action plan to do so. The coronavirus crisis "accelerated the process and moved our goals forward," she says.
Moving the sessions online "has taken off in a way we weren't ready for," Sender-Mulla admits. "There are hundreds of meetings going on. While we recommended that the Zooms be limited to around 25 people to preserve intimacy, many of them are huge."
In addition to those on its website, the group has worked with schools across the country and worldwide, the Israel Defense Forces, the Jewish Agency and other organizations for specially designed sessions. One has even been recorded for Israeli prisons that, Sender-Mulla reports, is going to be screened in every cell.
'Everybody has a story'
"Whoever invented Zoom needs to get a Nobel Prize," says Devorah Weinstein, an Israeli Holocaust survivor who is used to appearing at numerous Zikaron BaSalon events. This year she will meet online with a group of 300 IDF soldiers and classes of schoolchildren. She notes one key part of the usual experience will be absent: "I [will] miss the hugs that I get at the end of the meetings."
Fran Letzter Malkin, 82, quarantined alone in her apartment in West Orange, New Jersey, says she will also miss the personal side of the encounter when she speaks to Zikaron BaSalon gatherings in the United States via Zoom – an effort being organized by the Israeli America Council.
Sharing her story is something that came to her late in life. Her family's way of coping with its trauma, she says, was to look ahead and move on. "Most of my life I didn't talk to anybody about it," she relays. "Then my uncle published his diary and I was asked to go back to Ukraine. That really had an effect on me. Soon after, my husband died, I retired, and everything changed. This became my focus."
She realized that "somebody had to remember" her family members who perished, so she began to devote herself to speaking to organizations and schools, including inner-city classrooms in New Jersey.
"My message to them is that for Holocaust survivors, it was very important to not let what happened prevent us from making a life," Letzter Malkin says. "I tell them: 'Things happen in this world. Everybody has a story. You can't let it defeat you.'"
It is particularly tragic that other survivors, who also began telling their stories late in life, had their missions cut short by the coronavirus. Israel's first coronavirus victim, 88-year-old Aryeh Even, was a Holocaust survivor from Hungary. In the United Kingdom, one of those lost to the disease was Ruth David, 91, who passed away on April 6.
David published her memoir "Child of Our Time: A Young Girl's Flight from the Holocaust" in 2003, telling the story of her journey from Germany to Great Britain on the Kindertransport. She was invited repeatedly to Germany to share her childhood experiences of life under Nazi rule with German schoolchildren, and then began her intense involvement in Holocaust education and remembrance in England as well.
"She had an extraordinary memory of our childhood in Germany," recalls her brother Mischou Oppenheimer, a 90-year-old Jerusalem resident. "But I think that earlier in her life, when she was raising her family, she didn't talk about it. It was after writing the book, in her later years, that everything came back for her."
Lev has finished his own memoir, "The True Adventures of Gidon Lev" – a collaborative project with life partner Julie Gray – set to be published in June. He and Gray are keeping busy while confined at home by recording an audio version, "which is allowing us to keep busy and concentrate on something creative," he says.
Remembering together on social media
A new project launched only a few weeks ago in response to the coronavirus aims to help memorialize the Holocaust for a generation that doesn't have the time or patience for books and Zikaron BaSalon gatherings.
Together with a group of friends from a post-army leadership program, 24-year-old Roni Yosefi decided to address a situation in which "because of the regulations, and because there is no school, no scout activities, no formal frameworks whatsoever, Holocaust Remembrance Day will be totally absent for kids, teenagers and even twentysomethings. People won't be able to mark it in a meaningful way. We decided that, since they do spend time on social media, we would bring the Holocaust there, onto their playing field," the Rehovot resident says.
Yosefi and her group created "Remember Together," encouraging young people from Israel and elsewhere to share images and thoughts about the Shoah.
The contributions, she says, "can be anything that connects the person to Holocaust Remembrance Day: It can be a story, memory, video clip or just an image, that they send to us and we can share."
The project continues a popular, and sometimes controversial, trend that has grown in recent years: bringing Holocaust commemoration onto social media in hopes of engaging younger generations.
These efforts stem from the same increasing awareness shared by all of those devoted to Holocaust memory. "We work with thousands of Holocaust survivors," Zikaron BaSalon's Sender-Mulla says. "Unfortunately, even before the coronavirus, we were losing about 30 people every day. Sadly, it is something we have had to learn to live with and adapt to. More than ever, it reinforces our commitment to keep on telling their stories."
Click the alert icon to follow topics:
ICYMI
Ken Burns' Brilliant 'The U.S. and the Holocaust' Has Only One Problem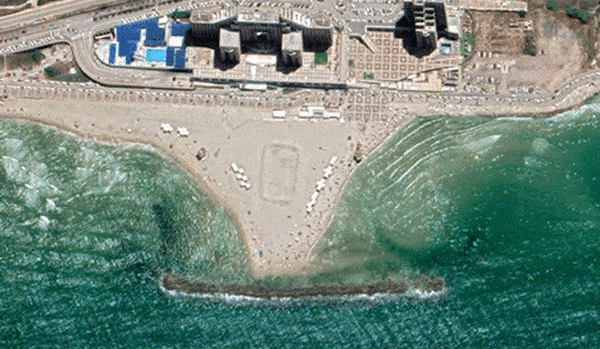 Facing Rapid Rise in Sea Levels, Israel Could Lose Large Parts of Its Coastline by 2050
As Israel Reins in Its Cyberarms Industry, an Ex-intel Officer Is Building a New Empire
How the Queen's Death Changes British Jewry's Most Distinctive Prayer
Chile Community Leaders 'Horrified' by Treatment of Israeli Envoy
Over 120 Countries, but Never Israel: Queen Elizabeth II's Unofficial Boycott