Quarantined After Waving at Coronavirus Patient: How Accurate Is Israel's 'Terrorist-tracking' Tech?
The Shin Bet measures tracking coronavirus patients are sending Israelis into isolation with little information and no way to ask, some of whom had no contact with a patient at all ■ Health Ministry says error was corrected, but people who were mistakenly quarantined claim they received no word
Medical staff in protective gear wave from the Intensive Care Unit of La Paz Hospital, during the coronavirus outbreak in Madrid, Spainת March 18, 2020.
Credit: SERGIO PEREZ / Reuters
Shira and her partner Guy (who asked not to use their real names) showed impeccably good citizenship and acted as responsibly they could: A week ago Thursday, Guy flew back from New York to Israel, knowing that he would have to quarantine himself immediately. And so Shira left their car at the airport and moved out of their apartment so that Guy could safely return from the airport and go straight into isolation.
Last Saturday, two days after he returned, Guy felt sick and his fever rose. He called Magen David Adom and was tested for the coronavirus, all this time quarantined at home. His connection with the outside world was through his phone and video chat, except for the one time that his parents left him food outside his door and left, when Shira came and waved to him from outside the apartment building and another wave hello to an upstairs neighbor.
Meanwhile, Guy's fever went down and he felt totally fine. But the results of the coronavirus test were delayed. When they finally arrived, six days after the fact, it turned out he did have the virus. But no less interesting than that, all the people he had merely been in remote contact with – including Shira, the upstairs neighbors, the people who came to visit the upstairs neighbors and Guy's parents – received a message from the Shin Bet security service saying they had been exposed to the coronavirus and had to go into isolation.
The message was very vague and revealed almost no details about their intersection with a coronavirus carrier, save for a date. "Hello Shira, according to an epidemiological investigation, on March 16 you were in the vicinity of a coronavirus patient. You must immediately go into isolation until March 30," the message read, and that was all.
"The message had a date but no location, hour or patient number," Shira said. "No hint that might have helped me know what kind of contact they meant. I was also in isolation for all those days except for that morning, because I had gone to live with my elderly parents and I self-quarantined," Shira said. "That, and the fact that anyone who went by Guy's house during the time he was in isolation and did not have contact with him still received the message, raises suspicions that the geolocation missed by a lot and sent us into isolation for no reason."
Shira had called the Health ministry to clarify what kind of contact she had with a known carrier. "First of all, I was really alarmed when I got the message, because I'm now living with my parents and they're in their 70s. I called the Health Ministry hotline but there's no one to talk to there. They explained that they're not responsible for geolocation and they couldn't give me any details, and it's not like there's a Shin Bet phone number I can call and get answers. It's a feeling of complete helplessness," Shira said.
'Everyone is in quarantine and I'm working as usual'
Another account Haaretz received of the tracking measures missing the mark is the Kafkaesque story of Dr. Itamar Zilberman, a gynecologist from Tel Aviv. Last week he felt under the weather, and because he treats many pregnant women, who are at a high risk of developing complications from the coronavirus, requested to be tested as not to infect countless others. After being swabbed, he was sent into a 48-hour quarantine until he got his results.
The test came back negative, to his great pleasure. But there seemed to be a mix-up along the way: The Health Ministry accidentally received information that he tested positive, and transferred the data to the Shin Bet, who immediately began the geolocation of those who had contact with Zilberman. He received a text message to that effect on Friday.
He and his partner tried to get in touch with anyone they could to warn them, but with no success. His medical colleagues, neighbors and acquaintances began receiving the Shin Bet messages on Saturday. None of Zilberman's medical contacts could help him end their unnecessary isolation. "Now the absurd situation is that everyone is in quarantine and I'm working as usual, because my test came out negative. So I'm trying to cancel all of their quarantines," he said.
His partner, Or Levinstein, said that talking to the Health Ministry was like talking to a broken record. "According to them, we were in contact, they have no other information, and they're telling us that there's nothing that can be done – get into quarantine," he said. "I even managed to get in touch with the Shin Bet, and they said that it was the Health Ministry's business and that if they made a mistake, they're the only ones that can fix it." Levinstein's workplace has asked him not to come back in until the situation is dealt with.
The Health Ministry said on Sunday its inquiry found that a typing error at the lab in which Zilberman's test was processed led to a false positive diagnosis
"We are in the first days of operating the system that was swiftly developed. Since the data wasn't automatically processed into the system in the first days since its activation, we are currently facing difficulties alerting citizens about mistakes made while handling confirmed and suspected coronavirus patients," its statement said.
"We lament that people unnecessarily entered quarantine, but this mistake is dwarfed in comparison to the opposite scenario. The Health Ministry is doing everything in its power to improve, aiming to provide the best solution to the situation we are at."
However, Zilberman said Sunday evening that neither he or his relatives received any message from the Health Ministry.
Israel brought out the big guns
Just a week ago, the public was introduced to the "special means" the Shin Bet would use to track people who had been in contact with coronavirus patients. Those means include pinging cellphones and collecting other technological information using hidden tools and cross-referencing the data, so that at the end of the process, anyone who had been in contact with coronavirus patients are located, no matter where they had been. A message is then sent to potentially infected people with instructions to go into isolation immediately. Instead of following the epidemiological updates from the Health Ministry website, the messages arrive directly to those exposed to a coronavirus patient.
Although this is an extreme form of surveillance that has never been used on Israel's civilian population, this measure was instituted swiftly and has been in place since Wednesday. The government also decided, despite the attorney general's pledge of parliamentary oversight, that the plan would circumvent the Knesset and be implemented as an emergency regulation.
In a press briefing last week, Prof. Sigal Sadetsky, head of public health services, was asked about the large standard deviation and margin of error using these means. She did not answer, citing the classified aspects of these steps.
Meanwhile, in response to a petition filed by the Association for Civil Rights in Israel, the Arab minority rights group Adalah and attorney Shahar Ben-Meir, the High Court of Justice ruled that if by Tuesday at noon the relevant Knesset committees are not established to oversee these surveillance measures, they must stop. The court also ruled that the police will not be allowed to use digital surveillance until further notice.
As of now there is no official way to receive answers to basic questions on the geolocation, such as how it works, how it ensures accuracy and whether hospital personnel are exempt. A conversations with senior Health Ministry officials reveals that as precise as the means are, they cannot distinguish, for example, walls that separate rooms and houses, and their margin of error is not small.
In recent weeks a large Health Ministry team has been working with an outside firm on an app that will make the epidemiological investigation much more transparent, and maintain the privacy of the public. If as many people as possible download the app, it can share information about proximity to confirmed coronavirus patients, but anonymously, and without conveying the information to the Health Ministry, the police or the Shin Bet.
An app just like this was launched a few days ago by the government of Singapore. The obvious question is why Israel decided to bring out the big guns of enforced public surveillance on the outset, rather than seek the possibility of a proportionate, specially-designed civilian app.
The Health Ministry has not responded to this report.
______________________________________________________________________
Click the alert icon to follow topics:
ICYMI
Ken Burns' Brilliant 'The U.S. and the Holocaust' Has Only One Problem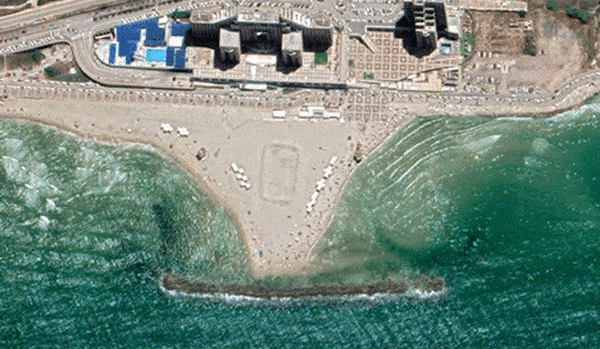 Facing Rapid Rise in Sea Levels, Israel Could Lose Large Parts of Its Coastline by 2050
Lapid to Haaretz: 'I Have Learned to Respect the Left'
The Mossad's Fateful 48 Hours Before the Yom Kippur War
As Israel Reins in Its Cyberarms Industry, an Ex-intel Officer Is Building a New Empire
How the Queen's Death Changes British Jewry's Most Distinctive Prayer