Live Updates |
Israel Extends Coronavirus Quarantine Orders to All Arrivals, 58 Cases Confirmed
Netanyahu announces 'tough, but vital decision' ■ Order for Israelis effective as of Monday, foreigners as of Thursday ■ Visitors in Bethlehem told to self-isolate ■ Four cases confirmed at AIPAC conference
Passengers walk while wearing protective masks at Ben Gurion International Airport, near Tel Aviv, February 27, 2020.
Credit: AFP
This article is no longer being updated. For the latest updates on coronavirus in Israel, click here
As the novel coronavirus continues to rattle the world, Israel and the Palestinian Authority are grappling with containing the outbreak.
■ All Israelis returning from abroad are ordered into a 14-day quarantine. Starting Thursday, non-Israelis will have to prove they are able to self-quarantine
■ Wary of Trump, Netanyahu overrules Health Ministry on U.S. coronavirus quarantine
■ 58 Israelis have so far tested positive for coronavirus, known as COVID-19; thousands have been placed in isolation; four have recovered
■ Palestinian Authority bars all foreign tourists for two weeks, closes Bethlehem churches and mosques with 25 confirmed cases of virus and one in Tul Karm. Thirteen U.S. nationals are quarantined in Bethlehem hotel. Israeli officials dread possible Gaza coronavirus outbreak
■ Energy, tourism shares fall sharply at the Tel Aviv stock exchange, in keeping with stocks worldwide
>> Tracking the global spread of novel coronavirus
LIVE UPDATES:
3:35 P.M. Israeli Health Ministry preparing for more coronavirus tests and stricter social distancing rules
Israel's Health Ministry is considering making more stringent guidelines for social distancing in the wake of the coronavirus outbreak, focusing on limits on nonessential gatherings like cultural activities, conferences and sports competitions.
The current guidance allows events with up to 5,000 people, but sources in the health system expect the ministry to issue new guidance that will significantly cut back the ability to hold gatherings. Other dramatic moves being weighed include closing educational institutions and ordering people to work from home. According to one source familiar with the discussions, these guidelines will be issued soon.
The ministry is also working to increase its testing capacity by training additional labs on top of the four operating in the Sheba, Hadassah, Soroka and Rambam medical centers. Expanded testing is high on the agenda of health officials. The current rate is about 400 tests per day, while the goal is to test thousands of people per day.
"The number of tests is too low. We don't have good enough intelligence on the virus in Israel," a medical professional on one of the teams treating the epidemic said. "It influences all decisions and guidance to deal with the epidemic. Increasing the number of tests is critical." (Ido Efrati)
3:15 P.M. Morocco reports first coronavirus death
Morocco's health ministry confirmed on Tuesday the country's first death from coronavirus in Casablanca, as its overall number of new infections rose to three.
The dead patient, who entered Morocco from Italy's Bologna, is an 89-year-old Moroccan woman suffering from respiratory and heart diseases, the ministry said in a statement. (Reuters)
2:07 P.M. Three more Israelis test positive for virus; total cases at 58
A 66-year-old man from Jerusalem and a 30-year-old man from central Israel have been diagnosed with coronavirus after being in contact with a carrier of the virus.
Meanwhile, a man fom the Tel Aviv area tested positive after returning from a trip to Austria. (Ido Efrati)
1:21 P.M Four more Israelis tests positive to virus, bringing total to 55
Four new carriers of the novel coronavirus have been detected in Israel.
A resident of Ma'aleh Adumim has been identified as the 52nd carrier of the novel coronavirus. They were in contact with a carrier of the virus in Israel, the Health Ministry said.
The other three newly identified Israeli carriers of the virus are aged in their 30s to 40s and are residents of central Israel, according to the ministry. They traveled to Europe and have been in quarantine since they returned to Israel. (Ido Efrati)
1:16 P.M. Israel's 51st virus carrier detected
A 51st Israeli has tested positive for the novel coronavirus, the Health Ministry announced. The resident of Israel's south returned from Azerbaijan last week. (Ido Efrati)
1:03 P.M. Virus kills 54 more in Iran; death toll climbs to 291
Iran says the new coronavirus has killed 54 more people, raising the death toll to 291 amid 8,042 cases in the Islamic Republic, according to Kianoush Jahanpour, a Health Ministry spokesman, Tuesday. (The Associated Press)
Read More: The one thing Iran's regime can be grateful for
12:11 P.M. Lebanon records first death
Lebanon recorded its first death from coronavirus on Tuesday, local broadcasters said, adding that the patient had been in quarantine since returning from Egypt.
The government has halted flights for non-residents from epicentres of the virus, shut schools and warned against public gatherings as the total number of cases rose to 41 this week. (Reuters)
11:21 A.M. European airline suspends Israel flights
Wizz Air has suspended all flights to Israel due to the measures Israel is taking to fight coronavirus, the carrier said on Tuesday.
Flights to and from Tel Aviv and Eilat will be suspended from March 12 until March 23, the company said. (Reuters)
10:53 A.M. Gulf countries, Egypt report more cases of virus
Saudi Arabia, Kuwait, Qatar and Egypt have recorded more cases of the novel coronavirus. Saudi Arabia's Health Ministry reported five new cases, bringing the total number of infections in the kingdom to 20.
Kuwait also announced four new confirmed cases over the past 24 hours, raising the total number in the Gulf state to 69. In Qatar, a total of 18 cases have been detected so far. Egypt has raised the total number of infections to 59, after four new cases were recorded. (DPA)
10:18 A.M. Jerusalem Purim events cancelled over concerns about virus
Jerusalem Mayor Moshe Leon announced that Purim events will be cancelled in the city, following discussions with the police and Health Ministry about coronavirus. (Nir Hasson)
10:09 A.M. Opinion: Israel's coronavirus response has been too extreme
Since my previous opinion piece on the new coronavirus epidemic, there have been significant developments in the global picture, the policies implemented by Israel and the economic and societal implications of these policies, which require a fresh approach to address what the future may bring.
It's important to note that Israel's current policy is more extreme than that of most developed nations, including those that have been harder hit by the disease. (Zvi Bentwich)
>> Read Zvi Bentwich's full editorial here
9:30 A.M. Israel's CoronaApp exposed users' medical history to hackers
A major security flaw that allowed hackers to extract confidential medical information of some 75,000 Israeli users was discovered in the Health Ministry's CoronApp, intended to provide information about coronavirus and allow users to consult with experts and report their quarantine.
According to the Health Ministry, there was no hostile breach of the app's database and the bug has since been fixed.
>> Read Ran Bar-Zik's full report
7:48 A.M. Cyprus doctor tests positive for virus; largest hospital suspends most services
Cyprus' largest medical facility suspended most services on Tuesday, authorities said, after a medical doctor heading the heart surgical ward tested positive for coronavirus.
The 64-year-old doctor was one of the first two individuals to test positive on the Mediterranean island. He had recently returned from Britain and had contact with patients. (Reuters)
MONDAY
11:05 P.M. Movement restricted across Italy to curb virus spread
Movement across Italy will be sharply restricted in a dramatic new clampdown aimed at halting the spread of the coronavirus, Prime Minister Giuseppe Conte said on Monday.
Conte told reporters that measures introduced just two days ago in much of the north were no longer sufficient and that they would have to be extended to the whole country from Tuesday. "Stay at home," Conte said. (Reuters)
11:03 P.M. Fourth AIPAC attendee tests positive
A fourth person, a man from Ohio in his 50s, who attended the AIPAC policy conference in Washington last week has tested positive for the novel coronavirus, Ohio Governor Mike DeWine said in a statement released Monday. The three previous cases were diagnosed in New York and Los Angeles.
"This disease will for a period significantly disturb and disrupt our lives," DeWine said. Ohio has declared an emergency situation to deal with the outbreak. (Amir Tibon)
11:01 P.M. Those visiting Rachel Tomb's are not required to enter quarantine
Israel's Health Ministry exempted visitors arriving at Rachel Tomb's on the outskirts of Bethlehem since the passage to the compound is secured and doesn't require contact with local residents. (Ido Efrati)
10:32 P.M. Israel's Foreign Ministry cancels Independence Day events abroad
The Foreign Ministry has ordered Israeli diplomats to cancel plans for events for the country's 72nd Independence Day, which falls on April 29.
Events for Holocaust Rememberance Day, on April 21, and the Memorial Day for Israel's Fallen Soldiers, on April 28, will be held on a smaller scale than initially planned. (Noa Landau)
10:25 P.M. 50th Israeli tests positive
An Israeli from northern Israel who returned from Spain on Tuesday tested positive for the novel coronavirus, the Health Ministry said. The patient is said to be in good condition, and has remained in quarantine since Wednesday.
According to the Health Ministry, four patients have made full recovery. (Ido Efrati)
10:23 P.M. Palestinians barred from travelling to Jordan
The Palestinian Authority said on Monday it was barring Palestinians from travelling to neighbouring Jordan through the Israeli-controlled Allenby Bridge crossing, with immediate effect. Foreigners would still be allowed to leave and all entries allowed, the PA said. (Reuters)
10:10 P.M. Five more Israelis test positive for virus
Five additional Israelis have tested positive for coronavirus, bringing the total number of cases in the country to 49. One of them returned from Spain and is in moderate condition, and the remaining four were in close contact with other confirmed patients. (Ido Efrati)
9:55 P.M. Two Israelis test positive for coronavirus
Two more Israelis tested positive for coronavirus, one had come back from France and the other Spain. (Ido Efrati)
8:30 P.M. Quarantine for Israelis effective as of Monday, foreigners as of Thursday
According to a directive from Interior Minister Arye Dery, the quarantine order for Israelis will go into effect as of 8 P.M. Monday. The order for foreigners who can prove they have adequate accommodations to be quarantined during their stay in the country will go into effect as of 8 P.M. Thursday.
According to details provided by the Health Ministry, as of Monday at 8 P.M. all Israeli citizens returning to Israel from anywhere abroad must enter a 14-day home quarantine immediately upon their return.
Starting Thursday, foreign nationals arriving to an international border crossing will be permitted entry into Israel, provided that they can demonstrate their ability to enter home quarantine in Israel.
Tourists currently in Israel will be given time arrange their exit from Israel in the coming days. Until their departure, they must adhere to follow the following rules:
If they develop any symptoms, they must immediately call Magen David Adom (Israel's national medical emergency services)
Take care to maintain good hygiene practises
Avoid, as much as possible, large crowds
Note that it will not be possible to exit to neighbouring countries and then return to Israel
Document the course of their travels in Israel
Anyone who has returned to Israel from abroad in the previous 14 days, and who is not already under home quarantine as stipulated by the Health Ministry is not obligated to enter home quarantine. This applies so long as they don't develop symptoms of the disease, in which case home quarantine with immediate effect is ordered.
All those currently under home quarantine stipulated by previous instructions by the Health Ministry are to continue their quarantine to the completion of 14 days following their return to Israel. (Noa Landau)
8 P.M. Iraq calls on citizens to avoid visiting sacred cities and sites
Iraq has banned all public gatherings and called on citizens to avoid visiting sacred cities and sites to stop the spread of the coronavirus, according to an official statement.
Authorities also called on Iraqis arriving from Iran, China, South Korea, Italy, Japan, Thailand, Singapore, Kuwait and Bahrain to stay at home for self-quarantine for 14 days. (Reuters)
null7:45 P.M. Israel extends quarantine orders to all arrivals
Prime Minister Benjamin Netanyahu has extended quarantine orders to all those arriving in the country. Quarantine orders will last two weeks and could affect some 300,000 Israelis. Netanyahu called the move "a tough, but vital, decision."
Those ordered to home isolation must remain in quarantine for two weeks.
The decision comes after Israel first considered adding some U.S. states to the self-quarantine list including New York, California and Washington. However after the Trump administration expressed strong objection, Israel decided to apply the order to all countries. (Noa Landau)
7:15 P.M. One more Israeli tests positive for coronavirus, bringing total to 42
A 41-year-old man has tested positive for coronavirus after returning from Spain via Istanbul on Monday.
6:55 P.M. Two more Israelis test positive, bringing total to 41
Two Israelis have tested positive for coronavirus, the Health Ministry said. Both patients are from Tel Aviv and returned from Zurich on Monday. The total number of cases in Israel now stands at 41. (Ido Efrati)
6:38 P.M. Cyprus confirms first two cases
Cyprus on Monday reported its first two confirmed cases of coronavirus, including a public health professional who had contact with medical patients before he reported his symptoms to authorities.
Both patients – males – had travelled from abroad. The first case involved a 25-year-old man who had returned from northern Italy and the second, the health professional, a 64-year-old who returned from Britain on March 3. (Reuters)
5:40 P.M. Netanyahu to make decision on further quarantine and entry restrictions later Monday
Following a meeting with Health Ministry officials, Prime Minister Benjamin Netanyahu said he would make a decision later Monday on whether to expand quarantines for returning Israeli citizens and banned entry for foreigners later Monday. (Noa Landau)
5:35 P.M. U.S. universities should curtail study abroad during coronavirus, CDC says
The U.S. Centers for Disease Control and Prevention issued special guidance on Monday that colleges and universities should consider asking students studying abroad to return to the United States and cancel or postpone upcoming travel in light of the coronavirus spread.
"Those overseeing student international travel programs should be aware that students may face unpredictable circumstances, travel restrictions, challenges in returning home or accessing health care while abroad," the CDC said in its guidance. "All plans for returning study abroad students should be designed to protect participants from stigma and discrimination." (Reuters)
4:53 P.M. Saudi Arabia suspends travel to France, Germany, Turkey, Spain and Oman
Saudi Arabia has announced it is suspending travel to France, Germany, Turkey, Spain and Oman for citizens and residents due to coronavirus, state news reports. (Reuters)
4:48 P.M. Trump says 'nothing is shut down, life and the economy go on'
U.S. President Donald Trump dismissed worries over coronavirus, tweeting: "So last year 37,000 Americans died from the common Flu. It averages between 27,000 and 70,000 per year. Nothing is shut down, life & the economy go on. At this moment there are 546 confirmed cases of CoronaVirus, with 22 deaths. Think about that!"
4:24 P.M. Bennett says no drastic measures to close West Bank for now
Defense Minister Naftali Bennett says at this point, there will be no extensive closures of the Palestinian territories. Bethlehem, which has reported cases of the virus, will remain closed.
Bennett has instructed the Defense Ministry to assist the Health Ministry in supplying medical equipment and sanitation. (Yaniv Kubovich)
2:28 P.M. Fourteen Nazareth teachers quarantined
Fourteen teachers from Nazareth's Salesian School have entered home quarantine after visiting Beit Sahur, near Bethlehem. (Shira Kedari Ovadia)
2:13 P.M. PA: Six more cases reported
The Palestinian Authority announced that there are six additional coronavirus cases in the West Bank: five in Bethlehem, and one in Tul Karm. (Jack Khoury)
2:05 P.M. IDF says 1,237 soldiers in quarantine
The Israeli military released a statement Monday saying that 1,237 of its soldiers, who had traveled abroad and returned to Israel, are currently in quarantine. It added that 301 soldiers have finished their isolation period and returned to their units. (Yaniv Kubovich)
12:20 P.M. Jerusalem bilingual school closed
The Education Ministry instructed the Max Rayne Bilingual School in Jerusalem to close, as many of its students are Bethlehem residents. The West Bank city has reported rising numbers of coronavirus diagnoses. (Nir Hasson)
Analysis: As Iran's coronavirus death toll rises, there's one thing Tehran can be grateful for
Already with the highest number of coronavirus cases in the Middle East, Iranian government officials have warned over the weekend that the number could spike to over 450,000, warning that many of the patients might die. Iran's worsening situation has isolated the country far beyond what the American sanctions against Tehran sought to achieve, as Iranian nationals are barred from entering Turkey and Gulf states, and are subject to harsh restrictions upon their entry to Iraq.
>> Read Zvi Bar'el's full analysis here
11:55 A.M. Iran says 43 more have died from coronavirus, pushing death toll to 237
Iran's Health Ministry announced the new figure at a news conference Monday, updating the number of confirmed cases to 7,161.
There are over 7,640 confirmed cases of the virus across the wider Mideast. (AP)
11: 25 A.M. Bethlehem cases rise to 20
The Palestinian Authority and the Palestinian Health Ministry in Ramallah have reported that the number of those diagnosed with coronavirus in the Bethlehem area has risen to 20, up from 19 on Sunday. (Jack Khoury)
>> Read more: Bethlehem becomes a ghost town after coronavirus closure
11:05 A.M. Netanyahu starts conference call with European leaders about response to crisis
The call includes the leaders of Austria, Cyprus, Italy, Bulgaria, Hungary, Croatia and Romania. (Noa Landau)
10:44 A.M. Tel Aviv stock market tumbles
The Tel Aviv stock market followed the global trend, experiencing major losses at opening on Monday morning. (Asa Sasson)
10:07 A.M. Catastrophic opening on Mideast stock markets as oil prices suffer worst losses since start of 1991 Gulf War over virus
State oil giant Saudi Aramco dropped by 10% on Riyadh's Tadawul stock exchange at opening on Monday, forcing a halt to Aramco's trading. Tadawul remained open, but Boursa Kuwait shut down within 30 minutes of opening as stocks again dropped by 10%, the third such emergency halt to trading in recent days.
The Dubai Financial Market saw stocks drop by 8.5% in a steep selloff as it opened. The Abu Dhabi Securities Exchange dropped by over 7%.
Riyadh earlier announced it had now closed air, sea and land borders to Bahrain, Egypt, Iraq, Italy, Kuwait, Lebanon, South Korea, Syria and the United Arab Emirates. (AP)
>> Explained: As oil prices crash, coronavirus unleashes economic warfare
9:45 A.M. Wary of Trump, Netanyahu overrules Health Ministry on U.S. coronavirus quarantine
According to Health Ministry officials talking off the record on Sunday, Prime Minister Benjamin Netanyahu's associates pressured them to walk back any quarantine planned for Israelis returning from the three hardest-hit U.S. states. The prime minister began pivoting to the more sweeping strategy that would quarantine all overseas travelers.
But Netanyahu pulled back from making either move, deciding, instead, not to decide, and in the process hurting the government's credibility.
>> Read Allison Kaplan Sommer's full story here
9:15 A.M. Coronavirus patient transferred from home quarantine to hospital
A 69-year-old resident of northern Israel who had been diagnosed with the coronavirus has been transferred from home quarantine to an isolated room in the Bnai Zion Medical Center in Haifa. The patient had returned to Israel from Spain. (Noa Shpigel)
9:12 A.M. Israeli diplomatic staffer in Greece tests positive for COVID-19
A member of Israel's embassy staff in Athens was put in isolation on Monday. He was diagnosed after travelling on a flight of Greek pilgrims, some of whome were known to carry the virus.
Two of his family members also tested positive for the virus. The embassy in Athens will be entirely disinfected, Israeli authorities said. (Haaretz)
8:52 A.M. Transport ministry issues new guidelines for public transport
Israel issued new guidelines for people travelling on buses and trains. People will now be expected not to sit in the front row in local buses, in order to avoid prolonged contact with drivers, while standing will be forbidden on intercity coaches.
Commuters were invited to ventilate carriages as much as possible by opening windows. Israel's buses and trains are normally air conditioned. (Haaretz)
6:50 A.M. Holocaust commemoration March of the Living cancelled in Poland
The March of the Living, which commemorates the victims of the Holocaust, bringing thousands to the site of the Auschwitz extermination camp in Poland, and Israel the day after, has cancelled the annual event, which has taken place every year since 1988.
Dr. Shmuel Rosenman, who chairs the body organizing the event, said the event had been postponed after consulting with health officials. "Our primary concern is the health of the many participants and the Holocaust survivors who would be joining them. Given that this is an international event involving 110 delegations from around the world, we have a responsibility to take precautionary measures in accordance with the guidelines given by authorities in various countries," he said in a statement.
The event was slated to take place on April 21. (Haaretz)
3:05 A.M. Two U.S. lawmakers, including Republican Ted Cruz, enter self-quarantine
Texas Senator Ted Cruz and Congressman Paul Gosar from Arizona announced they were going into self-quarantine on Sunday after they interacted with a person who tested positive for the novel coronavirus.
They reported having had close contact with a person known to be infected with COVID-19 at CPAC, an annual gathering of conservative activists and politicians which President Donald Trump and Vice-President Mike Pence also attended.
Former presidential hopeful Ted Cruz said the chances of infection were "extremely low" but he had entered quarantine out of an "abundance of caution."
This brings the virus one step closer to Trump, as U.S. news outlet Washington Post reported on Monday he had shaken hands with the head of CPAC, who had himself been in contact with the infected man. The White House said the president had not shown any symptoms. (Agencies)
2:58 A.M. Saudi Arabia discovers four new coronavirus cases
SUNDAY
11:36 P.M. Visitors to Bethlehem in past two weeks ordered to self-quarantine
The Health Ministry says that anyone in Israel who visited the Bethlehem area in the past two weeks must put themselves into self-quarantine. (Ido Efrati)
10:23 P.M. East Jerusalem Parents' Association wants schools closed
The East Jerusalem Parents' Association called on parents to keep children at home to reduce the risk of them contracting the virus. (Nir Hasson)
10:12 P.M. Ten more Israelis test positive; total now at 39
The Health Ministry has announced that another ten patients have been diagnosed with coronavirus, bringing the total of infected Israelis to 39. Five of these were diagnosed today after returning from abroad, having returned from countries with cases of the virus: Italy, Spain, Belgium and Austria. (Ido Efrati)
9:30 P.M. 29th Israeli tests positive for coronavirus
A man in his forties from Central Israel became the 29th Israeli to test positive for the virus. The Health Ministry says they have yet to identify where he contracted the virus from. (Ido Efrati)
8:49 P.M. Foreigners coming from Egypt will not be allowed into Israel
Interior Minister Arye Dery announced that anyone who has been in Egypt in the past two weeks and is not an Israeli citizen or resident will be prevented from entering Israel.The ban will take effect immediately, he said. (Ido Efrati)
8:43 P.M. U.S. church group in West Bank tests negative for coronavirus
Thirteen Americans quarantined in a West Bank hotel on suspicion of having caught the coronavirus have tested negative, a Palestinian official said on Sunday.
"The American tourists will leave either later this evening or tomorrow morning," said Ibrahim Melhem, a spokesman for the Palestinian government.
The group, from the 3Circle Church in Fairhope, Alabama, were placed in quarantine at the Angel Hotel in Beit Jala, which is next to Bethlehem, on Wednesday. (Reuters)
8:38 P.M. 28th Israeli tests positive for virus
The Health Ministry said that a 60-year-old man from Jerusalem has been confirmed as the 28th case of coronavirus in Israel. The man, who was in contact with a tourist from France, is currently in home quarantine. (Ido Efrati)
8:29 P.M. Israeli is 27th virus carrier identified
A resident of Israel's north has been identified as Israel's 27th carrier of the coronavirus. The individual returned from Austria today and entered quarantine, the Health Ministry said. (Ido Efrati)
8:19 P.M. 26th Israeli virus carrier identified
A resident of the Haifa area has tested positive for the coronavirus, bringing the total number of confirmed cases in Israel to 26. The woman returned to Israel on a flight from Madrid, Spain.
The Health Ministry said that she has been in quarantine since March 3 and is in a good condition. (Ido Efrati)
7:25 P.M. Netanyahu says considering to expand quarantine to all countries
Prime Minister Benjamin Netanyahu said any decision to expand quarantine regulations would only be made on Monday. Speaking at a press conference, he said "The measures we took so far have proven themselves… If we decide to expand (quarantine regulations) any further, it would apply to all destinations."
Netanyahu made no specific mention of the reports on the planned quarantine order to some U.S. arrivals, but thanked President Donald Trump and Vice President Mike Pence "for their cooperation."
Click the alert icon to follow topics:
ICYMI
Ken Burns' Brilliant 'The U.S. and the Holocaust' Has Only One Problem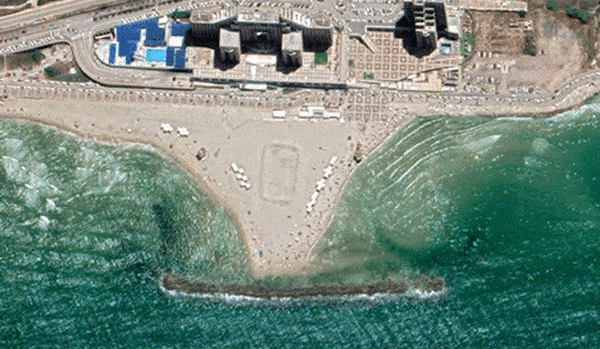 Facing Rapid Rise in Sea Levels, Israel Could Lose Large Parts of Its Coastline by 2050
Lapid to Haaretz: 'I Have Learned to Respect the Left'
The Mossad's Fateful 48 Hours Before the Yom Kippur War
As Israel Reins in Its Cyberarms Industry, an Ex-intel Officer Is Building a New Empire
How the Queen's Death Changes British Jewry's Most Distinctive Prayer