This Israeli Artist Wants Americans to Disarm (And for Women to Run the World)
Artist Yael Bartana invites viewers on a journey that ends with a mass burial of weapons. Critics may label her an outsider preaching to Americans, but she's unafraid to call them out on a fascist agenda
"Bury our bodies, not our weapons": A frame from Bartana's work.
Credit: Courtesy of Sommer Contemporary Art
In April 1972, John Lennon and Yoko Ono released an eyebrow-raising single from their album "Some Time in New York City." In it, the legendary former Beatle and his creative and romantic partner sang: "Woman is the Nigger of the World." Now, almost 48 years after the controversial duo's hit sparked a global outcry, one Israeli artist is dreaming up a world in which women are no longer "the slave to the slave." In Yael Bartana's alternative reality, feminism is key, men are hardly ever mentioned, and the real issue facing the female leaders of her universe is the fight against weapons.
Hints of this idealistic world emerge throughout Bartana's latest solo exhibition, "The Undertakers," at Sommer Contemporary Art in Tel Aviv. A sign in bold blue neon letters announces to viewers that in the space they have entered, "Patriarchy is history." And that's just the tip of the iceberg: The exhibition is inundated with social messages and unabashed criticism of the inequality that still prevails between men and women today. Most of the artist's liberal slogans are concentrated in the show's central work, a 13-minute video titled "The Undertaker." In it, a mysterious female leader clad in a somber-looking suit leads an army of dancers through the U.S. city of Philadelphia, on a march that concludes with a mass burial ceremony for weapons.
The show opened a few weeks ago after a long period during which the internationally esteemed artist, 50, did not display her work in Israel. Both local and international art connoisseurs had waited patiently for Bartana – whose main mediums of work are film, photography and installation – to drop her latest creative bomb.
It seems that every time Bartana releases a concentrated body of work, the ripple effect is almost immediately felt – and not just within the confines of the art world. One example of Bartana's political influence is the buzz stirred by her short film trilogy from 2011, "And Europe Will Be Stunned." In it, she examined how Poland functioned as a homeland of sorts for Ashkenazi Jewry in the 19th and 20th centuries. She highlighted the ties between Poland's Jewish community and the rest of the population, pointing at the anti-Semitism that plagued the country since well before World War II.
Questioning how the Jewish presence shaped contemporary Polish identity, Bartana – who divides her time between Amsterdam, Berlin and Tel Aviv – managed to inspire a serious debate in Poland. In fact, she was asked to represent the country with her work at the Venice Biennale. Now that she is showing her new project, Bartana explains to Haaretz what drove her to make a video calling on Americans to give up their Constitutional right to bear arms, and why she thinks the day is not far off when women will rule the world.
Challenging the Second Amendment
Visitors to the gallery, nestled among the noisy bars and eateries of Rothschild Boulevard, are transported through Bartana's video work three centuries back to the birthplace of American democracy: Philadelphia, site of the signing of the Declaration of Independence in 1776 and the U.S. Constitution 11 years later.
A group of young men and women, wearing simple dresses in white and beige, follow their leader through the city's main thoroughfares and iconic sites like the Laurel Hill Cemetery, where Revolutionary War fighters are interred. Accompanied by drum rolls and eerie music, the peace-seeking activists walk on in silence; their gazes are grim and their expressions impenetrable.
From time to time the marchers stop to perform a slow, strange dance, replete with gestures somewhat reminiscent of the Nazi salute. The choreography is a rendition of one created by the late Israeli choreographer Noa Eshkol, who developed the moves for a 1953 performance in memory of Holocaust victims. The video ends when one by one, the members of the futuristic group throw their ancient-looking weapons into a grave.
Bartana says that she, an Israeli artist living in Europe, arrived at the symbolic American location completely by chance. "The Philadelphia Museum of Art bought a work of mine, the Polish trilogy, and they decided to display it. They said that they wanted me to do something in the public space when they will showcase the videos, and they invited me there," she recalls. "It took several years to develop the project," Bartana adds. "I wanted to make a moving monument for violence."
At a time when the United States is plagued by mass shootings, the public discussion over the right to bear arms – as guaranteed to every American in the Second Amendment of the Constitution – continues to divide the U.S. But what right does she have, a Middle Easterner hailing from a country known for its mandatory military service, to lecture Americans on their use of guns? Bartana acknowledges that she expected U.S. viewers of her work to receive it with indignation. "I spoke about this to a friend of mine who is American, and she warned me that I might hear this kind of criticism from Americans, who may say: 'What do you have to do with burying weapons?' or 'Who are you to tell us to bury our weapons, how is this related to you in any way?' And this is a very logical criticism."
However, the artist believes that the work she crafted, which began as a public performance she decided to film, "is relevant not just to the American audience. It was a metaphor, burying weapons is to bury the violence instead of perpetuating it."
"What's happening in the United States is the most frightening," she says of events like 2017's Unite the Right rally and the rise of ultra-nationalist powers, but he admits that it was actually her homeland that occupied her thoughts when she set out to create this work.
"I thought about Israel, of course. I have a personal history, like the majority of Israelis, of serving in the army," Bartana says. "I thought about it as part of a move that I would be happy to see happening in Israel; I would love it if Israelis buried their weapons."
Bartana is also critical of Poland, where she created the series that propelled her to global acclaim. "There's an outburst of anti-Semitism and racism in Poland today; the situation there is horrible," she says. Asked whether she would have tried to create such an artwork there in the present political climate, Bartana muses that she managed to make the film trilogy during "a moment in time that could not have happened today. The fascism in Poland now is so extreme."
A fetishized object
In a separate room in the gallery, hung on the walls and encased in glass boxes, are weapons Bartana created, meant to represent the same ammunition that the fictional army in the video had disposed of. They appear like carefully-preserved objects, of the kind one would expect to find in a tech museum.
She says the narrative behind them is that "they are supposed to have been dug up from the ground 5,000 years later. I wanted to create a fictional situation in which I jump forward in time and imagine what would happen if people found these weapons buried. There's nothing logical here: These weapons aren't really going to become fossils. I wanted to create an object that has a different meaning and is rendered unusable."
For Bartana, the weapons are symbolic of "a symbiosis, where the weapon and the body are one." She says that while doing her research she thought about the diverse associations weapons evoke in people – from an innocent tool used in children's games to a collector's item worth flaunting.
"Children love playing with weapons, it's a fun game for kids. I also met a lot of people when I was crafting the pseudo-archaeological weapons, and they told me: 'Wow, I love weapons.' You know, it's a sport for some people. It's totally a fetishized object."
Alongside the weapons, Bartana hung up posters depicting the characters from the film as they hold large masks, reminiscent in their design of the apparel of the Ku Klux Klan, the American white supremacist hate group. Bartana says that the masks were developed "as an abstraction of a gas mask," of the kind Israelis used during the Gulf War of 1991, out of fear that Israel would be attacked with chemical weapons.
In the film, she "wanted to have something abstract, an unclear face. The masks helped create a certain blurring of genders ... I wanted to push the discussion around gender and the new gender order one step further. It's something that preoccupies me in my work quite a lot."
Indeed, questions of gender and the role of women in the world is a leitmotif in Bartana's work. Thoughts about women's role in society spurred the idea that gave birth to "The Undertakers," where the chief undertaker is a woman with long white hair and fierce features. "She's both [a man and a woman], she's a quantum," she says with a laugh.
Bartana reveals that she has been toiling for several years now on a project titled "What If Women Ruled the World." Combining theater with the operations of a think tank, Bartana has so far presented the work in England, Denmark and Germany. "It's a work in which I invited women into a fictional scenario. Each time, the situation is a little different, but the scenario is that of a women-only government that is sitting in what I called 'The Peace Room,' which is a reversal of Dr. Strangelove's 'War Room' [the 1964 film that satirized fears of a nuclear conflict between Russia and the United States]."
Bartana had invited female experts to advise her actresses on their imaginary country's policy of disarmament. "This was based on the assumption that women are pacifists. The women found themselves in a situation in which they are faced with a threat posed by a different country, which breached an agreement and started arming itself. Now the question they had to tackle was whether it was really a good idea to continue the disarmament policy."
The artist developed the project after she asked herself "what would happen if women in Israel or Palestine would run the country, and then I extended it to the rest of the world. It was inspired by life itself. I think it's time that women have the opportunity to be in the majority and not in the minority when it comes to decision-making."
So does she really believe that patriarchal societies are a thing of the past, as she seemed to suggest in the neon banner greeting gallery-goers at the entrance to her show? "In the world we live in it's so far-fetched, but that's our job. To imagine a different reality, or at least send messages about it. When I say that patriarchy is history, it doesn't mean that matriarchy is the answer. It needs to be something in between, it can't be either-or."
Click the alert icon to follow topics:
ICYMI
Ken Burns' Brilliant 'The U.S. and the Holocaust' Has Only One Problem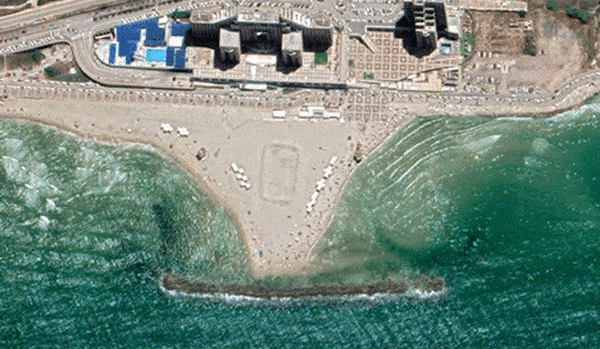 Facing Rapid Rise in Sea Levels, Israel Could Lose Large Parts of Its Coastline by 2050
Lapid to Haaretz: 'I Have Learned to Respect the Left'
The Mossad's Fateful 48 Hours Before the Yom Kippur War
As Israel Reins in Its Cyberarms Industry, an Ex-intel Officer Is Building a New Empire
How the Queen's Death Changes British Jewry's Most Distinctive Prayer