The Palestinian Poet Who Refuses to Be the Court Jester of Israeli Literature
Ayman Kamel Agbaria, who has just published his poems in Hebrew, used to write about the Nakba. Then he met Emile Habibi
Poet and playwright Ayman Kamel Agbaria, whose first poems translated into Hebrew came out in early 2020.
Credit: Amir Levy
When poet and playwright Ayman Kamel Agbaria was a high school student he received excellent advice from Emile Habibi, whose famous novels depicted the life of the Arab minority in Israel and who first published Agbaria's poems. One of Agbaria's teachers was impressed by his writing ability and introduced him to Habibi, at the time the prestigious editor of the literary section of the daily Al-Ittihad.
"That was my first meeting with him and I remember it to this day," Agbaria says. "Emile Habibi asked me what I wrote about. Since my poetry at that age was full of pathos and influenced by Palestinian resistance poetry, I replied that I wrote about the Nakba. He asked me if I knew what the Nakba was. I nodded, read to him from my poem and gave a long speech about the Nakba.
"Emile Habibi looked at me and declared, 'You don't know what the Nakba is,' and advised me, 'Write about the things that you know and are familiar with.' I didn't listen to him at first," Agbaria says, smiling. "But over time I realized that he was right, that this poetry wasn't right for me, that I was too busy expressing political views superficially. I struggled with myself but in the end decided to write from a personal, intimate, close and accurate place, as he had advised me."
The first book of his poems in Hebrew, "Hovot Avudim" (which can be translated as "Lost Obligations"), is now coming out. Agbaria, 51, has published two books of poetry in Arabic: "I've Scattered, Please Don't Collect Me" in 1997, and "Clothespins" in 2015. He has written four plays in Arabic: "The Bus" (staged at the Acre Theater), "The Whites of Your Eyes" and "I Read Every Thursday" (the Al-Midan Theater) and "Sun Don't Go" (the Nazareth Fringe Theater). He's currently seeking a home for a new play in Arabic, "The Days of Tanzim."
"Agbaria is the third generation of Palestinian poets who are Israeli citizens," says Antoine Shalhat, a literature critic and translator. "Our paths crossed when I was the editor of Al-Ittihad's literary section, and the relationship continues to this day. He was a young student at the time, and he sent me his poems by mail. I published them because I discovered in his poems a new, personal voice. Before that the poetry we admired was the poetry of the resistance, which sanctifies Palestine and emphasizes the heroism of the Palestinian people.
"In his poetry I found a unique voice that expresses the resistance of the individual. He's a poet with broad knowledge and a talent for writing the everyday reality in a lyrical and exalted way, yet his poems bear the fingerprint of Mahmoud Darwish – mainly in his ability to correspond with a variety poetry traditions, from classical Arabic to the universal and the modern."
Love letters to girls
"From childhood my father taught me that books are your best friends. 'The heroes will never leave you, they'll roam with you everywhere,'" he quotes his father. The younger Agbaria was born in Umm al-Fahm and is the eldest of five. One of his brothers is Baher, a banker who became a successful movie producer; for example, the 2016 film "Personal Affairs" by Maha Haj, which was screened at Cannes.
Before the Palestinians' Nakba (Catastrophe), when more than 700,000 Arabs fled or were expelled from their homes during the 1947-49 war, the extended Agbaria family, who were considered a kind of aristocracy, lived in Kafr Aljun. They also owned houses in Umm al-Fahm, which today abuts Israel's border with the West Bank. In 1948 the family was uprooted from its land in Kafr Aljun and fled to Umm al-Fahm, while many members of the extended family scattered in all directions – to Israel, Jordan and the United States.
Agbaria's talent for writing was discovered when he was a student at the Arab Greek Orthodox School in Haifa. "I discovered my talent in love letters to girls – I was very good at it, and immediately all the boys asked me to write letters for them," he says.
"At that age I was influenced by the popular poets – at weddings there's a popular poet who's surrounded by everyone in a circle and he improvises and plays with words in a hypnotic way. Those poets attracted me to writing and as a teenager I tried to imitate them and write under their inspiration."
In high school, unforgettable teachers refined his love for poetry. "Hanna Abu Hanna, the famous writer and poet, was the school principal and my literature teacher. He taught us 'Hamlet' and modern Palestinian poetry," Agbaria says.
"Writer Taha Muhammad Ali, who published dozens of collections of stories, novels and plays, was my teacher, as was Sulaiman Jubran, who later became a professor and the head of the Department of Arabic and Islamic Studies at Tel Aviv University. He taught me an important lesson: not to be too flowery or wordy, to be sparing and make sure that every word is necessary. And another principle: Always prefer strong and simple words to elegant and stylish words."
After high school Agbaria worked in construction – "construction work is like a year of public service for us," he laughs – and soon studied psychology and English literature at the Hebrew University of Jerusalem. To support himself he worked as a caregiver for disabled people. At the University of Pennsylvania he completed his doctorate in education. "I've never engaged in only one thing," he says. "At the age of 30 I already had the résumé of a 60-year-old."
Now he's the head of the Education, Society and Culture Program at the University of Haifa, and a faculty member at the Mandel Leadership Institute. Along with his swift progress in academia, he has never stopped writing poetry. "I've always written, but I didn't want to be a professional poet. I tried to keep the poetry clean."
The hero's friend
Several of his poems have been translated into Hebrew and published in periodicals such as Daka and Helikon. The works in "Hovot Avudim" were altered for the Hebrew version, for which Agbaria polished the translations done by both him and others. He might make changes, cut lines or rewrite.
"The poems in this book have become distant from the original Arabic and the Hebrew translation," he says. "A twilight region has been created between the Arabic and the Hebrew. The poems stand as independent new texts, and I describe the translation of 'Hovot Avudim' and its publication as stretching out a hand. Although the Hebrew language is at a level of my second mother tongue, I don't want to write my work in Hebrew from the outset."
At this point he cites one of his poems: "I have a job for you, a job that suits you / The friend of the hero in the film. / They'll see you from up close following him / And you'll get to speak alone with his beloved. / What do you say / Do you want to write in Hebrew?"
And he explains: "If I write my poetry in Hebrew straight off, I'll be the friend of the hero of the film but never the real hero of the film, because it's not really my language."
What do you think about artists like Anton Shammas, the author of the novel "Arabesques," and Sayed Kashua, who write in Hebrew rather than Arabic?
"Every literature has court jesters. Anton Shammas and Sayed Kashua are court jesters. I don't want to be a court jester of Hebrew literature. I don't want to show that I can juggle in Hebrew. I realize that Hebrew literature isn't based only on linguistic abilities but on culture, atmosphere, society, ethos and politics as well. I'm not judging the quality of their work. They're both very special writers. The question is whether the decision to write in Hebrew has turned them into a mainstream and canonical part of Hebrew literature.
"Shammas discovered very soon that he was being used, and it took Kashua much longer to realize that even though he writes well, he will never be a mainstream writer in Hebrew literature. I think that as long as you can't be a part of Israeli society, you can't be a part of Hebrew literature.
"In French culture, for example, a movement of immigrant literature developed alongside classical French writing. For that to be possible you need a foundation of tolerance; pluralism that enables your existence .... In the closed, racist Israeli society, haunted by fears and xenophobia, such a literary movement can't develop.
"That's why Kashua and Shammas haven't created a movement, and that's sad. I don't want that job. I've opened a balcony that overlooks the Hebrew language, but I'm still in my own home. My home is the Arabic language and Palestinian literature. I work from a Palestinian point of view. I have no pretention and illusion that with this book I'll become an Israeli poet."
Umm al-Fahm, where you were born, appears in many of your poems. Which Umm al-Fahm do you remember?
"I remember a very interesting place. It was different – it was before the rise of the Islamic Movement. For example, it had two movie theaters. Today there isn't even one."
He then interrupts his cadence and dwells on the movie theaters from his childhood: "They showed Indian films, the best of Bollywood, and of course kung fu movies starring Bruce Lee and films starring Bruce Lee's brother and Bruce Lee's uncle. They were imitations, but that's how the town crier marketed them, to stir interest."
And then he turns serious: "I remember that there was once more freedom in Umm al-Fahm. The political arties didn't engage only in politics, they didn't abandon culture and education. And there wasn't just one color – there was a lively variety of opinions and parties. The Arab press was important and it gave expression to Palestinian identity through culture rather than politics."
Last year Agabria and his wife, a pedgagogical consultant to day care centers, moved to the town of Harish, also on the border with the West Bank. So does he miss the Umm al-Fahm of his childhood?
"The development of Umm al-Fahm has been cruel. Ancient mosques from the Ottoman period were demolished to build bigger and more ostentatious ones. Ancient houses were demolished to build large private homes. Lovely spots where anemones grew have been erased," he says.
"All with the construction momentum of the nouveaux riches, something that lacks identity and planning, and is ugly in its false ostentation. The new neighborhoods of Umm al-Fahm are full of beautiful private homes, but in the streets there is neglect – unpaved roads, broken sidewalks .... It's reminiscent of Native reservations in the United States and Canada. It's a kind of ghetto. I miss Umm al-Fahm, the lovely village that it once was."
Low-fat political Islam
Agabria is a religious Muslim. "I pray and fast but don't make a performance of it. I don't cloak myself in anything externally. I'm a Protestant in my outlook," he laughs. "I don't need a church, I don't need a rabbi. All I need is a book."
He also harshly attacks the religious uniformity that has dominated Umm al-Fahm in recent years. "I'm critical of a religiosity that fails to give expression to Islam's inner wealth, to its complexity and the life of faith. Unfortunately, political Islam offers a spiritual version that's very spare and generic. It's a low-fat Islam."
What is the Islam you believe in?
"It's an Islam with a great deal of methodological casting of doubt. My Islam is a path of soul-searching, not the kind that seeks false authenticity in the world of external consumption, but an Islam that seeks inner authenticity – in the sense of a life of faith that doesn't shun confusion and contradiction, but adopts them.
"The life of the believer isn't a life of harmony, as people tend to think, it's a life of contradiction. The Prophet Mohammed said that keeping the faith is like holding a glowing ember. For me the book 'Hovot Avudim' is to hold a glowing ember."
Click the alert icon to follow topics:
ICYMI
Ken Burns' Brilliant 'The U.S. and the Holocaust' Has Only One Problem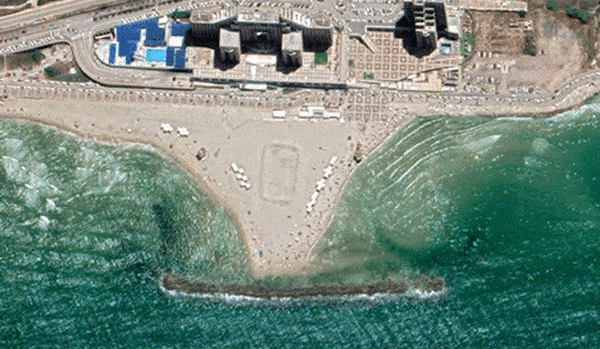 Facing Rapid Rise in Sea Levels, Israel Could Lose Large Parts of Its Coastline by 2050
Lapid to Haaretz: 'I Have Learned to Respect the Left'
The Mossad's Fateful 48 Hours Before the Yom Kippur War
As Israel Reins in Its Cyberarms Industry, an Ex-intel Officer Is Building a New Empire
How the Queen's Death Changes British Jewry's Most Distinctive Prayer