Big Brother in Tel Aviv: Concerns Grow as City Tops 1,000 Surveillance Cameras
The cameras, mainly situated in south Tel Aviv and Jaffa, are intended to increase residents' sense of security and help solve crimes. But human rights groups warn of privacy violations and no overriding plan
Over the past decade, Tel Aviv has been following the likes of London and Beijing by installing hundreds of surveillance cameras throughout the city. The cameras' main purpose is to give residents a sense of security, as well as to help the police crack crimes.
The Tel Aviv Municipality says it's flooded with requests by residents, municipal institutions and police station chiefs to install more surveillance cameras, but lacks sufficient resources to do so. However, there are also increasing concerns about privacy violations, with human rights groups warning about the ongoing installation of these cameras without any overarching plan or considerations over their implications for civil liberties. These rival ideologies came to a head last month during the first-ever meeting on the subject at the municipality, attended by residents and representatives of human rights organizations.
Figures obtained from the municipality by the consumers' nonprofit group Hatzlacha show there are currently 1,005 municipal surveillance cameras situated across Tel Aviv-Jaffa. Fewer than 5 percent of them (43) are situated over the Yarkon River in northern Tel Aviv, and none of these cameras are situated in the heart of a residential area. According to senior municipal officials, this is part of municipality's plan to establish a network of cameras over the southern part of the city, including Jaffa. The locations of these cameras were unknown before Hatzlacha asked for the information at the end of last year.
The surveillance project began in 2012 in south Tel Aviv, where crime rates are higher than elsewhere in the city. The first cameras were installed in the Hatikva, Shapira and Neve Sha'anan neighborhoods, with a particular focus on the latter's Levinsky Park. In 2013, the city started mounting cameras in Jaffa as well, and by 2015 there were 200 cameras in these areas.
Responsibility for the cameras and their budgeting was placed in the hands of deputy city manager Ruby Zelof.
In February 2016, responsibility for the project was transferred to a municipal surveillance committee, which has so far met five times in four years. At its very first meeting, the committee decided to remove 58 cameras that had been installed in contravention of guidelines being formulated at the time. Also in 2016, the head of the city's security department said that between 5,000 and 7,000 cameras would be required to cover the entire city (not including parking enforcement cameras). In 2019, the surveillance committee approved the installation of 301 additional cameras.
According to regulations formulated by the city, every request for a new camera must include detailed reasons, backed by the recommendation of a city security officer. The request is then discussed in the city's legal and financial departments, followed by discussions in divisions dealing with computerized systems, construction and infrastructure. These installations do not involve discussions with residents, which city regulations do not require.
However, the municipality says residents are involved in the placement of cameras, as many of the applications come from neighborhood committees. Their necessity is examined periodically – although since that first meeting, the surveillance panel has removed just one camera.
Crime-solving cameras
According to the municipality, surveillance cameras helped solve 520 crimes between January 2018 and September 2019, with 323 of those happening between January-September 2019. The Tel Aviv Municipality attributes this to the increased number of cameras.
In contrast to other cities worldwide, Tel Aviv's police force does not have automatic access to the surveillance footage. In order to access it for a criminal investigation, the police must file a request with the municipality within 30 days of an alleged crime being committed. After 30 days, the data is automatically erased (only being kept in exceptional cases). Local residents can also request to view footage via the city's public inquiries department – but since they must also provide a court order, this rarely happens. If they do request any footage, it is not erased until the inquiry is addressed.
Since these cameras are meant to help solve crimes, the police have allocated 1 million shekels ($290,000) for the installation of cameras in southern Tel Aviv over the past two years. They also give the municipality advice on where to place any new cameras.
The cameras are monitored 24/7 at a command and control center within the municipality. Operators take a course at the Public Security Ministry and have to sign a confidentiality oath. The Tel Aviv Municipality, however, has no legal way of asking these workers to provide a clean police record.
Other than cameras located on the city's beaches, the surveillance cameras are not connected to the internet and operate over fiber optic transmission systems. According to the municipality, each unit consists of a fiber optic channel, mast and camera, costing between 70,000 and 150,000 shekels (around $20,000 to $45,000). The annual cost of maintaining the cameras is 200,000 shekels (around $60,000), with maintenance provided by subcontractors under municipal supervision.
There are two camera models: One is fixed on a post and covers a specific designated area; the other can move from side to side, covering different areas. In contrast to some cities overseas, Tel Aviv's cameras do not have facial recognition capabilities – and senior municipal officials say this issue is not currently on the agenda. The cameras cannot automatically identify license plates or record audio, either. However, they do contain an automatic motion detection device that alerts the on-call person at the monitoring center when movement is identified in predefined areas.
"Even if we placed 800 people in front of screens, we couldn't identify every movement that a camera can."
The motion detection system allows the camera's operator to identify unusual incidents and to alert the city's security personnel if further action is required.
Avi David, head of the Municipal Security Patrol's control center, said recently that the motion detection system is important because "even if we placed 800 people in front of screens, we couldn't identify every movement that a camera can." He added that there had been a increase in crimes being solved in every location where a camera was located, with residents reporting a greater sense of security. "We're not interested in looking at streets but in dealing with trouble," adds David Aharoni, the city's manager of security and emergency services.
However, the system isn't used only for security. A meeting of city managers last November discussed the possibility of using the cameras for the enforcement of parking regulations and identifying overflowing garbage containers. Senior officials also told Haaretz that they want the cameras to help identify road signs or street lights that aren't working. A pilot project involving 100 cameras is now underway.
"Cameras can identify anything out of the ordinary – such as construction waste at a renovated building – alerting City Hall to the problem," says Zelof. The system can then dispatch a garbage disposal unit to take care of the hazard.
The same committee meeting also discussed equipping garbage trucks with tablet computers, so that inspectors can identify problems and let workers know about issues on the ground.
Always followed
According to human rights experts, the installation of cameras without a clear policy in place presents many dangers. Hatzlacha has filed Freedom of Information requests with 350 municipal and government agencies, and the nonprofit's legal counsel, Elad Man, says "the feeling one gets from replies given by agencies that are not the Tel Aviv municipality is of disarray and a lack of clear criteria regarding the installation of cameras, restrictions on their use, their monitoring and control over footage."
"The sense is that we're always being monitored."
Elad Man warns that the absence of clear guidelines could lead to violations of the Protection of Privacy Law and the misuse of information. "It creates a lot of discomfort, especially in a technological age such as ours," he says. "Cameras in public spaces cause many difficulties for numerous groups," he adds.
Attorney Avner Pinchuk from the Association for Civil Rights in Israel is also worried. He says the problem is not the placement of cameras in the public domain, per se, but the existence of a system that collects information on people. "The more these systems take over our lives, the less important it becomes when exactly we're being followed – since the sense is that we're always being monitored."
Experts are concerned that Tel Aviv will become like China, where millions of surveillance cameras are installed and plans are in place to use facial recognition technology. Tel Aviv University Prof. Michael Birnhack, an expert on privacy law, says technological developments only serve to heighten the public's sense of helplessness. "Even if I know where these cameras are located, I can't do much with that information," he notes.
"For years, we've been getting used to being filmed on the street, on buses and trains, and in public institutions," he continues. "On the roof across from my house, there are two cameras that can view me in my home."
Birnhack doesn't have a sweeping objection to the installation of cameras, but believes the implementation of the plan has proven problematic. He proposes that cameras not be installed in known trouble spots. "Societal norms disappear when cameras are used instead of policemen and supervisors – they're the ones who must be mobilized in the campaign against violence and vandalism. The presence of a policeman prevents a lot of problems," he says.
Last month, as noted earlier, the municipality's human rights committee held its first meeting on the matter. Councilwoman and committee chairwoman Moria Shlomot, who had convened the panel, warned of the dangers of expanding the surveillance network. "These cameras are only the beginning, and we must discuss this before installing more cameras and then asking about their effectiveness," she said. "I don't dismiss the [importance of the] safety issue, but we must also consider privacy violations and the heavy costs involved in creating this sense of security."
Sharon Livne, a city resident attending the meeting, previously filed a complaint to the municipality over what she saw as constant surveillance in the public domain. "One evening, I looked up and saw cameras on a pole near my home, in a park. How can you live like that, when you're filmed during your leisure-time? Why didn't they ask us?"
During the discussion, lawyer Dan Hay, an expert on cyber- and privacy laws, said: "There has to be a municipal plan for cameras. You have to look at the map and figure out how, where and why cameras need to be installed."
Orly Pines-Paz, from the municipality's legal department, noted that alternative solutions are always considered before cameras are installed. "Each one needs to be justified," she said.
Councilman Amir Badran, who represents traditionally Arab neighborhoods in Jaffa, said that while the role the cameras play in preventing crime cannot be ignored, "There are two sides to every question – and there needs to be a balance between benefits gained and protecting privacy. It's more sensitive in Jaffa because residents there are more conservative."
This did not placate Livne. "There are hundreds of people in this park every day, children and caregivers, with a school attached to it. How do you think they feel when they're being recorded in their leisure-time? The cameras don't prevent serious crime or the theft of a phone. I saw this myself two weeks ago." The municipality noted that cameras were installed at that location in order to prevent vandalism, following police advice.
A British Home Office study in 2005 questioned the effectiveness of surveillance cameras, noting that falling crime rates were more likely to be related to changing economic conditions than the cameras. Birnhack called on the municipality to demonstrate whether the introduction of cameras had reduced crime rates and helped solve crimes.
The municipality told Haaretz in response to this story that because of privacy concerns, only pre-approved personnel are able to view surveillance footage. All legal aspects are examined, as in any case where possible violation of privacy is concerned. It added that residents can find out more the city's surveillance cameras on the municipality's website.
Click the alert icon to follow topics:
ICYMI
Ken Burns' Brilliant 'The U.S. and the Holocaust' Has Only One Problem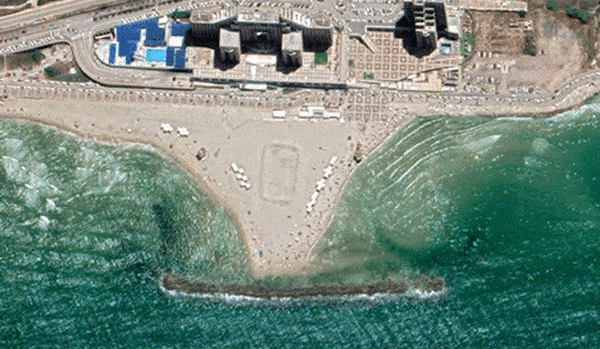 Facing Rapid Rise in Sea Levels, Israel Could Lose Large Parts of Its Coastline by 2050
As Israel Reins in Its Cyberarms Industry, an Ex-intel Officer Is Building a New Empire
How the Queen's Death Changes British Jewry's Most Distinctive Prayer
Chile Community Leaders 'Horrified' by Treatment of Israeli Envoy
Over 120 Countries, but Never Israel: Queen Elizabeth II's Unofficial Boycott