Israel's Top Arab Politician: Gantz's Party Wanted to Treat Us Like a Mistress
Ayman Odeh tells Haaretz why his photo with Benny Gantz was historic, why his most important message is unity on the whole left, and whether he'll ever establish a truly Jewish-Arab party
Joint List chairman Ayman Odeh, at the Knesset in Jerusalem, January 2019.
Credit: Emil Salman
Ayman Odeh, the chairman of the Joint List of Arab parties, is one of the few Israeli politicians expected to benefit from the third Knesset election within a year. The Joint List is gaining strength, and Odeh is enjoying great popularity. It's hard to walk down the street in Haifa without both Arabs and Jews hugging and kissing him – at least those who don't call him a terrorist, of course.
This warm reception is partly the result of Odeh's personal charm, but it also stems from his recent political moves. He recommended to President Reuven Rivlin that Kahol Lavan chief Benny Gantz form the next government, and he has shown a willingness to be part of the bloc to prevent Benjamin Netanyahu from remaining prime minister.
According to Dov Khenin, a former MK from the Joint List's Arab-Jewish Hadash party that Odeh also leads, "Ayman is a leader who marches at the front of the camp but keeps in touch with his community. He has the courage to move ahead without putting his toe in the water first to check the temperature; he strives so that his constituency will really follow him."
Still, Odeh's feet are also encumbered by heavy weights, starting with the difficulty of joining an Israeli government – one that would continue the occupation and maybe go to war in Gaza. There's also the embarrassment over how to talk out about the failure of Arab nationalism in the region. So his maneuver room is the narrowest for any Israeli political leader – despite his charm and courage.
As a result, he has to choose easier targets. The first is to help forge a governing coalition of 61 of the Knesset's 120 seats – without Avigdor Lieberman's Yisrael Beiteinu party. "It's not a miracle, it's realistic," Odeh says. "We need two more MKs for us and two for Kahol Lavan. That's it. We'll produce our seats – my job is to raise voter turnout in the Arab community from 60 percent to 65 percent."
Will you recommend Kahol Lavan's Benny Gantz for prime minister again?
"Our recommendation was technical, with the main recommendation being not Netanyahu. Gantz can turn our technical recommendation into a fundamental one if his approach is that of the Rabin government in the '90s. In such a case, we'll act the way we acted then and we'll be a bloc" to prevent Netanyahu from remaining prime minister.
In the first round, you had clear conditions to take part in the bloc: annulling the nation-state law, rescinding the law that stiffened punishments for construction violations, fighting crime in the Arab community and securing funding for Arab municipalities.
"I think we made a mistake with our conditions. It's not that they aren't important, they're important and we have to implement them. But I'll tell you where the mistake was. Take, for example, the issue of old-age pensions. What does it mean that a 67-year-old man and woman receive an old-age pension of 3,200 shekels [$925] a month?
"Why wasn't the Joint List's main demand that without raising the pension by 2,000 shekels, we wouldn't begin [negotiating] anything with anyone? This time we'll have demands for all the needy people in the country. It's right morally, but also it creates a situation where we tell poor Jews that we have something in common. I want them too to want us to succeed."
Could it be that these steps are because you realized that while the Arab leaders talked about Palestinian nationalism, the Arab community was more interested in life itself?
"I have a problem with this viewpoint. I stand behind everything I said earlier, but the most important thing is peace. As far as I'm concerned, the end of the occupation will change everything completely here."
How far are you willing to go for the Israeli mainstream? If Gantz wants to appoint you a minister, will you accept?
"I don't like these official positions."
Will you refuse?
"It's not ready yet. They're still even having a hard time swallowing the recommendation. When Gantz agrees to sit with us and have his picture taken, he thinks about it a thousand times. So what are we talking about?"
Forget about Gantz and his fears. I'm asking what you want.
"There's no point talking about such a situation. I know Kahol Lavan. Do you think it's possible for us to sit with [Kahol Lavan MKs] Yoaz Hendel and Zvi Hauser? If I sit in a government that's occupying the Palestinian people, if children in Gaza are harmed, I won't be able to enter the restaurant where we're sitting now. If there's a serious peace process and there are three or four social issues the government will commit to address, it will be possible to think about a bloc in a serious way. Is [Moshe Ya'alon's] Telem party ready for it? I don't think so."
Are they the ones who blocked the establishment of a minority government?
"I understood from my discussions with Kahol Lavan that yes, they were. During the recommendation period and after it, I sat with Gantz, Yair Lapid and also with Bogie Ya'alon. I'm telling you that there was a willingness on the part of Gantz and Lapid that we'd be a bloc to bring down Netanyahu, but Ya'alon insisted a great deal that Lieberman be in. He didn't object to our being part of the bloc, but he wanted Lieberman to be inside."
Everyone talked about Lieberman not agreeing to be in a government with you. What do you think if there's a situation where to replace Netanyahu there's no choice but to join together in a bloc?
"There's no way we'll sit together with Lieberman – not in the government and not in a bloc."
After he resigned from the cabinet and moved to the opposition, he literally sat his party's Sofa Landver between the two of you. What's the source of this horrible loathing? Do you have any relationship with him?
"No. Zero relationship. He has never spoken to me. He doesn't speak with anyone from the Joint List."
Because they're Arabs?
"Clear and simple. Recently he has tried to divide the Arab community from its leaders, but when he talks about population swaps, he doesn't want to move only two MKs, but an entire community. So he's also a racist, a liar and a hypocrite. We'll never cooperate with him."
How did Kahol Lavan treat you during the negotiations?
"I think Kahol Lavan wanted to treat us like a mistress. They wanted to use us for two or three months just to throw Bibi out and then form a unity government. [Kahol Lavan MK] Ofer Shelah sat with us secretly and asked us not to tell anyone. I told him that first we'll finish the recommendations, then we'll reveal the negotiations. And they, like a man who doesn't want anyone to know he's having an affair, were very angry. I did it intentionally, to show everyone that we were talking and the sky didn't fall. We sat, took pictures and talked together."
Basically you're telling me that what I'm bringing up here, the possibility of you being appointed a minister, is totally impossible – you're fighting for a photo with Gantz.
"Since 1948 there hasn't been a photo of Arab MKs sitting in coalition talks. There aren't even pictures of Arab MKs with Rabin in 1992. This is important for legitimacy for Arabs. Since the events of October 2000 we've become illegitimate, both on the right and on the left. One of my most important goals is how to get the Arabs – 20 percent of the population – to be a legitimate and integral part of Israeli society. As far as I'm concerned, to recommend Gantz and sit with him in front of the cameras was an important step."
Odeh says he can see that his actions have led to changes in the Arab community.
"Today we're not at the same point as three months ago," he says. "Now I'm reading that in the polls 54 percent of Kahol Lavan voters said Gantz should have formed a government with our support. I believe that this is because of these actions. We need to let Kahol Lavan stew in it, and we'll see where they're heading."
You repeat that you're committed above all to removing Netanyahu. Is a unity government of Kahol Lavan and Likud led by a someone like Gideon Sa'ar a better option for you?
"All the prime ministers we've had from Ben-Gurion to Ehud Olmert are responsible for 10 percent of the incitement against Arabs. Netanyahu is responsible for the remaining 90 percent. So first of all we're linking up with Kahol Lavan to bring down Netanyahu. In a case like you've just described, I'll be the most militant opposition leader there has been. Finally there will be a real opposition. And for the first time there will be an Arab chairman" of the opposition.
Will you receive protection from the Shin Bet security service, which interrogated you when you were 16?
"We'll think about all that when the time comes."
Unity now
Throughout the interview, Odeh's most important message is a call for Labor-Gesher and Meretz to unite. This could help his party because such a link-up could send Meretz's far left to vote for the Joint List, but my impression is that he's being honest and his real goal is to end Netanyahu's rule and reach the 61 MKs needed – without Lieberman. This is more important than a few more votes from Jewish leftists.
"There are ideological differences between Meretz and us," he says. "Between us and the Labor Party it's more than ideological differences – it's the entire history. But we all need to show some responsibility. We have to ask how everyone can contribute their part to replace the rule of the right headed by Netanyahu."
As Odeh puts it, if he can be in an electoral alliance with the Islamic Movement, Labor Party leader Amir Peretz can do the same with Meretz chief Nitzan Horowitz.
"If 10 years ago you told me that we in Hadash would go with the Islamic Movement, we would have told you that this was ridiculous. Amir Peretz is a leftist who believes in peace based on two states," Odeh says.
"Think about what this meant for a Mizrahi, the head of the Sderot local council, to say in 1983 that we needed to talk to the PLO and Yasser Arafat. Not after Oslo, but after the [first Lebanon war] in 1982. So can the Labor Party and Meretz not sit together? What's the difference if his No. 3 on the ticket is from Meretz or Merav Michaeli" from Labor?
But, instead of Meretz, this man of peace you're describing prefers Orli Levi-Abekasis, who voted for the nation-state law and for Fania Kirshenbaum's initiative to investigate nongovernmental organizations.
"Gantz could have led the bloc more effectively; for example, if he considered how to give Levi a spot in Kahol Lavan. Anyone who really wants to replace Netanyahu has to think how there can be as many people as possible in this bloc.
What do you think is the source of Peretz's stubbornness?
"He believes he can win two seats from the right. With all due respect, I don't think he's right. Those who vote today for Amir Peretz are the classic four Knesset seats of the Labor Party, and he and Orli Levi-Abekasis maybe bring in another two seats. It's not a move that breaks the ethnic and sectoral [voting patterns] that have always served the right and Benjamin Netanyahu.
"Shas is 100 percent Mizrahim, United Torah Judaism is 100 percent Ashkenazim. Likud has become 85 percent Mizrahim, Meretz is 90 percent Ashkenazim, Lieberman is 90 percent Russians and unfortunately the Joint List is 90 percent Arabs.
"Not long ago, a Mizrahi man grabbed hold of me; poor guy, he had a Star of David bigger than his chest and it was only there to say: I'm not an Arab. I looked at his face and thought he was an Arab – until I saw the Star of David. Who can break the ethnic-sectoral dichotomy into a different political and social platform?"
You head the most sectoral party, as you yourself say.
"The big division in the country is the national split, and we're a national minority. What we're missing after the founding of the Joint List is to take another step forward and think about a broader Arab-Jewish framework. The Joint List has two things. As for its composition, it has only one Jew and that's not enough at all. Plain and simple. As for its platform, it's a platform that's good for all of Israeli society."
Even the limited Jewish representation on the slate, Ofer Cassif, stands out for his very harsh rhetoric compared to Dov Khenin's style. Maybe Khenin would have been better for the party now, considering you're trying to integrate.
"There are differences between Dov and Ofer, but I think both of their approaches are important. Ofer places a mirror in front of Israeli society, the harshest mirror, and that's important."
Large parts of the Jewish-leftist community, and I assume on the Arab left too, would like to see you lead a left-wing Arab-Jewish party based on true cooperation. It seems to me that your heart is there too. Will you do it after the election?
"The immediate need is to strengthen the Joint List and get it to 15 seats. As far as I'm concerned, this is the No. 1 goal. In the near future, we have to preserve the Joint List while building a popular Jewish-Arab movement."
How would such a movement look?
"On the positive side, there's the example of Peace Now in the '80s and '90s. On the other side, there's Gush Emunim. A popular movement can change things from the bottom in a very serious way. After that, let the dynamics change things. "
You can't let someone else do the work. You're in the business now, it's your watch. You can establish a party that will change the picture for the entire left wing.
"I'm not taking another step forward with you because these are a historic two months. As far as I'm concerned, the most important thing for now is to reach 61 seats without Lieberman."
Could it be that it's a good thing for you if Meretz disappears? A large segment of its voters will come to you.
"Have you heard [Defense Minister Naftali] Bennett talk about annexing Area C now? What's more urgent, to stop the right or get a few more votes? I'm not thinking about that at all. The differences between us and Meretz are clear, but we can't let them not pass [the electoral threshold]. It's an important movement, and this is absolutely not the time to attack Meretz."
Maybe the Joint List is also an impediment to the left-wing bloc?
"Then I, as head of the party, will tell you that, yes, not everything is perfect. We're missing a lot of things. One of these things is Arab-Jewish cooperation. It's there in theory, it's in the platform, but not in the slate. Without a doubt we have to improve here."
You talk about a goal of 15 Knesset seats for the Joint List. How many Jews would you like to have on the slate, ideally?
"In my dreams, I'd reach 30 seats; 15 Arabs and 15 Jews."
Can this vision include the Arab nationalist Balad and the Islamic Movement, which are in the Joint List?
"Balad's platform is democratic and liberal. When there's crude racism, there are parts that separate themselves from the rest and withdraw. But when there's hope, then suddenly they lift their heads and say, walla, let's move forward. It's possible."
A new kind of democracy
Odeh says that in the September election, just under a seat's worth of Jews voted for the Joint List. He strives to fight for every Jewish vote, which signifies the cooperation he wants to see.
What do you offer a Jewish voter in addition to solidarity with the Arab community?
"The Joint List's platform is the true left in the country. Not just in terms of size – not Labor with six seats and not Meretz – but also in terms of its platform."
Balad, whose principle is Arab nationalism, that's the left?
"In political terms, yes. On the political map in Israel, Balad is on the left. There's no doubt that it's complicated, even with the Islamic Movement. Its ideology isn't leftist, but because in Israel the most important line between the left and right is the peace process – not economics and social policies like in Europe – they too are on the left.
"Only our platform can provide national rights to two peoples, social equality to two peoples and also establish a true democracy in the country. I remember that when we talked about two states for two peoples in the '80s, they attacked us from every direction. Today, everyone is in the same place."
When you talk about two states, what do you mean? A Palestinian state and a Jewish state alongside each other, or like your colleagues in Balad: a Palestinian state and a state of all its citizens?
Some of the historic compromise is that all of us have to recognize that the Jews deserve the right to self-determination in the State of Israel because they are a people, and the Palestinians, who are a people too, should realize their right to self-determination in an independent Palestinian state. But the right of the Jews to realize their self-determination here in the State of Israel doesn't have to harm our civil and national rights at all."
The Declaration of Independence, which Meir Vilner of the Israeli Communist Party also signed, is a legitimate document in your eyes?
"This is a declaration that was written on the victims of our people in 1948. Only Jews signed it. It's the antithesis of my view of what partnership is. We have to be partners in building the future of the country."
So what's the definition of such a state where the Jewish people can realize their right to self-determination? The nation-state of the Jews? A state that's the national home of the Jews?
"I prefer a discussion on content more than a discussion on symbols, because a discussion on symbols is neither practical nor far-reaching. If you ask an average Israeli whether Arabs deserve national rights, he'll say they deserve civil rights – but only the Jews deserve national rights. He'll say the Arabs have 22 national homelands – as if Libya were my country; I don't even know what it looks like.
"But when you ask an Israeli, 'Do you agree that the Arabic language should be an official language as it has been since 1922? Do you agree to recognize the massacre at Kafr Qasem, when people came home and were massacred? He'll agree. After all, for example, the post office has stamps of [Arabic-language writer] Emile Habibi. Does that bother anybody?"
When you arrived at the President's Residence to make your recommendation for prime minister, you scurried at the entrance because it was uncomfortable for you to have your picture taken with an Israeli flag.
"I want to see myself in the symbols of the country based on our percentage of the population. I want for all the country's symbols to reflect the viewpoint where the country is meant for all of us and not just for you. I speak as little as possible about symbols because I see that there's an unfair game here. There are unrecognized villages in the Negev that don't have water or electricity, and when I fight for them, do they come and ask me, 'What about the national anthem?'"
What about the Law of Return, or institutions like the Jewish National Fund?
"Enough about it. What's this JNF? Where are we living? A normal country has to act in a normal way and not in a temporary-emergency way .... In emergency cases a certain outlook is possible, or to come to a specific agreement, but the Law of Return definitely has to be changed."
Do you believe yourself when you talk about two states? Can it really happen?
"Absolutely. The Palestinian state must be established with the 1967 borders alongside the State of Israel. I assume we'll vote for any agreement between the PLO and Israel that's brought before the Knesset. Anyone who talks about a single state is either perpetuating the existing situation, or they're telling us to wait 30 years until the Jews are convinced, and then launch negotiations.
"How can that happen when the hegemony and resources are in their hands? We've reached the situation today where half the people are in favor of two states, so now we'll despair? I can't sit on Mount Carmel and tell the residents of the West Bank behind the checkpoints to wait another 30 years. A left-wing intellectual can't sit on Rothschild [Boulevard in Tel Aviv] and tell the Palestinians in Gaza to wait."
Regional discomfort
When you ask Odeh about the volatile region, a certain amount of embarrassment is obvious. He tries to walk between the raindrops. We met immediately after the killing of Iranian Quds Force chief Qassem Soleimani by the United States, which some of his Joint List colleagues have condemned.
The message against the assassination as a violent act and the fear that the region is deteriorating into even greater violence is clear. But what do you think about this man?
"The Iranian regime obviously isn't the regime I'd want to live under. I disagree with it from an ideological perspective; I'm secular on the day-to-day level. But I don't want assassinations and I don't want a war to break out. In addition, I see that the United States' presence in the Middle East has cost the lives of millions, and what interests it is how to take advantage of the oil and resources in the region at the expense of the peoples."
The problem in the Middle East and Persian Gulf is the United States? Not Iran? Not Hezbollah, which is aiming missiles at my house and yours?
"When they asked Muhammad Ali to fight in Vietnam, he said: 'No Vietcong ever called me nigger.' So no Iranian has ever called me a dirty Arab. It's my place. I still think the main issue in the Middle East isn't the axes of the extremists and moderates, but the Palestinian issue. In 2004 all Arab countries and Islamic countries submitted the Arab peace initiative that all the countries signed, including Iran. And here in Israel they said no. The Israeli rejectionism is the problem here."
I feel that issues in our region are uncomfortable for you. You can't identify with Hezbollah, but you can't condemn it fully either. So you escape into criticism of Israel and the United States.
"One of the tragic things is that someone like me has no model that I can point to and say, 'This is what represents me.' As an example, if I had to vote in Lebanon, I would vote for the Communist Party. Can I support the dictatorial regimes in the Middle East and the primitive regimes in the Gulf? No. But if you ask me who caused the greatest evil to humanity in the last half century, I would answer without hesitation: the United States."
Click the alert icon to follow topics:
ICYMI
Ken Burns' Brilliant 'The U.S. and the Holocaust' Has Only One Problem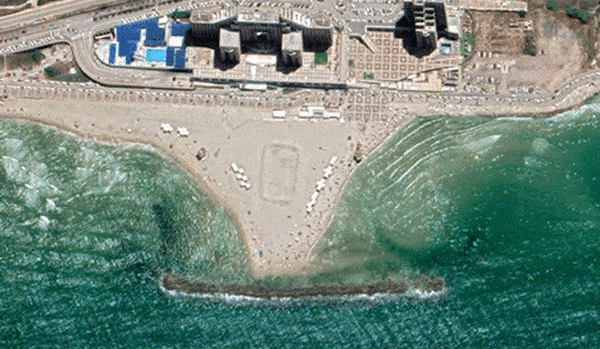 Facing Rapid Rise in Sea Levels, Israel Could Lose Large Parts of Its Coastline by 2050
As Israel Reins in Its Cyberarms Industry, an Ex-intel Officer Is Building a New Empire
How the Queen's Death Changes British Jewry's Most Distinctive Prayer
Chile Community Leaders 'Horrified' by Treatment of Israeli Envoy
Over 120 Countries, but Never Israel: Queen Elizabeth II's Unofficial Boycott