Analysis |

Qassem Soleimani Made Mistakes That We Can Learn From
The Iranian commander was a master at filling power vacuums in barely functioning countries, but his desire for Mideast control also proved his weakness
A supporter of the Houthis with a poster attached to his waist of Iranian commander Qassem Soleimani, during a rally to denounce the U.S. killing, Saada, Yemen January 6, 2020.
Credit: NAIF RAHMA/REUTERS
UPDATE: Trump says Iran 'appears to be standing down' after strikes on U.S. bases in Iraq
In the days since the assassination of the Revolutionary Guards' Quds Force commander Qassem Soleimani, he has been described as a combination of James Bond, Heinz Guderian and Otto von Bismarck. And there is a lot of truth to this. Few men have succeeded in combining the roles of spy chief, warlord and master diplomat with the ruthless effectiveness of the Iranian supreme plenipotentiary. He was respected and feared throughout the Middle East for a reason.
But he also made plenty of mistakes, some of which he learned from and fixed over time. Others led to the circumstances of his killing, and these have created a series of crises for the Iranian leadership.
Despite the current tendency – from Soleimani's lovers and haters alike – to emphasize his strengths and achievements in the service of the Islamic Revolution, it would be more useful to focus on his mistakes. This will give us a better understanding of the challenges facing the different sides in the region.
Read more: Soleimani's mistake and Netanyahu's gain ■ To avert war with Iran, Trump will need all the strong nerves and sophistication he sorely lacks ■ Nasrallah aims to expel U.S. from the Mideast ■ As Soleimani's megalomania grew, he became less grounded in reality
The Hezbollah project
Soleimani's initial success as commander of the Quds Force – a post he was appointed to in late 1997 or early 1998 – was in greatly upgrading the capabilities of Iran's chief proxy, Hezbollah.
In close cooperation with Hezbollah leader Hassan Nasrallah and operations chief Imad Mughniyeh, Soleimani greatly improved Hezbollah's training, supplied advanced weapons, and enhanced its operational security and coordination. All these increased the militia's effectiveness in fighting the Israel Defense Forces in the final two and a half years of its presence in the security zone in south Lebanon, and hastened the disintegration of Israel's proxy, the South Lebanon Army.
Israel's eventual abandonment of the security zone in May 2000 was widely seen as a victory for Hezbollah's resistance. But Soleimani and his partners didn't leave it there. They spent the next six years continuing to build up Hezbollah as both a military force – no longer just another militia, but larger and far more capable than the Lebanese Army itself – and as one of the main political parties in Beirut, usurping Amal as the main representative of the Shi'ite community.
But while Soleimani and Mughniyeh's efforts enabled Hezbollah to fight Israel to a bloody standstill in the next full-scale confrontation in the summer of 2006, it wasn't a period of unqualified success either.
In February 2005, Hezbollah operatives assassinated Lebanon's then-prime minister, Rafik Hariri. The backlash focused attention on the group's activities, and the opposition aroused within Lebanon – together with international pressure – forced Iran's ally, Syria, to pull its soldiers out of Lebanon, reducing Hezbollah's influence.
Neither was the war with Israel a planned or useful episode. The Hezbollah attack on an Israeli border patrol in July 2006 that triggered the war – an act apparently not sanctioned by Soleimani – exposed the Iranian build-up there and allowed Israel to destroy much of Hezbollah's infrastructure, setting Soleimani's plans back by years.
And while Hezbollah once again won kudos throughout the Arab world for being the only effective "resistance" to Israel, it also drew much criticism within Lebanon for causing untold damage to civilian infrastructure. Nasrallah himself would later admit that, had he anticipated Israel's response, he would not have ordered the border attack.
The failures of 2005 and 2006 exposed three weak points in Soleimani's regional strategy that would continue to bedevil him.
First, despite its size and oil riches, Iran simply did not have the resources to maintain effective control over its proxies. While Soleimani himself may have been a grandmaster at the intricate power game of regional chess, overseeing three or four, or more, conflicts simultaneously, Iran's overreach meant that he and his men would be stretched thin.
The second weakness was that by working through proxies with a handful of Iranian advisers, Iran would never be as strong on any battlefield as a powerful state actor. It could only hope to realistically control the situation when it acted in a power vacuum. A determined rival at the state level, whether regional or an outside power, could beat it relatively easily if it was prepared to commit for the long-term.
And third, as a belligerent nation representing the Shia Muslim minority in the Arab world, it could not rely on widespread popular support – not from Sunnis, and not from many other Shi'ite communities who were determined to live peacefully alongside their Sunni neighbors.
Failures and (too much) success
Soleimani was also to find that, unlike his relative freedom of action in failed states such as Lebanon, Syria, Iraq and Yemen, in other countries farther afield he could rarely mount a successful operation.
In his attempts, together with Hezbollah, to avenge the joint Israeli-American 2008 assassination of Mughniyeh in Damascus (an operation in which Soleimani's life was spared at the last moment due to the Bush administration's decision), he was almost always foiled by Israeli and Western intelligence.
Efforts to attack Israel and Jewish targets in India, Georgia, Azerbaijan and Thailand all failed. His sole success came in blowing up a busload of Israeli tourists in Burgas, Bulgaria, in July 2012. A 2011 plot to assassinate the Saudi ambassador in the United States and to carry out other operations in the Americas likewise failed. Quds Force and Hezbollah operatives, so efficient in the Middle East, often proved bungling amateurs in less familiar surroundings.
In Yemen, with its large Shia community (consisting of nearly half the population), Soleimani was capable of empowering the Houthis to take over large swaths of the country. But across the Red Sea, he lost Iran's bases in Sudan to a secret diplomatic and military offensive waged in concert by Israel and the Saudis. Iran had for years used Sudan to smuggle arms (onward through Egypt) to Gaza and Lebanon. But by 2015, the Sudanese had expelled all Iranian officials from the country and a year later cut off diplomatic ties altogether.
While he was working with Hezbollah in Lebanon, Soleimani had an even bigger project in Iraq: Trying to ensure that Baghdad's new, post-Saddam Hussein government would be both Shia-dominated and closely aligned with Tehran rather than Washington. As support in the United States for a never-ending Iraqi campaign waned, he was devastatingly successful. Too successful.
By pushing out the old Sunni elites and marginalizing their communities, as well as less pro-Iranian Shia leaders, Soleimani was both creating growing resentment against the central government and weakening the Iraqi army's ability to control the country. The operator who skillfully exploited vacuums was creating a new vacuum of his own making.
Iran's warlord did more than anyone else to eventually create the environment in which the Islamic State group would grow and eventually threaten Iraq itself. In 2014, as ISIS proclaimed its caliphate and rapidly took control of the cities and oil fields of Western Iraq, the Iraqi army melted away – because its troops could not see the point of fighting on behalf of a government controlled by a foreign power.
Soleimani's hollowing out of Iraq almost led to it falling to ISIS. At the same time, the jihadi group was also spreading throughout Syria, jeopardizing the work he had been doing there since the start of the civil war in 2011 – brutally suppressing the uprising against President Bashar Assad's regime.
Saving Assad
In Syria, he had spent billions of scarce dollars, sacrificed thousands of Shi'ite fighters (a small part of the nearly half a million – mainly civilians – people who died in eight years of war) and squandered nearly all the popularity he and Hezbollah had gained among Sunni Arabs as "the resistance" in the previous decade. Even Hamas, a longtime beneficiary of Iranian largesse, cut off ties with Tehran for five years in protest over the massacre of Sunnis in Syria, severely limiting Iranian influence among the Palestinians.
ISIS was ultimately vanquished, but it took the entry of foreign powers – the U.S.-led coalition and Russia – to accomplish that. Soleimani managed to turn this somewhat to Iran's advantage by portraying his country as the main fighters against ISIS, and through the deflection of the world's attention from the far more brutal actions of the Assad regime to ISIS' grotesque decapitations of Western hostages. But while Assad was saved, Tehran's ability to control Syria was severely limited and the presence of U.S. troops in the region also made it more difficult for Iran to move arms freely around the region.
In a desperate bid to prevent Assad from toppling in the summer of 2015, Soleimani flew to Moscow, where he reached an agreement with the Russians that they would send a small contingent of fighter aircraft to bomb the rebel areas into submission, while Iran would provide the boots on the ground. This comprised an enhanced Hezbollah presence and tens of thousands of Shi'ite mercenaries from Iraq, Pakistan and Afghanistan, paid and trained by Iran.
Soleimani thought the Russian intervention would also lend the Quds Force immunity from Israeli airstrikes. However, President Vladimir Putin and Prime Minister Benjamin Netanyahu reached a tacit agreement: Israel would not target the Iranian-commanded ground forces fighting for Assad in Syria, just the convoys of advanced weapons Soleimani was trying to send to Hezbollah, and the more long-term military infrastructure of Iranian bases he was trying to build there for the Revolutionary Guards.
Israel's success in repeatedly destroying much of the Iranian weaponry and infrastructure in Syria caused trouble for Soleimani and his main patron, Ayatollah Ali Khamenei, back home. While Khamenei continued to support Soleimani in the internal power struggle against the faction led by President Hassan Rohani – which argued for spending less money on foreign adventures, and instead diverting resources to the cash-strapped domestic economy – from late 2017 onward, the tensions spilled over into the streets. Ordinary Iranians demonstrated against their worsening financial situation, chanting "Not Syria, not Lebanon, not Gaza. My life for Iran." Indeed, over the past two years, many did give their lives as protesters were gunned down – as many as 1,500 just in the last few weeks of 2019.
Everything at a price
Soleimani's exploits may have made him a war hero among some Iranians and Shi'ites across the region. But his insistence on the continued funding of foreign campaigns and proxies also made the regime he served less popular at home. In recent months, as similar anti-government protests spread to the streets of Beirut and Baghdad, they began to take on a decisively anti-Iranian tone. Hezbollah and the pro-Iranian militias in Iraq were sent to ruthlessly quell them, with only limited success.
By the time he met his death last Friday morning in a U.S. drone strike, 22 years after becoming Quds Force commander, Soleimani had succeeded in establishing and enhancing a strong Iranian presence in Lebanon, Syria, Iraq, Yemen and Gaza. But his hold on all of them was tenuous. Over the last few years, Soleimani had come in from the shadows, and a slick PR and social media operation distributed images of him visiting front lines across the region. But this barely masked the fact that in recent months he was far from the peak of his success. His campaigns were facing a popular backlash at home, in Lebanon and Iraq. His war against the Saudis in Yemen was bleeding and starving Yemen, and millions of Syrians regarded him as the greatest butcher of their countrymen.
Under Soleimani, the stretched Quds Force's expansion of Iranian influence across the region had come at the price of partial destruction of four other Middle Eastern nations; destroyed whatever credibility and popularity Iran had among its neighbors; and left it on the brink of bankruptcy amid ongoing unrest. Where he had been met with power vacuums, discord and indecision by his rivals, he usually won. But when he was faced with decisiveness, coordination and well-organized military forces, he invariably overreached, failed and, finally, was killed.
None of this means that President Donald Trump's sudden order to assassinate Soleimani was the right decision at the right time. In the absence of a clear strategy and plan to contain further Iranian aggression, the result could well mean only more chaos and misery for the region. But learning from Soleimani's mistakes and failures during his life could be the key to preventing his successors from achieving similar levels of success after his death.
Click the alert icon to follow topics:
ICYMI
Ken Burns' Brilliant 'The U.S. and the Holocaust' Has Only One Problem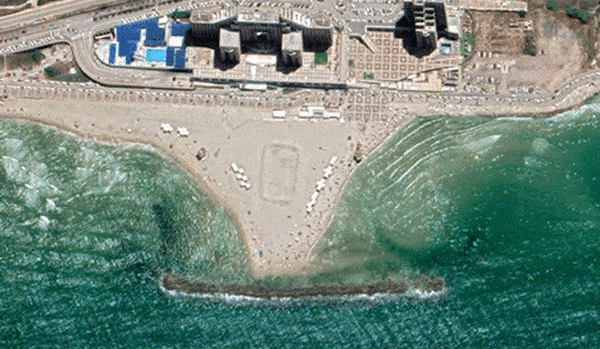 Facing Rapid Rise in Sea Levels, Israel Could Lose Large Parts of Its Coastline by 2050
As Israel Reins in Its Cyberarms Industry, an Ex-intel Officer Is Building a New Empire
How the Queen's Death Changes British Jewry's Most Distinctive Prayer
Chile Community Leaders 'Horrified' by Treatment of Israeli Envoy
Over 120 Countries, but Never Israel: Queen Elizabeth II's Unofficial Boycott