Opinion |
Israel Is Hiding Documents That Could Help Its War Crimes Case at the ICC
The state zealously conceals archival documents that could be useful in the international arena, but the bureaucrats involved are misguided
An Israeli air strike on Gaza City, during Operation Defensive Edge, in 2014.
Credit: ROBERTO SCHMIDT / AFP
In July 2002, the Israel Defense Forces killed a senior Hamas official, Salah Shehadeh, by dropping a one-ton bomb on the building in which he was sleeping. Killed along with him were his wife and daughter, another Hamas fighter and 13 innocent noncombatants who were sleeping in adjacent buildings. In September 2003, an air force plane dropped a quarter-ton bomb on a house in which many Hamas leaders were gathered. The bomb destroyed the building's upper two floors, but all the Hamas men survived as they were on the ground floor. Some of those who survived were killed afterward – among them Ahmed Yassin and Abdel Aziz Rantisi – but alongside them were the men who are currently leading Hamas: Mahmoud a-Zahar and Ismail Haniyeh, as well Mohammed Deif, commander of Hamas' military wing. Someone, it turns out, decided not to use a one-ton bomb.
More recently, in March 2018, riots broke out along the border fence between Israel and the Gaza Strip. Over time, the number of Palestinian casualties in these demonstrations, which have continued intermittently to this day, declined, one reason being, according to the media, that the IDF replaced its snipers' rifles with weapons with a reduced potential to kill.
There's no need to be a former state archivist to know that in the IDF, the Justice Ministry, the Prime Minister's Office and elsewhere, many documents exist about how Israel manages its wars. They include discussions of principles, operational plans, briefings, operational recordings, investigations, conclusions that were drawn, formulation of procedures and updated directives. There are also legal opinions and diplomatic evaluations.
In the case of the Shehadeh killing, the e gaza vents were examined by a committee headed by a retired Supreme Court justice, Tova Strasberg-Cohen, and its main findings were published. They can be perused on the website of the Prime Minister's Office. The report quotes from dozens of documents made available to the committee at its request.
Subsequently, there was a change in the policy of advance warning before an attack on a building – a change that included actively creating new technologies and a new modus operandi, different ways of training of fighters and officers, upgraded post-operation inquiries into the results and so forth. Both the IDF and the organizations in its orbit are places where people think and talk about what they are doing, and leave behind a long, detailed trail of documentation.
Just as such documentation was of interest to the Strasberg-Cohen committee, so, too, it will interest the International Criminal Court in The Hague, should it ultimately decide to open an investigation into potential Israeli war crimes. On the assumption that this is a professional court and not a club that's out to bash Israel, like the United Nations Human Rights Committee, it can be presumed to operate with judicial tools, to be guided by the laws of evidence and to take an interest in intentions, what jurists call mens rea. In a hearing guided by such principles, a state that "shoots in every direction" without consideration for the results is not supposed to be treated like a state that consistently examines its behavior, does its best to avoid mistakes and maintains elaborate mechanisms aimed at improvement and constant adaptation to a shifting reality.
There are those who will say that any instance of Israeli use of military force is unacceptable. Others will say that if Israel were stubbornly trying to achieve peace, the use of military violence would become unnecessary, and that in the absence of Israeli determination to reach peace, all of its military activity is immoral. Those are sweeping moral assertions that render superfluous the discussion of the justice of Israel's military behavior, and they cannot be contested by means of documents. They are not meant to be the approach taken by the court in The Hague, whose point of departure, at least on the face of it, is that states have the right to use force to defend certain interests, provided they act lawfully.
It has to be admitted that Israel, with its firm refusal to present its documents to any international body, is by its own hand helping the organizations that criticize it. It leaves the arena open to organizations that are happy to make do with describing only the results of Israeli combat: If Israel fired and Palestinian civilians were hurt, it's proof that Israel intended to hurt and kill – Post hoc, ergo propter hoc.
Those for whom the state's good name is important can only be frustrated that Israel zealously conceals tens of thousands of archival documents that could present a fair picture of its behavior. True, a liberal disclosure of the documents would not portray Israel as a complete paragon of virtue. The picture the archives paint is complex and rife with shades of gray. But multiple shades of gray are preferable to black.
How inaccessible are these documents? Extremely inaccessible. The Archives Law of 1955 states that all official records are to be open once a designated waiting period has passed, except in exceptional cases, but the regulations introduced by bureaucrats turned this topsy-turvy: In all but exceptional cases, the default is for everything to remain sealed.
Material from the defense establishment is sealed for 50 years – two generations. Even at the end of this period, most of it will not be unsealed, even in the face of specific requests. Only recently, the bureaucracy fought to leave sealed documents from the "Saison" (the so-called "Hunting Season" of 75 years ago, before the state's establishment, referring to the effort by the official Haganah militia to suppress anti-British activity by the Irgun); from the War of Independence; and from the Kafr Qasem massacre of 63 years ago (when Israeli troops shot residents of the village of Kafr Qasem, who were unaware that a curfew was in force at the start of the Sinai War).
Some material is rightly classified. Documents relating to intelligence gathering, for example, or methods of surveillance of top terrorists, whose revelation would help the other side take evasive action. However, this limited and specific concealment has long since become a case of general concealment – broad, deep and permanent. The possibility of Israel presenting to the court in The Hague security documents from recent years, even as it refuses to show its citizens documents from its early days, seems remote.
The concealers are generally bureaucrats who have undergone a relatively uniform professional socialization. All have high security clearance and came through the ranks in an organizational culture of maintaining secrecy. They are convinced that what is known to them must not become known to the public, for if it does, state security will be infringed. Most of them are not operational fighters who risk their lives in combat, but their environment has persuaded them that by hiding what they know, they too are defending the state. Few of them follow the international dialogue on such matters, which in any case is not conducted in Hebrew. Without admitting it, they have created a professional and sociological bubble of keepers of secrets, operating in the face of an amorphous public that they see as unreliable.
Since the failures of the Yom Kippur War, it's conventional knowledge that there are specially designated intelligence officers whose task is to dispute and challenge all the other colleagues surrounding them, in order to avoid the arrogance of a consensual conception. But in the circles that protect archival material – security professionals, legal experts, archivists – no one has the role of casting doubt. Even most diplomats, who are exposed to the external world by the nature of their profession, are more in the nature of bureaucratic workers than they are citizens of the world.
Within a short time, the cabinet may have to decide about Israel's comportment before the court in The Hague. They will be surrounded by people from the bureaucracy, whose take on unsealing documents is quite uniform. Ministers, too, are only people, and if the bureaucrats around them are in full agreement, only independent, self-confident ministers will want to assume the responsibility of independent decisions. The others will flow with the recommendations of the professional echelon, without questioning whether those recommendations are correct.
Dr. Yaacov Lozowick was Israel's state archivist from 2011 to 2018.
ICYMI
Ken Burns' Brilliant 'The U.S. and the Holocaust' Has Only One Problem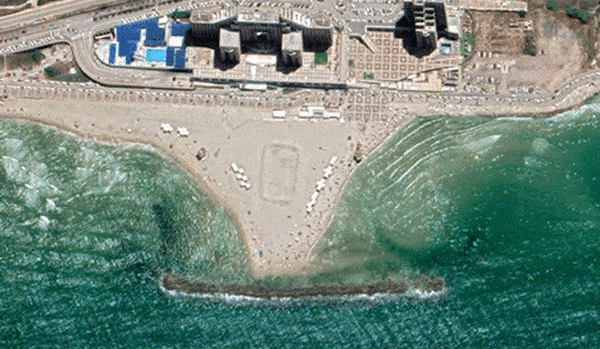 Facing Rapid Rise in Sea Levels, Israel Could Lose Large Parts of Its Coastline by 2050
As Israel Reins in Its Cyberarms Industry, an Ex-intel Officer Is Building a New Empire
How the Queen's Death Changes British Jewry's Most Distinctive Prayer
Chile Community Leaders 'Horrified' by Treatment of Israeli Envoy
Over 120 Countries, but Never Israel: Queen Elizabeth II's Unofficial Boycott