The Hurdles Facing Israel's Parties Ahead of Third Election in March 2020
Likud's campaign chief says only one leader can push the right-wing bloc higher, while the left-wing parties just want to make it past the electoral threshold
Gantz and Kahol Lavan co-leaders Yair Lapid and Gaby Ashkenazi after exit polls during Israel's parliamentary election in Tel Aviv, September 18, 2019
Credit: CORINNA KERN/ REUTERS
Gantz still needs help from the left
With the dissolving of the Knesset for the third time within a year, officials at Benny Gantz's Kahol Lavan party are more optimistic than ever. Gantz's ratings are solid; the fear is that one or both parties to the left won't pass the 3.25 percent electoral threshold in the March 2 vote.
Gantz's image hasn't eroded despite Likud's negative campaigning; he's improving in opinion polls and his centrist party remains the largest power in the Knesset. "We're beginning this election campaign from a considerably better place than the previous campaigns," a party official said.
Kahol Lavan fears a lower turnout in March but believes that Likud and Prime Minister Benjamin Netanyahu, now indicted for bribery, fraud and breach of trust, will have an even harder time bringing people to the polls.
"We've found that our voters are more motivated to go out and vote," the official said, and then referred to the 120-seat Knesset. "Those who felt relief when Netanyahu failed to put together 61 supporters will go to the polls on Election Day."
He said that Netanyahu will presumably have a lame duck image in the election campaign and that "leadership-wise, Gantz is indisputably the only alternative to Netanyahu, so there's no reason for us to make any reckless moves."
This week, the Kahol Lavan No. 2, Yair Lapid, took the tactical move of the election cycle: He dropped his demand for a rotating premiership between him and Gantz. After all, polls by some parties showed that tens of thousands of soft-right voters had said the Gantz-Lapid rotation agreement was keeping them from defecting.
"We'll all be one united Kahol Lavan behind Benny Gantz," Lapid said, adding: "I don't feel I'm conceding, I feel like I have a great privilege."
Much of the next election campaign will center around Netanyahu's immunity from prosecution as prime minister. Of course, he might lash out at the justice system.
But in doing this, he's likely to find himself facing Gantz. This week, the former military chief took part in a Knesset conference on protecting the rule of law. He used that stage to attack Justice Minister Amir Ohana, Culture Minister Miri Regev and Netanyahu himself.
"More than one minister is busy attacking the ministry he's in charge of," Gantz told an audience of retired judges, former state prosecutors and jurists. "Of course, a minister's job is to improve the system, but there's a huge distance between criticizing and attacking verbally, and a very small distance between verbal attacks and incitement."
But Kahol Lavan's leaders are worried that too many voters from the two parties to the left, Labor-Gesher and Democratic Union, will choose Kahol Lavan, with one or both of the smaller slates not making it into the Knesset.
"Before the end of the previous campaign we were afraid the two left-wing parties wouldn't get enough votes to enter the Knesset and then we wouldn't have a bloc," a party source said. Well, that remains a risk. (Jonathan Lis)
Netanyahu gears up to beat Sa'ar
Likud has begun preparing for the next election, but more interesting in the short term is Netanyahu's face-off with Gideon Sa'ar in the Likud primary on December 26.
As usual, Netanyahu is both optimistic and pessimistic. Polls have him well ahead of the former interior minister, but he's still working around the clock to stave off defeat. Netanyahu spends a lot of time at Likud headquarters in Tel Aviv, where he treats every activist like a senior U.S. senator. He has also met with mayors who support him and party branch heads.
Sa'ar plans to launch his campaign on Monday in Or Yehuda near Tel Aviv. He has appointed MK Yoav Kish as his campaign chief; the message will be that only he can improve the showing by the right-wing bloc and form a government. Meanwhile, Sa'ar is pressuring Public Security Minister Gilad Erdan to support him, as relations between Netanyahu and Erdan are pretty cold.
Sa'ar believes that Erdan's backing would generate some excitement. He hopes that Likud MK Haim Katz and his contacts at Israel Aerospace Industries – where he once served on the workers' council – will follow, along with other senior Likudniks.
Another senior Likud member currently keeping silent is Knesset Speaker Yuli Edelstein. The Ukraine-born politician usually shuns making decisions or entering confrontations, so he's not expected to choose either Netanyahu or Sa'ar.
In any case, Sa'ar's chances don't look good. He has enlisted surprising support from a few key mayors and Likud activists, but Netanyahu has the momentum.
Bibi remains popular and party members don't believe that the indictments stopped him from forming a government; they tend to blame Gantz and Yisrael Beiteinu chief Avigdor Lieberman.
Sa'ar's message that only he can widen the bloc has failed; instead, the thinking is that Likud must close ranks and bash the law enforcement agencies. A senior member of Sa'ar's camp admitted to Haaretz that the former interior minister doesn't have much of a chance.
In addition to the primary, Netanyahu is preparing for the Knesset election. In the past week or so he has met with two close advisers to U.S. President Donald Trump. Meanwhile, he wants parties to his right – Otzma Yehudit, Habayit Hayehudi and National Union – to run together, and for Naftali Bennett's Hayamin Hehadash to run alone.
He hopes Bennett's party will attract Likud figures who hate Netanyahu such as Limor Livnat, and, among voters, younger people who opted for Lieberman in the past. In the meantime, he's planning an aggressive campaign against the law enforcement agencies. (Chaim Levinson)
The Ultra-Orthodox won't abandon Bibi
At this stage the ultra-Orthodox parties aren't tweaking their strategy, which is to stick fully with Netanyahu's right-wing bloc. "All the talk about the right-wing bloc is irrelevant right now," a source in United Torah Judaism said. "The bloc will be built only after the election; we'll see what the results are first."
The one thing the ultra-Orthodox are sure of is that "we're with Netanyahu, that's obvious," the source said. "He'll win the Likud primary and we'll go with him because we have no choice. On the current political map, Likud's fate and ours are intertwined."
Shas' position is similar. In a statement Thursday, party leader Arye Dery said: "I'm the one who initiated the setting up of the right-wing bloc of 55 MKs and supported Netanyahu for prime minister. The bloc continues to work together in the third campaign. I hope the right gets 61 Knesset seats and we'll be able to form a stable rightist government headed by Netanyahu."
The chairman of the party's Degel Hatorah faction, Moshe Gafni, also said this week that his people are on board. Another member of the party said there isn't really an option of going with Gantz's party.
"There's really no possibility of working with people like Yair Lapid and Ofer Shelah," he said. "Every day would be a new war on another issue – kashrut, Shabbat, conversion. We'd have to fight for every little thing."
The ultra-Orthodox parties have veered significantly to the right in recent years, especially as their nemesis Lapid has risen. Of course, with Lapid in a coalition, it would be a major challenge to reach agreements on state and religion issues, the core curriculum for ultra-Orthodox kids and money for yeshivas.
Particularly, young people in the community have swerved to the right; for many youngsters, Netanyahu is the only prime minister they've known. (Aaron Rabinowitz)
Joint List aims for 16 seats
While most parties are irked by the dissolving of the Knesset, the Joint List of Arab parties believes it has a chance to do better. It aims to increase its showing to as high as 16 seats from the current 13 – by appealing to Jewish voters as well.
"The Joint List is the only one that isn't afraid of an election but is eager to have one, because there's a feeling that Arab voter turnout will rise," the alliance's floor leader, Ahmad Tibi, told Haaretz. "There's a chance we'll come under Netanyahu's incitement campaign again, but we'll do everything to replace him."
As Joint List leader Ayman Odeh told Nazareth-based Ashams Radio, "If the Arab turnout rises from 60 percent to closer to 70 percent, the political map will change. Our civil and political discourse will bring the public to the polls, and in the last few months we've proved that we can do it."
As someone in the Arab-Jewish Hadash party within the Joint List put it, the plan is to appeal to the mainstream Jewish voter. "We think our members' exposure to the Israeli public in the last election will raise our profile with this community and bring in some Jewish voters," he said. "Raising the percentage of Jewish voters could contribute a lot."
Despite the incitement against Israel's Arab citizens, "many people in the Jewish community don't see the Arab MKs as a threat," he said.
But Joint List activists warn about the inverse of their strategy: Zionist parties trying to draw Arab voters. (Jack Khoury)
Lieberman voters on the fence
"Talking about who's to blame and why is useless at this point," Tourism Minister Yariv Levin said Wednesday just before the preliminary vote on dissolving the Knesset. On Thursday, Yisrael Beiteinu voters woke up facing a third election in 11 months and asking themselves if the party's chairman was to blame.
"No matter what, he isn't responsible" said Shachar Yentel, who voted for Lieberman. Yentel voted for Yisrael Beiteinu for the first time three months ago, enticed by Lieberman's efforts to draft ultra-Orthodox young men into the army. The party went from five to eight Knesset seats. In some cities the party's vote tally doubled.
"He's not accused of anything and he promotes principles I believe in," Yentel said. "Lieberman kept his word. Likud is responsible for the situation we're in."
Another first-time Lieberman voter sounded satisfied. "His word was ironclad, without tricks or games. He didn't let the religious-Zionist and messianic elements run the country. He reached out to Likud in agreeing to the president's outline" in forming a national-unity government, he added, blaming Netanyahu, "who was unwilling to compromise."
"Ultimately, Lieberman prevented the formation of a government with the religious parties, and that's what I care about," said Eyal Rossman, a voter from Tel Aviv suburb Givatayim who works in high-tech. He doesn't think there was any chance for a narrow center-left government supported by the Arab parties: "Their voters wouldn't have supported them if they entered the coalition."
Rossman went Yisrael Beiteinu even though he's aware of the corruption cases that once plagued Lieberman. The main goal was a government without religious parties. "I want buses on Saturday, civil marriage," he said. "If the religious see that it doesn't really hurt them, maybe they'll be less resistant to changes in the future."
Lieberman was never convicted of anything, Rossman notes, adding that the main corruption cases are Netanyahu's. "The main thing is to replace Netanyahu, even if it takes 10 elections," he said, adding that he wouldn't want a Lieberman-left alliance because "a government with Meretz would be bad."
Rossman was considering shifting to Kahol Lavan, but dropped this after the party supported increasing funds for election campaigning.
"The only party opposing this was Yisrael Beiteinu," he said. "You can't keep saying that an election must be avoided due to the huge deficit and then steal 63 million shekels from the public" – $18 million.
Yentel says the issue is who will head Likud. If it's not Netanyahu, he'll vote Likud "because that will provide a chance for a unity government with no religious parties." (Shira Kadari-Ovadia)
Ayelet Shaked mulls her future
The right-wing Hayamin Hehadash party enters the third election in better shape now that Bennett is defense minister. Recent polls show that this party, which didn't pass the electoral threshold in April, is doing well. The question is whether the party will keep its dual leadership of Bennett and Ayelet Shaked.
Shaked remains without a post and her future in the party is unclear. Senior party members believe that Bennett should lead Hayamin Hehadash into the election, while officials of right-wing rival Habayit Hayehudi are pressuring Shaked to lead their party and a united right-wing front.
Hayamin Hehadash says it has no intention of joining any other party. It will try to lure voters away from Habayit Hayehudi and National Union, and is touting conservative, anti-union economics.
In recent polls, National Union and Habayit Hayehudi haven't even passed the electoral threshold when running together. This may drive Transportation Minister Bezalel Smotrich and Education Minister Rafi Peretz to join forces again, despite their troubled relationship.
Unlike Bennett, Smotrich and Peretz haven't been able to gain popularity with their new cabinet posts. Some party activists doubt whether Peretz could lead a united party; they want Shaked as their leader, even though she abandoned Habayit Hayehudi with Bennett before the April election.
The question of Itamar Ben-Gvir and his far-right Otzma Yehudit party remains open. Even though he says his party would run alone, it seems he might be trying to join a possible union between Habayit Hayehudi and National Union. (Josh Breiner)
Labor and Meretz struggle
The two left-wing Zionist parties, Labor-Gesher and Democratic Union, finished the last election with the sense they'd missed something. Democratic Union is the fresh face in the left-wing bloc after Meretz got a new leader in Nitzan Horowitz and teamed up with Stav Shaffir and Ehud Barak. It managed to scrape together five seats, less than half of what it hoped for.
Labor-Gesher, which tried to draw right-wing voters from Israel's outlying areas, came up with a disappointing six seats. In the third round, the bar is set much lower – both parties say the campaign is about passing the electoral threshold.
"I fear that any enthusiasm for the left-wing parties has dissipated. Our voters feel they have a mission to vote for Gantz in order to topple Netanyahu," said an MK from one of the two parties.
"How many voters will come to the polling station again in support of the uninspiring tie-up between Amir Peretz and Orli Levi-Abekasis?" he added, referring to the leaders of center-left Labor and center-right Gesher. "How many voters will insist on supporting people like Nitzan Horowitz or Stav Shaffir when the possibility seems more realistic than ever of beating Netanyahu by voting Kahol Lavan?"
In recent days, both Labor-Gesher and Democratic Union have started considering how to freshen up their tickets. Will their leaders be replaced and primaries held, as their party constitutions call for? Will the two parties join forces to prevent falling under the electoral threshold?
Labor activists feel that at the moment, chances are low that someone would run against Peretz at the top of the party. Horowitz is trying to prevent an election for Meretz chief, but his predecessor Tamar Zandberg is considering a comeback.
"I believe that Meretz should be the left-side marker of the bloc and of any union that might arise," she said Thursday. "We have to hone our positions and continue to be a vibrant left-wing force."
Peretz is trying to woo back lost voters – including those who switched to Yisrael Beiteinu. "Lieberman managed to mislead center-left voters who thought he was their salvation," he said.
Meanwhile, Democratic Union's unity is no sure thing. "The agreement between the parties that make up Democratic Union was in force only for the previous election campaign," said an MK from the alliance who asked not to be named, adding that "this will be a tough election for the small parties as long as the decision is between 'yes Bibi' or 'no Bibi.'"
Shaffir is striving for the Labor Party and Democratic Union to run on a joint ticket. If one of the two fails to make it into the Knesset, Kahol Lavan won't be able to form a governing coalition, she said. "Ego games and nostalgia won't help here," she added.
Shaffir will have her work cut out for her. Meretz leaders are demanding that the union disband and drop Yair Golan, a retired deputy chief of the General Staff, and Barak, a former prime minister. Democratic Union hasn't proved itself and Meretz can do well alone, some Meretz leaders say. (Jonathan Lis)
Click the alert icon to follow topics:
ICYMI
Ken Burns' Brilliant 'The U.S. and the Holocaust' Has Only One Problem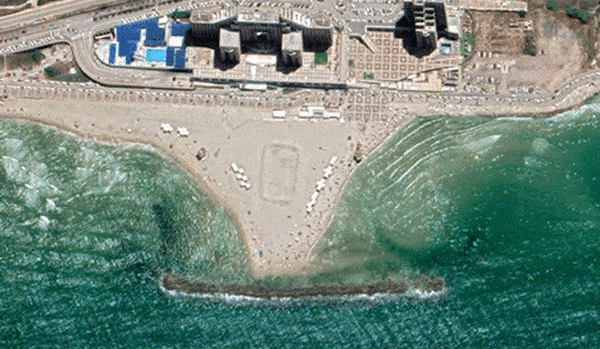 Facing Rapid Rise in Sea Levels, Israel Could Lose Large Parts of Its Coastline by 2050
As Israel Reins in Its Cyberarms Industry, an Ex-intel Officer Is Building a New Empire
How the Queen's Death Changes British Jewry's Most Distinctive Prayer
Chile Community Leaders 'Horrified' by Treatment of Israeli Envoy
Over 120 Countries, but Never Israel: Queen Elizabeth II's Unofficial Boycott