At 22, Haifa-born Start-up Founder Sets His Sights on Programmers Everywhere
Iddo Gino and friends developed a platform to help programmers access external apps that is used by millions every month
Iddo Gino.
Credit: Eyal Toga
Haifa-born Iddo Gino turned 22 this month. He lives with a roommate in a rented apartment in San Francisco, where he moved by himself four years ago. He has raised $38 million from several top-tier venture capital funds and has 60 employees, and a product that almost 2 million computer programmers use every month.
The startup Gino founded, RapidAPI, is now one of the largest platforms in the world for finding and connecting to APIs (application programming interfaces), prepackaged sets of computer functions and procedures that enable programmers to access existing applications, for example maps, credit card processing or email – without having to write the code from scratch. And it all began with a meeting Gino organized as part of his volunteer work when he was still in high school.
RapidAPI was founded in 2015 as the use of external APIs began to take off among programmers to add functionality to their apps and speed up their development processes. It is easy to demonstrate how it works using the example of a taxi app such as Uber or Gett. The companies could develop their own credit card clearing, maps or communications services by themselves – but it is easier to save precious time and connect to existing products that other companies provide, and keep up-to-date, for example Stripe, which provides payment services for websites; Twilio, which provides communications services such as calls and messaging; or Google Maps, whose API allows programmers to extract information from the maps interactively.
Most programmers use external APIs throughout their apps, usually with the exception only of its core functions. Gino says that almost every small company today depends on 20 or 30 outside firms that provide it with ready-made services through an API.
With the rise in popularity of the use of APIs, the task of locating and connecting to them has become complicated and has begun to require ongoing management. The reason is that the APIs are developed by a number of companies and each one uses different formats and communications protocols, and the developer must understand each one separately, and work with it. This is where RapidAPI enters the picture – the company has developed an intermediary level of abstraction that enables developers to connect to any API in a uniform manner. In other words: a sort of single shared language to communicate with all the APIs in its system.
The participating APIs are uploaded to RapidAPI's public marketplace, where developers can choose what services they need for their programs. Some of the services are provided for free and some have a monthly price set by the API supplier on a subscription model, and RapidAPI provides a single monthly bill.
RapidAPI offers about 10,000 APIs through its marketplace, about a third of all the APIs available on the internet. For some companies, such as Stripe and Twilio, APIs are their business model and the only way they provide their services – and are paid by developers. But for other companies this is an important channel for revenues: Expedia and eBay make most of their income by appearing in other places that extract information from them by using access through their public API – and not from customers who come directly through their websites. This means companies have an interest in appearing in marketplaces such as RapidAPI's, which provides them exposure among developer communities and greater distribution.
RapidAPI's gross merchandise value – the value of the business that passes through its platform – has passed $10 million, a figure calculated based on data for last month multiplied by 12. The company receives about 20 percent of this as commission on average. The company's second product, and the one it hopes will provide the major contribution to its growth, was born in 2018 and is meant to manage APIs within a large organization, where development teams are not always exposed to what others in the company are doing.
The product enables organizations to define policies about the use of external APIs and allows developers to discover APIs developed internally. The organizations pay RapidAPI a monthly fee according to the number of developers in the company who have access to the system, at a price of $20 to $30 per programmer. RapidAPI's annual recurring revenue from this product is estimated at about $5 million, also based on last month's data multiplied by 12. On paper, the company's value is estimated at about $120 million.
A logistical nightmare
In many ways, Gino founded his first startup when he was only 15, along with three friends. It was a nonprofit named Hacking Gen Y, which he used to promote hackathon events for school kids. A hackathon is a short, time-limited event – usually only a day or two with very few breaks, in which groups of entrepreneurs, programmers and designers are all in the same place to develop a project: usually an app, game or website.
It was 2014 and hackathons for young people were not a common thing, and Gino says the events were created because he thought computer science studies in high school were providing a bad experience.
"Our idea was to show what it is possible to create as a programmer, and to cause people to want to learn more – because schools simply don't do it. It is possible to complete [the highest level] of computer science in high school and not know how to build anything that can be of use. They give you a matrix of numbers and formulas, but don't teach that a picture is really just a matrix, and the formulas are algorithms with which you can do face recognition in the picture. It's like learning the skill of using a hammer and saw without learning what you can build with these tools."
From 2014 to 2017, Gino and his friends organized 50 events with hundreds of participants, each 36 hours long, all over the world from Tokyo to San Francisco. They recruited partnerships and sponsorships, found halls and brought in mentors and judges from the elites of high tech. Today, Gino says the level of organization and logistics he experienced during his four years of the volunteer group is greater than what he has today with a company having dozens of employees and customers all over the world.
He illustrates this with stories, such as the one about the time he needed to build electric boxes across an entire sports hall, or the time when at age 17 he had to drive a van all over Manhattan and pick up pizzas to feed 600 people – because the caterers canceled at the last moment.
The first version of RapidAPI was developed for these hackathons. "What we realized is that the back-end, which is all the things you build in the background to make your application work, for example credit card clearing, sending email or data storage – adds complexity for which there is no time during the 36 hours of the hackathon," says Gino. "So we said, let's give people the possibility of building the application itself, the front-end, which is a lot more fun and cool, and we will provide the back-end as a service."
Gino and his partner Mickey Haslavsky – who left RapidAPI in 2018 – began building a sort of bank of API connectors that contain code that translates them into a uniform protocol. They uploaded the project to the GitHub open source code repository and very quickly noticed that thousands of programmers had begun to use their service.
Gino showed the system to investor Dov Moran, the inventor of the USB flash drive (disk on key) who that day was the judge for a hackathon – and Moran told him he should try to turn that product into a startup.
Moran and his partner Lotan Levkowitz from Grove Ventures provided the first check, for $300,000, which was used to set up the company – but only after convincing the two teens to drop a different idea they were working on, a digital wallet for kids.
Meeting a rock star
In 2016, Gino moved to Silicon Valley, using a fellowship from Peter Thiel's foundation. Thiel, the founder of PayPal and one of the first investors in Facebook, has since 2010 funded fellowships for students under 22 who want to skip college and build the next big thing. He grants $100,000 over two years to very carefully selected recipients, with the only condition being they do not continue their studies for now.
Thiel's program has attracted a great deal of criticism over the years, because most of the opportunities go to candidates from very well-off families, with very educated parents. But Gino, who benefited from this network of contacts, Thiel's mentoring and nurturing, is not at all sure he supports avoiding going to college.
"I see programmers here with us who did a degree and they have a theoretical background. They know how a programming language, compiler or operating system works – the university forces you to learn the less fun and urgent things," he says. Immediately he adds, jokingly: "According to the [Thiel Fellowship] contract, I can't study in academia for three years, so I'm just about to be free from my commitment."
In the United States, Gino began calculating the next steps for his company, and turned to Moran for advice about raising money from American venture capital funds. Moran promised to connect him with a veteran entrepreneur who would teach him about the market, and sent an email introduction the next day with Ben Horowitz.
Gino was surprised and very excited. In Silicon Valley, Horowitz is a sort of rock star. His venture capital firm, Andreesen Horowitz, was one of the first investors in such successes as Airbnb, Instagram and Slack. He arrived at his meeting with Horowitz with a list of 40 questions and a bit later Andreesen led the Series A round of funding for RapidAPI. Andreesen has led the next two rounds since then too. In the latest round, $25 million reported on in June, M12, Microsoft's cooperate venture capital subsidiary, joined in too.
Amazon biggest threat
Many companies work on the different stages of the process of API creation and management. On the side of the suppliers are tools for development, testing and security for the API, such as the Postman platform. On the consumer side, where RapidAPI is located, are, for example, the ProgrammableWeb site repository of APIs, which presents the APIs and helps developers discover them, but does not allow – at least for now – buying or connecting to them through the website.
When Gino is asked what is the scariest threat for him, he says he is worried that one of the big cloud computing providers – Amazon, Google, Microsoft or IBM – will develop a competing product. "Amazon is the most frightening for us because they also have the biggest foothold in the cloud sector, and the most experience in building a marketplace too."
But it is possible that the development of RapidAPI's marketplace product is relatively limited by the size of the market. The product can aid developers and application companies in their early stages to discover and try out APIs and receive them in a convenient fashion.
But what happens when the companies grow and begin to serve millions of customers? Will a company such as Uber or Airbnb want to use a mediating level such as RapidAPI to access a map from Google or services from Stripe, and take the risk of depending on another platform? Or will it prefer to start working directly with the service provider? It can be said, cautiously, that it is likely that RapidAPI's growth will come more from its product for large organizations.
Gino says that many companies it had singled out as potential competitors over the years were bought up by giant companies and did not become competitors – at least so far – such as Apigee, which was bought in 2016 for $625 million by Google, or MuleSoft, which was bought last year by Salesforce for $6.5 billion.
What type of exit does Gino see for RapidAPI? "The classic answer is that I'm thinking about an IPO. I want to build a huge company – but it's hard to give such an answer outside of the circumstances. I don't rule out the possibility that working with a technology giant will be the best solution, because if Amazon releases a competing product tomorrow, maybe it would be more logical for us to team up with Microsoft to get its back and artillery to compete against them."
Click the alert icon to follow topics:
ICYMI
Ken Burns' Brilliant 'The U.S. and the Holocaust' Has Only One Problem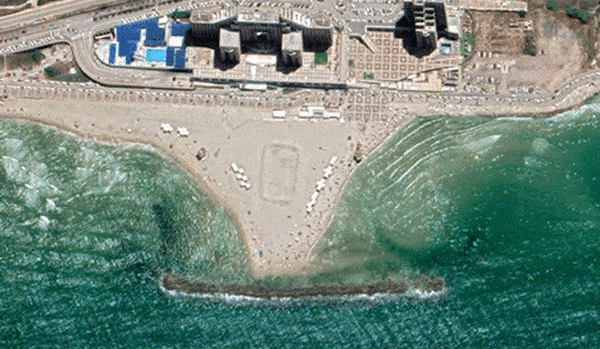 Facing Rapid Rise in Sea Levels, Israel Could Lose Large Parts of Its Coastline by 2050
As Israel Reins in Its Cyberarms Industry, an Ex-intel Officer Is Building a New Empire
How the Queen's Death Changes British Jewry's Most Distinctive Prayer
Chile Community Leaders 'Horrified' by Treatment of Israeli Envoy
Over 120 Countries, but Never Israel: Queen Elizabeth II's Unofficial Boycott