The Russians Are Coming: Israel's New Crop of Reform Rabbis
A growing number of immigrants from the former Soviet Union are joining — and leading — Reform congregations in Israel
A Reform movement Shabbat service at the congregation for Russian speakers in Ramat Gan.
Credit: David Bachar
As a child growing up in communist-ruled Russia, Olya Weinstein was never explicitly told she was Jewish. She somehow figured it out, though.
"In those days, it was forbidden to practice Judaism," she recounts. "But I'd notice things at home, like that my mother never served us pork and that we had separate dishes for dairy and meat, and I'd ask questions. One day my mother broke down and told me we were Jewish, but for many years, try as I might, I never elicited much information beyond that."
Binyamin Minich, who hails from the same part of the world, had the better fortune of coming of age after the communist regime had already collapsed. So by the time he was ready to celebrate his bar mitzvah in the eastern Crimean city of Kerch, together with a group of boys and girls his age, he had been so well trained at the local Reform congregation that he was asked to join the rabbi in leading the services.
Their Jewish journeys may have differed greatly, but Weinstein and Minich – both immigrants to Israel from the former Soviet Union — found themselves on the podium together last week at the Jerusalem branch of the Hebrew Union College: They had just been ordained as rabbis with the Reform movement in Israel.
Considering that there were seven newly ordained rabbis participating in the ceremony, this Russian-speaking contingent accounted for a notable share. In fact, with the ordination of Weinstein and Minich, the number of Russian-speaking Reform rabbis active in Israel effectively doubled overnight. (There are now five Reform rabbis in Israel who are immigrants from the former Soviet Union, but one recently retired, while four others who were ordained in Israel are stationed abroad.)
To be sure, these are not huge numbers, but they are noteworthy nonetheless — first, because Reform Judaism in Israel is largely an American transplant, with little history in the part of the world these rabbis come from; and second, because the Russian-speaking immigrant population of Israel is overwhelmingly secular, with much of its previous connection to Judaism erased during the communist years.
It is not a coincidence, says Rabbi Gilad Kariv, the executive director of the Reform movement in Israel, that Russian-speaking immigrants are drifting to this more open form of Judaism. "We, in the Reform movement here, took a decision a few years ago that bringing Russian-speaking immigrants into the fold would be a strategic goal," he says. "We really believe that this new generation of Russian-speakers want to cultivate their own Israeli-Jewish-Russian identity, and we want to be there for them. Their parents, when they came here, were too preoccupied with just getting by in the country to think about their religious identity, but this younger generation, which has successfully established itself, is open to this sort of thing, and since — for very well-known reasons — they have lots of hard feelings toward Orthodox Judaism, we believe we can offer them a more desirable option."
Resentful
Many Russian-speaking immigrants in Israel are resentful of the Orthodox establishment because it does not recognize them as Jewish and, therefore, will not allow them to marry in the country or be buried in Jewish cemeteries.
In the early 1990s, more than a million people from the former Soviet Union moved to Israel. They were allowed to immigrate because they were deemed eligible under Israel's Law of Return. According to this law, an individual must have at least one Jewish grandparent, be married to a Jew or have converted in an established Jewish community to be eligible to make aliyah. But to be defined as a Jew halakhically (by Jewish religious law), the criteria are much stricter. The individual must have been born to a Jewish mother or converted by an Orthodox rabbi recognized by the Rabbinate.
The Reform movement in the United States recognizes as Jewish any individual with at least one Jewish parent. In Israel, however, the movement follows different rules and only recognizes as Jewish the children of Jewish mothers or individuals who have undergone conversions, though not necessarily Orthodox ones. In Israel, the Reform movement offers children of Jewish fathers a special quick conversion program that takes two-to-three months. Typically, an Orthodox conversion program will require at least a year of study and preparation.
In recent years, two Reform congregations were established in Israel that cater exclusively to Russian-speaking immigrants — one in Haifa and another in Ramat Gan, just outside of Tel Aviv. A third congregation outside the southern city of Be'er Sheva is about to be launched and, according to Kariv, the movement plans to open within the next few years additional congregations that target this population in the northern cities of Afula and Nofei Hagalil (formerly Upper Nazareth) and in Jerusalem.
All told, the Reform movement has 35 congregations and about 100 rabbis active in Israel.
Rabbi Gregory Kotlyar, the first immigrant from the former Soviet Union to be ordained by the Reform movement in Israel, heads the congregation in Ramat Gan, which opened three years ago. He also runs the movement's conversion program for Russian-speakers in Israel. (The Reform movement oversees between 200 and 250 conversions annually in Israel, about two-thirds of them for Russian-speakers.)
After immigrating to Israel in 1991 from the city of Donetsk in Ukraine, Kotlyar says he became interested in exploring his Jewish identity. He started out studying in an Orthodox yeshiva but was not happy with all the emphasis it put on halakha. He then enrolled in a Jewish studies program at the Hebrew University in Jerusalem, but it was too academic for his taste. So he switched over to the rabbinical studies program at Hebrew Union College, where, he says, "I found the perfect mix." After his ordination in 2001, Kotlyar relocated to Moscow with his family, where he spent the next four years serving as the chief Reform rabbi of the Russian capital.
Kotlyar, 51, does not know how many Russian-speaking immigrants belong to the Reform movement in Israel, but says the numbers have clearly been growing in recent years. And he is not surprised.
"There is this common misconception that Russian-speaking Israelis are completely disconnected from Judaism," he says. "That may have been true, for the most part, of the big wave of immigration that followed the fall of communism. But since then, Jewish life has been revived in many parts of the former Soviet Union, and many of the immigrants arriving in Israel in recent years were actively engaged in their Jewish communities there. So it is completely natural that they would want to continue to be engaged Jewishly when they come here."
A case in point would be Minich, 32, who joined the local Reform congregation in Crimea on his own when it opened in 1996. He was age 9 at the time. "When they asked me to help lead services at my group bar mitzvah, that's when I knew I wanted to become a Reform rabbi when I grew up," he recounts.
Minich moved to Israel at 15, along with a group of teenagers on a special aliyah program, and the rest of his family came the following year. Now married with two children, he runs the Russian-speaking Reform congregation in Haifa and prepares young Russian-speakers around the country for their bar- and bat mitzvahs.
Weinstein's path to Reform Judaism was not as simple. After the fall of communism, she became a Jewish youth and student leader in her hometown just outside Moscow. In 2000, at age 20, she immigrated to Israel and began her studies in linguistics and English literature at Bar-Ilan University in Ramat Gan. At the urging of a friend, she attended a Shabbat event sponsored by students affiliated with Conservative Judaism at the university and ended up becoming active in the movement. Within a few years, she had begun her studies to become a Conservative rabbi. As she was about to complete the program, Weinstein says, she began having second thoughts about Conservative Judaism and wondering whether it was progressive enough for her.
"I had a hard time, for example, with the ban on driving on Shabbat," she says.
And that's how Weinstein, 39, eventually ended up at Hebrew Union College, where she says she found a movement that was a better fit for her. Her mentor at the rabbinical studies program was Rabbi Alona Lisitsa, who, like Weinstein, was an immigrant from the former Soviet Union but came many years earlier. "It's great to see Reform Judaism being passed from generation to generation of Russian speakers in this way," she notes.
Married with three children, Weinstein runs the Jewish studies program in Israel for Project Kesher, a Jewish feminist organization founded in the United States that seeks to empower Russian-speaking women. Asked if she ultimately sees herself becoming a pulpit rabbi, she responds: "One day, for sure."
Click the alert icon to follow topics:
ICYMI
Ken Burns' Brilliant 'The U.S. and the Holocaust' Has Only One Problem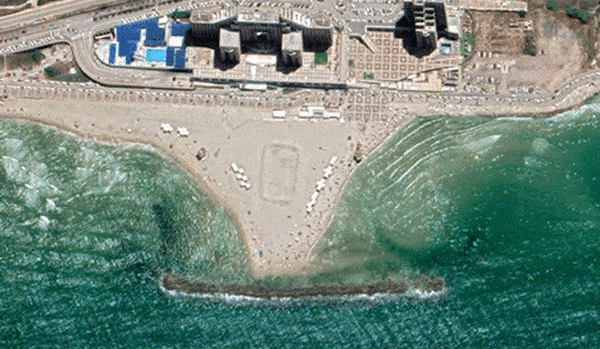 Facing Rapid Rise in Sea Levels, Israel Could Lose Large Parts of Its Coastline by 2050
As Israel Reins in Its Cyberarms Industry, an Ex-intel Officer Is Building a New Empire
How the Queen's Death Changes British Jewry's Most Distinctive Prayer
Chile Community Leaders 'Horrified' by Treatment of Israeli Envoy
Over 120 Countries, but Never Israel: Queen Elizabeth II's Unofficial Boycott