Analysis |
Lieberman Resets Israel's Political Clock, Reducing Likelihood of a Third Election
This week could prove to be decisive for Israel's messy political minefield
Avigdor Lieberman coming out of his house in the West Bank settlement of Nokdim, September 18, 2019
Credit: Emil Salman
With a few measured sentences and the shadow of a smile, Avigdor Lieberman reset Israel's political clock on Saturday, sending an already messy landscape into complete disarray.
The Yisrael Beiteinu chairman killed off the option of a direct election for prime minister, torpedoing the initiative of Interior Minister Arye Dery, his friend-turned-rival. He killed Prime Minister Benjamin Netanyahu's hopes for immunity, because the plan proposed by President Reuven Rivlin that the prime minister would declare himself incapacitated and step aside if indicted did not include an element of delay. He also reduced the possibility — or threat — of a third general election. What did he actually promote? Who knows.
Assuming that he keeps his word, this week could prove to be decisive. One of three things could happen: A unity government according to the president's plan; a right-wing-Haredi government headed by Netanyahu; or a center-left government headed by Kahol Lavan Chairman Benny Gantz. Yisrael Beiteinu is safely ensconced in the center of each of these three options.
Lieberman could not have been more clear: Whoever rejects his conditions, Gantz or Netanyahu, would lose the government to his rival. On the face of things, it will be easier for Gantz to say yes. All he has to do is persuade his partners, Yair Lapid, Moshe Ya'alon and Gabi Ashkenazi, who oppose joining a government headed by Netanyahu, to change their mind. Look, he'll tell them, it's only for a year. Then Netanyahu will have to keep his pledge and leave.
The compromise Lieberman is demanding of Netanyahu, however, is much greater. For him, leaving the right-wing bloc is sawing off the branch he's sitting on. Such a separation is a double-edged sword, and the bloc will have its say when the time comes.
From what Lieberman told Dana Weiss of Israel's Channel 12 News on Saturday night, it looks as if he chose opposing a third election over joining a unity government, two pledges that both seemed iron-clad. Either of the two scenarios described by Lieberman — joining a right-wing, ultra-Orthodox government headed by Netanyahu, or a center-left coalition headed by Gantz and supported by the largely Arab Joint List — would cause him severe damage. We'll have to wait and see what he does.
On Saturday night, Lieberman shoved the key he was handed on election night right into the electoral lock - but he has yet to turn it. What did he do? He stole the headline in today's papers, a bonus in and of itself. Importantly, if a minority government is formed in the next two weeks, according to his conditions, he also cut short the term of the newly minted defense minister.
Job security
Five defense ministers have served under Netanyahu to date: Yitzhak Mordechai, Moshe Arens, Ehud Barak, Moshe Yaalon and Avigdor Lieberman. Except for Arens, who was his political mentor, Netanyahu fought bitterly with all of them, and they became revenge-hungry political rivals. From that point of view at least, MK Naftali Bennett is ready for the job. The foundation is already there.
The psychological warfare Bennett has waged against Netanyahu should be an item of study by political scientists. In recent weeks, the chairman of Hayamin Hehadash has held a series of meetings with Kahol Lavan, including with its chairman, Benny Gantz, top MKs Gabi Ashkenazi and Yoaz Hendel (someone made sure to document the latter meeting), and perhaps with others.
Bennett was apparently charmed by Gantz, and he shared his positive impressions with many. Almost miraculously, word of the warming ties found its way to the prime minister's residence on Balfour Street. And wily Bennett also scattered a handful of public statements, including an enthusiastic post "releasing [Netanyahu] of his commitment" to Bennett, and warnings of a "historic crash of the right in an election."
Paranoia at the official residence shot sky-high. It would only take two members of the right-wing bloc to switch sides for Gantz to have a "Jewish majority" in the Knesset. The towering ex-IDF chief would be in the position to form a minority government with the participation of Yisrael Beiteinu, Hayamin Hehadash and Labor-Gesher, with the Joint List of Arab-majority parties abstaining. Twelve days before the end of the Gantz's turn to try to form a government, Netanyahu's nerves got the better of him. Like the chairman of a corporation facing bankruptcy, Netanyahu sold off his most precious asset. With his political fate hanging in the balance, and his government in the hands of his most hated rivals, who suffered for years from his persecution, humiliations and abuse, he put the sacred cow of "security" right on the altar.
Our very own "Mr. Security," who once said that he wanted to go down in history as Israel's most effective guardian, never had qualms about using the defense ministry to further his political goals. In 2016, when he feared that his coalition of 61 MKs was about to fall, he appointed Lieberman defense minister, when the latter only had five Knesset seats. He refused to do so a few years earlier, when Yisrael Beiteinu had 15 seats.
Now, in the midst of his indictements, he broke his own record. For Bennett, Christmas — or, for his purposes, Hanukkah — came early. He waited seven long years for the gift he was handed on Friday morning. What he didn't receive with 12 Knesset seats, what he couldn't get with 8 seats when the coalition depended on him, he was given as head of a tiny faction of three MKs.
Israeli politics is very fickle. Nothing is impossible. But there's one basic, iron-clad rule: Netanyahu, more than any prime minister before him, understands only the language of power and threats. His personal benefit will always come before national interest, which he frequently abuses to strike fear into the hearts of the public and reinforce his rule.
This time, his motivation is the fear of the legal process. Attorney General Avichai Mendelblit is about to decide on his indictment in the next 10 days, before Gantz's time to form a government runs out (on November 20). If the bribery charge in the Bezeq-Walla case sticks, Netanyahu will be history. In such a scenario, Bennet, his co-leader Ayelet Shaked and Matan Kahane, number 3 in Hayamin Hehadash, will have no reason to maintain their loyalty.
With these cards in hand, he cut his losses and did the only thing he could do: He locked Bennett in a gilded cage, the Defense Ministry. By the time Bennett learns the ropes in this huge system ("a state within a state," Avigdor Lieberman once called it), he will have to step down.
Compile everything Bennett and Lieberman have said about Netanyahu's conduct on security matters in recent years, and you'll get the complete and unabridged Israeli dictionary of political invective and insults. The prime minister doesn't care. He knows how to take it and hold back - except when it comes to Ayelet Shaked.
At the premier's residence, hatred for Shaked, colored with feminine jealousy, is so profound that it surpasses even the term "insanity." The former justice minister spent the weekend on private vacation in London. She relinquished, nobly, it must be said, a fairly minor ministry, agriculture, welfare or Diaspora, so her veteran partner would win the ultimate toy and add to his resume the title of defense minister.
If Bennett is lucky, no government will be formed in the next 30 days, Israel will go to the ballot box again in mid-March, and a government will not be formed before May 2020. During that period, he will sit in the defense minister's office on the 14th floor of the Kirya government center in Tel Aviv, approving operations, flying in combat helicopters to gallantly be photographed with soldiers and courageously drink army coffee during exercises. Mainly, he will relish the fact that forced Netanyahu to part with the portfolio and give it to him. But if in a minority government is formed in the next two weeks, right or left, he will find himself jobless and at risk of becoming the joke of the decade.
Click the alert icon to follow topics:
ICYMI
Ken Burns' Brilliant 'The U.S. and the Holocaust' Has Only One Problem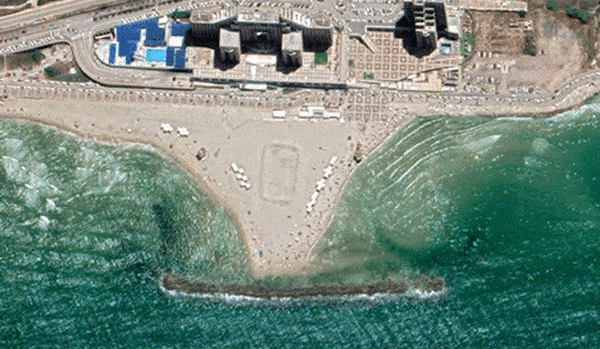 Facing Rapid Rise in Sea Levels, Israel Could Lose Large Parts of Its Coastline by 2050
As Israel Reins in Its Cyberarms Industry, an Ex-intel Officer Is Building a New Empire
How the Queen's Death Changes British Jewry's Most Distinctive Prayer
Chile Community Leaders 'Horrified' by Treatment of Israeli Envoy
Over 120 Countries, but Never Israel: Queen Elizabeth II's Unofficial Boycott