Bye Bye, Queen of the Sky: How El Al's 747 Connected Israel and the Jewish World
El Al was among the first to buy the gigantic jumbo with its iconic hump, and went on to break the record for most people on a flight, bringing 1,088 Ethiopian Jews to Israel. This is the story of El Al 001, the flight that made the Jewish world smaller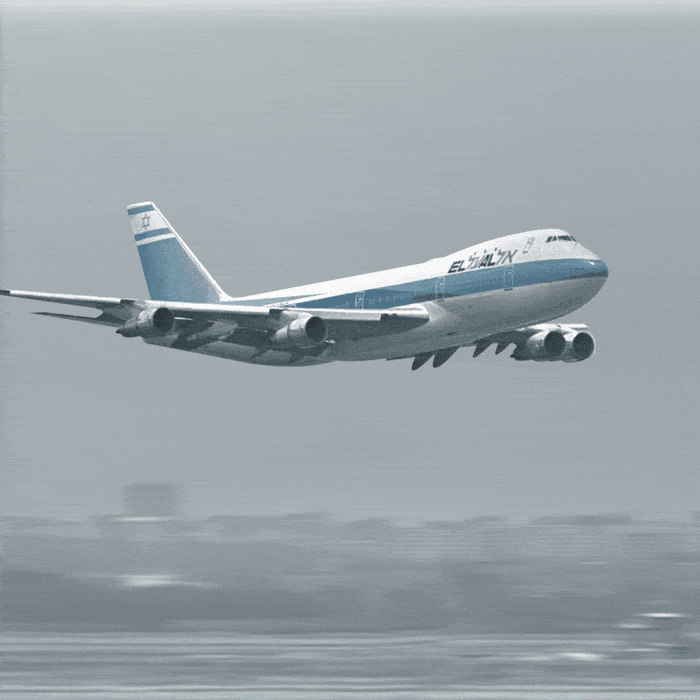 Queen of the Skies: How El Al flight LY001 and the 747 made the Jewish world smaller
Credit: Animation. Original: Moshe Milner / GPO
For Israelis, the landing of the first El Al Boeing 747 at Lod (later Ben-Gurion) Airport on July 2, 1971, symbolized the opening up of the small and beleaguered country to the wider world. For many Diaspora Jews, it would mean that, for the first time, a visit to Zion didn't have to involve emigrating there. El Al flight LY001 became the first direct non-stop link between the Jewish state and New York, the greatest Jewish city in the world.
But today the jumbo jet is simply too big and thirsty for the economics of mass air travel in the 21st century. No other machine did more to make the world smaller for so many people. But that world is now too small for the 747.
On Sunday, El-Al's last-ever 747 flight took the sky, drawing a huge Jumbo. It is expected to land at Ben-Gurion Airport later this afternoon, officially ending its service.
At the end of the 1960s, Israel was still far from being a first-world country. Very few Israelis traveled abroad, and many of those who did still traveled by ship across the Mediterranean. Young Israeli men were more likely to have boarded a plane and jumped out of it as paratroopers rather than landing as tourists at a distant destination.
El Al at the time only operated a small fleet of Boeing 707s serving mainly the local business community, diplomats, senior government officials and wealthy Jewish tourists. Purchasing two new 747s, which had yet to even fly as prototypes, would mean doubling its capacity. (The 707s seated less than 200 passengers; a 747 carried more than double that.)
A special cabinet meeting was convened in November 1967 to authorize the deal and the company's executives had to justify not only the cost — $30 million per plane — but also promise that they would be able to fill all of those seats.
Earlier that year, it had been decided that buying a 747 was much too expensive for the small national flag carrier. But something changed in June 1967: The Six-Day War, Israel's lightning victory over three Arab nations and the newly occupied territories, including the vast Sinai Peninsula. In the war's aftermath, a new strategic alliance with the United States — which included the supply of advanced American fighter jets — made Israelis feel their horizon was broadening.
Increased financial activity, as well as military spending, also brought a brief wave of prosperity. The war had led to a Zionist awakening among American Jews, many of whom now wanted to see the Israeli wonder with their own eyes. A larger, more confident Israel needed the 747.
Contracts were signed and El Al became one of the Boeing 747's 27 launch customers. Today, it is one of only five of those original operators still flying jumbo jets.
Laurence Olivier recites the Bible
The last time you stepped off a Boeing 747 was likely the last time. Most of the airlines that operated it have already sent their remaining jumbos to their final resting places in desert "boneyards," to be broken up for scrap. A few soldier on, traversing oceans and continents, but soon to be replaced. El Al still has four 747s in operation, flying mainly between Tel Aviv and New York. But they will all be retired by the end of 2019.
The 747 opened up an age in which rapidly increasing numbers of people could contemplate traveling thousands of miles to distant countries, safely and within mere hours, for work or pleasure. We are still in that age. Some 80 percent of the world's population has yet to fly, but just last year around 100 million people boarded a plane for the first time. The 747 influenced our lives in ways we now take for granted.
The plane's shape, the unbelievable sight of it floating into the air and the sheer sense of almost unfathomable size you felt standing beside or inside it, quickly made it an icon. Joni Mitchell sang "I dreamed of 747s over geometric farms"; novelist Jackie Collins described a blow job as God's jumbo jet taking off; and winemakers christened a type of Syrah grape, growing in bulging bunches, the 747 clone.
The 747 was becoming a moneymaker for Boeing and the airlines that operated it. No one then could imagine that it would keep on flying for 50 years, and that in that time build over 1,500 747 aircraft to fly 3.5 billion passengers.
Airlines that operated the initial 747s did different things with the upper-deck space. In the early '70s, fuel prices were sky-high and few airlines could sell over 400 tickets to fill the plane — so the upper deck became a recreation area for first class passengers. A lounge, a piano bar; there were even suggestions to turn it into a beauty salon or casino.
Of the launch customers, El Al was one of the few to pack over 400 passengers on board, right from the very beginning using the upper deck for paying customers — eight first class ticket holders.
Ahead of the 747's arrival in 1971, major renovations were made to Lod Airport (it was only named after David Ben-Gurion in December 1973) and, for the first time, an in-flight entertainment package was produced. For the Hebrew audio channels, El Al specially commissioned Israeli folk songs and popular musical soundtracks. In English, there was Sir Laurence Olivier reading from the Bible and Danny Kaye telling Jewish jokes. Another innovation for El Al was a first nonsmokers section on one of its aircraft.
The first 747s only had three windows on either side of the upper deck, and a few weeks after first landing at Lod — where they were greeted in a ceremony attended by thousands, including then-Prime Minister Golda Meir and Transport Minister Shimon Peres — they were sent back to the U.S. factory for more windows.
Fear of flights with empty seats proved unfounded. Throughout its service in El Al, the 747 was invariably, and infamously, packed. In fact, few airlines have succeeded in squeezing as many passengers inside. But even at full capacity, the 747 offered some unique advantages for the company's clientele. No other aircraft had such wide spaces around the emergency exits — perfect for gathering a minyan (prayer quorum of at least 10 men) at any time of day or night, or for Jewish Agency officials to go through immigration procedures with new olim. For hundreds of thousands of future Israelis (like this writer), boarding an El Al 747 was their first introduction to life in their new homeland.
For Jews and Israelis of all colors, persuasions and walks of life, being stuck together in a metal tube for 11 hours between New York and Tel Aviv was often a once-in-a-lifetime opportunity to meet, talk and argue politics with those from outside their social bubble. This often had less pleasant sides, though, as Chabad Hasidim stalked the aisles, badgering secular passengers to lay tefillin, or ultra-Orthodox men delayed takeoffs, demanding not to be seated next to a woman.
El Al's 747s had another unique role in bringing Jews together. On May 24, 1991, a cargo aircraft that had been specially fitted in advance with 760 seats landed in Addis Ababa as part of the Operation Solomon airlift of 14,500 Ethiopian Jews to Israel. As more and more passengers got on the plane, occupying all the seats, Captain Arie Oz — a Holocaust survivor who had also flown one of the Hercules transports in the Entebbe hostage rescue operation in 1976 — authorized more to board, with hundreds sitting in the aisles with children on their laps. With 1,088 passengers (including two babies born during the flight) and crew, it remains the world record for the most people ever to fly on a single aircraft and is unlikely to be broken in our lifetimes.
Organized chaos
Which is the best seat on a 747? Those interested solely in comfort would naturally select one of the wide first class berths up front, in the nose, beneath the cockpit. Those who appreciate the 747's unique layout will often prefer the business class seats upstairs. They may be a few inches narrower but, for most of us, the secluded upper deck of a 747 is the closest we're ever going to get to feeling like we're in our own private business jet.
Personally, I'd choose the captain's left-hand seat in the cockpit. But since I failed to fulfill my childhood fantasies of learning how to fly, a jump seat immediately behind the pilots is the best I'm ever going to get. If you ever get the chance to sit in a jump seat on takeoff or landing, it is even worth giving up seat 1A in the most luxurious of first class sections.
On my last LY001 to New York, in December, we were on 4X-ELA Tel Aviv-Jaffa (all El Al planes are named for Israeli cities), the oldest plane currently in El Al's fleet and the first of the second generation 747-400s to be supplied to the company, in April 1994.
With room for anything up to 1,000 people in the back (if you really need) and the opulent upstairs space, the rather cramped confines of a 747 flight deck come as a surprise. The jumbo may look a giant from the outside, but in the cockpit — at the tapering front of the hump — every millimeter of surface and the space in which the pilots spend often 12 hours or more is meticulously planned and regulated. And for a control room from where up to 110 tons of thrust can be summoned, it is remarkably quiet.
Back in the early years of LY001, when Ben-Gurion was a much sleepier airport and only a couple of dozen flights took off every day, this was always the last flight, taking off just after midnight. After that, the airport closed for the night.
For a first-time cockpit observer, it is easy to get the impression that this is just another Israeli balagan (mess). But there is a well-regulated order to this seeming chaos. Every procedure in the cockpit is spoken aloud. The pilots taking off, Capt. Maoz Tzur and First Officer Naftali Maayan, repeat the items on the check list and then the starting up of engines between themselves in low tones, while receiving directions from the control tower before the 747 pushes back. Those in the cockpit jump seats — relief pilot Capt. Doron Danay and myself — are ordered to remain quiet.
Finally on the runway and with authorization to take off, the 747 is trundling along at nearly 300 kilometers (186 miles) per hour. But in the cockpit you barely feel the speed, except for the runway ahead that is being eaten up. As Maayan quietly reads out "V-1" — the speed at which takeoff can no longer be safely aborted — Tzur moves his right hand from the throttle to the control column. Two seconds later, Maayan calls "Rotate — let's do it" and Tzur pulls the controls gently back, rotating the 747's nose upward and the front landing gear off the ground. In an agonizing moment, the whole aircraft floats slowly into the air.
As the lights of Tel Aviv flash by the cockpit's side window, Maayan pulls up the lever to retract the landing gear. After about 30 seconds, the ground is no longer visible from any of the cockpit windows (though the passengers will still be able to see it). The 747 is pointing upward and all the pilots can see as they climb to a cruising altitude of 38,000 feet (nearly 11.6 kilometers) is the dark sky and clouds, through which we'll break in a couple of minutes.
By the time we level off, we're nearly over Cyprus. For the next 10 hours, the 747 will be crossing a continent (Europe) and ocean (Atlantic), escaping the sun, shrouded first in darkness and then, as the full moon comes up, flying over a silvery nightscape of uninterrupted cloud cover.
On the upper deck, the flight attendants are already clearing away the late dinner service; downstairs, it will take a bit longer. All 24 business class seats are taken and passengers are bedding down for the night. While the most obvious new feature of the 747 when it began commercial flights in 1970 was its size, the biggest attraction for most airlines was its range — unsurpassed for decades by other aircraft.
With nearly 50,000 gallons of fuel (in its early version), the 747 could easily complete flights of 12 hours and more without having to stop en route. For El Al, this was the perfect range for Tel Aviv to New York, which usually averages out at around 11 and a half hours. El Al has been flying to New York since 1950: Before the 747 arrived, there was always a refueling stop, which would typically add about three hours to the total journey time.
Flying the opposite direction, with the polar jet stream giving it a boost, the flight from New York to Tel Aviv usually takes at least an hour less. Even the old Boeing 707 could do that without needing to land in the middle: At one point in the early 1960s, El Al's New York to Tel Aviv service was the longest nonstop scheduled flight in the world. The 747 allowed El Al to fly nonstop both ways.
Life on the upper deck
An 11-hour flying time made LY001 the perfect flight for business travelers. Taking off from Ben-Gurion just after midnight and landing just before the sun came up over New York meant a full night's sleep (assuming you could pay for one of the business or first class seats), arriving refreshed with the workday ahead of you.
For some passengers, there is another unique advantage to this timing.
"I always fly 001 so I don't have to daven [recite prayers] on the plane," explains Moishe Greenboim, the ultra-Orthodox CEO of a health care company who lives in New York and makes the flight about 10 times a year. "You can daven maariv before going to the airport, and then catch a late minyan for shaharith near home after you land. Saves all the hassle."
Another bonus of 747 travel — if you're on the upper deck, that is — is the best ratio of toilets to passengers: three for only 24 passengers. "To be honest, I'm not much of an aviation geek and I prefer the new 787s — they have a much more comfortable business class seat," says Daniel Abeles, a real estate executive from New York with holdings across Israel. "But I got food poisoning in Israel, so I asked my secretary to change my flight and make sure I flew back on a 747. That way, I knew I'd always have a bathroom free."
Appreciating the 747, now that flying one is a much rarer experience, seems to be becoming a generational thing. Down in coach class, I tried to find a Birthright kid, in their late teens and early twenties, who was aware of what we were flying — but didn't find much interest. One of them eventually perked up: "You mean we're flying a special plane?" But I couldn't seem to explain what was so special about it. Sad is the generation that may never have the privilege of going upstairs on an airplane.
"We usually fly first class," says Naomi, who asks that her full name not be used as her husband, a well-known Israeli businessman, glowers at us from across the aisle. "But when we're on a 747 I always insist we fly business, so we can be on the upper deck. It's more exclusive," she explains.
Before she married nearly 50 years ago, Naomi was an El Al stewardess herself — back in the days when they were a small group of Tel Aviv glamor girls who traveled the world in style before marrying rich husbands they met in the air (just like El Al's most famous former flight attendant, Sara Ben Artzi, who used a stopover at Amsterdam airport to give Israel's recently divorced deputy foreign minister her phone number, on her way to becoming the third Mrs. Benjamin Netanyahu).
Despite the hour, Naomi is perfectly coiffed, made up and dressed in elegant tweed. "People used to wear their best clothes when flying," she says. "Nowadays, no one cares. You should see, even in first class they're wearing jeans or tracksuits and flip-flops."
Lowering of the flagship
It seems it is also a generational thing among El Al personnel. Gil Radomsky, the New York station manager who has been working with the company for 30 years, says that "preparing a 747 for departure is always more complex. It's not only 400 passengers — as opposed to 280 on the smaller 777 or 787 — but also much more water and drinks and food to load. But we've lived with the 747 for so long, and it's come to symbolize our operation here. In the same way 001 will always be El Al's flagship service, the 747 will always be our flagship plane," he says. "It will be sad when we no longer fly it. We won't have a flagship."
El Al's public relations team has tried to make a big deal out of the new Boeing 787 Dreamliner — but there is nothing romantic about a plane whose main feature is that it burns less fuel.
Purser Jacky Elazar will also miss the 747. A 30-year veteran, he remembers when the first of the second-generation 747-400s (on which we're flying tonight) arrived. "It was the height of technology then: Our first aircraft with personal screens for each passenger and galleys like kitchens in a restaurant. But retiring the 747 is a sign of the times. Even the Israeli passenger has changed. Back in the day, passengers wanted to eat and drink all the time, and the 747 could carry more food and beverages than any other aircraft," he says. "Today, they're eating less and they're more after quiet and comfort. The new planes are much quieter."
Unlike the pilots who stick to one model of aircraft for years, flight attendants work every type of plane according to their duty roster. And for them, the 747s — now 25 years old — mean old inflight catering facilities versus the more streamlined galleys on the new aircraft.
"I know some of the older crew members are nostalgic about this plane," says Alona Ironi, a first-year flight attendant who is busy warming up the breakfast trays. "And the additional space you have here is nice. But the kitchens keep malfunctioning — and that makes a difference when you're preparing 400 breakfasts."
Back in the cockpit, where the lengthy preparations for landing are about to begin, Capt. Danay taps the side of the flight instrument console affectionately. "The passengers are right to expect newer aircraft with all the [personal] screens working and the flatbeds reclining all the way," he says. "But if it was just about the engineering, this plane could go on flying for another 20 years — it's built so well."
Different rhythm
To the untrained eye, the 747's cockpit is tiny. But as Capt. Tzur says, "We've got a villa here!" — referring to the sleeping cabin that is part of the cockpit. Other long-haul jets have sleeping cabins as well, but the 747 also has a lavatory within the secure area closed off by the cockpit's double doors. A resting pilot can hop over and relieve themselves in pajamas. In smaller jets such as the 777 and 787, they have to suffer the indignity of using the same bathroom as the first class passengers.
El Al recruits nearly all its 600 pilots from the Israel Air Force, and they tend to be older than those working for other airlines. New pilots fly the short-haul Boeing 737s, which usually involves two flights on a grueling workday, back and forth. Up in the small hours. Early morning takeoff. A quick turnaround at whichever European destination they land at, and then back to Ben-Gurion. Ten days of this each month to fill their flying quota.
Life as a long-haul pilot has a very different rhythm. Less flights, long hours in the air between takeoff and landing, and a different crew taking the plane home, allowing for at least a day or two of rest and sightseeing.
Among long-haul crews, 747 pilots are the old elite. With the jumbos being replaced by new 787 Dreamliners, no new 747 pilots are joining the fleet and a small group of men in their fifties and early sixties divide the flights between themselves. With New York the main destination, it means three or four monthly visits to the Big Apple, interspersed with the occasional piloting of El Al's single 747 cargo plane to the main European cargo hub at Liège. A comfortable routine they will miss once the 747 has been retired and they will have to transition to the 777 and 787, flying to a much wider variety of destinations.
What else will the pilots miss on the 747? Just about everything that no smaller aircraft can provide: The amount of thrust; starting up four massive engines instead of two. Nearly every system you need to fly a plane? The 747 has two of them. "We can take off with a maximum weight of over 400 tons," says Capt. Danay, pointing at the fuel gauge. "We don't, we're near the maximum we're allowed at 350 tons — but we can! And we wouldn't even need to use full power."
Due to its four massive engine, the 747 is also the fastest passenger jet with a top speed of Mach 0.9, or 956 kilometers per hour. Until supersonic airliners are back in service, that will probably remain the fastest speed any of us who are not fighter-jet pilots or own a private business jet, will be flying at.
Between them, the three pilots on this flight have over 100 years of flying experience — including, as IAF fighter pilots, combat experience, dogfights, bombing missions and ejecting from planes. Just a typical El Al 747 crew. Capt. Danay has clearly seen things in over 30 years of flying, but when he speaks of flying the 747 he still gets a dreamy look in his eyes. "You fall in love with it," he admits. "Every pilot wants to fly a 747. It's so well engineered, you simply don't feel the size or weight of it. It's a monster that barely notices turbulence which bounces other planes around."
The look you see in airline pilots' eyes when they speak of flying the 747 is exactly the look I saw when eight years ago I interviewed veteran combat pilots of the original F-16A. However, that look is about the only thing the F-16A and 747 have in common. One was the ultimate streamlined dogfighter: Mean, lean, sexy and svelte, designed only to shoot other aircraft out of the sky. The last of its kind. The other is the heaviest, most powerful and bulkiest of aircraft, designed to carry more passengers and cargo than any that came before it. The last of its kind.
The size of the 747 can be grasped by the death toll of the worst accident in aviation history: 583 people killed on March 27, 1977, when two 747s collided in the mist on the runway at Tenerife airport. But that accident, caused by an air traffic control error, like most other losses of 747s over the last 50 years, were due to human error, weather, cargo mishandling (such as the April 2013 loss of a cargo 747 on takeoff) and other external factors. Few 747s were lost due to design or mechanical faults, underlying the new age of air safety the 747 ushered in.
One of the few crashes caused by structural issues involved an El Al 747 cargo plane — Flight 1862, which took off from Amsterdam on October 4, 1992, and shortly afterward lost one of its engines due to fatigue cracks in the pins connecting it to the wing. The falling engine No. 3 also ripped off engine No. 4 and damaged part of the wing. Despite losing two engines, the 747's power was such that the remaining two engines were enough to allow the pilots nearly eight minutes of controlled flight as they tried to bring it back to land. However, they weren't aware of the severity of the damage, lost control and crashed into a residential building, killing all four crew on board and 39 people on the ground.
End of the line
As LY001 makes its long arching approach over Canada's eastern shore and crosses into U.S. airspace, beginning its long descent from 38,000 feet through the gray, predawn skies to JFK, the atmosphere in the cabin seems like the end of any long-haul flight.
In business and first class, passengers emerge from the cocoons of their flatbed seats, grab the complimentary amenity kits and leisurely head to the bathrooms to freshen up. Back in cattle class, as the lights flicker on, less comfortable souls disentangle themselves from crushed snack wrappers and flimsy blankets, making a dash down the aisle hoping that the line for quick relief isn't too long. The more devout travelers mutter birkot ha'shachar and glance at the time, calculating whether to say prayers now or if they can reach a synagogue on time after landing.
But there is still something different and special about this flight. The privileged few on the upper deck feel it in their wide secluded cabin. Even down in coach, the hundreds of "Birthrighters" and Hasidim can feel they are not traveling in just any plane. There's space around the emergency exits and the aisles seem to go on forever.
They will never fly as fast again. Never be closed up in a tube of metal with so many other people. Never have that feeling of elegance and privilege at going upstairs. Never experience this kind of romance at 38,000 feet.
There are still around 500 747s flying across the world today, but most of them are transporting cargo instead of passengers. New 747s are still rolling off the assembly line in the world's largest building, north of Seattle (nearly all of them for UPS). The Airbus A380 — the massive double decker European competitor that can fly up to 600 passengers in even greater luxury — has been a commercial failure, selling less than 300.
Airbus announced earlier this year that due to the cancellation of orders and no new ones on its books, it would be ending production of the A380 by 2021 after a run of only 15 years. The 747 will still be in production then, but at a very minimal number: Only six new ones are being built each year. If no other airline decides to invest in a new fleet of 747s, the last ones to depart the Paine Field factory will probably be the two new Air Force Ones in December 2024.
In crowded airspace, such as that over New York, descending wide-body aircraft will identify themselves to air traffic control with their call sign and add the word "Heavy" (signifying that they may create greater turbulence and subsequent aircraft should keep more of a distance). As "EL AL oh-one heavy" approaches JFK, most of the other aircraft around are smaller, narrow-body Boeing 737s and Airbus A320s; you don't hear many "Heavy" calls.
Twenty years ago, the 747 was one of the most common aircraft to be seen at a busy international airport like JFK. As we land in a murky dawn drizzle, no other 747s can be seen taxiing between the runways or standing at the gates.
The Queen of the Skies is still flying, but most passengers today fly on smaller, near-identical two-engine aircraft. Cheap, safe, efficient, boring. Unless you're an aviation geek, you will probably not be aware what model or make of aircraft you are on. They all look the same. None have that iconic hump on top or the cavernous sense of space inside.
The last 747 to fly for a U.S. airline was retired by Delta in December 2017. El Al is now one of only four airlines still flying the 747 to JFK. After it retires the aircraft at the end of 2019, British Airways and KLM will continue for a few more years, and then only Lufthansa — which is one of the few airlines to have invested in third-generation 748-8s — will still fly jumbos over the Atlantic. For the dwindling band of enthusiasts who will always check to see if their trip can be made in a 747, the Frankfurt-New York route will become one of the few remaining options.
When the British-French Concorde was withdrawn from service in 2003, my chances of ever flying beyond the speed of sound ended. But at least I still had the 747 as the fastest and largest plane I could fly (the ugly A380 doesn't count and we'll continue to ignore its existence). I've flown it many times over the years and, now, have been on the upper deck and in the cockpit for takeoff and landing. I may never get the chance to fly it again. When the 747 finally retires, I will be diminished. A human being in a smaller and slower world.
Click the alert icon to follow topics:
ICYMI
What if the Big Bang Never Actually Happened?
'Strangers in My House': Letters Expelled Palestinian Sent Ben-Gurion in 1948, Revealed
AIPAC vs. American Jews: The Toxic Victories of the 'pro-Israel' Lobby
'This Is Crazy': Israeli Embassy Memo Stirs Political Storm in the Balkans
Israel Rewards Hamas for Its Restraint During Gaza Op
Gazans Are Tired of Pointless Wars and Destruction, and Hamas Listens to Them