How One Jewish Family Rebuilt Its Life in the U.K. After Egypt Expelled It
This week at the Tel Aviv airport: A British Jew who experienced being a refugee as a boy mulls a move to Israel, and a hasidic Israeli makes a pilgrimage to New York
Moshe Menir.
Credit: Meged Gozani
Moshe Menir, 65, lives in Birmingham; flying to Brussels
Hello. How did you spend your time in Israel?
I was here for the bat mitzvah of my sister's granddaughter, in Modi'in. I have five sisters and they all live in London, but some of them have children who live here.
Are you from London originally?
We grew up in Birmingham, but I was born in Cairo. In 1948, Jews were stripped of Egyptian citizenship, and in 1957 they were expelled. My mother, who had a British passport, was expelled at the age of 26, in her sixth month, with another five children. I was 3 at the time.
Fear and horror. Where was your father?
My father didn't have a passport, so he remained in Egypt, and my mother came with us to England without knowing a word of English. We came to a refugee camp in Leeds, and for a year mother fought to obtain a visa for father, so he could enter Britain. Every day she spoke with the camp's captain, but it didn't help. In the end, she went to his office and swept everything off his desk. Within a week my father arrived.
Do you remember the refugee camp?
Not exactly, but my sister says it was tough there. I remember that, because Leeds is in the north of England, it gets dark there at 11, so I thought: What's going on that Shabbat starts so late? Afterward we moved to another camp, near Birmingham, where there were only a few Jews, and then to the city itself. We were six Jewish families, and the English placed us together in six apartments in the same building. We're all still good friends. In fact, not long ago, we went – four friends from those families – to visit the original camp. We visited the old building and lit memorial candles. The buildings are still the same buildings – they replaced the windows, but it looks exactly the way it did. Now the camp is an Islamic center, where people learn how to be imams. That, to me, is the story of the Jewish people.
What was it like growing up in Birmingham?
It was good. Obviously, we had to start over completely – I mean the parents did. In Cairo my father and grandfather had a factory that made cardboard boxes; in Birmingham my father was lucky, he found a job relatively quickly. A few years later, someone, a Jewish fellow, suggested that they start a box-making business. My father quit his job and they bought machines, and then the fellow changed his mind and my father was unemployed for three months. When he tried to sell the machines, a goy showed up, heard the story, and said to my father, "Why don't we start that business together." They did, and it was successful. The goy would sit and talk, and made deals and drank with the goyim, and my father set up the factory. They succeeded because they were opposites.
What do you do?
I studied law, but for 38 years, basically all my life, I was in the family business. Now I'm slowing down a little. I'm getting close to retirement.
Do you have retirement plans?
During this visit, I traveled in Israel some, because I want to make aliya. I have no children or family of my own, and no one from the family lives in Birmingham – they're all in London or Israel. I have family in Haifa, Modi'in, Netanya, Efrat, Beit Shemesh. In short, I feel good here, and a person needs to find his place. But Modi'in looks like a place for young people, and Jerusalem is very hilly. There are actually Brits in Ra'anana. I'm thinking of coming to live here when I retire. Do you think that's a good idea?
Better weather. As for the rest, I don't know. Why didn't you immigrate earlier?
My parents, Albert and Rose, thought about that, and they had ties to Israel, but they had children and there was a business and the headaches of a business, and they weren't very healthy. My father died more than 20 years ago, my mother two years ago. I took care of her until her death. They are buried in Har Hamenuhot [Jerusalem's main cemetery], and my sisters and I went to visit together now.
Sounds like you miss them.
I'll tell you what's hard for me. My mother was a very good woman, who gave and who helped many people. So it's hard for me, especially because I am an Orthodox Jew, to think about her suffering from dementia before she died. Why did a person like that have dementia? Okay, we all need to die, but why like that? Moses died, you know how? God kissed him and it was over. Why isn't it like that for everyone?
Shachar Tangi, 43, lives in Tel Aviv; arriving from New York
Hello. What were you doing in New York?
I went to the Lubavitcher Rebbe. There were two big events in New York. One was the 18th day of [the Hebrew month of] Elul, which is the birthday of the Ba'al Shem Tov and of the Alter Rebbe [Shneur Zalman of Liadi], who founded Chabad, two great righteous men, and then on Saturday night it was Shabbat Selihot.
Can you explain to a heretic what Shabbat Selihot is?
No way you are a heretic, there is no such thing. I will tell you a 30-second story about someone named Jonathan Kessler, who was one of the great speakers of AIPAC [Israeli lobby in Washington]. He was Reform all his life, but over the years drew closer and became an avowed sympathizer with Chabad. How and why?
Why?
Kessler related that in his childhood, when he was 13 or 14, he lived in Manhattan, and every time he came out of the subway he saw a young person putting on tefillin. Kessler would cross to the other side of the street so the guy wouldn't accost him [to persuade him to put on phylacteries as well]. That fellow was a Chabad emissary. This happened once, twice, three times. But the emissary didn't give up, and followed him across the street. "Leave me alone," Kessler told him, only wanting him to let him go on his way. Until, on the fourth occasion, Kessler stopped and said to the emissary – whose name was Levy Shem Tov, by the way – "You're a total failure, right?" How so, the emissary asked. "Because you're not succeeding in your job," Kessler replied. The Chabadnik said, "It depends. What do you think my job is?" Kessler said, "Obviously, to get me to put on tefillin, no?"
The Chabadnik said, "My job is to remind you that you are a Jew, and that in any place and in any situation we love you and are waiting for you. Because every Jew is a diamond."
That's why I said that you are not a heretic, because for Chabad there are no heretics, there are those who are closer and those who are farther, all are brothers.
Were you always a Chabadnik?
No. My entire life I wasn't into these things at all. I lived in Tel Aviv for 20 years and for 11 of those years I was into nightlife. I worked in bars.
I worked for years in one place, called Bergman, but the building the bar was in has since been demolished. Afterward, something happened to me, I experienced an inner reckoning and I understood that something was missing in my life. And then I met the Rebbe, and he said to me, "Let's get acquainted."
What do you do?
I'm in real estate. By the way, my father-in-law is [supermarket mogul] Rami Levy.
And you look happy.
If you're asking me whether I'm happy, I would say yes.
With your permission, can we go back to Selihot?
Selihot is a month of stocktaking, like a business owner checks every year what we did and what we didn't do, how the year went, what wasn't so good, and what I would like the coming year to bring. Rosh Hashanah is Judgment Day, when we stand before the heavenly throne. For that day you need a defense counsel, and the Lubavitcher Rebbe is one of the best defense counsels. It's important for me to emphasize that this doesn't come from a place of fear. We don't believe in fear, but in joy that leads to action. Fear restricts and joy expands, and joy is the way of the Hasidic sect. Every movement of a Hasid comes from joy and not from fear.
Sounds good.
In any event, a great many people came for Selihot on Saturday night. It was my first time at an event like that. There were 6,000 people in a synagogue that holds 2,000 at most. It was a real experience. There were people inside and outside, they removed all the benches and tables, and people huddled together. Do you know what it's like to be at an event with people completely enveloping you, and even if you want to fall backward you can't?
I do, actually – from rock concerts.
You don't move, you're stuck. It was very interesting and very exciting. At an event like that you understand that there is such a thing as an elevating, connecting atmosphere. It's perfect for the new year. Well, here's my wife calling. The Rebbe, the first thing he says is, the wife comes first.
Amen.
My thesis is simple. It goes far beyond believing/not believing, punishment, hell, paradise. What's most important is to live a life with meaning. The Rebbe gives meaning, and thank God, this year my wish to myself is to be connected to myself. And a sweet year to all of us.
Click the alert icon to follow topics:
ICYMI
Ken Burns' Brilliant 'The U.S. and the Holocaust' Has Only One Problem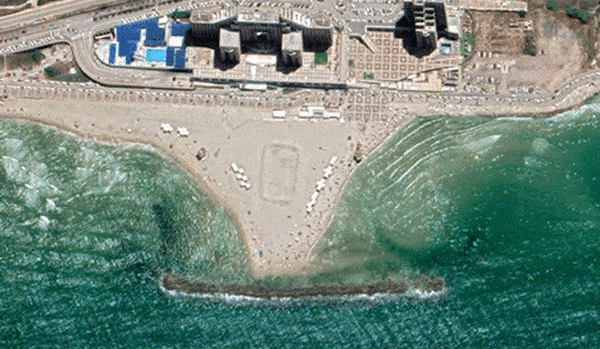 Facing Rapid Rise in Sea Levels, Israel Could Lose Large Parts of Its Coastline by 2050
As Israel Reins in Its Cyberarms Industry, an Ex-intel Officer Is Building a New Empire
How the Queen's Death Changes British Jewry's Most Distinctive Prayer
Chile Community Leaders 'Horrified' by Treatment of Israeli Envoy
Over 120 Countries, but Never Israel: Queen Elizabeth II's Unofficial Boycott