Jerusalem Is Becoming a Jewish Disneyland, NYT's Architecture Critic Warns
Cable cars to the Holy Basin that will overpass Arab inhabitants, 40-story glass towers and a district planner who sees Singapore as a role model. The New York Times' Michael Kimmelman visited Jerusalem and delivered a warning about the future
A visualization of the the cable car over Silwan, in East Jerusalem.
Michael Kimmelman came and went almost unnoticed: the local media took no interest in the visit to Jerusalem of the New York Times' architecture critic. However, it's to be hoped that his front-page article in the paper, published in mid-September, will yet make waves – not only internationally but also in Israel, which is hard-pressed to preserve its cultural assets.
Kimmelman came to Israel in mid-July in the wake of an international petition against a plan to build a cable car that's intended to pass directly from the First Station, in the western part of the city, to the Western Wall in the Old City. Thirty-five leading architects and historians of architecture from the international community joined their colleagues and the conservation societies in Israel to express their vehement opposition to the project. Over a period of 10 days, Kimmelman met energetically with all those involved, collected data and examined where the high pylons – 15 in number – and the huge boarding stations of the cable car structure are supposed to be situated. Along with proponents of the hasty implementation of the project, he also interviewed people who are trying desperately to prevent the ruination of one of the most beautiful views in Jerusalem, over the Hinnom Valley toward the Old City walls.
In conversation, Kimmelman sounds like a characteristic American pragmatist – businesslike, focused and eschewing flights into complex theories, but at the same time vividly conveying the gist of his approach. The article he published illustrates well, however, why he is not just another architecture critic. That he writes for The New York Times and that his books are bestsellers also does not explain his transformation into a culture hero. Indeed, an interactive piece he produced in 2015 about the new home of the Whitney Museum of American Art was termed "the most important article in recent architectural memory" by ArchDaily.
Ironically, perhaps, Kimmelman, who was born in New York's Greenwich Village in 1958, attended elite educational institutions, specialized in medieval art and started his professional life as a pianist and an art critic, ultimately became a kind of journalistic Che Guevara. As he sees it, architectural criticism is not meant to make do with aesthetic analyses of exorbitantly expensive, iconic buildings; it must take an active part in the struggle for a better and more just world.
Indeed, as his article indicates, the cable car in Jerusalem is not the functional transportation solution its advocates claim it will be, but a clear-cut product of the political reality in early 21st-century Israel. Kimmelman's piece also affords a rare opportunity to understand how the situation in Israel appears in foreign eyes. Its author is not content with critiquing what he describes as "a fleet of cable cars crisscrossing the locus of sacred sites known as the Holy Basin," which he says will turn the area into something of a Jewish Disneyland. As he customarily does, Kimmelman delves into the project's broader background, which flies in the face of all the accepted rules of historical conservation and has generated an acute protest both in Israel and beyond.
With his wealth of experience, Kimmelman grasped that the idea behind the cable car is above all political in nature, with the purpose of hiding the city's universal character, so that it "curates a specifically Jewish narrative of Jerusalem, furthering Israeli claims over Arab parts of the city." Nir Barkat, the former mayor of Jerusalem and now a Likud MK, did not hesitate to admit to Kimmelman that the cable car is a Zionist project aimed at bringing visitors to the City of David quarter, "which is the ultimate proof of our ownership of this land."
But Kimmelman did not suffice with even this frank explanation, which hid behind feigned claims of the need for an efficient transportation solution for the Old City. From his perspective, the cable car – which ignores the existence of the Arab village of Silwan, where one of its giant pylons will be erected, and over whose residents' homes it will pass – represents the general approach of the Israeli government to the Arab population of Jerusalem and its environs, as part of a brutal strategy that's intended to make life hard, seize the Arabs' property and finally force them to leave the city.
Another principle that arises from Kimmelman's article and that deserves special attention, is the problem of urban planning based on the "cut-and-paste" method: Ideas are imported to Israel rashly, with no reference to the singular local contexts. The project's promoters point to examples of cable cars elsewhere, but those places in no way possess Jerusalem's physical and symbolic significance. In a conversation with Kimmelman, the planner of the cable-car stations, architect Mendy Rosenfeld, who has not designed even one building of exceptional merit, did not hesitate to compare the cable car stations he's envisioning to the glass pyramid of the acclaimed architect I.M. Pei at the Louvre. It, too, was initially subjected to public criticism, suggested Rosenfeld, but "now everyone loves it." But the problem, as Kimmelman notes, is that "Jerusalem is not Paris."
Even though Kimmelman preferred to quote the harsh criticism voiced by others – among them the architects Moshe Safdie and Gabriel Kertesz and the historical geographer Prof. Ronnie Ellenblum, who are well acquainted with the cable car plan and with its venue – it's not hard to detect his emphatic opinion about the whole project and its savaging of the landscape. He also referred, in a few short sentences, to Jerusalem architecture overall, leaving it to readers to draw the gloomy conclusions by themselves.
The cable car in Jerusalem is not a functional transportation solution but a clear-cut product of the political reality in early 21st-century Israel.
In his brief visit to the city he had no problem identifying the futuristic thrust that has descended on Jerusalem's planning authorities in recent years. The breaching of restrictions on high-rise construction in all parts of the city, which is intended, in part, to transform the city's entrance into a huge bloc of office and commercial buildings with 40-story glass towers, looks to him like another major example of planning "cut" from Singapore or Jakarta and "pasted" in Jerusalem. Perhaps this should be brought to the attention of Shira Talmi Babay, the district planner, who told TheMarker last year that Singapore is the proper planning model for Jerusalem.
The approach that finds high-rise construction to be an easy solution for the problem of density, amplifies Kimmelman's years-long critique of mechanical, superficial planning that ignores the layers of a distinctive locale. Planning of this sort is rampant in Jerusalem, one of the world's most important historic cities. The cable car planners also ignored the singularity of a city of stone and low buildings, which constitutes a world heritage site. Until recent years the city did a relatively good job of preserving the magic of the past, which, together with its multicultural and religious character, drew millions of tourists from every part of the world. They are not likely to be pleased to see glass towers and shopping centers on their entry into the city. Many of them, it should be recalled, are not necessarily bound for the Western Wall. After all, Jerusalem, as Kimmelman observes, is not only a "Jewish city."
The article makes for depressing reading. It's not just that the planning unit in Jerusalem is guided by political interests, but also that the level of its professionalism is not appropriate for a city that, in Kimmelman's words, constitutes "a global icon of faith and history." The city's historic image, he cautions, "is about to change" for all time. Indeed, the cable car, will, if implemented, constitute a turning point. The secret of Jerusalem's distinctive magic will be lost and the city will drown in touristic kitsch, surrounded by towers of Singapore-style magic.
Victims of growth
Kimmelman's critique is worth listening to, because it's based on the kind of broad worldview that is so flagrantly absent in the contemporary Israeli architectural discourse. A conversation with him, together with articles he has written, make possible an examination of Israel's architectural standing in the global context.
He was appointed the New York Times' architecture critic in 2011, although he had no professional experience in the subject. However, even though he had been an art critic for the paper for 20 years, Kimmelman quickly shifted the center of gravity of his writing to the social-political aspects of urban planning, above all the residential theme. More than anything, he relates, his worldview was shaped by the education he got thanks to his parents – his father was a physician, his mother a sculptor – Jews who were active in Greenwich Village intellectual circles and in the movement for racial equality of the 1960s. Probably his four-year stint as the paper's Berlin-based European cultural critic also instilled in him a universal perspective and awareness of social responsibility in a welfare state. Back in New York, he went beyond writing about the architectural "stars" who were decorating the city's streets. Instead, he went into the field, and in particular to places where urban planning – more precisely, its absence – was a question of life and death that was threatening the global reality of our time: from the megalopolises of the Third World to the refugee camps in the Middle East.
As an art critic, too, he had a tendency to address the social aspects of works he dealt with. His goal, he says, was to extricate art from the elitist bubble and culture of money that dominated it, and make it accessible to the broad public. When he shifted to architecture, Kimmelman extended his field of vision, recognizing early on that the realization of social values obligates urban planning to base itself on the organic principle. Namely, that the city is an integrated system all of whose parts are interconnected, and each of which affects the whole system and the process of its development. His global travels thus became research projects in which he examined the urban reality as a system of physical, economic, political and social conditions, of course not omitting the impact of climate change.
The secret of Jerusalem's distinctive magic will be lost and the city will drown in touristic kitsch, surrounded by towers.
The immense cities that are growing with dizzying speed in Asia, Latin America and Africa – Mexico City, Jakarta, Lagos, Guangzhou – represent a host of problems that will become increasingly acute, he says. Millions of people are abandoning the rural regions and migrating to these cities, even though they lack basic services.
Kimmelman does not view the planning of the "public space" – a subject much under discussion lately – as encompassing only the city centers where glittering towers are rising, or the prestige suburbs. His role, he believes, is also to acquaint readers with those who are paying the price of the rapid growth. In his travels he reached the "heart of darkness": poverty-stricken, makeshift neighborhoods whose inhabitants are abandoned to their fate without basic infrastructures. In Jakarta, for example, he discovered that the poor neighborhoods are threatened not only by polluted water and air. Years of neglect, poor planning and corruption have also caused the sinking of the city and brought about floods of sea and river water, which sweep away the ramshackle structures that the people who are crowded into the margins of the city managed to build for themselves.
Kimmelman also has not flinched from visiting refugee camps, exploring a contemporary reality that many tend to ignore, as wars and hunger force millions to live together for extended periods in substandard conditions. To his surprise, he says, sometimes a spontaneous architecture, and even community life, is created in these camps. An outstanding example he cites is an improvised commercial street that developed in a camp for Syrian refugees in Jordan, where pizza and flowers are among the items available for purchase.
His prize-winning articles on American architecture have made Kimmelman renowned outside the professional community. His ability to home in on the symbolic meaning of architecture has made it possible for him to take part in the struggle to preserve America's traditional democratic values. Buildings, parks, monuments – in his view, all are meant to express the human face of America, notably in the present political situation. It is essential to embed moral principles in residential construction, too, he avers, and to impart a sense of belonging to weak populations. Thus, investing in high-quality design of buildings and placing a shopping center in the heart of a poor neighborhood can foment meaningful change.
In an article about Chicago, Kimmelman wrote about the contribution of former Mayor Rahm Emanuel, who understood that "social" architecture entails not only an investment in public housing but also creating an environment in which the residents can take pride. For example, during Emanuel's tenure (2011-2019), money was invested in building multipurpose libraries in outlying city neighborhoods. Handsomely designed, they became vibrant community centers and a source of local pride.
In contrast, he was critical of Hudson Yards, a large new project in Manhattan's West Side, along the Hudson River. The vast project seemed to meet all the criteria of good design: mixed-use structures, residential buildings, an arts center, parks and a huge retail mall. Top architects were chosen to design the towers, and millions of dollars also went into constructing a sculptural attraction, "Vessel," a large, non-utilitarian structure consisting of staircases leading nowhere, which quickly became a tourist attraction after the quarter's inauguration earlier this year. From Kimmelman's viewpoint, however, the takeover by private entrepreneurship of the borough's last available empty area turned it into a fashion show of eccentric elite architecture, earmarked exclusively for billionaires. All in all, he thinks the compound mostly resembles an alienated suburban industrial park of offices, with a vast mall at its center.
Kimmelman's social passion and his interest in the creation of communal space did not spring up in a vacuum. His first articles of criticism took both the paper's editors and its readers by surprise, he says, but he's also aware of the fact that his success stemmed from a new spirit that began to be felt in architectural circles a decade earlier, and was expressed in social protest as well. More than anything else, though, Kimmelman represents the revolutionary spirit of the 1960s, which influenced him from his childhood.
The 21st century is supplying us with more than enough issues over which to storm the barricades. And barricades aren't lacking in Israel, either, of course. Many of Kimmelman's articles can illuminate our local situation. Thus, the planners of the accelerated construction in recent years forgot that they need to provide not only housing but also "communal space," in order to avert a feeling of living in an alienated ghost neighborhood. The distressed neighborhoods have been ignored, the vested interests of developers are overriding quality of life, and urgent ecological problems have been displaced. The price of all this is already being paid – and will continue to be paid by future generations.
Click the alert icon to follow topics:
ICYMI
Ken Burns' Brilliant 'The U.S. and the Holocaust' Has Only One Problem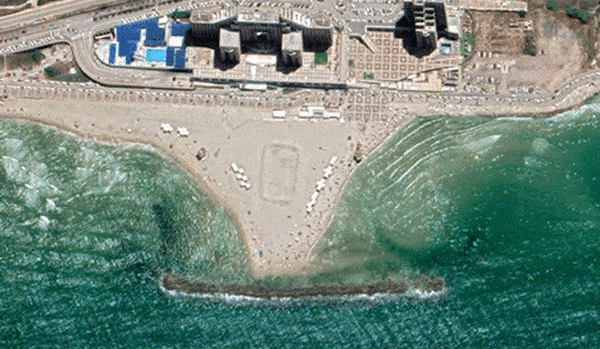 Facing Rapid Rise in Sea Levels, Israel Could Lose Large Parts of Its Coastline by 2050
Lapid to Haaretz: 'I Have Learned to Respect the Left'
The Mossad's Fateful 48 Hours Before the Yom Kippur War
As Israel Reins in Its Cyberarms Industry, an Ex-intel Officer Is Building a New Empire
How the Queen's Death Changes British Jewry's Most Distinctive Prayer