Analysis |
With Israel's Election Results, Netanyahu Is Reminded That Trump Hates Losers
After his double defeat, Netanyahu throws himself into Gantz's arms. He knows he's on borrowed time ■ After going out of his way to help his friend win two elections, Trump is now giving Bibi the cold shoulder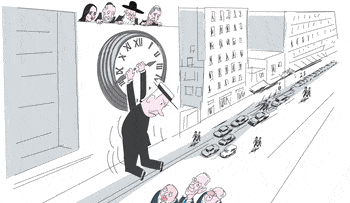 Illustration.
Credit: Amos Biderman
>> Update: Netanyahu, Gantz meet to negotiate new government
If anyone is capable of feeling pity for Benjamin Netanyahu after what he did in this election campaign, he may feel this sentiment after Netanyahu's carrying on in the last two days. The man whose behavior during the campaign repeatedly raised questions as to his mental stability now looks like someone living in la-la land.
Still on the ropes after his double defeat – both the party and the bloc took a beating – he is pretending to run the complex political situation, to dictate the rules and to control the agenda, as though the campaign were still going strong and the 8 P.M. headline is the be all and end all.
Netanyahu's personal clock is ticking toward his hearing, after which an indictment and a trial are likely awaiting, while spreading hollow propaganda that looks like it was pulled from the spam folder on media adviser Yonatan Orich's tablet.
Netanyahu never overestimated his voters' collective wisdom. He was a master at playing on their primordial fears, inflaming their spirits and arousing hatred for his rivals. That's how he won elections, time and again. Now he's pulling out the only rabbit he has left, the good old blame game, in a bid to reach a third election with some kind of public support.
This is a total delusion. He is a prime minister suspected of criminal acts who refuses to leave his position and go about his affairs. Yes, Israel has become one of those states we never believed we'd be like.
Netanyahu is playing an absurd, transparent game. On Thursday morning, at the official memorial ceremony for Shimon Peres, he virtually threw himself into Benny Gantz's arms and invited him to form a national unity government, hinting at an agreement in which the premiership would rotate between them. Hours later, he had the leaders of the right wing-parties sign a mutual pact binding them all together in any future government. All for one, and one for all.
Later, when Gantz and his party leaders responded with the appropriate dismissal of this nonsense, he issued a statement of regret over Gantz's refusal to meet him. With all due respect, these are death spasms. Netanyahu is putting on an act of controlling the situation, but his bluff is obvious. As long as Netanyahu is a bone stuck in the political system's throat, no serious negotiation will begin on a national government, which under the current circumstances is the only solution to the state's paralysis.
Netanyahu's confidant, Minister Yariv Levin, who heads the joint coalition negotiating team for the right-wing and ultra-Orthodox parties, told one party leader on Thursday: "There'll be no negotiation, and if there is, nothing will come of it."
In the previous election round, Levin, who was in the same position, didn't believe a coalition would be set up. Now things have changed, but he remains pessimistic.
President in the crosshairs
The rotation story is so fallacious it's hard to believe anyone can take it seriously. We had a deal like that in 1984, between Peres and Shamir. Peres honored the rotation deal. In 1990, in the midst of the second, rotation-less unity government, he got over it and carried out the so-called "dirty trick" that dismantled the government. Gantz knows, as does everyone else, that in every scenario of unity with Netanyahu and his Likud gang, one must expect a trick a thousand times dirtier.
Gantz beat Netanyahu in this election. Unequivocally, his party is bigger, and so is his bloc. He will become a laughingstock if he breaks all his promises and renounces his positions in exchange for the defense portfolio in Bibi's fifth government. His achievement leaves him no room to compromise.
The deeper one digs in the hole we've fallen into, the more one understands there's no solution to this imbroglio. Only a plea bargain for Netanyahu, enabling him a respectable retirement, with no prison time, might pave the way to a solution. Another option is to replace Netanyahu in Likud's leadership. This is an extremely difficult process. It is doubtful whether the time frame enables it.
There will be no rotation, because for Netanyahu there's no scenario but being first in office. As bait, he may offer his partners to elect him, in a year and eight months' time, as president, who has full immunity from facing charges for his entire seven-year tenure. This strange idea was heard this week, behind closed doors.
Granted, Netanyahu may be in the midst of trial by then and perhaps the legal question will arise whether immunity applies retroactively as well. He will deal with it when the time comes. The household at Balfour Street supports the idea. It will enable Sara to turn into the real "first lady," a title she insists on bearing, even though she isn't.
Party's over
Netanyahu knew he didn't have 61 Knesset seats. The hysteria this time was a real red alert. The panic he projected wasn't pretended. On this subject, at least, he didn't lie to his voters. None of the external polls showed the right-wing-ultra-Orthodox bloc achieving the magic number-of-salvation – nor did the in-depth surveys conducted for him by John McLaughlin, the highly respected pollster of U.S. President Donald Trump.
According to several sources involved in Netanyahu's campaign, awareness of this reality began to trickle down into his consciousness about two weeks ago. Balfour Street fell apart. There was a total meltdown at the residence. Things lurched out of control. Son Yair's tweets became more disturbed and wild. Sara was having her special moments, too, in spades.
The situation shocked him. The die was cast, the party was over. There would be no immunity from prosecution, no overriding Supreme Court decisions, the hearing before the attorney general would not be postponed, the attorney general would not be fired, there would be no deus ex machina. All roads would lead to we-know-where (Ramle and its prison, not Rome).
The public became aware of the situation on August 31. A minute after the end of the Sabbath, in the yard of the family villa in Caesarea, Bibi posted a clip that was appalling by any standard, in which he accused the journalists, editors and managers of the Keshet 12 television station of attempts to perpetrate a "terror attack on democracy" and on him, personally. The spectacle was disturbing; the words were on the brink of phantasmagoria.
From that moment on, he appeared like someone who had lost it. The attacks against all the institutions symbolizing the state crossed every red line. A series of fatal mistakes ensued. Yair and Sara, two proven fomenters of damage, were dispatched to Channel 20, aka "BibiTV," and the messages were switched every few hours: the election cameras; the Jordan Valley; Justice Hanan Melcer; Attorney General Avichai Mendelblit; a fictitious defense pact with the United States; "the Arabs" are undermining the election and/or "the Arabs" are stealing the election. Who if not he, the master of election campaigns, always hammers home to his aides the iron rule of the media: "One story must not come on top of another story." Here, story swallowed story.
Politicians known for scaring off voters – like Miri Regev, David Bitan and Miki ("the Jewish race is special") Zohar, who in the previous campaign were kept out of public view – stormed the screens at the behest of Likud campaign headquarters. Own goals followed hard on the heels of shooting oneself in the foot.
Unlike in previous elections, this time Netanyahu did not have judicious, mature, independent advisers at his side to douse the flames and calm him down. He surrounded himself with young people – first and foremost, his son – who pushed him toward the brink, fired up passions and poured fuel on the fire. When he got to 150 kilometers an hour, they urged him on from behind, like a bunch of drunks who have emerged from a stag party: Faster! Faster!
During the last 17 critical days, when Bibi went into a total frenzy and even tried to sneak in a little war in Gaza behind the back of the defense establishment – Likud lost the steady advantage it had enjoyed over rival Kahol Lavan.
No few veteran Likud voters were turned off by the spectacle and stayed home on Election Day. "I can't bring myself to vote for that family," one of them told me. You don't have to be a left-winger to harbor serious reservations about a prime minister who sprays inflammatory hatred at some 1.6 million loyal citizens, and vilifies and attacks the law enforcement agencies personally or through his son, among them the deputy president of the Supreme Court who had the misfortune to head the Central Elections Committee for the second time running. Yes, even that red line, too, was crossed this time.
Emergency exit
Here's a story that sums it all up: On Saturday night, following a report in a newspaper to the effect that the police had not investigated tens of thousands of polling stations where irregularities were suspected in the April election, Netanyahu instructed his representative on the elections Committee, MK David Bitan, to request an urgent meeting with the committee chairman, Justice Hanan Melcer.
Having learned from experience, the justice understood that the prime minister was trying to play him. The next morning he rejected the request and suggested that Netanyahu relay whatever message he had for him in written form. The instant that reply reached the Prime Minister's Bureau, Netanyahu got up and made a dash for the exit, security detail in hot pursuit. He got into his car and told the driver to take him to the Knesset, where he went down to the second floor, where the elections committee is headquartered.
The regulars who hung out there wondered if Netanyahu intended to burst into the justice's office. Instead, he sat himself down in a nearby room, logged onto his Facebook page and launched into a lengthy lament about the injustices being done him, the election that would be plundered and the usual spiel. He then went out, approached the cameras, and in a loud voice, almost shouting, repeated his litany.
The echoes reached Melcer's office while he was holding a meeting of judicial import. Someone said to him, "Be careful, he's liable to ambush you outside and tackle you in the washroom." That didn't happen, but in this era, when the term "inconceivable" has been thrown into the wastebasket along with a stack of norms and rules, no one would have fallen off his chair if an encounter had actually transpired next to the urinals. Or, of course, had been broadcast live as an emergency post on Facebook.
Truth and consequences
Netanyahu spent hours on the two days following Tuesday's election with members of the right-wing-Haredi bloc. He looked dead tired to them, which could be expected, but not despondent.
After he received their support and consent that henceforth he, under the aegis of Tourism Minister Yariv Levin, would conduct the coalition talks, they wanted to know if they could be sure he wouldn't betray them somewhere down the line. "I promise you, that won't happen," he told them. United Torah Judaism's Yaakov Litzman and Moshe Gafni pressed him again – and again – until he reiterated: "I won't abandon you. We're in this together."
The conversation continued in a bitter vein. "I lost because the media deliberately anesthetized the Likudniks," asserted Bibi. "They kept reporting that I'd definitely get 61 [seats]. It wasn't even close."
He went on, seemingly thinking out loud: "Next time," he said, "we have to improve the way we work, prevent wasted votes, be united from the start, exhaust the tremendous potential of the right."
His interlocutors gave him shocked looks. Was he preparing them for a third election campaign? Maybe, one told me later, he thinks that would help him get his trial postponed?
What he later said to somber Likud legislators who met with him in the Knesset only reinforced that thinking. "Only two governments are possible," he said, "one led by me, or one composed of the left and the Arab parties." If Bibi sticks to his guns, there's almost no way to prevent yet another dissolution of the Knesset in another 100 days, at the latest.
Let's dwell a little on what that means. On October 2 and 3, a hearing will take place for Netanyahu in the three corruption cases he faces. The chances of the charges being dropped are slim. Attorney General Avichai Mendelblit is expected to announce his final decision on indictment by the end of December. In other words, if there indeed is another election, in March 2020, Netanyahu would most likely be running as a defendant in every respect.
Would Likud, assuming it wants to avoid extinction, let that happen? The ruling party has its own DNA. It doesn't depose its leader, no matter how much of a failure he is. On the other hand, over the past decade, the party has evidenced another kind of genetic trait: the desire to remain in power. Or in the words of the movement's founder, Ze'ev Jabotinsky, "God has chosen us to rule." At the moment of truth, if it comes, which will prevail?
The ground for a changing of the guard in a party that has had only four leaders – Menachem Begin, Yitzhak Shamir, Ariel Sharon and Netanyahu – has never been particularly fertile. The only way to achieve that end is by means of a primary for the party leadership. But the time for that isn't ripe yet. That scenario could transpire only after the current leader maxes out all efforts at forming a government.
In that case, Netanyahu is capable, of course, of running in a primary – something he hasn't had to do since 2011. Likud will then face a choice: ruling without Bibi, and with another leader, or going to a new election under the worst circumstances possible, with the candidate shuttling between court appearances and election rallies, between state's witnesses and affairs of state.
History and hysteria
Netanyahu after the fall finds himself in the shoes of African dictators and East European despots of yore. He's avoiding going abroad for fear he'll have nowhere and nothing to come back to.
The complex post-election situation here has forced him to forgo his beloved hobby of addressing the annual General Assembly of the United Nations, together with a scheduled meeting with President Trump. They were supposed to discuss the defense pact (the "historic" one, you know). Under current political constraints, hysteria has trumped history.
Trump's chilly response on Wednesday to the results of the Israeli election is nothing short of a drama. Not only did he not mention Netanyahu by name, he also (undoubtedly, at the urging of his advisers) emphasized that the special relations of the United States are with the people of Israel, whereupon he added his usual comment, "We'll see what happens."
It's not very complicated to get into Trump's uncomplicated head. He went out of his way to help his friend from Balfour Street win two elections. What didn't he bless him with? With the Golan Heights and the embassy move to Jerusalem the first time around, in April, and with a "defense pact" this second time. And what a giant disappointment Netanyahu has proved to be for him. The first time he didn't form a coalition and the second time he didn't get a majority.
Trump hates losers; indeed, he's contemptuous of them. After a double failure – political and electoral – and despite all the strategic aid he's offered, the admiration the president feels for the "winner" from Israel is close to giving way, and maybe has already given way, to the loathing he feels for losers as such.
Indeed, we'll see what happens.
The autumn of their lives
Politicians and commentators alike had two working assumptions at the start of the election campaign that ended this week: that turnout would be very low, and that Israeli voters would continue, as in the past, to reward those who united with others and punish those who remained within the confines of their own parties. We were wrong in both cases. All of us would do well to learn the lessons before the next campaign, in early 2020:
We had four mergers this time:
• Labor Party leader Amir Peretz rejected the seemingly logical hookup with Nitzan Horowitz's Meretz and Ehud Barak's Democratic Movement. Instead, he chose the social-ethnic option by coopting Orli Levi-Abekasis, leader of the Gesher party, which fell below the threshold in the April election, and granted her disproportionate representation on the slate at the expense of his own party's members.
Levi-Abekasis, whose pretensions and self-satisfaction are in inverse proportion to her achievements as a politician in her own right, was supposed to "topple the walls between left and right," as Peretz put it so pompously. What was toppled was the concept, not the walls.
Rightists did not flock to the polling stations to vote for Labor-Gesher. Peretz reached the finish line with his tongue out and his moustache clipped off. The most that can be said for him is that he repeated the historic achievement of his predecessor, Avi Gabbay: six seats. Gabbay took responsibility and resigned. Peretz isn't familiar with that idea. Nor is there anything for him to do on the outside. Politics is his life.
• The Democratic Union slate was an equally bad joke. It was a concoction of Meretz, of Barak's Democratic Movement and of the Green Movement of Stav Shaffir, who defected from Labor and hitched a ride with the Union so as to ensure herself second place on a slate.
In her own eyes, Shaffir is nothing less than a vote magnet. If we want to be very generous with her, we'd say that she brought in one Knesset seat – tops. Barak brought his 35,000 votes of Ashkenazim, kibbutzniks and former Labor members. Meretz preserved its core base of three seats. That's what Horowitz was left with in the new slate: himself, Tamar Zandberg and Ilan Galon. Shaffir will be a one-person faction on behalf of the Greens (as she was in Labor, too), and former Israel Defense Forces deputy chief of staff Yair Golan will be the lone MK of democratic Israel.
• An equally bad acquisition, and in fact far worse, was made by the brilliant economist Benjamin Netanyahu. He bought Moshe Kahlon at an exorbitant and questionable price – but not the voters of his former party, Kulanu, which won four seats in April. He also acquired Moshe Feiglin, a person with an idea but no party and no voters, in return for a truckload of promises.
In Britain they call it "empty suits." In the melee that developed here on the night of the 17th, many people didn't notice this minor detail: Netanyahu and Likud didn't lose "only" four seats compared to April, they lost nine or 10. They started with 40-41 seats: 35 Likud, four of Kulanu and two of Feiglin. This is the true measure of the voided magician's colossal failure against Benny Gantz: His Kahol Lavan party lost less than 5 percent of its strength (33 seats vs. 35 in April), but Likud lost about 25 percent.
• And, of course, we can't ignore the resounding defeat of Yamina. The individual responsible for that failure is Ayelet Shaked, the poster girl of the secular and religious right. Three parties combined (Hayamin Hehadash, Habayit Hayehudi, National Union) garnered a measly seven seats – and one star, who headed the slate. It's not really a faction, more of a collection of soloist militias who hate each other and each of whom believes that he would have done better topping the list.
This failed confederation won fewer seats than Shaked and Naftali Bennett's Habayit Hayehudi in 2013 (12 seats) and one less than the eight Bennett managed to cobble together after the huge bleeding job Netanyahu did on him in 2015.
Let's take Avigdor Lieberman, head of Yisrael Beiteinu, as a counter to them. He's been in the arena for more than 20 years. He's been ground down, bruised and battered countless times, but even after toppling a right-wing government, he won more seats on his own than the giant aircraft carrier of the right wing and its four – count 'em, four – leaders.
Let's put it like this: If it took Bennett six years to wear out his leadership, Shaked did it in three months. Twice her popularity has been put to the test, and twice it's crashed. This time the responsibility was all hers. All she'll have left to cherish from this September adventure are flattering posters. And, of course, the memory of the childish and shameful spat with Itamar Ben-Gvir, from Otzma Yehudit, in a television studio.
All say Ayman
A necessary condition for Ayman Odeh being crowned head of the opposition in the 22nd Knesset is for there to be an opposition in the first place. And since there's no such thing on the horizon, one has to be formed – and now.
The difficulties on the way to forging an opposition are so big and the variety of possible ingredients is so vast, and usually self-defeating, that no one has the strength to even imagine how this will happen: an Arab "symbol of rule"; Shin Bet security service protection; monthly meetings with the prime minister; updates from the military secretary; free admission to all the super-secret subcommittees of the Knesset Foreign Affairs and Defense Committee; speeches at official ceremonies; and meetings with foreign leaders.
On the other hand, Odeh would be the first opposition leader in many decades for whom the question "Will he join the coalition?" wouldn't even come up. Less work for the political correspondents.
The Joint List has returned to its glory days of after the 2015 election: 13 Knesset seats and a turnout of nearly 60 percent among the Arab community. This surge defied the forecasts of all the experts who predicted a drop in the turnout.
No one could have envisioned the barbaric and unbridled attack Netanyahu launched in recent weeks on "the Arabs." With blood clouding his eyes and mouth frothing, he slandered some 20 percent of the Israeli public. The "Arabs are stealing the vote" campaign fired up by the reporters and media outlets enlisted in its service pushed the offended community to the ballot boxes more than any Joint List election rally or video clip.
Again we got proof that the right wing is the best aider and abetter of the Arab parties: In 2015, they would not have united or maximized their power if the electoral threshold had not been raised, thanks to Lieberman, whose intention was to hurt them.
In the April election no one messed with them and the result was as could be expected: a low turnout of voters and just 10 Knesset seats.
The second time around this year, it was Bibi who came to the rescue. Full force, with all his craziness and emotions. He kept pushing the divisive election-cameras bill even though its chances of being enacted were virtually nil. In the 1996 election, he defeated Shimon Peres by a single percentage point with the help of the slogan, "Netanyahu is good for the Jews." Now, almost a quarter-century later, a revolution: Netanyahu is good for the Arabs.
Click the alert icon to follow topics:
ICYMI
Ken Burns' Brilliant 'The U.S. and the Holocaust' Has Only One Problem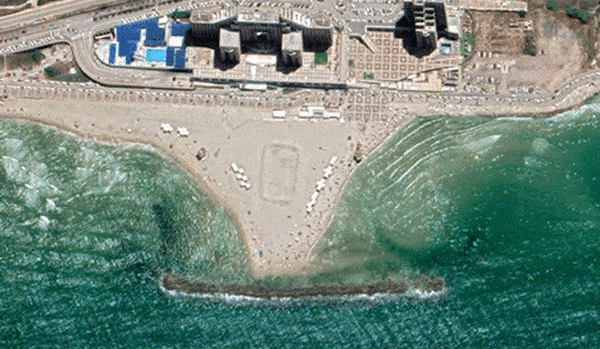 Facing Rapid Rise in Sea Levels, Israel Could Lose Large Parts of Its Coastline by 2050
As Israel Reins in Its Cyberarms Industry, an Ex-intel Officer Is Building a New Empire
How the Queen's Death Changes British Jewry's Most Distinctive Prayer
Chile Community Leaders 'Horrified' by Treatment of Israeli Envoy
Over 120 Countries, but Never Israel: Queen Elizabeth II's Unofficial Boycott