Kickbacks and Death Threats: The Town That Shows How Democracy Is Failing Israel's Arabs
The authorities say they're doing everything they can to help the Arab citizens of Kalansua, but desperate locals are having a hard time believing that. Meet the Arab town crying out for good governance
A resident of Kalansua points to a bullet hole in his car - crime has plagued the city and the local government seems helpless, residents say
Credit: Amir Levy
Last April, Ameer Zmiro posted on Facebook what can only be called an SOS for his hometown.
"Save Kalansua," wrote the then-32-year-old law student and resident of this Arab community of some 23,000 residents in central Israel. Zmiro explained that he had been moved to write after a 10-year-old girl was shot and seriously wounded by a drive-by shooter while she was on a seesaw at a local playground. The shooter's intended target was apparently an adult sitting in a car parked nearby.
But, explained Zmiro — who wrote in Hebrew rather than Arabic in the hope "that this post will reach one of the state's decision-makers, who will rise and save us" — the shooting of Fatma Jamal was only the latest, and most outrageous, act of violence to have plagued his community during the previous half year. None of them, he added, had been solved by the police or even led to any arrests.
He ran through a list: threats and attacks on a city council member, the municipal accountant, two officials in the municipality's collections department and two senior employees at the Bank Hapoalim branch in Kalansua. The threats seem to have fulfilled their purpose: Each of the targeted individuals left their jobs a short time later.
Beyond that, Zmiro wrote, "Shootings and planting of explosive devices by people's houses have become a day-to-day occurrence in Kalansua."
Kalansua is not alone among Israel's Arab towns in being plagued by higher levels of violence and crime than are found in Jewish communities. A report released in June by the Abraham Initiatives NGO noted, for example, that in 2018, 71 Israeli Arabs were killed. This constituted 61 percent of the country's murder and manslaughter victims that year, even though Arabs constitute only about 20 percent of Israel's citizenry.
The decision of the Netanyahu government in 2016 to allocate more than 1 billion shekels (about $280 million) to improve a wide range of police services among the Arab population is widely seen as an acknowledgment of the authorities' failure to collect illegally held weapons, solve crimes, infiltrate crime organizations or, in general, give members of the Arab community the sense that the police have their back.
Yet even against that dismal portrait of personal security enjoyed by the country's Arab citizens, the situation in Kalansua is especially dire.
It's not that the people of Kalansua, situated east of Netanya in the heavily Arab part of the country's center called the Triangle, are by nature more violent than other Israelis. Rather, their town, by all accounts, has effectively been taken over by criminals. These elements, testify both local residents and sources in the police, have infiltrated city hall to the point where they control Kalansua's finances and contracts, and much of the town's commercial life. When a politician or municipal official tries to challenge their rule, the response is the type of shooting that unintentionally wounded young Fatma Jamal last April. (After surgery and several weeks in hospital, Fatma recovered and was sent home.)
While the police have beefed up their presence in the town of late, and say they and other state authorities are working together to shore up a barely functioning municipal government, Kalansuans say they feel abandoned by the state and see little hope of the chaos that has taken hold of their town being tamed anytime soon.
Again, this feeling of being second-class citizens is widespread among Israel's more than 1.2 million Arab citizens, and helps explain their steadily dropping rate of participation in the last few national elections.
Zmiro linked the beginning of the recent crime wave to last year's municipal elections, when the leading candidate for the Kalansua mayoralty — a reformer — withdrew from the race two days before the polls opened. His decision followed multiple threats against him and his family.
The problems in Kalansua, however, began long before 2018.
Turning point
Historical records show evidence of a village with a name like Kalansua as early as the ninth century. During the centuries when Crusaders fought Muslims for control of the Holy Land, the town was occupied and reoccupied several times. Today, a mosque in the town center incorporates remnants of a Crusader-era fortress.
Modern Kalansua has existed since at least the late 19th century. During Israel's War of Independence in 1948-49, the town was surrendered peacefully by Jordan to Israeli forces, thereby sparing its people from expulsion. The population has traditionally supported itself largely from agriculture, and even today strawberries are a major source of revenue.
When Kalansua's population passed the 20,000 point in 2000, officially it became a city — which made it eligible for all kinds of new funding from the state. That was a turning point. As city hall gained access to new sources of revenue, outside elements with little concern for the town's welfare began competing for control of the municipal government.
By the beginning of this decade, according to a police official familiar with Kalansua's politics, most of the contracts being signed by the municipality for externally provided goods and services — such as garbage collection, school maintenance, etc. — were with a few different "straw companies." All of them were owned by the same three or four people, who paid kickbacks to officials in city hall for steering the business to them.
To make matters worse, says Thabet Abu Rass — co-director of the Abraham Initiatives philanthropy, and himself a resident of the town — a lack of legal lending institutions in Kalansua forces businesspeople to borrow on the black market; the near-impossibility of acquiring building permits means that nearly all local construction is illegal (though if you can pay off inspectors, you needn't worry about demolition orders); and there are estimates that half of the municipal water supply is being siphoned off by unauthorized people.
State officials say they are aware of these problems and are working to bring them under control. But, as noted, Kalansua's citizens aren't yet seeing the results. Several expressed hope that the Interior Ministry would appoint a temporary, external, technocratic government to take over at city hall, but sources at the ministry say they are extremely reluctant to take such a drastic step. After all, they say, Kalansua has a democratically elected government.
Not really, say Kalansuans.
Personal fiefdoms
Exhibit No. 1 is the case of Maruf Zmiro, who was the leading candidate for the mayoralty when he ran last year.
In many Arab towns in Israel, people have traditionally voted along family lines. Once elected, local officials are expected to look after their own, rather than the general public. Kalansua, says Abu Rass, has four major clans ("hamulas" in Arabic), whose members number in the thousands, and some 20 other smaller families, whose numbers range in the hundreds or lower.
Although it was other members of his relatively small family who convinced Maruf Zmiro to run for mayor, his relatives say they were convinced he would break the pattern by which extended families treated city hall as a personal fiefdom. In fact, the candidacy of this respected educator elicited widespread support across family lines and his campaign manager said that polling showed that Zmiro, 56, had a good chance of winning the race in a single round of voting, even though he faced six competitors.
Maruf had recently retired as principal of Al-Salem Elementary School after more than two decades in the position. Ameer Zmiro had attended the school and said his cousin had made it "the number one school in Kalansua. People loved him."
Maruf Zmiro's own dedication to the school (he was often there doing gardening and maintenance work on weekends) inspired others on the staff to give their all. At the same time, he was well-known for having no truck with nepotism or cutting corners.
According to Ameer Zmiro, within the family "We knew that if we went with another candidate, our family interests would go more smoothly. But in this case, we really wanted what was best for the city. And to tell you the truth, it was about time."
Hamdan Zmiro, another cousin, assumed responsibility for running Maruf's campaign. The 65-year-old has long been involved in politics on both the local and national levels, and took upon himself the unusual — for Kalansua — task of writing a detailed platform for the mayoral candidate.
When I visited him at his home office in late August, Hamdan Zmiro showed me the sole remaining copy of that platform: It was a small pamphlet of maybe 12 pages in which the candidate laid out his plans to bring Kalansua into the modern age in such areas as education, the environment, opportunities for women, urban planning, rights for the disabled and, most ambitiously, turning it into a smart city. One ingredient of the latter, he said, was to offer the town a "paperless administration, one with no fixed physical location, that functioned 24 hours a day. All of its actions, in all departments and all municipal meetings, will be completely transparent. We will give citizens a chance to make comments and participate in decisions."
The plan was to distribute the entire document to voters just before Election Day so that, according to Hamdan, they "could hold the candidate to account." That never happened, though, because on October 28, two days before the polls opened, Maruf dropped out of the race.
The final straw
The threats began two weeks before Election Day, when shots were fired at Maruf Zmiro's home. Then, just days before the vote, there was more shooting — at both his and his wife's cars — and what could only be interpreted as telephone threats were made against both the candidate and his children.
The latter, which involved freshly shot clips of his adult children — neither of whom lived in Kalansua (as if to say, we can reach them wherever they are) — was the final straw for Maruf Zmiro. He told the extended family that he was ending his candidacy, and nothing they said could change his mind.
His alarm was hardly out of place. Violence is a standard political tool in Kalansua: Most dramatically, another cousin, Viam Zmiro, was assassinated in 2011 while serving as city manager. At the time, Viam was under investigation on a variety of corruption charges and had reportedly been talking with the police about turning state's evidence. No one was ever charged with his killing.
Hamdan Zmiro tried convincing the other mayoral candidates to withdraw from the race, arguing that it was democracy in Kalansua, not only Maruf Zmiro, that was being threatened by the violence — but to no avail. Similarly, a letter to the interior minister from the Abraham Initiatives, asking it to postpone the election until the safety and integrity of the process could be guaranteed by the state, proved futile.
Election Day in Kalansua, therefore, took place as originally planned, on October 30, 2018, with a second round of voting taking place two weeks later. But whereas voter turnout usually reached 90 percent in municipal elections, only 62 percent bothered to cast their ballot in the second round — in which the incumbent, Abed al-Basat Salame, was elected to a second term.
City Hall is burning
The day before the second round, there was a fire in city hall and part of the building's second floor was destroyed. It was as if the people really running the show in Kalansua were pointing explicitly to the fecklessness of the elected government.
Bakr Natour, owner of a local catering business, was a candidate for city council last year. When he didn't make the first cut, he threw his support to Mayor Salame's list in the second round. When Salame began his new term, he appointed the unelected Natour as a "public representative" in the municipal government, giving him an office in city hall. By this summer, however, the two had apparently fallen out — and an unorthodox situation took a turn for the truly bizarre.
In early August, an embarrassing clip of Natour and a woman who was not his wife began circulating in Kalansua. It was apparently two years old, but was considered scandalous in this conservative Muslim town and damaging both personally and politically to Natour.
But this newly self-styled reformer fought back. Several weeks ago, he burst uninvited into a city council meeting and addressed the members. He apologized for the embarrassment he had caused both his wife and the other woman, and his family in general, but also claimed that the clip had been distributed in order to shut him up.
A short time later, Natour elaborated on what he meant in an interview with the Arabic-language newspaper Kol al-Arab.
"Some of the system thinks I'm an obstacle to their efforts," he complained, adding that the same people who had threatened Maruf Zmiro and the city treasurer — "the same gang that is in city hall," in his words — "used the same methods on me … but I won't give in."
Natour said he knew about criminal activities in the municipality and that he was hoping to work with the mayor to rectify them, adding ominously, "If I can't change things by way of the mayor, I will do it another way."
"How? In what ways?" asked the interviewer.
"We can take the municipality apart," he threatened.
Days after that, a closed-circuit camera in Natour's prepared foods store captured an apparent assassin who entered the shop with a pistol in hand and his face masked. He looks around, apparently searching for Natour, and when he doesn't find him runs out — after firing his gun twice into the ceiling.
When asked how to understand a figure like Natour, the police source Haaretz spoke with responded: "Bakr wants to do good for the town; he understands the situation the town is in. But he uses negative forces in order to strengthen his own position." In Kalansua, he observed, "Every good thing is in the end influenced by criminal elements." Natour did not respond to a request for comment.
On September 4, the municipality finally got around to passing a budget for the coming year — a hurdle that just a few days earlier made people in Kalansua talk about a city government in paralysis. In late August, for example, the police source Haaretz spoke with said he expected the Interior Ministry to suspend the town's elected government and appoint an outside technocracy to run it. And while sources at the Interior Ministry say they are "watching what is happening in Kalansua very carefully," they also stress that they will do everything possible to avoid appointing an outside government.
In general, Mayor Salame sounds sanguine about the situation in Kalansua. "We are running at zero deficits, we have improvements in education, in infrastructure, in preschool education. Everything here works like clockwork."
The police also paint a relatively upbeat picture of the situation. At present, Kalansua has only a police substation, but the Public Security Ministry has announced that it is one of the Arab municipalities that stands to receive a full-service police station in the near future. Until then, the number of police officers operating in the town has been increased, and a roundtable of representatives from the police, the Israel Tax Authority, and the education and interior ministries is working with community officials to fill the vacuum left by a barely functioning municipal government, the mayor's claims notwithstanding.
According to the police, since the police presence was beefed up to 60 over the summer, there has been a "significant drop" in crimes in Kalansua — including a reduction in shootings and detonation of explosive devices.
Abu Rass scoffs at the rosy forecasts. His family is one of the smaller ones in Kalansua, and as a professional urban planner and director of an influential NGO, his comments about life in the town combine the pathos of a concerned resident and the expertise of a knowledgeable observer. (His late father also wrote the official history of Kalansua.) As far as he's concerned, Kalansua is on its own: "The representatives of the state aren't present."
Abu Rass also added several times that he believes "the next murder in Kalansua is just a matter of time."
Toward the end of his Facebook post last April, Ameer Zmiro writes how the withdrawal from the mayoral race was nothing less than "a strike at the state itself, at its legal authorities, and at its Basic Laws that define it as a democracy." That's the law student in Zmiro writing. At the very end, however, comes something more like a message in a bottle from someone who's convinced his ship is sinking: "Please help us, the residents of Kalansua. We have lost our safety, our peace and our quality of life."
The coming months will tell whether the message has been received.
Click the alert icon to follow topics:
ICYMI
Ken Burns' Brilliant 'The U.S. and the Holocaust' Has Only One Problem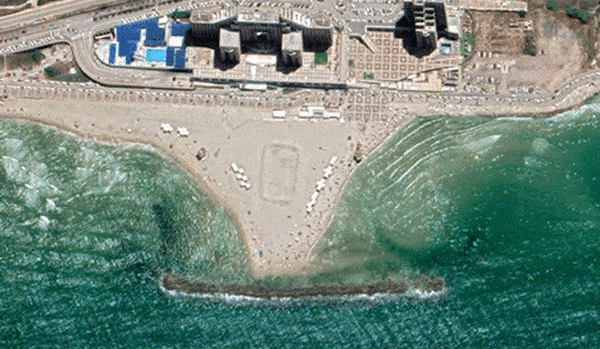 Facing Rapid Rise in Sea Levels, Israel Could Lose Large Parts of Its Coastline by 2050
As Israel Reins in Its Cyberarms Industry, an Ex-intel Officer Is Building a New Empire
How the Queen's Death Changes British Jewry's Most Distinctive Prayer
Chile Community Leaders 'Horrified' by Treatment of Israeli Envoy
Over 120 Countries, but Never Israel: Queen Elizabeth II's Unofficial Boycott