Analysis |
How Netanyahu Is Channeling Nixon in Controlling the Media
Politicians everywhere have always groveled to Big Business and have always resorted to using legislation as a shield. What's changed? It's become worse than we could even imagine, that's what changed
Richard Nixon at a press conference, June 1972
Credit: AP
"If the threat of screwing them is going to help us more with their programming than doing it, then keep the threat. Don't screw them now. [Otherwise] they'll figure that we're done." – U.S. President Richard Nixon telling Charles W. Colson, White House special counsel, how to intimidate television networks in order to obtain favorable coverage in 1971.
"The question of whether to file an antitrust case against ABC, NBC and CBS is good or not is perhaps not the major political consideration. But keeping this case in a 'pending' status gives us one hell of a club on an economic issue that means a great deal to those three networks ... something of a sword of Damocles." – Colson to Nixon in the same conversation.
"Our gain is more important than the economic gain. We don't give a goddamn about the economic gain. Our game here is solely political. ... As far as screwing them is concerned, I'm very glad to do it." – Nixon, same conversation.
"The main source of power that corporations can collaborate with are politicians, and that's how crony capitalism is created. In our system in Israel, it can be done by forming ties with other power sources, such as power brokers in the press who have control over politicians, which also creates crony capitalism... If you prevent competition you can raise prices and usually paralyze the weaker sectors of society, which depend more on low prices of products and services as a proportion of their income. This is something I very much want to avoid." – Prime Minister Benjamin Netanyahu in an interview with Markerweek, March 2014.
"He told me: don't abolish competition entirely, but see what can be done about prices… he gestured to show a moderate decline rather than a sharp drop." – Shlomo Filber, former director-general of the Communications Ministry, telling police in 2019 about the instructions he received about telecommunications policy from Netanyahu, who was then both the prime minister and communications minister.
Changing the rules of the game
The bad news for Netanyahu supporters and admirers, who profess confidence that the police and prosecutors are framing him, is that anybody watching his conduct over the last two decades regarding economics in general and competition in particular can't have a shred of doubt that the prime minister knew exactly what he was doing. Speaking with this paper in late 2014, he described almost exactly how ties between big money, big media and big business corrupt.
>> Read more: A leak that leaves no doubts about Netanyahu's illicit deals with media tycoon | Analysis ■ Netanyahu seeks to silence critical media by hitting their revenues | Analysis
When Netanyahu told then-Director-General of the Communications Ministry Shlomo Filber to slow down the rate at which the Bezeq telecom monopoly had to reduce its prices, and to allow Bezeq to merge with the Yes cable TV and phone company, he knew what he was doing.
Netanyahu was adhering to Nixon's playbook. He had no intention of pulling the plug on reform at Bezeq and forcing competition onto the telecom sector. Au contraire, he saw it, as did Nixon, as a sword of Damocles that could be perennially waved over the head of Bezeq's owner, Shaul Elovitch. That sword would ensure his unswerving loyalty. Netanyahu would control the rate at which competition would arise and Elovitch would serve as his loyal, craven servant.
There's also bad news for the many people who see Netanyahu as the great corrupter of regulation and the press in Israel: Netanyahu didn't invent anything new. Politicians in Israel and everywhere else have always served big business, or were taken captive by big business, and have always used regulation to protect themselves from the press.
So what's new? Now we have tapes. The evidence in the Bezeq case (dubbed "Case 4000") – including conversations and text messages between Elovitch and CEO of Walla Communications Ilan Yeshua, as well as Shlomo Filber's testimony, show how the money-business-media axis works. The reality exceeds anything I have written for the last 20 years. That's quite impressive.
Like Netanyahu, Elovitch understood how it works. As owner of Eurocom Communications and Yes, which competes with the triple-play telecom company HOT TV (which used to be controlled by Arnon Mozes and Eliezer Fishman), Elovitch came to understand how the media outlets controlled by Mozes, Fishman and other tycoons work.
As he told Yeshua: "If you were smarter, the journalists would know what to write in advance. If you were smarter, Walla would be managed by people like Nir Hefetz. At Yedioth Ahronoth, Mozes knows how to appoint people who can do the job without being told. You don't know how to do that."
Nir Hefetz, who would turn state's witness, "grew up" inside Arnon Mozes' Yedioth Ahronoth group, which includes the popular website Ynet. He learned its organizational culture and was a confidante of Mozes, the boss.
When Nochi Dankner acquired a rival newspaper, Maariv, using the public's money, he hired Hefetz to head it. When Maariv collapsed and Dankner lost his clout, several journalists at Maariv admitted that the paper had been purchased partly to serve as Dankner's mouthpiece against his business associates and rivals.
Hefetz's mafioso mentality, whether in his role as a "journalist" or "media consultant," was evident in his practice — revealed when he became a state's witness — of secretly taping his conversations in the Prime Minister's Office, from day one. Hefetz served Netanyahu, and also Mozes and Dankner, who for years were jousting for domination of Israel's economy. Former prime minister Ariel Sharon also tried to appoint Hefetz as head of the Israel Broadcasting Authority 18 years ago. Hefetz is not a journalist corrupted by Netanyahu; he is the face of tycoon-controlled journalism under all Israeli governments.
This is the system Netanyahu discovered when he entered politics. At first, he tried to fight it, but as he accrued power, he came to embrace it. The bastards changed the rules of the game for Nixon. Now it was Netanyahu's turn.
A change of course
The Business Roundtable in America dropped a bombshell last week. Companies need to advance not only the interests of their shareholders, but all stakeholders: employees, suppliers, customers and the environment. In fact, all of society.
A bombshell? Yes and no. The announcement made by the umbrella organization reflects powerful undercurrents undergirding the American political and business worlds.
For the first time in 50 years, the bosses of giant corporations are sensing diminishment in their enormous political clout, which had done nothing but increase over past decades. They realized that to minimize the risk of a dramatic shift in American economic policy, they have to start to change.
The purpose of their new vision is to become part of the new public discourse, which has been increasingly viewing big companies as the enemy of democracy, workers, consumers, taxpayers and the environment.
To comprehend the intensity and pace of this change, note the rhetoric of Larry Fink, the CEO of BlackRock. It is the largest investment company in the world, with $6.5 trillion under management, and is also a driving force behind this new vision.
In January 2016, at a panel I moderated at the Davos World Economic Forum, Fink said that when a company fires 5,000 employees or does something that harms the environment, if it maximized that company's returns, it was a good thing. That's the opposite of what the roundtable forum said.
By 2018 Fink had moved on, telling the New York Times: "Society demands that corporations, public and private ones, serve a societal purpose. In order to prosper for the long term, every company must show not only financial achievements but also its positive contribution to society."
Why isn't this change of course a bombshell? Because the only thing that could really help all stakeholders – employees, consumers, the environment – is to change the rules of the game: the laws and their enforcement. That's a longer road, and the main obstacle to change is the very CEOs sitting around that roundtable.
That group has overt and covert power levers: the billions these companies donate to politicians and spend on lobbyists, vast sums that are often unreported and undocumented. And even more important is soft money, hidden from sight, through which giant corporations influence ideas, norms and the conversation. They do this by fostering relations with the media, universities, research institutes, research and policy think tanks and prominent researchers.
By hiring politicians, regulators, lawyers, judges, academics, experts and former journalists, and paying them much more than a public system could, these cirms create an entire system of ideas, norms and culture; and the legislators, regulators, judges and police grow inured and don't challenge the status quo that serves the large corporations.
The powerful vs. the public
Why did the Business Roundtable suddenly sit up? Elizabeth Warren and Bernie Sanders, that's why. While most of the world has its eyes fixed on U.S. President Donald Trump, the potential to change the political economy lives within the Democratic Party. It began in 2016 and has been gathering momentum.
Joe Biden, formerly Barack Obama's veep, has been leading Democratic opinion polls but he's losing ground to Sanders and Warren. Joint support for the two greater than for Biden. Their ideas are the future of the Democratic Party. Biden is history.
>> Read more: Can Bernie Sanders really win? After this week, it seems more possible than ever | Analysis
Sanders defines himself as a socialist or a social-democrat, while Warren defines herself as a dyed-in-the-wool capitalist, but the old definitions of socialism and capitalism are moot. Most Western economies are market economies with massive government intervention in creating markets, setting the rules of the game, including social safety nets.
The real issue dividing regimes and economies around the world isn't socialism versus capitalism. It's who the government serves: the rich, the powerful and their cronies, or the wider public.
Sanders and Warren agree that American politics serve mainly the upper thousandth percentile and the giant companies. The policy they offer is different, but not essentially so. Sanders proposes mainly stronger social safety nets and empowering workers, while Warren stresses mainly the need for regulation to weaken the political and economic power of the big companies and confer greater power on consumers and workers.
The rise of Warren and Sanders could change not only the balance of power between the 0.1% and workers and taxpayers. It could reverse American environmental policy and help find solutions for the greatest challenge in our generation: climate change. His predecessors mainly served big money, but Donald Trump has gone one further. He casts doubt on the very science of climate change and the damage humans do to the environment.
Sanders lost in the 2016 primary to Hillary Clinton, but the support he garnered has changed the ideological arena of the Democratic Party. It spurred Warren's rise and helped hone her positions about the concentration of money and power in the United States. For example, in health care reform, she has been compelled to embrace Sanders' position of public funding, as is the accepted system in Europe and Israel.
Victory by Sanders or Warren over Biden (who represents the Democratic Party segment still captive to the agenda, ideas and especially the money of the big donors) will accelerate change in the party. If either Warren or Sanders wins the primary, then the battle between the Republicans and the Democrats in November 2020 won't be anything like what American politics has known for the past generation or two.
For the first time there will be a candidate who wants to oust big money from American politics.
But don't bet the house on the big-money candidates losing. The history of Western democracies shows that money has usually won. Except at the time of World War II and Franklin Roosevelt's New Deal, business set the boundaries of the playing field in which most U.S. presidents had to play. Now, however the chance of significant change is no longer nil, and a Sanders or Warren White House — or at least, heading the Democratic Party and influencing the House and Senate — will change the path for America, and for democracies that emulate the American model the world wide too.
Click the alert icon to follow topics:
ICYMI
Ken Burns' Brilliant 'The U.S. and the Holocaust' Has Only One Problem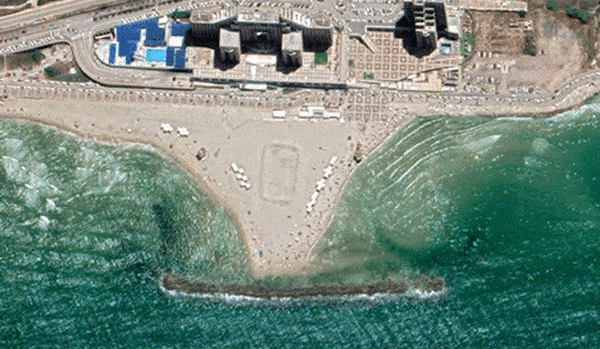 Facing Rapid Rise in Sea Levels, Israel Could Lose Large Parts of Its Coastline by 2050
As Israel Reins in Its Cyberarms Industry, an Ex-intel Officer Is Building a New Empire
How the Queen's Death Changes British Jewry's Most Distinctive Prayer
Chile Community Leaders 'Horrified' by Treatment of Israeli Envoy
Over 120 Countries, but Never Israel: Queen Elizabeth II's Unofficial Boycott