A Takeaway From Global Warming: It Is OK to Wear Shorts to the Office
Maybe it's time the rest of the world learns from Israelis, who are long accustomed to navigating the office during a heat wave
A typical Israeli male at work, with calves on display. In Israel, as one could guess, the dress code is more forgiving.
In July, London sweated through one of the hottest months the British capital has seen in 20 years. During one week, the temperature hit a high not felt since August 2003, nearly 38 degrees Celsius (100 Fahrenheit). It disrupted railway service, caused overcrowding in public swimming pools and neighborhood pubs, and filled the streets with unpleasant smells.
The climate changes resulting from global warming has also affected the strict dress code enforced on London's gentlemen, who usually sport dark suits, white or pale blue dress shirts and black shoes. Some workplaces and exclusive gentlemen's clubs have allow entry sans jacket, while others simply suggest the application of common sense. Sandals, or any other toe-baring shoe, are still verboten for men.
Shorts are a particular point of contention. Normally reserved for more casual activities such as gardening, this summer they have appeared in offices and formal events. During the hottest week last month, British department store John Lewis reported that sales of its classic chino men's shorts spiked 87 percent from the previous week.
What in Israel is considered schlumpy but unremarkable is nothing less than dramatic in the capital of the United Kingdom. "Hairy calves, knobbly knees, pasty thighs that haven't seen the sun in months, even an ankle free from the cover of a woolly sock: All are getting an airing as temperatures near 100 degrees," proclaimed an article in The Wall Street Journal last month that was devoted to the burning issue. In it, London businessmen bared their souls about the moment they decided to go to work or attend a social event wearing shorts, and were treated in the comments section to pearl-clutching expressions of dismay.
Maybe it's time the British learn from Israelis, who are long accustomed to navigating the office during a heat wave.
In Israel, as one could guess, the dress code is more forgiving. An imaginary line can be drawn from the country's first prime minister — the shorts-loving David Ben-Gurion — to figures like the CEO of the eyewear chain Carolina Lemke, who at press conferences looks like a kibbutznik during the citrus harvest.
"Unlike in London and other European cities, in Israel we have air conditioners, so their looser dress codes are a result of global warming, while with us it's due to the bro mentality," says Roni Aronson, who heads the design and acquisitions department in Israel of the French menswear chain Celio.
"The Israeli man wants to feel at home," he says. "There's no clear separation between he wears at home at what he wears at work. He wants to be comfortable. The Israeli is still under the influence of the days of the white tank top and the 'kova tembel' [a round, brimless hat that was popular among Israelis in the years after the country's establishment. It resembles a bucket hat]. On the one hand there's the desire to work and to be professional, on the other hand the thing with 'the guys' and the army is still very strong — to feel at home, in the neighborhood. In fact, companies encourage it."
Fyber, an in-app mobile advertising company, employs 300 people in six offices in Israel and abroad. Tzurit Golan, senior vice president of human resources at the company, agrees that the loose Israeli dress code stems from a desire to give wearers a feeling of being at home.
"In high-tech it's very acceptable to wear whatever you want. There are no rules," she says. "In our area it's particularly noticeable. Men come to work wearing shorts and flip-flops, women in tank tops. To them, a T-shirt is dressy. In Berlin and in Israel, the workers really like wearing T-shirts with the company logo, so every year we make company sweatshirts or T-shirts and they're very useful.
"People work a lot of hours and we try to give them the feeling of home. Our offices are also designed with that in mind. It also has to do with the character of the company, which is more working at the computer and less meetings. It sends a message of family. Clothing is a nonissue in our work environment. They can even come to work in ripped jeans. Our customers, too, are young people who work out of their homes," Golan says.
Is there a difference in how employees dress in Israel and abroad?
"No. In Berlin, for example, there are no air conditioners, so that affects what people wear in the summer. You won't see the senior management in shorts and flip-flops, but one level below that you will, actually. The reason is that the senior executives meet with people from outside, not only people within the company.
"Of course the people who meet with clients try a little harder. But we had a customer conference in Spain, and in the pictures I saw that both clients and the salespeople wore Bermuda shorts. There was a case recently where an executive traveled to London to meet with our investors, everyone was in suits and he was the only one in jeans and a dress shirt. He felt very uncomfortable. They didn't say anything, but their expressions were enough. He should have at least worn a jacket," Golan says.
Where is the red line?
"There were a few funny situations resulting from the fact that we work in different time zones. A lot of meetings are conducted through video conferences, and sometimes from home. There were cases when people didn't get out of bed and held a meeting in pajamas, and we had to say something."
A CEO who wears shorts
Oshrat Oren is a former accountant who worked as a finance manager in large corporations for about 15 years. Around two years ago she started a blog called Dress Code and began offering her services as a personal stylist. She conducts workshops for executives and single straight men who tend to get lost in shopping malls.
"Shorts send a message of a person who really doesn't care how he looks," Oren says firmly. "And if his appearance isn't important to him, then he might well not care about his work as well. These are things that are below the surface. He comes in order to work at his computer, and the only thing that concerns him is comfort.
"He doesn't aspire to anything. A CEO who wears shorts doesn't send a message that he's 'just like you,' exactly the opposite: Disrespect for his profession and the occasion. As a junior employee, if you want to succeed and to advance, dress like someone more senior. The moment you wear shorts, in a way you are declaring that you have no aspirations to move up the ladder. As soon as you dress differently from your aspirations, it's a professional delay mechanism."
What fashion faux pas does the Israeli man make at the office?
"Short-sleeved dress shirts are a big no-no, for example. It doesn't exist in the business world. It looks silly, it isn't respectable. If it's hot, you can wear a long-sleeved shirt and roll up the sleeves. There's no such thing as a global dress code. Another common mistake is an undershirt underneath a dress shirt.
"There's no need for them today, cotton breathes and absorbs sweat, and it looks old-fashioned. In order to look neat, I recommend sending clothes out for ironing regularly. If one does wear shorts, it's important that they not be chinos or denim and not have laces or an elastic waist. It's better to skip the sandals in favor of sneakers, and to balance the look with a good button-front shirt. If one insists on wearing a T-shirt, then it should look new and not faded or worn. It's a cheap item, after all."
Do you see any changes in approach over the past few years?
"One of the CEOs with whom I worked once told me that he wanted to dress as simply as possible for work, to make money; his lawyers could run around and sweat in their suits. Today it's different. There's a very strong trend of Israeli businessman, and it's particularly noticeable in high-tech executives, of being more dressy. Once that didn't exist at all. In high-tech people dress very simply, in shorts and flip-flops.
"Lately I have been getting more and more clients who tell me, 'Yes, that's how it used to be, but today that's to our disadvantage.' They want to look like executives and CEOs, especially when they travel overseas. It's more pronounced at the highest levels of course, people whose workday consists mainly of meetings.
"It bothers them, they feel the looks when they meet with investors, for example. They recognize that they can't go to work in shorts. The alternative to that is long chinos, which rule the closets of Israeli businessmen. They love them because it's a sort of interim arrangement between casual and tailored clothing. In Israel a suit that sticks to your body is out of place in summer."
ICYMI
Ken Burns' Brilliant 'The U.S. and the Holocaust' Has Only One Problem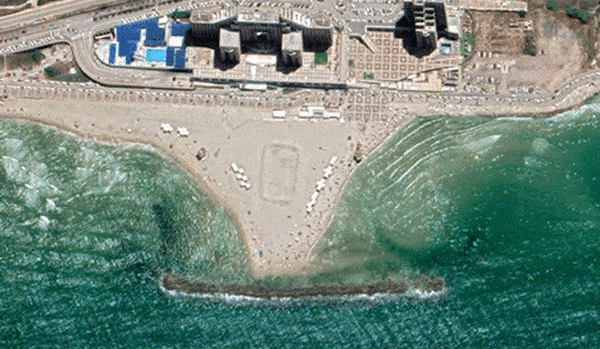 Facing Rapid Rise in Sea Levels, Israel Could Lose Large Parts of Its Coastline by 2050
As Israel Reins in Its Cyberarms Industry, an Ex-intel Officer Is Building a New Empire
How the Queen's Death Changes British Jewry's Most Distinctive Prayer
Chile Community Leaders 'Horrified' by Treatment of Israeli Envoy
Over 120 Countries, but Never Israel: Queen Elizabeth II's Unofficial Boycott