Analysis |
Nixing Tlaib and Omar Visit, Netanyahu Harms Israel to Assuage Trump's Ego
Decision will escalate tensions with Democrats, casting Israel as collaborating with Trump's hate campaign against minorities
U.S. President Donald Trump, U.S. Congresswomen Ilhan Omar, Rashida Tlaib, and Prime Minister Benjamin Netanyahu.
Credit: Reuters
Israel's Ambassador to the United States Ron Dermer announced last month that "out of respect for the U.S. Congress and the great alliance between Israel and America", his government would not deny entry "to any member of Congress". His statement, widely seen as heralding Israeli consent for the impending visit of controversial Democratic Congresswomen Rashida Tlaib and Ilhan Omar, was the result of meticulous deliberations in Jerusalem, which reached the conclusion that nixing the visit would cause more damage than approving it.
So what changed? Only one thing: Donald Trump blew his stack.
The reason for Trump's wrath wasn't his concern for Israel's good name. The U.S. president couldn't care less about the anti-Israel boycott, divestment and sanctions movement, which both Omar and Tlaib have endorsed. Trump doesn't mind if Israel builds settlements, annexes territories, attacks enemies, discriminates against minorities or degrades its own democracy. As in any and all other issues under the sun — including U.S. foreign policy — the only thing that Trump cares about is Trump himself.
>> Read more: In the Tlaib-Omar saga, all the politicians are winners | Analysis ■ Trump and Netanyahu just broke the special relationship between America and Israel | Opinion ■ Israel now a key battleground in the global clash of Liberal democracy and its enemies | Opinion
In his eyes, the Netanyahu government's now-reversed decision to give a green light to Omar and Tlaib's visit was nothing less than an impudent and ungrateful slap in the face. It would bestow legitimacy on the two Muslim lawmakers at the very same time Trump is trying hard to place them beyond the pale. It would disrupt his efforts to exploit the radical positions of Omar and Tlaib in order to drive a wedge between Jewish voters and donors and the Democratic Party, and to paint it as falling under their influence.
Israel, therefore, was about to cross a red line: It would have interfered in Trump's gut-level yet carefully orchestrated incitement campaign against minorities in general and people of color among them in particular — which he believes will pave his way back to the White House in 2020. In Trump's book, there is no greater sin.
All of the subjective and justified reasons that led Netanyahu and his advisers to initially allow Tlaib and Omar's visit mean nothing when pitted against a perceived slight to Trump's prestige. Only an Israeli intrusion into Trump's holy of holies — i.e. Trump's endless ego — could have led him to tweet out a rare reprimand of Netanyahu's government, which included the worst epithet in the presidential lexicon, usually reserved for his worst enemies: Approving Omar and Tlaib's visit would be "a sign of weakness," Trump wrote. Small wonder that Netanyahu's bureau was overtaken by anxiety and apprehension, or that a few short hours later the prime minister reversed course.
Any Israeli government, of course, would do its best not to cross any U.S. president, but it would nevertheless maintain its ability to put Israel's overall interests first. Netanyahu's room for maneuver, however, is far more limited and possibly nonexistent. After having placed all of Israel's chips on Trump, crowning him as messiah and savior, identifying with him and his policies more than any other world leader and deploying him as his main advocate in the previous and upcoming election campaigns, Netanyahu is in no position to stand up to his benefactor.
Under such circumstances, any presidential reprimand, such as the one issued by Trump on Thursday, deals a harsh blow to Netanyahu's prestige. And any presidential request — especially one that comes 33 days before Israelis return to the polls — is an offer that Netanyahu simply cannot refuse.
The decision to nix Omar and Tlaib's visit, negatively amplified by Netanyahu's typical flip-flopping under pressure, does not spark a new crisis between Israel and Democrats, for the simple reason that the crisis has been brewing and burgeoning ever since Netanyahu fought Barack Obama tooth and nail and then embraced Trump as his long lost brother.
The ban on the congressional visit nonetheless inflames existing tensions and accelerates an unavoidable breach. It will enrage wider swaths of liberal Americans and could inflict grievous wounds on U.S. public opinion that could soon prove inoperable.
Israel's hasbara mavens can try to justify the Israeli volte-face with numerous excuses, some even justified: Israeli law, after all, prohibits visits by open supporters of BDS; Omar and Tlaib's visit could conceivably serve as a platform for promoting anti-Israel propaganda and possibly spark controversy and even riots. In calmer days, many Americans would keep an open ear to Israel's claims and take them into consideration.
But in the conflicted and polarized days of Trump, in which the world is sharply divided between fans and haters, Israel's refusal will only cement its association and identification with Trump and his administration. Henceforth, Israel will be viewed as so beholden to Trump that it was willing to harm itself and its own interests in order to assuage Trump's ego and to advance his shameful campaign of hate.
Siding with Trump against Democrats — radical and critical as they may be — will be seen as a slap in the face to the stature and dignity of Congress. It will compel the Democratic leadership to support and defend their boycotted colleagues and weaken their motivation to fend off their anti-Israeli diatribes.
It will give the BDS movement fertile ground to portray Israel as oppressive, racist and reactionary — and to depict it as a convenient cog in Trump's malignant machine. Israel's enemies must all be kvelling at the unexpected bounty, courtesy of Israel's own government.
Because of their religion, Israel's decision will be seen as anti-Muslim. Moreover, and much worse, because of the non-white color of their skins — Tlaib is of Palestinian origin and Omar hails from Somalia — Israel could be cast as condoning and even collaborating with Trump's assault on minorities.
When Trump dispatched Tlaib and Omar, along with their colleagues in the so-called "Squad," Ayanna Pressley of Massachusetts and Alexandria Ocasio-Cortez of New York, to "go back home," his invective wasn't interpreted as a defense of Israel (which Trump only uses as camouflage), but as another in a long line of incidents proving his animus toward foreigners of color, particularly those who dare criticize him.
The damage to Israel's standing among U.S. liberals will be immediate, but its full impact will be discernible only in the near and far future. Trump may be reelected to a second term and retain his standing as a Righteous Gentile until he's out office. But if he changes his tune, Israel will have lost its ability to deploy Congress as a bulwark against sinister White House designs.
If Trump loses the 2020 election, the incoming Democratic administration's approach to Israel will depend, first and foremost, on the policies and preferences of his successor. It's already clear, however, that among the legions of incoming officials and newly elected Democratic legislators, many will be starting their new jobs with a heavy heart toward Israel's behavior, a wish to compel it to change its ways and possibly an itch for exacting revenge as well. Netanyahu's decision on Thursday poured more fuel on embers already burning with rage.
It's a vicious circle: The more Israel is identified with Trump, the stronger the Democrats' resentment — sparking even greater anxiety in Jerusalem about a possible change in power, thus justifying ever more intervention on Trump's behalf, and so on. Like a gambler in hock over his head to loan sharks, Netanyahu's debts to Trump keep mounting, weakening his ability to say no to the president. In many ways, Netanyahu has allowed himself to be taken hostage by the White House and to dance whenever the president feels like fiddling.
In the longer term, the Israel-Trump axis runs contrary to the direction of U.S. history and demography. It could irrevocably stain Israel's name among Americans of a new generation, for whom the Holocaust and Israel's rebirth are distant historical memories while its occupation and repression of Palestinians are headlines on the daily news. It is a generation far more liberal, multiethnic and multicolored than its predecessors, one which, barring unforeseen upheavals, will set America's tone and agenda for many years to come.
The silver lining in these dark clouds lies in the fact that there is an escape hatch. Netanyahu, after all, has come to serve as the personal symbol of Israel's slavish support for Trump and all he stands for. If and when Netanyahu departs the scene, Israel will enjoy a rare moment of goodwill from Democrats, giving Netanyahu's successor the opportunity to start rebuilding from the ruins, assuming they are still salvageable.
Click the alert icon to follow topics:
ICYMI
Ken Burns' Brilliant 'The U.S. and the Holocaust' Has Only One Problem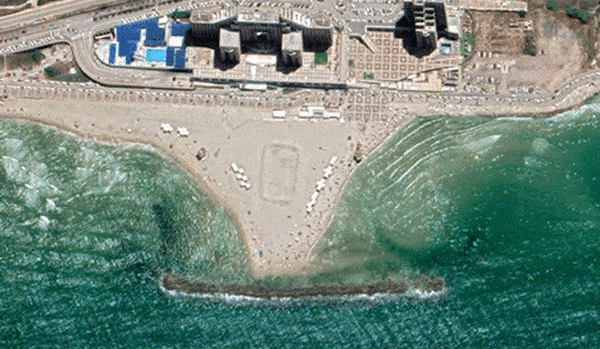 Facing Rapid Rise in Sea Levels, Israel Could Lose Large Parts of Its Coastline by 2050
As Israel Reins in Its Cyberarms Industry, an Ex-intel Officer Is Building a New Empire
How the Queen's Death Changes British Jewry's Most Distinctive Prayer
Chile Community Leaders 'Horrified' by Treatment of Israeli Envoy
Over 120 Countries, but Never Israel: Queen Elizabeth II's Unofficial Boycott