Whiteboard Jungle: One of Five Israeli Teachers Quits Within Three Years
A 'dysfunctional' education system drives many who retrained with the hope of making a difference to leave the profession
Illustration.
Credit: Leo Altman
Shahar, 38, was working as a lawyer when three years ago he decided to follow in his partner's footsteps and retrain as a teacher. Very quickly he discovered that life as a teacher is paved with potholes.
"My attempts to support the students, to be there for them and for the parents in hard times, to be an educator – not only were they not recognized, they actually were chided. In the middle of the third year I found myself looking for work in high-tech. I wanted to be in a more intelligent environment," he says.
Shahar is not the only teacher who is looking for other work. Many teachers came to the profession after other careers. They were lawyers, accountants and engineers, and arrived filled with hope of changing things and working in a field that had meaning for them. They even were ready to accept relatively low pay. But it didn't take long before they became frustrated by the system and started looking for a way out.
>> Read more: Rich Israelis spend four times as much on education as poor do, data shows ■ Pluralistic schools gaining traction in Israel
The program for retraining people with college degrees as teachers began about a decade ago, when the Education Ministry started offering college graduates in select professions an accelerated curriculum in education and the opportunity to work as a teacher in places with a shortage of them. The goal was to bring high-quality young people into the school system, after they gained experience in other professions.
From 2016 through 2018, 150 college graduates retrained every year as teachers, and their number reached 185 in the 2018-19 school year. The percentage of those who completed the training and found jobs in schools was very high – but the dropout rate after a relatively short time was high, too.
In 2016, for example, 7.6% of the college graduates, among Jewish Israelis, who retrained as teachers left after only one year of teaching – a 55% jump compared to 2013. Among Arab teachers the dropout rate after the first year was 9.4% – a 40% increase over 2013. Even among those who entered teaching the conventional way – by studying education in teachers' colleges – are abandoning the profession. The overall dropout rate for all teachers after three years is 20%.
Teachers who are coming from other professions invariably come in for a shock when they encounter the school system. "Before they worked in it, they knew rewarding, organized and proper work environments with people who acknowledged them and appreciated them. Suddenly they find themselves in a Third World country," says Adam, 40, who switched from high tech to teaching.
"The shock isn't just from the work environment, but from the personnel and salary, too. Pedagogically it's chaos too. The teachers are lost between the old and new teaching materials, and the Education Ministry is dysfunctional. You have to wait months to receive a clear answer," he says.
Teachers who have left, or are planning on leaving, paint a complex and frustrating picture of a system that views students as customers to be served and parents as a threat. They say the system is incapable of protecting its employees or providing proper conditions – but at the same time is constantly demanding more and more from them. All the people TheMarker spoke with were compelled to remain anonymous because the Education Ministry does not allow teachers to speak to the press freely.
A lack of discipline
One of the difficult problems Israeli teachers have to deal with is discipline, or more precisely the lack thereof in schools.
The 2018 Teaching and Learning International Survey (TALIS) of countries belonging to the Organization for Economic Cooperation and Development reveals that many Israeli teachers routine encounter fighting and violence in their classroom. No less than 13% of Israeli principals reported on physical violence between students, compared with only a 2% average for all OECD countries. A quarter of Israeli principals reported verbal violence and frequent threats among students, compared with 14% in OECD countries.
It requires a great deal of psychological coping, says Danielle, 36, who switched from marketing to teaching. "There are not a lot of jobs where you end your day sitting on the sofa and crying. And I'm not the only one. You give your students your all and your time, and they can easily say something very hurtful or argue in a psychologically exhausting power struggle. Students aren't embarrassed, they don't care and you need to have a thick skin. A lot of times I felt very small and very miserable," she says.
The problem is much worse because teachers aren't given the tools to deal with the situation.
"I'm funny by my nature," says Shani, 40, a single mother who switched to teaching from the media because she wanted job security. "In the past, I had done stand-up. I tried to be friendly." But if you aren't a famous and hilarious comic – and Shani admits she's not – you lose them. "And I have material to teach. You sit facing students whose interest in doing well in the bagrut [matriculation exams] is like my interest in learning fluent Chinese. It doesn't interest them at all."
They just want to pass the exam. They're on the phone in class, running out to get coffee, she says. "When you say there's no discipline, that they come late and leave class, the principal tells you: 'If they respect you, they'll come.' What is 'respect' you? The word respect is a nice, worn-out word. Another overused word is 'contain.' I understand that everyone has problems. But you can't contain a class of 43 students."
For its part, the Education Ministry terms its retraining program a success, pointing to a "dramatic" rise in people in it and that they account for half the new teachers annually at the high school level. It said the dropout rate was much smaller than that for teachers' college. "The ministry places great importance on the breaking-in process at schools and so every new retrained teacher gets a personal mentor from the school, joins peer workshops and gets evaluations," it said.
"Compared to other professions the dropout is minimal. Some dropouts simply got a better offer in high-tech during training even before they were admitted to the schools," says Nahum Hofree, head of the Education Ministry unit responsible for bringing high-tech workers into teaching
"I tell teachers that whatever difficulties they are having, the whole system is behind them. I explain to them that in order to take this step they have to bite their tongue and cope, because in the end, the job will bring them great satisfaction," Hofree says.
But the teachers who spoke to TheMarker say they get no support from either the system or from the parents. In a conflict with a student, neither will come to the defense of the teacher.
"I remember one case in which the principal demanded a student come to school in uniform," recalls Daniel. "When he arrived in class without one, I ordered him to leave, in line with the principals' instructions. His mother didn't like that and called the principal, who quickly apologized and said I was a new teacher who didn't understand that a blouse was also acceptable."
Daniel says the real reason was that the principal was afraid of the parents. "Parents interfere far too much and cause problems. Students sit with phones in class, and you have no authority over them," she says.
"When the teaching experience is so abrasive and difficult, and doesn't match the ideals of people who have dreamed of going into it, when they discover that they are not really teaching but rather function as policemen, then they quit," says Dr. Noam Gruber, an economist who conducted a study for the Shoresh Institution three years ago that sought to explain why Israeli students perform so poorly on the OECD's Program for International Student Assessment. PISA compares students globally for their skills in core subjects.
Pestered all day
Gruber found that lack of classroom discipline was a major factor, but its impact went a lot further than the students. "It creates an unruly workplace environment that can lead to a situation where the people who stay in the system are the ones who have no other choice," he says. "The status of the [teaching] profession is diminishing. It's a vicious cycle."
And while the system takes a forgiving attitude to undisciplined students, toward teachers it is very demanding.
"Every day I needed to be in the classroom by 7:40 in the morning and wait for the students to arrive," says Daniel. "That was required. No flexibility. I have tests to grade, I have things to do, but I was required to do those things in the school. I felt that they were constantly demanding my presence."
Michal, 32, agrees. "All the time they're asking, 'Where are you?' We're all human. If one morning I'm late, why do they have to wake me up?"
In Israel, there are no data on bullying at work, but a survey by the Central Bureau of Statistics found that the professions with the highest proportion of workers feeling stressed at least some of the time are nurses (75%) and teachers (66%). The demands they face, as can be gleaned from Facebook group postings, aren't about developing new learning programs but about petty requirements.
"I had almost no life," recalls Shahar. "During the day there are phone calls and Whatsapp messages. The unwritten demand is that you're available 24 hours a day, seven days a week. They'll send you a messages starting at 6:30 in the morning until 10 at night. They expect you to answer back."
The system doesn't acknowledge it, but it regards teachers as service providers with customers who need to be satisfied, says Shahar. Galit, who completed retraining and taught math for two years before quitting, said he felt she was spending more time on administrative matters than on education. Shahar estimates she spent half her time filling out forms and preparing schedules. "I spent too much of the day giving data the school used to provide cover against any criticism," she says.
"There are parent [Whatsapp] groups, class groups, teacher groups and they're always sending messages. They expect you to respond, take responsibility for developing discussions. Nobody seems to consider the possibility that I'm not available. They send and expect a reply," Galit says.
The constant demand on teachers belies the common perception that teachers' low pay is commensurate with the relatively few hours they work because of summer vacations and holidays. But Adam says the formal number of work hours doesn't capture the reality of a teacher's working day. "You're at a place where there's no lunch break, no place to work, no computer table. You answer parents' phone calls at night and aren't paid for the work."
The service-provider aspect is understood at the high-school level to mean one thing: Prepare your students for the bagrut. But as Iris says, many of her students say they could just as easily learn the material online rather than sit through classroom lessons. "My attempts at doing more, to give them material that requires thinking, to develop lessons that would stimulate their curiosity, got nowhere," she recalls. "The administration said I wasn't getting through the [required] material fast enough and the students complained I wasn't teaching what they needed for the bagrut."
In any case, teachers often don't have the tools they need to teach in a 21st-century classroom. More than three quarters of Israeli teachers in the TALIS study said they used rote methods of instruction, a higher percentage than in other OECD countries. Principals complain about the poor quality of teachers and aging infrastructure, such as PCs that aren't connected to the internet.
And if the school environment itself isn't enough to drive teachers away from the profession, the attitude of Israeli society towards teachers finishes the job. "'You're a teacher!?' It's the reaction I get when I tell people what I do for a living," says Michal. "The attitude is, I could be doing something a lot better with myself." Adds Omer: "Israelis relate to teachers as if they're at the bottom of the ladder." Teachers say the attitude is especially prevalent among parents.
"In countries where students excel at PISA, teaching is considered a coveted profession," says Gruber. "The system [in Israel], as it is today, doesn't know how to attract the most capable people. I think this is a matter of pay, as well as about the teaching experience and its status. But I would put less stress on pay. When the teaching experience is good and it retains good people, then its status rises and creates a virtuous circle."
Not all teachers – those fresh out of teachers' college and those entering the profession through retraining – fail to make a go of it. Avi Natan, who teaches junior high school math in Kiryat Tivon, is one who succeeded. He had been a volunteer teacher before that and completed the retraining program five years ago. His previous career was as a software engineer and manager at Microsoft Israel.
"I know quite a few teachers that competed retraining and believe me, it wasn't easy for them, but they're very satisfied," he says. "You have to learn how to persuade, how to attract and excite students. ... If you have expectations that you will achieve that just with your knowledge and experience, it won't work. But if you talk to kids as an equal and they realize you care about them, you'll slowly gain their confidence. "
It's not just the money
Over the last decade teachers' pay has improved and it's now above the nationwide average for salaries. The latest collective labor agreement, signed in 2018, sets starting salaries at 8,300 shekels ($2,360 at current exchange rates) a month. Still, the TALIS report found that more Israeli teachers (51%) are dissatisfied with their salary than others in the OECD (33% on average)
However, conversations with past and present teachers found that money wasn't the main issue that caused them to remain in teaching or quit it. Gruber said that even in the best national educational systems, it was status more than pay that influenced how the professional was perceived. The bigger problem, the sources who spoke to TheMarker explained, is getting paid properly to begin with.
"I knew that the pay would be relatively low, but I thought I would be a civil servant and that I would enjoy things that have all but disappeared from the labor market, like tenure and job security," said Or, who worked in the private sector before becoming a civics teacher. "But for months at a time my salary wasn't being deposited or only half of it would be. They said it was an accident. But the bank doesn't care if it's a mistake and I have children to feed."
Teachers have been complaining for years about problems like that only to be met with excuses from the Education Ministry.
"I consider myself a pretty intelligent person, but I couldn't understand my pay slip. Every month there was a surprise. Something was always missing. Then don't give you an answer. You send a fax. You meet with a bookkeeper from the Education Ministry and he does you a favor by fixing it," says Shahar. "I worked – pay me. Isn't that obvious?'
Click the alert icon to follow topics:
ICYMI
Ken Burns' Brilliant 'The U.S. and the Holocaust' Has Only One Problem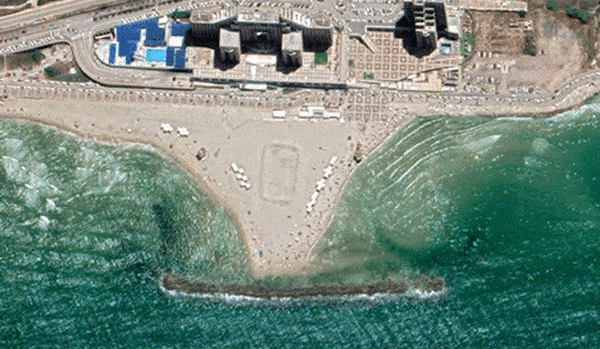 Facing Rapid Rise in Sea Levels, Israel Could Lose Large Parts of Its Coastline by 2050
As Israel Reins in Its Cyberarms Industry, an Ex-intel Officer Is Building a New Empire
How the Queen's Death Changes British Jewry's Most Distinctive Prayer
Chile Community Leaders 'Horrified' by Treatment of Israeli Envoy
Over 120 Countries, but Never Israel: Queen Elizabeth II's Unofficial Boycott