My Affair With Meyer Lansky, the Mobster
He was a famous gangster, she was a young waitress in Tel Aviv. Zali de Toledo recalls her affair with Meyer Lansky, who tried to use Israel's Law of Return to escape the FBI
This Hollywood movie has all the right ingredients: a young waitress falls in love with a Jewish organized-crime figure, who meanwhile wants to take advantage of every Jew's right to claim Israeli citizenship in order to escape the clutches of the FBI. Then there's the frightened prime minister who tries to get rid of him. For the grand finale, there's a lawsuit that reaches the Supreme Court and a final tear-jerking scene in which the plane carrying the mobster touches down in the United States and FBI agents take him into custody.
But it's not a movie. It was the real-life story of Zali de Toledo and Meyer Lansky. In the early 1970s, De Toledo, who is today 77 and lives in the Tel Aviv suburb of Ramat Hasharon, was a waitress in the lobby of the Dan Hotel in Tel Aviv. Life after the Six-Day War was beautiful, Tel Aviv was beautiful and De Toledo's life was about to turn in the same direction.
"One day, the hotel chauffeur comes to me, all excited, carrying a newspaper, and says, 'Look, there's a gangster here in the hotel who has $300 million. He burns down discotheques of anyone who doesn't pay protection money.' There was an American guy named Dan staying at the hotel, and I went over to him: 'Hello, darling, you know what? There's a gangster in the hotel.'" She didn't know that the affable American was a close friend of Meyer Lansky, the Jewish American mobster known for the gambling operations he controlled. He introduced Lansky, 66 at the time, to De Toledo, who was 26 – and she became the secret lover of the feared mafioso.
Feared? De Toledo bursts into laughter when I remind her that a whole country trembled at the mention of Lansky's name and that the press dubbed him a "dangerous criminal."
"Meyer told me that the first time we met he gave me his loveliest smile, so I wouldn't be scared," she says. "He was 1.50 meters [around 5 feet] tall, wore a bow tie and smiled at me with mischievous eyes. Not a funny person, but someone who makes you happy. I fell in love with him at that moment."
He wrote her no fewer than 350 letters, signed: 'Always remember that I love you.'
Recalling one of their first encounters she says, "He came to my place early, and I was still sleeping. At the door, I threw myself on him. I gave him a strong hug, and from that instant I felt that nothing could touch me. I found a father, a friend, someone to look after me and take care of me. As it turned out, I was the one who took care of him. I stood by his side through every crisis. That's how our affair started – friendship, a love story; we were a couple for 12 years."
De Toledo remained in touch with Lansky even after he returned to the United States in 1972. He wrote her no fewer than 350 letters, which in recent years she incorporated into a memoir, which she calls "Always Remember," evoking the words with which Lansky concluded his letters: "Always remember that I love you." The English-language memoir tells the story of their love affair and sheds new light on a man many thought they knew.
"The letters he wrote me were like a diary," she says. "One time he would write about politics, another time about pain, about what he felt, or about Israel. Sometimes I got two letters in one day." De Toledo wants to publish the manuscript both in English and in Hebrew, as a corrective to Lansky's name and memory.
Man, money, glamour
Even though Lansky was a well-known figure in Israel at the time he met De Toledo, in 1970, the couple initially enjoyed relative freedom and anonymity. They traveled to Nahariya in the north, ate in restaurants, frequented cafés. "But when the horrible publicity started, he barely came to my apartment," she says. "Women chased him all the time. If it's not the man, it's the money, if it's not the money, it's the glamour, if it's not the glamour it's the story surrounding him. Suddenly I had so many girlfriends, I don't know where they all came from. They wanted to have coffee with me, because maybe they would see him. Women threw their purses onto the sidewalk so he would pick them up for them, they wrote him letters."
Were you jealous?
De Toledo: "Very. I quarreled with him. I told him to give me those letters. I still have some of them."
He was a married man when you met. Was he with his wife at the hotel?
"Yes. But she took off. She had a son in the United States from her first marriage. She [his wife] loved me very much, but she was clueless. One day she said to me, 'There is so much love in you, the man who receives it will be happy.' I felt a bit guilty, but I got over it. To this day, I don't understand how we weren't written up in the press. The whole staff of the Dan Tel Aviv knew about it. Half the country knew. But still, they didn't write about it. Explain to me how that could be."
Maybe they were afraid of him.
"Everyone thought he was dangerous and they wrote bad things about him."
Wasn't there even one moment when you were afraid of him or of his friends?
"I was afraid that someone would kidnap him for his money. They said he had $300 million. There was a period of kidnappings then. He wrote me: 'These days, with all the publicity given to me and to rich people, you have to live in a vault.' People clung to him: 'Maybe you'll invest in this, maybe you'll buy me a house.' People liked him and became friends with him."
It never bothered you that you were in a relationship with a man who was considered a criminal?
'Women chased him all the time. If it's not the man, it's the money, if it's not the money, it's the glamour, if it's not the glamour it's the story surrounding him.'
"No. When you know the person, it's easier to accept him. The man I got to know was completely different from what everyone else thought. A man who was sensitive to the point of tears. He was at my place on the day on the day of the Munich disaster [the terror attack on the Israeli team at the 1972 Olympic Games]. He sat there in tears. I had never seen him cry. He said, 'The fate of the Jews hasn't changed.' He wasn't bothered by anything people said about him. He always said to me, 'What I did illegally has now become legal.'"
You never saw him with a weapon, or meeting with people at odd hours?
"He didn't have a weapon and he didn't meet with people at night. When his wife was here he was with her. When his wife wasn't here he was with me, day and night. We went to Arad and to Caesarea and to Jerusalem. He didn't meet with anyone."
Gangster or philanthropist?
Lansky was born in 1902 in Grodno, in the Russian Empire (today in Belarus) in 1902 to a Jewish family named Suchowlanski. At age 7, he immigrated with his parents to the United States, where he was naturalized under the name Lansky. He grew up on New York's Lower East Side, and played as a boy with his boyhood pal Benjamin Siegel. When they grew up, he and "Bugsy" established a gang that would grow into a crime organization called the National Crime Syndicate by the press. Together with another friend, Charles "Lucky" Luciano, Lansky later founded "Murder Incorporated," a council of gangsters who made decisions and settled disputes for the mob. The group is believed to be responsible for hundreds of contract killings.
Lansky was married to Anna Citron for 18 years; they had three children. In 1948, a year after divorcing Citron, he married Thelma Schwarz. Their childless marriage lasted 35 years, until his death, in 1983.
Lansky amassed his fortune from gambling, both legal and illegal, in Las Vegas and Cuba, from Prohibition-era bootlegging, and from extorting protection money from clubs. He was the brains behind the organizations, and also the money man. Lansky invested most of his money in real estate and oil wells in the U.S.
He was convicted in a number of minor incidents over the years, from disorderly conduct in his youth (a $2 fine) to trading in alcoholic beverages during Prohibition (a $100 fine). But Lansky went to jail only once: In May 1953, he was found guilty on gambling charges in Saratoga Springs, New York, and spent two months in prison.
In the United States, Lansky was very active on behalf of Israel, both financially and in public diplomacy. He helped transfer money to the Jewish community in Palestine in the Mandatory period and took part in financing the purchase of ammunition, ships and even Mirage fighter aircraft from France on the eve of the Six-Day War. He first visited Israel in July 1970, arriving on a tourist visa, which he extended several times, while applying for a new-immigrant visa on the basis of the Law of Return.
"[Prime Minister] Golda Meir heard by chance that a mafioso was in the country and took fright," says Robert Rockaway, professor emeritus of Jewish history at Tel Aviv University, and author of "But He Was Good to His Mother: The Lives and Crimes of Jewish Gangsters." "Interior Minister Yosef Burg told her in a cabinet meeting about Meyer Lansky, from the Mafia, who was in Israel. Golda heard 'Mafia' and said, 'I don't want Mafia here.'"
While researching his book, published in 1993, Rockaway spoke with Lansky himself. "He called my mother at home and asked for me. She got really scared," he laughs. "In our conversation, he started to talk about Yosef Burg and became very angry. 'Who does he think he is? Does he think he owns the country?'"
Rockaway believes that Lansky should have been granted citizenship. "If he were to request Israeli citizenship today, wouldn't he get it? Obviously he would. Prof. Shlomo Simonsohn, who was the rector of Tel Aviv University at the time, told me that Lansky came to him and said he wanted to donate a million dollars to the university, so that it would help him stay in the country. The university refused."
For her part, De Toledo says: "The Americans pressed for Meyer [who was then under investigation for suspected tax evasion in the U.S.] to be deported, and Burg didn't have the backbone to make the right decision. Meyer said, 'It's time for me to leave before there's a split in the nation.' He didn't want to get to that situation under any circumstances. One person who did want to allow Meyer to remain in the country was [then-Israel Defense Forces general Ariel] 'Arik' Sharon. When I came back to Israel [in 2005] after a decade as cultural attaché in Turkey, my first request was to meet with Sharon. It was too late, but it was important for me to thank him."
'His wife loved me very much, but she was clueless. I felt a bit guilty, but I got over it.'
From Turkey to Israel and back
De Toledo was 17 when she left Istanbul and arrived on her own in Israel. She settled in Kibbutz Yad Mordechai in the south where she married a kibbutz member a short time later. "It was the biggest mistake of my life," she recalls. "He hit me all the time. We moved to Hatzor Haglilit [in the Galilee], because his relatives moved there. We lived in two small rooms and a living room: an aunt and uncle, 11 children, and the two of us."
Ten months after the wedding, Simona, their only child, was born. A year and a half later, the couple divorced. De Toledo returned to Turkey without her daughter. "They took her from me. Simona was registered in my passport and I went to the Interior Ministry to ask what to do after the divorce. The official there wrote that the girl was born in Israel, and that way he prevented me from taking her out of the country."
What were you escaping from?
"I was escaping from Hatzor, I was escaping from beatings, I was escaping from poverty, I was escaping from ignorance, I was escaping from plainness."
After spending a year in Turkey, living with her parents, she decided to return to Israel. "I came to the Kings Hotel in Jerusalem in a white leather coat, elegant, a style that was unknown in Israel. I said I was looking for work. They sent me to collect dirty laundry. For four years, I worked in menial jobs like that. I moved to the Diplomat Hotel and cleaned bathrooms, the dining room, 22 rooms a day. I was a workhorse. The secretary of [the hotel's owner] Haim Schiff was there, and she told me to go to Tel Aviv, because that was the place for me. I went to Tel Aviv, to the Dan Hotel, to look for a job as usual. They made me a lobby waitress."
The lobby of the Dan was indeed the place to be at that time. "Important and rich people used to hang out in the lobby. I liked working there," she says. "After my relationship with Lansky began, he asked me how he could help me. I replied that I wanted my daughter back, but that I had no place to take care of her. I was living in a single room, I worked nine hours a day. Even if she were living with me, who would look after her?"
Whereupon Lansky bought her an apartment on upscale Weizmann Street in Tel Aviv, and her daughter was restored to her custody. "As long as he was alive," says De Toledo, "he helped us financially. He dreamed of taking me to the fjords in Norway, but that didn't happen, of course. Most of the time we were together."
Half a year into their relationship with Lansky, De Toledo discovered that she was pregnant. "I was 27," she recalls. "He wanted to keep the baby, but he left the decision to me. We didn't know whether Meyer would stay in the country, we didn't know what would happen in the trial [a reference to his appeal to the High Court over not being granted citizenship], we didn't know what would be with me, we thought that if his wife found out there would be a scandal. I had a serious problem. I had an abortion, and years later he would ask me, 'How old would he have been today?' I don't know why he thought it would be a boy, but he did."
And all this time you and he were alone? He never met here with any of his associates in Israel?
"He had a friend here, Joe Stacher, they'd known each other for years. He was a bachelor, all the girls clung to him, ugly as a monkey, a total idiot. There were no geniuses in Meyer's circle. I knew Joe. We went out to dinner with him a few times, he used to accompany us."
Was he a gangster, too?
"I hear the word 'gangster' and my hair stands on end. What is a gangster?"
You don't think Meyer Lansky was a gangster?
"No. He was considered to be one because of the connotations that people pinned on him. Whatever was bad, was pinned on him. Everything that happened in the United States, when clubs were burned, was pinned on him. Everything that happened in the world of crime, was pinned on him. In the United States he was guilty of everything. Because of the title 'gangster,' everything was pinned on him."
He confessed to things he did.
'Prime Minister Golda Meir heard by chance that a mafioso was in the country and took fright. Golda heard 'Mafia' and said, 'I don't want Mafia here.''
"Of course he confessed. So did his friends. You have to have known the man. He was very loyal, no matter to who, but very loyal. After they smuggled whiskey and built Las Vegas with him in his youth, he didn't forsake them, because he was loyal."
Did he share information about his business with you?
"He said, 'The less you know, the better. If tomorrow or the next day you are summoned to testify against me, I want you to take the oath wholeheartedly.' So he didn't tell me much, only things that I got out of him here and there, about Cuba and gambling. Sometimes he also wrote to me about things I'd asked. He explained to me about gambling in the United States, about what he thought of gambling."
What did he think of gambling?
"He wrote that it's a business and that it's a pity for it to happen in poor areas, because it's an amusement for people with money. He also said that people need to set aside some of the gambling winnings for the needy. He said, 'I smuggled whiskey, [did] some illegal gambling and some legal. Why illegal? Because they didn't give me a license.' That was one of the things where the laws worked against him.He made mistakes. He made a lot of mistakes, fine, he agrees. Do you think all those [liquor] barons got rich legally? You have to understand the situation at the time [during Prohibition]. Smuggling whiskey was welcome, people wanted to drink."
Afterward, De Toledo managed a Tel Aviv art gallery for four years, did public relations work for the Israel Philharmonic, did market research for an entrepreneur interested in attracting Catholic pilgrims from Spain to visit Israel, and in 1993 was appointed Israel's cultural attaché in Turkey by then-foreign minister Shimon Peres. She held that post for a decade. "I did major work on advancing the ties between Islam and Judaism," she says. "I thought that as a Jewish woman and an Israeli I wouldn't be able to enter the world of Islam, but I developed a friendship with the Turkish minister of religious affairs. We did marvelous work." When she returned to Israel, at age 60, she became chair of the Association of Immigrants from Turkey – representing a community of 100,000 – a position she held for six years.
Lansky and Talansky
When it came to the question of Meyer Lansky, during the two years he lived here, the country was divided into two camps: those who supported the right of any Jew, without exception – and certainly one who had assisted Israel – to take advantage of the Law of Return; and those who were apprehensive about taking him in, because of his involvement with organized crime.
"One person who made use of him every day, as though he were saving Israel from the criminal called Meyer Lansky was Ehud Olmert," De Toledo says with unconcealed anger. Half a century has passed, but she's still furious at Olmert, who at the time was a university student.
"Not a day passed when he didn't shout from the rooftops that Meyer must not be allowed to stay in the country, that he must leave, that Israel is not for criminals. Olmert did Lansky so much damage, but the irony is that Olmert finished off Lansky – and Talansky finished Olmert," de Toledo says, referring to Morris Talansky, who was a key witness in one of the bribery cases against Olmert, which ended in his conviction in 2015.
The country was in an uproar. Lansky was constantly in the headlines, and he took it upon himself to try to smooth things over. In a meeting with officials at the Interior Ministry's branch in Tel Aviv, Lansky admitted that he had formerly engaged in running illegal gambling operations. At the same time, he claimed that the kind of betting he promoted was accepted and conducted openly at the time almost everywhere in the United States. During the meeting, Lansky said that he had completely ended his involvement with gambling in the U.S. in 1950 and had done likewise in Cuba in 1959, following Fidel Castro's takeover. Beyond that, he was irate that the Israeli and world press had exaggerated his nefariousness.
The decision of whether or not to issue Lansky an official ID card was ultimately in the hands of Interior Minister Burg. He sent State Prosecutor Gabriel Bach to Washington, D.C., to gather information about Lansky and his exploits.
The then-U.S. attorney general, John Mitchell, placed the FBI's dossier on Lansky at Bach's disposal, including transcripts of wiretaps and films. "The FBI file on Lansky runs to a few thousand pages, but it contains nothing," says Rockaway, who is in possession of a photocopy of the entire dossier. "It's all hearsay, newspaper articles. His phone was tapped, but he didn't mention names. He wasn't dumb, and he didn't talk business on the phone."
In the wake of the documents he had amassed, Gabriel Bach was skeptical that he could make the case to Burg that Lansky posed a danger to the public, but Burg vetoed the idea of granting the gangster citizenship. Lansky petitioned the High Court of Justice, which upheld Burg, ruling that the petitioner's criminal past made him a threat to public safety.
"At the same time," says De Toledo, they cooked up five new trials for him in the United States. One of them was for contempt of court," after he failed to appear at a hearing there, as his appeal was going at the same time in Israel.
From what you say, it sounds like he was railroaded.
"Absolutely. They took a man called Vincent Teresa, [a loan shark] who was doing time in prison, a vicious criminal, who told the court that Meyer had given him tens of thousands of dollars from gambling in Miami. At the time, Meyer was in a hospital in Houston for surgery. The FBI didn't check out any of that. Afterward, he was acquitted in those five trials in the United States. I held his hand in court. He told me, 'You brought me luck.'
Was he disappointed by Israel?
"Yes and no. He wrote me in a letter: 'Many people come to me and tell me how angry they are about the problems Israel made for me. I never say a bad word about Israel, especially not next to Christians. We will do the dirty laundry in our kitchen.' He was disappointed in Burg, in Golda, in the court."
Thrown to the lions
In the end, then, Lansky spent only two years in Israel. "As soon as it became known that he had to leave, everyone took advantage of him," says De Toledo. "He wanted to travel to El Salvador, because he knew that they would run roughshod over him in the United States and was afraid to go there. He said, 'At least I won't throw myself to the lions.' He requested a visa to El Salvador, and a line of people, stretching all the way to the ambassador, formed in front of him, and each of them took money from Meyer. The ambassador could have spoken to El Salvador by phone or sent a letter in the mail, but Meyer had to pay a lot of money. But he was desperate."
It pained de Toledo to see Lansky suffer so much. "I asked him when he was leaving, and he always answered, 'At some point.' But one day the visa for El Salvador arrived and on that day he told me, 'Tomorrow.' I broke into tears, and I don't usually cry. He said, 'Don't make this any harder for me than it is.' He said he would bring me to where he was going and would look after me. The next day I knew he was taking the plane, but there was a knock at the door. I opened it and saw him. He came for a coffee. It was just for 10 minutes, but he came to see me. I don't know how he evaded all the reporters who were waiting for him on Be'eri Street."
Lansky boarded a plane for Europe. "When he landed to get a connecting flight, FBI agents came onto the plane and kidnapped him to Miami," says De Toledo. The New York Times' account is different. It reported that he was not allowed into Switzerland, where he flew from Israel, and subsequently tried to enter Brazil, Argentina, Paraguay, Bolivia, Peru and Panama. Each time he was denied because he was traveling on an Israeli "safe conduct" document and not his passport, which he apparently left with his lawyer in Tel Aviv. El Salvador is not mentioned, but the article refers to a Latin American country that led Lansky to believe it would grant him asylum.
Lansky's arrest in Miami was based on his failure to appear in an American court in 1971; tax evasion was then added to the charges. He was acquitted of all charges in 1974.
Lansky had left Israel but he had not forsaken the woman he loved. "I didn't know where to write him," she says. "He found two old ladies, the Greenberg sisters, and the whole connection between us was through them. His chauffeur, Chaimie Krumholtz, also passed messages between us."
Why didn't he send letters himself, or call?
"He was a married man and we could not be in direct contact." But she says that Lansky would pay for her to visit him in Miami, and rented a residence for her to stay in, near the home where he continued living with his wife.
De Toledo usually visited Lansky twice a year, up until the year before his death, in 1983, at age 81, in New York. They hadn't seen one another for ten months before his death. "The Lebanon War had broken out and my son-in-law was mobilized, so I couldn't leave the country.
"I had promised him that I would never call or write him at home. I didn't want to call him with his wife sitting by his side. Gradually I accustomed myself to his not being around. So, when he died it didn't come as a surprise."
She remembers the day of his death vividly. "It was January 15, 1983. I used to rest between the morning shift and the evening shift [at the Israel Philharmonic]. My sister woke me up at a quarter to three in the afternoon. She told me that Meyer was dead. I turned on the news at 3 and they said he had died. I had to go to work. I always wear black. On that day I wore light-colored clothes to counteract the pain."
ICYMI
Ken Burns' Brilliant 'The U.S. and the Holocaust' Has Only One Problem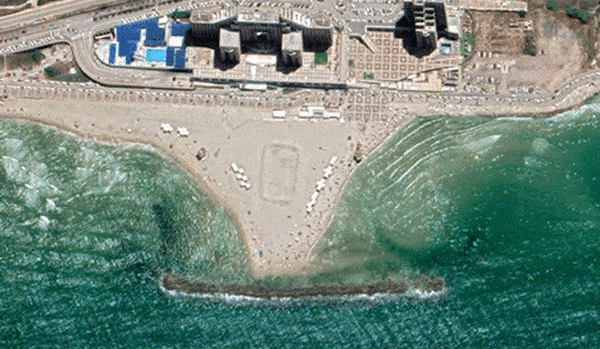 Facing Rapid Rise in Sea Levels, Israel Could Lose Large Parts of Its Coastline by 2050
As Israel Reins in Its Cyberarms Industry, an Ex-intel Officer Is Building a New Empire
How the Queen's Death Changes British Jewry's Most Distinctive Prayer
Chile Community Leaders 'Horrified' by Treatment of Israeli Envoy
Over 120 Countries, but Never Israel: Queen Elizabeth II's Unofficial Boycott