What's Missing From Netflix's 'Red Sea Diving Resort'
Netflix's 'Red Sea Diving Resort' tells the true story of how the Mossad rescued thousands of Ethiopian Jews from Sudan. Too bad it is so emotionless and one-sided
Alessandro Nivola, Chris Evans, Haley Bennett and Michiel Huisman in Netflix's "The Red Sea Diving Resort."
Credit: Netflix / Marcos Cruz
The secret to gaining the most satisfaction out of Netflix's "The Red Sea Diving Resort" (out now worldwide, but probably not so much in Sudan) is to know as little as possible about it beforehand. In that regard, it is very much like eating at Chipotle.
Like 2012's "Argo" before it, this is a film based on a stranger-than-fiction scheme to rescue people from a hostile environment (in the case of Ben Affleck's film, Americans in Tehran during the 1979 hostage crisis; in the case of Gideon Raff's new film, Ethiopian Jews from Sudan at more or less the same time).
'Red Sea Diving Resort' hits Netflix. Here's the unbelievable Mossad op behind it
The true story of how the Mossad hatched its outrageous plan to set up a fake vacation resort on the Sudanese shoreline has been one of the most popular reads on this very website for the past 12 months. But can the film prove as popular on the streaming giant? Well, it's definitely a slickly told crowd-pleaser, but I was ultimately left frustrated that such an amazing true story failed to engage emotionally. (It's also a problem I had with "Argo.")
Let's use the words of the film's Mossad commander, Gen. Weiss (Danny Keogh, in what proved his final role), to lay out the story. After the film's protagonist, Ari Levinson (a hirsute Chris Evans), pitches his idea of how to bring thousands of Ethiopian Jews to Israel from wartorn east Africa, this is the Mossad chief's response: "So your idea, just to reiterate, is to send a group of Jews to a Muslim country … to run a fake hotel in order to rescue a group of black Jews who might not be able to survive a 1,000-kilometer walk across the desert, to be smuggled out to sea by Israeli Navy Seals to an Israeli ship." And that's your movie, right there.
"The Red Sea Diving Resort" is the latest Netflix offering to put the Mossad in the spotlight. As well as showing the Israeli series "Mossad 101" and the documentary "Inside the Mossad," it also produced the one-off film "The Angel," about a double agent working for both Israel and Egypt. And Sacha Baron Cohen will be seen at some point playing Eli Cohen, aka "Our Man in Damascus," in a six-part series (also created by the director of "Diving Resort," Gideon Raff). It's all enough to make U.K. Labour Party leader Jeremy Corbyn cancel his Netflix subscription, especially given the heroic light in which these productions generally cast their operatives.
"Red Sea Diving Resort" is a better film than "The Angel" — I would happily sit down with my teenage kids and watch it again — but it also feels like a missed opportunity. A subject matter as dramatic as this deserves more time to be told, with far greater emphasis on the actual Ethiopians risking it all to make it to Israel.
In its favor, Raff's film features some well-staged set-pieces that ratchet up the tension as the five Mossad agents try to get thousands of Ethiopians to safety, and there's some excellent use of stunning South African scenery (standing in for Sudan). There's no doubting the ripeness of this yarn; it's just a shame that most of the characters are so bland and forgettable.
Raff will always earn a pass from me for his two brilliant seasons of "Hatufim," which was famously reworked into "Homeland" in America. But I wish he had decided to turn "Red Sea Diving Resort" into a TV series instead of a two-hour thriller that leaves only the barest of time for characterization, given how much plot there is to burn through.
None of the characters succeed in leaving an indelible mark onscreen (although Alessandro Nivola's loyal, long-suffering Mossad sidekick comes closest). Ben Kingsley certainly delivers an eye-catching performance, but not necessarily in a good way: His Mossad chief is straight out of a Noel Coward play rather than Israeli intelligence, with his constant references to "the chaps" out in the field.
Mind you, at least Kingsley's character suggests some kind of national identity. Everyone else feels more like a CIA operative than an Israeli spy, with the only Hebrew to be heard during the Idan Raichel Project song that plays over the end credits. (Bizarrely, the Ethiopians get to speak Amharic and the Sudanese Arabic, but the Israelis only English.)
There is a brief discussion of Solomon and the Queen of Sheba to help explain the presence of Jews in Ethiopia (using that old saw of an adult relating it to a child), but otherwise this is disappointingly generic fare. (There is a great story in real life that one guest at the resort — a Canadian Jewish man — deduced that the "Europeans" running it were really Israeli because of their chopped cucumber and tomato salads, but there is no room for such detail in this retelling.)
We get some minor backstory for Evans' protagonist (who has recently separated from his wife and daughter), but it's all pretty scant. Those desert vistas offer more nourishment than the script. And it almost goes without saying that the Ethiopians are presented as mere pawns in this story, with only Michael Kenneth Williams' Kabede Bimro given any chance to make an impression. (His character is inspired by the Ethiopian activist Ferede Aklum, who led thousands of fellow Jews out of their villages and into Sudanese refugee camps to await rescue from the Mossad.)
You want to spend more time with Bimro and the other Ethiopians. There's one powerful scene where he's confronted by a desperate woman at the refugee camp who admonishes him, "You promised to take us to Jerusalem, but you brought us to hell," but otherwise — nada. Depth is sacrificed to rattle through that crazy real-life story: The way the Mossad team is assembled and trained gets a couple of minutes; the entry into Sudan gets a few scenes; the key moment of how the fake hotel actually becomes an actual diving resort is glossed over (the Sudanese workers maintaining the hotel are rendered invisible by the script).
Sixty-odd years ago, filmmakers worried that TV would destroy movies. Hollywood adjusted, of course, but it has become increasingly clear this past decade that the limited series on TV has made it harder for films like "Red Sea Diving Resort" and "Argo." We are now used to longer-form dramas that really dig deep into a subject and explore that world. But that is not possible with a running time that allows only for the shallowest of storytelling: "Red Sea Snorkeling Resort" would have been an apter title.
I wanted something that presented the Ethiopians as more than just a bedraggled mass traipsing through the desert; I wanted to see the Mossad operatives getting to know each other; I wanted to see them going home on leave and trying to adjust from their surreal day job at a fake resort. And lastly, I wanted some kind of recognition of what happened to the Ethiopian Jews after they arrived in Israel: They were promised Jerusalem, but how many ended up in hellish outlying towns, ghettoized and abandoned by the Jewish state?
The only time the film really struck an emotional chord with me was at the very end, when photos of the actual resort and Ethiopians being rescued were displayed alongside the credits. Yet even then, the final message seemed too bland, too generic, to hit home when it tells us: "There are currently more than 65 million displaced refugees around the world."
In a story about a people returning home to Zion after 2,700 years in the wilderness, it's a shame that the Ethiopian Jews couldn't have had a larger part in their own story.
Click the alert icon to follow topics:
ICYMI
Ken Burns' Brilliant 'The U.S. and the Holocaust' Has Only One Problem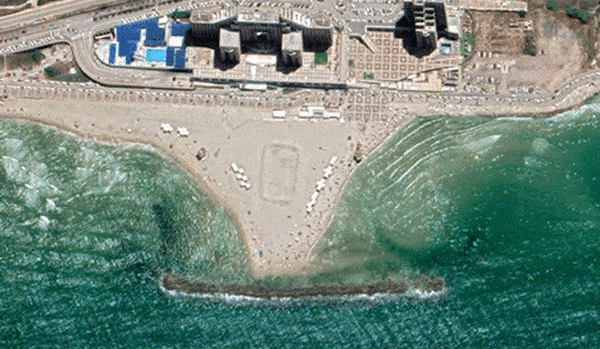 Facing Rapid Rise in Sea Levels, Israel Could Lose Large Parts of Its Coastline by 2050
Lapid to Haaretz: 'I Have Learned to Respect the Left'
The Mossad's Fateful 48 Hours Before the Yom Kippur War
As Israel Reins in Its Cyberarms Industry, an Ex-intel Officer Is Building a New Empire
How the Queen's Death Changes British Jewry's Most Distinctive Prayer