Opinion |
Israel's Education Minister Just Said Most American Jews Are Dead to Him
Rafi Peretz can't get why calling U.S. Jewish assimilation a 'second Holocaust' is so offensive. It shows that Israel's religious nationalists now have about as much in common with liberal U.S. Jews as Pharisees and Jesus did
An Israeli flag inside the "Shoes on the Danube Bank" memorial during the annual March of the Living to commemorate victims of the Holocaust. Budapest, Hungary, April 14, 2019
Credit: \ BERNADETT SZABO/ REUTERS
If human being are still around here on earth in another couple of thousand years, will they look back on this period in Jewish history and regard the Jews as belonging to a nation, a people, a religious community or an ethnic group?
I often think that our descendants in 4019 will view us very much in the way we look back today on all those diverse and sometimes esoteric religious groups milling around ancient Judea, round about the time of a Jewish firebrand named Jesus.
It would be hard to claim today that all those cults and sects - the Pharisees and Sadducees, Essenes and Nazarenes, proto-Christians, Boethusians and Karaites - were part of the same nation. They certainly didn't stick together for long.
>> Netanyahu, AOC, Concentration Camps and the Obscene Holocaust Hypocrisy of Right-wing Rage >> Every Jew in America Should Actively Protest Trump's Concentration Camps
At some points, such as during the Maccabean Wars, they were literally at each other's throats. Of course, there were periods when members of the different groups could have been as close as brothers, but with the hindsight of history, we can see how the evolutionary process cleaved them in to separate branches and within a matter of generations, often murderously rival religions and nations.
I found myself thinking about these variations and mutations in Jewish evolution this week when Channel 13's Barak Ravid, not long ago of this parish, reported on what the new Education Minister Rafi Peretz had said in last week's cabinet meeting. According to Peretz, "the scale of Jewish assimilation in North America is like a second Holocaust."
Now, egregious comparisons to the Holocaust by politicians are nearly always reprehensible and should be called out as such, whether they are being made by Benjamin Netanyahu or Alexandria Ocasio-Cortez, but there's something more troubling about what Peretz said than just the - sadly all too common - abuse of Shoah vocabulary by cynical politicians.
Rabbi Peretz isn't a politician. Until he was drafted four months ago by a special ad-hoc committee to replace Naftali Bennett as the new leader of the nationalist-religious Habayit Hayehudi party, he was principally an educator, the head of a popular pre-military academy for young religious men.
When he spoke those words in cabinet, he was unaware that most of what gets said there is leaked. He wasn't grandstanding for public effect. This is what he really thinks and feels. And it's a pretty standard trope within many religious, and even some not so religious, Israeli circles.
When Peretz says the situation of Jews in North America is a "second Holocaust" - and by "assimilation" he means of course intermarriage - he is basically saying that a large proportion of American Jews are dead to him.
And though it may seem a callous thing for him to say, he isn't saying so out of cruelty or heartlessness. I actually believe that in his heart he is convinced that he loves them. Peretz was talking out of narrow-mindedness and ignorance, as he doesn't know and can't conceive of a Jewish identity that exists in an environment where Jews marry non-Jews and do not necessarily have a strong commitment to Israel and Jewish religious belief and ritual.
Peretz can't conceive just how offensive his remark was to American Jews because as far as he's concerned, they have already died spiritually. To go back for a moment to the Maccabees, who fought Hellenization, and killed Hellenizing Jews: from his perspective, spiritual death is even worse than the physical kind. It's not just a second Holocaust, it's a worse holocaust.
If you want to find a similar form of speech, look to the way anti-abortion fundamentalists speak of a "genocide" of millions of unborn children.
Regarding assimilation, and intermarriage as a form of annihilation, is similar, but not entirely identical to, the classic ultra-Orthodox view of secular Jews as being "babes taken captive," and therefore not responsible for their transgressions.
For Peretz is an Orthodox Jewish nationalist, who never tires of reminding us of his service as a helicopter pilot in the Israeli Air Force. For him, secular Israeli Jews can never truly assimilate, as they share the "spiritual" bond of service in the IDF, which he equates with performing mitzvot. He can't envisage any analogous bond with assimilated and intermarried Jews in the Diaspora. They are irrevocably lost.
Perhaps Peretz is right. Maybe there is no longer anything to connect an Israeli religious nationalist with an American liberal Jew.
It is totally feasible that we are at one of those points in Jewish evolution where different groups have already grown so distant that they can be considered distinct species. And it shouldn't be so strange to us, because historically, while some Jewish groups established commonality across continents, divergence was almost always the norm, at least until the middle of the last century.
Over seven decades ago, there were two events that, for the first time in history, completely erased all distinctions between different groups of Jews.
Nazi Germany, in targeting and marking all Jews down for destruction, for the first time put communists and capitalists, assimilated and ultra-Orthodox, Bundists and Zionists and Ashkenazim and Mizrahim, all literally in the same camp. In the Holocaust's aftermath, Jews once again regarded other Jews, no matter how distant, as being members of one people. But it wasn't always thus.
Three years after the camps were liberated, a sanctuary for all Jews was established in Israel and millions of the most diverse Jews arrived. For 71 years, Israel has deliberately fudged the definition of Jewishness for the purposes of the Law of Return, despite challenges from Haredi parties. But essentially, it has remained intentionally vague and elastic.
Last week's Ethiopian-Israeli protests were a reminder of how back in the early 1980s, despite the views of most rabbis, historians and anthropologists, Menachem Begin's government accepted that the Beta Israel of Ethiopia were also Jewish.
But the effects of those two pivotal moments in Jewish evolution, the Holocaust and Israel's foundation, are wearing off.
Peretz (just like a certain U.S. politician erroneously speaking of "concentration camps") may think that by calling assimilation a "second Holocaust," he is sounding alarm bells over an impending catastrophe. Instead, he is simply demonstrating his ignorance, and emphasizing just how deep the chasm is.
He may know more Torah and Talmud than what he'd define as "spiritually dead" Jews, but he has no idea of any of the multiple Jewish identities which exist outside the confines of Israel and Orthodoxy. And in his own words, he is damning the slender chances still remaining of finding any common ground on which these disparate groups of Jews can still stand together.
Click the alert icon to follow topics:
ICYMI
Ken Burns' Brilliant 'The U.S. and the Holocaust' Has Only One Problem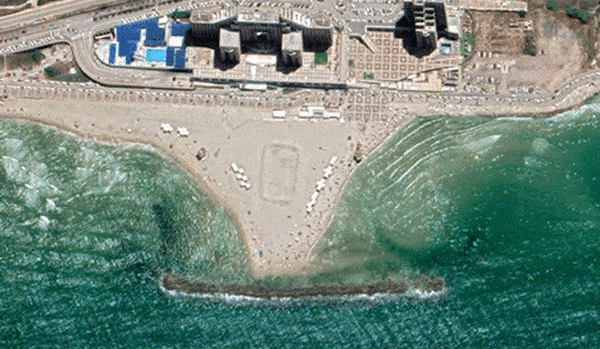 Facing Rapid Rise in Sea Levels, Israel Could Lose Large Parts of Its Coastline by 2050
As Israel Reins in Its Cyberarms Industry, an Ex-intel Officer Is Building a New Empire
How the Queen's Death Changes British Jewry's Most Distinctive Prayer
Chile Community Leaders 'Horrified' by Treatment of Israeli Envoy
Over 120 Countries, but Never Israel: Queen Elizabeth II's Unofficial Boycott