Why Every Israeli Should Visit Cairo
Despite the poverty, the travel advisories, the ripoffs and the disgraceful attitude toward women, our correspondent warmly recommends a visit to the Egyptian capital – and further afield
Cairo.
Credit: Christopher S. Rose / Getty Images IL
Prior to the revolution in Egypt in 2011, I would visit Cairo once or twice a year. I would travel for six hours in a shared taxi from Taba, pressed up against mustachioed Syrian foreign workers in pajamas. But I was happy. After Tel Aviv, Cairo is the city I love best. After the revolution, I decided to wait for the situation to stabilize before returning to my paramour. Yet, even after the dust settled, for some reason I didn't go. Finally, in order to make the trip happen, I pulled a fast one on myself: I obtained a visa at the Egyptian embassy. The visa's only good for four months, so you have to use it posthaste. Well, the trick worked: I went. But it was a dumb decision, because I was forced to visit Cairo at the beginning of its broiling hot summer – the worst season.
It wasn't the trip of your average tourist to Cairo. I was like an exile returning home, to his old haunts, even if they're not standard attractions. I didn't go to the pyramids, for example, but I did check out a large number of cafes in the downtown area and a certain pita-and-squid stall on the part of Gezira Island that belongs to the classy Zamalek district. Mostly I strolled the streets from morning to evening, a huge smile spread across my face, even though I pretty much confined myself to a relatively small area in the city center. Is there a worse tourism journalist than me?
During the period when I wasn't visiting Cairo,the Lotus Revolution happened, Mohammed Morsi (who died this week) rose to power and a military coup was launched to unseat him. What's most surprising is that after this series of upheavals, everything is just as it was, as though it had only been a month or two since my previous visit. All the restaurants and cafes I frequented in earlier visits are still there. Only the merchants have aged a little. I stayed at the Windsor Hotel, which was built in 1893 and maintains a serious colonial atmosphere. The members of Monty Python stayed there when they visited Egypt. The same reception clerks looked after me, as did the same elevator boy – who's far from being a boy, more of an elevator elder.
They even remembered me. In Tel Aviv it's rare for a restaurant to survive for a decade, or for a reception clerk to work in a hotel for more than two years without feeling like he's a total failure. That's the beauty of Egypt, a land where rulers and conquerors come and go, from pharaohs to Mamlukes to Brits, leaving their souvenirs heaped up indifferently, one atop the other, raising a sweet dust. The only change I noticed was that the Mubarak Station on the Metro line had changed its name to A-Shuhada (Martyrs), to commemorate the demonstrators killed in the 2011 revolution.
Besides the bush-league decision to go in early summer, I made another mistake by arriving during the Eid al-Fitr celebrations that mark the end of the fasting month of Ramadan. The authorities prohibit stores downtown from opening during the holiday, and it's also more difficult to leave Cairo. But here and there, there were open stalls, including a whole alley of firecracker stands that continued operating in the Khan el-Khalili market. And at night, the city somehow came back to life. You could walk along the street and see fire-eaters. Laws or not, prodigious Cairo can't actually stop bustling.
The most crowded places during the holiday were the movie theaters. To mark the holy month and the 50th anniversary of the War of Attrition with Israel, a patriotic action movie based on the Egyptian narrative of that period, called "The Crossing," was released. The streets around the theaters were packed with young people, who jostled each another on the way to the entrance. The situation nearly became violent and necessitated the presence of security forces. When the streets burst with people, the crowd spilled over onto the road and cars couldn't get through. A million tickets were sold nationwide on the first two days after its release. I thought of going to see it, but I was afraid to be run over and add yet another Israeli fatality to the foolish War of Attrition. By the way, Al-Ahram's movie critic panned the film: It was banal, in his judgment, and the Israeli characters were depicted superficially as wicked and weren't credible.
Becoming an Estonian
In Cairo I usually present myself as a Croatian. I go to have a good time, not to engage in political arguments or dreary conversations about relations between neighbors. One time I spoke with an affable local hipster and said I was from Israel. He turned out to be a programmer born in the Gaza Strip. I panicked for a second, but the guy almost wept with emotion. He regaled me with stories about the days when he worked in Tiberias and how much he missed the people there. He asked me to remind him of words in Hebrew. Afterward he asked me to leave him a low-denomination Israeli bill as a souvenir.
In the past I had a brief affair in Cairo with an Egyptian intellectual, who had Hezbollah stickers pasted on her laptop and struck up a conversation with me in a local club. When she invited me over, I felt obliged to admit that I was not Croatian, but Israeli. She literally trembled.
The old coffee shops are one of the spectacular things about Cairo.
In contrast to Israelis, who don't really take any special interest in the Middle East, Egyptians are very curious about Israel, sometimes bizarrely so. The universities in Egypt offer well-attended courses in Hebrew. I'm constantly getting emails from Egyptians that refer to Hebrew literature. In this case, the Egyptian damsel said she was aware that there are Israelis who support peace, and she liked me, but I felt like a German visiting Israel in the 1950s.
For this trip, after Croatia became a power in soccer, a subject I know nothing about, I became an Estonian. I figured I'd do whatever's possible to maintain Estonia as a country that's of no interest to the world.
The fact is, I went to Egypt for a pretty pathetic reason. I missed the Hurriya Café, which looks like a community-center gym decked out with tables and has appalling service to boot. Still, there's nothing like it anywhere in the world. It's hard to describe the atmosphere in this establishment, where clerks mummified in suits sit for hours, entrusting their shoes to a polisher who works on the premises, alongside young men and women with rebellious demeanors. It's the type of place where revolutions start.
In the decade that's gone by since my last visit, Hurriya's drinks waiter has become even more brazen. This guy hates it when customers order coffee or tea and not beer in the evening, because beer is more expensive and costs – hold on tight! – $2, thus earning him larger tips. To hint that I should order beer he would always pile up a few bottles on my table, as though it was a way station en route to taking the beers elsewhere, and shoot me a malicious look. In my resistance, I would order more chocolate drink. I hoped he would disappear, but he was still there, as always, smilier and nastier than ever. One time he didn't even ask; he simply brought a beer without my ordering it, and removed the cap.
The old coffee shops are one of the spectacular things about Cairo. Café Riche, for example, is a gorgeous place of carved wood, established in 1908 in the city center. In the past, I'd always passed by, but for some reason had never gone in. A lot of Egyptian history happened in that café. It is said that it was there that King Farouk first saw his second wife – Narriman Sadek, aka "Cinderella of the Nile." During the demonstrations in 2011, the café helped protesters hide from the police.
I think it's the duty of Israelis to visit the country that was their greatest enemy.
This time I decided to go in and have coffee. Hanging in the foyer of the washroom, which is almost the same size as the café itself, were a host of black-and-white photos of Egypt's cultural patriarchs who had been regulars at the establishment. Above all of them was a huge photograph of the national writer, Naguib Mahfouz. Inside, I couldn't help wondering which of the urinals the 1988 Nobel laureate used to relieve himself. Finally I chose one and felt like I was part of a link in the chain of Middle East history.
When I returned to the table, a waiter bearing a huge tray bearing a variety of dishes brought me a menu. I told him there was no need – all I wanted was Turkish coffee. Scolding me, he said that Café Riche is not a café but a restaurant. Now I recalled why I'd never had coffee there before. I got up and left.
Israelis dream about having hummus in Cairo. But Cairo is a city not of hummus but of ful – fava beans – and koshari, a mixture of pasta, lentils and rice that is today one of Egypt's national dishes. The British occupiers brought it with them from India. During my previous visits, I thought the whole concept of the dish sounded ridiculous and I wasn't really tempted to taste it. This time I gave koshari a chance at a restaurant packed with teenagers. It was first-rate.
During one of my strolls I also happened upon the koshari mecca, the five-story Abou Tarek restaurant ("We don't have other branches!"). All five floors were packed with families and other customers waiting for tables, and I only found a seat when a resourceful waiter placed me next to a family. The walls were lined with newspaper articles extolling the establishment's achievements. In 2015, one of them said, Abou Tarek set a new world record by preparing an immense pot of koshari weighing eight tons, which fed 6,000 diners and another 8,000 street people. The item ended by noting that the Guinness World Records people were afraid to come to Egypt for security reasons then, so it was not actually clear whether the record is official. The truth is that the koshari was tastier at the teens' restaurant.
The saddest moments in Cairo were my encounters with poverty and scarcity, even though I largely found myself in quite well-off areas. I witnessed a shouting match in a shared taxi over what amounted to the equivalent of a shekel, and everyone tried to rip me off small-time. With love, I let them all get away with it, because the prices are so low to begin with. If Tel Aviv is the most expensive city in the Middle East, life is cheapest in Cairo and Algiers.
Spaceship in Giza
A heartrending moment occurred in the wake of my decision to buy a suit in Cairo, requiring an outlay of some $30. Next to my hotel was a whole lane lined with stores selling men's suits. Sensible urban planning at last. In one of the shop windows I noticed an impressive brown suit. Two salesmen immediately pounced on me, one who smiled and knew English, the other older, who couldn't speak English and also had difficulty walking. I must have been the only client to enter the store that day. A shouting match erupted between these two colleague-antagonists, which began to be violent until the English-speaker yielded. Apparently it was the turn of the other vendor to make a sale.
I'm asked a lot if I'm not afraid in Cairo. Well, I was scared the whole time. Mostly of traffic
I told the man in Arabic that I had my eye on the brown suit. We went upstairs and he showed me a black one. I repeated the word "bunni." He held up the black suit and insisted vehemently that it was brown.
I took him outside to show him what I liked. Apparently the brown suit didn't exist in my size, but the crafty salesman didn't give up. Holding my arm in a powerful grip, he tried to make me try on the other one. I told him I wanted to leave, but he insisted that I had nothing to lose by trying it on. Out of courtesy I put it on. Besides being radically non-brown, it hung on me loosely and the synthetic material was sweat-inducing. I was ready to leave, but he insisted that I try on another suit. When he left me alone for a moment, I seized the opportunity to flee the establishment, sadly, and with him chasing after me. Looking back, maybe I should have bought something there. After all, the suits were really cheap.
Cairo's might stems from its mass of 20 million people. It's a pleasant feeling to be in a city where a whole street is devoted to screwdrivers, though I don't think I've ever bought one in my life. Still, after a few days, when I realized that I wasn't venturing outside a radius of about one square kilometer, I decided it would be nice to unwind with a day outside the city.
An Egyptian website recommended Faiyum, an oasis that's about an hour away, up the Nile. For some reason the word "Faiyum" had a magical effect on me. Maybe it was the soft F; maybe it was the city's previous name, Krokodilopolis – or the claim (untrue) by one of its most famous residents, Rabbi Saadia Gaon, known as "al-Faiyummi," that it was the location of the biblical Pithom. So it was that I found myself on the way to Faiyum in a shared taxi that passed through Giza. It was the first time I'd seen the pyramids in real life, albeit though a window. I'd been proud of the fact that I often visited Egypt without falling into that tourist trap. The truth is that I'm just an idiot. They looked magnificent.
The taxi dropped me off in the center of Faiyum. To me, it looked more like the Afula of Egypt than an alluring tourism city; all its attractions were on the outskirts. Somehow I had a very good time there. I had a terrific falafel that cost about half a shekel. After that, as I did almost every day in Egypt, I had a large glass of freshly squeezed sugar-cane juice, and then sat myself down in a café under a tree and enjoyed provoking some interest as a Westerner. Everyone was delighted to see a foreign guest and tried to be of assistance. But in fact I didn't really know what to do in Faiyum – I hadn't made any plans. Remind me that I have to stop going to places because of their names. In any event, I remembered that Lake Qarun, the Muslim name for Korah, one of the more interesting people in the Bible, is next to Faiyum.
I found myself in the lobby of the New Panorama Resort, next to the lake. The reception clerks were surprised that a foreigner had arrived, and not during the tourist season either. They were stunned when I showed them an Israeli passport, but also happy. I even received a small discount.
Israelis don't take any special interest in the Middle East. Egyptians are very curious about Israel.
Lake Qarun itself was very beautiful – if viewed from a distance and at sunset. Close up, with all due respect for Korah and his sect, the lake was filthy. Most of the sewage of the nearby villages happily flowed into it. Even though I saw children swimming there in the distance, the hotel recommended that I stay in the pool. They summoned one of the staff to escort me to an exclusive pool, over to the side, where there were no locals at all, having sized me up as a snobby Western tourist.
After the dip, I'd planned to head for a fish restaurant in the next village, and then to sit and read a newspaper beneath a palm tree in the oasis. What could be more pastoral? But the policemen stationed at the hotel entrance stopped me and said that for my own safety, I was not permitted to leave. I insisted that everything was fine and that I was only going to a nearby place. I even agreed to have a policeman accompany me and said I would buy him a meal. The officer responsible for the hotel was horrified by the thought, but he spoke, under obvious pressure, to his boss. They probably thought that if something were to happen to me, they would be fired and their families would have to go hungry.
I was annoyed: Finally I had gotten out of Cairo, only to be trapped in this gilded cage. On my flight home, an Israeli who had accompanied another couple to Egypt told me that the three of them had coordinated every step with the police. They went everywhere escorted by a police van, including Abou Tarek's koshari place, where the police evacuated the locals as though George Shultz's entourage had arrived.
Excessive security is always the enemy of security. Just as in Israel, where it's likely that without all the security hysteria, quite a few wars could have been averted and we would actually be far safer – in Cairo, too, the close, arrogant escort certainly only irritates everyone, draws attention and endangers the tourist.
In any case, the next day, thanks to the uptight police officer, the hotel arranged a "fellahin breakfast" for me. It included triangles of malawah flatbread in plastic wrap, a huge plate of black honey in plastic wrap, and a kind of pinkish tahini which, to my surprise, also came in plastic wrap. It was all excellent and the plastic was added value.
I'm asked a lot if I'm not afraid in Cairo. Well, I was scared the whole time. Fear in Cairo is mainly related to crossing the street or taking a shared taxi with a wild driver. The crosswalks and stoplights in the city are, as the expression goes, no more than recommendations. As with the ingredients in koshari, the drivers and pedestrians are totally intertwined. Getting across a street in Cairo is the closest thing to winning a computer game, something I've always been bad at. So, yes, I was in a state of high anxiety. The danger on the road is definitely a lot greater than from ISIS.
As I passed the pyramids, on the way back from Faiyum, I was amazed to see a vast, modern building that looked like a spaceship that had landed in Giza. The driver told me it was the Grand Egyptian Museum, set to open in 2020. It's one of the largest cultural structures in the world: half a million square meters with room to display 50,000 antiquities, at an investment of $1 billion. I only hope that the old Egyptian Museum, next to Tahrir Square, won't be shut down. It's my favorite museum, precisely because of its simplicity and modesty. It's like a warehouse that contains unbelievable treasures thousands of years old, with texts in French that decades ago were affixed with adhesive tape on the walls next to them. In contrast to the horrible, sterile modern museums of the West, where the viewer is obliged to keep clear and be silent, here the stunning exhibits are right there next to you. I'd wanted to visit the museum again on my last night, but I waited to see the sunset over the Nile and never made it.
In any event, the new museum seems to be a finger poked in the eye of the millions of hungry people in Egypt. According to the local media, the World Bank has convinced the Egyptian government to lower electricity subsidies, which will undoubtedly make everything even more expensive. It's sad to think that the country is now investing so much in flashy showcases and submarines.
Haaretz's Moshe Gilad, my favorite tourism journalist, wrote that he prefers not to encourage oppressive regimes or to go to places for which travel advisories are issued. I'm guessing that the warnings about Egypt are so hot you could melt margarine on them. And obviously it's in bad taste to tan yourself poolside on Zamalek's island, in a country where young people, including colleagues of mine, are abducted, tortured and disappeared regularly.
But it's a complicated world. I think it's the duty of Israelis to visit the country that was their greatest enemy, to meet the charming, amusing and good-hearted people they fought for so many decades and to understand how much they were incited against us and we against them. There's nothing like a trip to Cairo to get a valuable perspective on Israel. Our disconnect from Egypt is like a barrier between brothers. Now that Israelis are calming down a bit from all the security hysteria and are returning to Sinai – I say: Go, go, go to Cairo.
But wait a minute – stop the presses! It's important to say that while it's a pleasure to be a man in Cairo, especially one with a foreign credit card, it's not the same to be a woman in Cairo. In most of the downtown area, the Wast al-Balad district, you'll see almost only men and elderly, covered-up women. Young, modern women hang out in safer neighborhoods, where they won't be harassed. You can see a lot of fashionably dressed women in Zamalek. It's hard not to fall in love with the cool Egyptian women in the Sufi café and book shop there.
An Israeli tourist who sat next to me on the flight back said she had been so persistently harassed and stalked by men that she decided not to leave her hotel in the evenings. A man accosted her physically at the pyramids, she said. When I paint Cairo as a city I love, it's important to know that it's hell for women and for many of the people who live there, in general.
I don't know how to reconcile that cognitive dissonance. Still, the woman on the plane said she'd decided that she would return to Cairo at the first opportunity, alone. That being the case, again: Go, go, go to Cairo.
Click the alert icon to follow topics:
ICYMI
Ken Burns' Brilliant 'The U.S. and the Holocaust' Has Only One Problem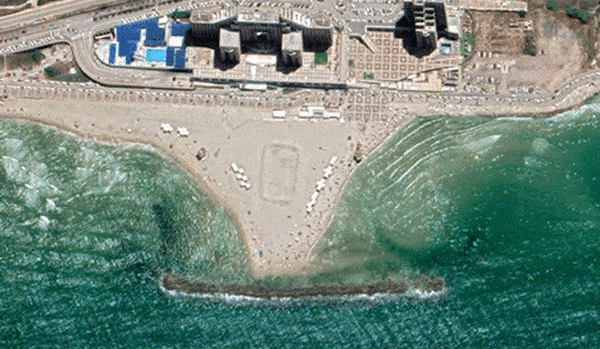 Facing Rapid Rise in Sea Levels, Israel Could Lose Large Parts of Its Coastline by 2050
As Israel Reins in Its Cyberarms Industry, an Ex-intel Officer Is Building a New Empire
How the Queen's Death Changes British Jewry's Most Distinctive Prayer
Chile Community Leaders 'Horrified' by Treatment of Israeli Envoy
Over 120 Countries, but Never Israel: Queen Elizabeth II's Unofficial Boycott