Is This What Beyoncé Would Sound Like in Hebrew? A Wave of Israeli Hits Strike a Familiar Note
Pop music has always been a game of influences and references, but now, when a new song comes out in Israel, it often sounds like something we've heard before
Former Eurovision winner Netta Barzilai performs before the 2019 Eurovision Song Contest semi-final in Tel Aviv, Israel, May 14, 2019.
Credit: Sebastian Scheiner,AP
Maybe Omer Adam was right. More precisely, maybe Uri Ben Ari was right. Ben Ari, a young songwriter and singer, wrote the lyrics for Adam's song "In the End Everything Passes," which to my ears is one of the loveliest Israeli hits of recent years. It opens: "They say, two years from now there won't be any melodies left / And I'll have nothing to sing to you when a sad moment comes." Those words touch on a theoretical conundrum that occupies scientists, musicians and music lovers: after more than 60 years of pop (if we start with Elvis), during which millions of songs have been recorded using the 12-tone Western scale along with a limited number of chords that recur in popular songs, have we exhausted all of pop music's melodic and harmonic possibilities? Is the number of original songs that can be written finite? And are we approaching the limit, or have we already passed it?
There's no known agreed answer to those seismic questions. My intuition says that if the number of possible pop song combinations were finite, we'd have sensed it back in the 1970s. Why, then, could Omer Adam and Uri Ben Ari be right? Because of what's been happening in Israeli pop lately. "In the End Everything Passes" was released at the beginning of 2017, meaning that the line "They say, two years from now there won't be any melodies left," is relevant for 2019. And what's happening in 2019 is that once every week or two an Israeli pop song is released, to which the immediate reaction is, "Hey, don't I know that from somewhere?"
We're not necessarily talking about stolen/copied songs that are based on the musical materials of other songs. No, this is a less flagrant development: songs of which a part – a slice of melody, a harmonic device, a certain sound element, sometimes also a bit of text – is familiar to us from a different song. In themselves, as single units, songs in this category needn't arouse objections of principle. Pop music has always been a gentle game of influences and references, and every listener is entitled to draw what he considers the proper line between legitimate borrowing and copying. But when every week or two a song comes out that generates a response of déjà vu, things start to smell bad. Without involving the courts in the meantime, the feeling is that the creative and ethical standards of local pop are starting to fray.
The most famous example, and one that did involve legal action, is of course "Toy," performed by Netta Barzilai, which won last year's Eurovision Song Contest. Part of the song very much resembles The White Stripes' "Seven Nation Army." (Jack White, the band's soloist, will receive half the royalties of "Toy," according to an agreement reached between Barzilai's managers and Universal Music Publishing Group, which represents White.) It would be interesting to know what the lawyers of Red Hot Chili Peppers would think if they were to hear the new song in which Stav Beger, one of the composers of "Toy," was involved. The chorus of "Who's Looking for Me," performed by the Carakukly duo and Maor Edri – the official song of this year's Gay Pride Week in Israel – very much recalls the Chili Peppers' "Road Trippin'."
Other examples from the past few months: The "Hu hu hu" bits, sung in a high register, in Shiri Maimon's new single, "Neshima" ("Breath") sound a lot like what the Canadian singer Jessie Reyez does in her 2016 hit, "Figures." The guitar solo in Yam Refaeli's 2018 song, "Words I Would Say only to You," is almost identical to the guitar solo in "My Immortal," which was a huge hit for the American band Evanescence in the previous decade. In Omer Adam's "Your Girlfriends," one of the biggest Israeli hits of the past year, there's a melodic phrase that's very similar to the famous line in Ed Sheeran's "Shape of You." The chorus of Shlomo Artzi's "Summer Was Good for Me," produced by Jordi, is very reminiscent of George Harrison's "Got my Mind Set on You."
Is the web to blame?
"You're really funny," Harel Skaat told me when I called to ask him about the resemblance between his song, "In My Life," released at the end of last year, and E.L.O.'s late-1970s hit "Last Train to London." Why funny? "Because it's a bit ridiculous," Skaat said. "Eliad [Nahum] and I were at his place, writing a song with the guitar. We didn't have any references in our head. We just enjoyed making music. That's the answer. Really."
Skaat told me that it was the first time he'd heard that anyone thinks there's a resemblance between his song and the E.L.O. hit. It was a reader's email that drew my attention to the similarity. I hadn't heard Skaat's single when it came out. The reader wrote that she had heard a friend humming "Last Train to London" at work and had asked her to find the song on YouTube. But instead of "Last Train," the friend played Skaat's song. The resemblance lies in the second part of the chorus of "Last Train," where Jeff Lynne rises to a falsetto ("But I really want tonight to last forever"). Skaat's chorus is very similar melodically and harmonically, even though the rhythmic emphases and some of the chords are different.
There's no reason not to believe Skaat when he says he and Eliad had no reference in mind when they were composing the song. Still, it's odd that no one in the singer's staff noticed the resemblance. "I think that today we're exposed to a lot more music than in the past, and that's good news," Skaat says, adding, "Obviously you can hear similarities in musical elements from plenty of songs."
The extreme dissemination of information in the age of the web could account for the fact that many new songs recall earlier ones. The wild competition for attention could lead to a situation in which songwriters and producers come under pressure to supply goods immediately, and when you work in a big hurry you don't have time to mess with trivialities like a completely original melody. On top of which, the moral atmosphere in the age of the web, and the fluid approach to the concept of truth are apt to generate dishonest behavior. Quite a few pop stars in Israel (and elsewhere, of course) purchase views on YouTube. That's fraud per se, and as tends to happen on slippery slopes, it slides out of the marketing realm into the artistic sphere.
Clearly, the deliberate use of elements from other songs could have serious consequences: the danger of a lawsuit, or simply being mocked on the social networks. But currently, it looks as though the hope for a quick profit is overcoming the concerns. And, sadly, reality supports that attitude. When Israeli singers, songwriters and producers look at what's happening abroad, they see Ed Sheeran, for example, who has recently been sued time and again for alleged plagiarism. In two cases he reached an out-of-court settlement, with one suit referring to "Shape of You." He pays a high price, but it's negligible compared to the immense profits he's earned from the hit song and from his last album. In Israel, too, a number of songs that made use of elements from other songs have become major hits. "Your Girlfriends," which quoted from Sheeran's hit, has already been mentioned. Another case is "Learning to Walk," performed by Nasreen Qadri. Written and produced by the team of Avi Ohayon and Matan Dror, this song is an interesting case. The melody and the production very much recall Beyonce's "Halo," but in a relatively sophisticated way, not exactly one to one.
"It was completely intentional, we worked with the Beyonce reference," Ohayon admits. "They're sometimes the same chords, and the arrangement is similar." Ohayon and Dror offered the song to Eden Ben Zaken, but she passed. Nasreen Qadri said yes, and "Learning to Walk" became a big hit. Possibly under the influence of that mistake, Ben Zaken took another song from Ohayon and Dror that's again based – this time almost totally – on a different song. "Tel Aviv by Night" sounds like a cloning of Amy Winehouse's "Back to Black." The press release declared as much, and Ben Zaken's lawyers checked carefully to ensure there was no danger of a lawsuit. The song didn't fare all that well, which was a good thing: the imitation was exaggerated and insipid.
"No," Ohayon replies when asked if he doesn't see a problem in deliberately drawing on other songs: "Look, we're not inventing anything. Everything already exists. There are billions of songs in the world. And it's not that I look for a reference with every song. Sometimes it can be cool. Remember when 'Coastal Road' of Static and Ben El came out? It sounded to me exactly like 'Barbie,' their previous song. The moment that 'Coastal Road' worked after 'Barbie,' you say to yourself, 'People don't care. If it feels good to them, they'll listen.'"
And what about yourself? As a songwriter, as an artist, don't you care?
Ohayon: "No. I create a lot of songs. I've finished occupying myself with what music reviewers will say. When I finished 'Learning to Walk,' I remember listening to it and saying, 'Hey, it works for me. I want to hear it over and over.' That's what's important."
The problem is that a great many more songwriters are working with references, so there's a flood of songs like that. That's what's happening now.
"True. But I'm responsible to myself, and in the end we are talking about two-three songs from a large number of songs I've written."
Click the alert icon to follow topics:
ICYMI
Ken Burns' Brilliant 'The U.S. and the Holocaust' Has Only One Problem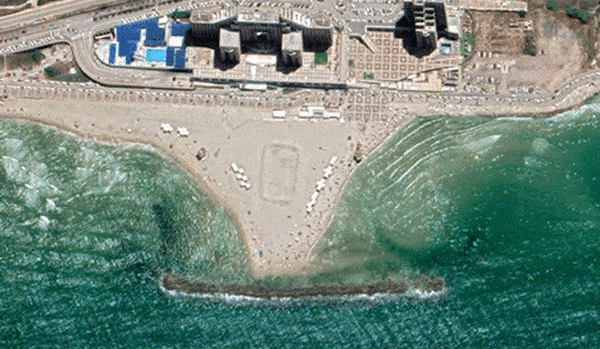 Facing Rapid Rise in Sea Levels, Israel Could Lose Large Parts of Its Coastline by 2050
As Israel Reins in Its Cyberarms Industry, an Ex-intel Officer Is Building a New Empire
How the Queen's Death Changes British Jewry's Most Distinctive Prayer
Chile Community Leaders 'Horrified' by Treatment of Israeli Envoy
Over 120 Countries, but Never Israel: Queen Elizabeth II's Unofficial Boycott