'Hey Everyone, Let's Wave to Hamas'
Haaretz visits the Gaza Strip border area for a tour that, despite obvious difficulties, genuinely tries to present the perspectives of both Israelis and Palestinians
A tourist looks into the Gaza Strip from a vantage point on the Israeli side of the border, May 13, 2019.
Credit: Eliyahu Hershkovitz
In the classic dual narrative tour, participants get to hear from both sides of a conflict while visiting the actual physical flashpoint.
That can present a challenge when one side of the conflict is virtually off-limits — which is why a new Israeli-operated tour avoids the term "dual-narrative" when advertising itself, preferring the less lofty description of "Gaza border reality."
Nonetheless, a sincere effort is made on this tour of Israel's Gaza Strip border area to present the perspectives of both Israelis and Palestinians. And given the built-in constraints — namely, the ban on Israelis and tourists crossing the border from Israel into Gaza — its organizers do a commendable job of it.
On Monday morning, exactly a week after the latest cease-fire between Israel and Gaza took effect (following a weekend in which nearly 700 rockets fired from Gaza hit southern Israel, and at least 25 Palestinians and four Israeli civilians were killed), we set out on a tour of one of the most volatile borders in the world.
Organized by Abraham Tours, which caters to independent travelers and operates a network of hostels around Israel, it is a weekly tour that runs every Monday — that is, unless rockets are flying overhead or threatening to fly overhead, as has been the case on several occasions.
Not by coincidence, the initiator of this new tour, officially launched three months ago, has for quite a few years been running a dual narrative tour at another key flashpoint in the Israeli-Palestinian conflict: Hebron.
Eliyahu McLean, a former Californian and current resident of one of the small Gaza border communities, also happens to be our guide today — our only guide, because there is no Palestinian from Gaza accompanying us. But Maher, our Palestinian driver who hails from East Jerusalem, sometimes picks up the slack.
"When Palestinians see me, they automatically assume I'm a settler because of the way I look and they don't want to talk to me," says McLean, pointing to his long curly sidelocks, the tzitzit (ritual fringes) hanging out of his shirt, and the large kippa on his head. "So it's really important to have someone like Maher around who can explain what we're doing." The duo, both interfaith peace activists, have known each other for years.
"I wouldn't bring someone I didn't totally trust on a tour like this," McLean adds.
Maher gets an opportunity to do his stuff as soon as we arrive at our first stop: The Erez border crossing at the northern entrance to the Gaza Strip.
This is the only place where Gazans, in possession of the required permits (mainly medical patients and merchants), can enter Israel. Waiting on the Israeli side, along with several Bedouin drivers who earn their living transporting these Gaza residents to their destinations in Israel, is a Palestinian farmer from Khan Yunis (in the southern part of the strip).
With Maher serving as our translator, this well-dressed Gazan man tells us that he grows cucumbers, tomatoes, zucchini and eggplant, which he sells both in the West Bank and Israel. This will be our only opportunity on this Gaza border trip to speak face-to-face with a resident of Gaza.
No fears
Ten independent travelers have signed up for this trip. It's an eclectic group, with a mother-and-son pair from Chicago; a couple from Singapore; two women visiting the region together from Ireland; and several solo male travelers, from Atlanta, Australia, Spain and Iceland.
At least one member of our group planned this trip to coincide with Eurovision, which takes place on Saturday. A few have been to Israel before. Most said they keep abreast of developments in the Middle East and had opinions about the conflict, but were interested in learning more.
Were they scared to travel to a part of the world which, only a week earlier, had seen an unprecedented barrage of rocket fire?
Diego Tafalla, a 44-year-old actor from Barcelona, shrugs off the question. "It can happen anywhere," he says. "There are terror attacks in my city, too."
"No, I'm not scared at all," says Jon Nordfjord, a 39-year-old carpenter from a tiny village in northern Iceland. "I came here to learn more."
He describes himself as "very pro-Israel," making sure to add that this makes him a rarity in his homeland. His fiancé and three children, whom he left behind in Iceland, didn't try to discourage him from signing up for this trip, he says, but his mom "said she wanted me to visit other places instead."
Jean Butler, a 35-year-old quality assurance specialist from Tipperary, Ireland, recounts that she and her travel companion had been touring Jordan when the latest mini-war broke out on the Gaza border. They hadn't been listening to the news. Only on their way down this morning did they learn about what had transpired here the previous week. "I guess you could say that ignorance is bliss," says Butler.
McLean opens the tour by passing around instructions from the Israeli Home Front Command on how to respond in the event of a rocket attack. He reassures us, however, that there is no reason to panic.
"Usually cease-fire agreements here hold for about three to four weeks. So considering we signed one just last week, we should be good," he says.
It's a full day tour that covers a lot of ground. After the Erez crossing, we head to an observation point named after Assaf Siboni, a soldier who grew up at nearby Kibbutz Nir Am and was killed in a helicopter crash in southern Lebanon 22 years ago.
McLean tells us this lookout provides "one of the best views into Gaza." Passing around binoculars, he points to a tower on the Israeli side of the border, explaining that it is used by Israel to gather intelligence on Hamas. Just beyond it, on the other side of the border, he points to another tower, explaining that it is used by Hamas to gather intelligence on Israel.
"Hey everyone, let's wave to Hamas," he instructs us. Quite a few hands go up.
From here, we can see the Ashkelon power plant that supplies electricity to Gaza. Despite all the bad blood between the two sides, McLean explains why Israel has an interest in supplying electricity to the enclave: During power outages, Gaza can't operate its sewage treatment facilities and the effluent starts flowing north onto Israel's beaches.
"We're all in this together," he notes, "and whether for selfish or humanitarian reasons, we have to care about what's going on there. You can't just build a wall and throw out the key."
Life in Gaza
A Skype conversation with Palestinians from Gaza is touted as one of the main highlights of this tour. We gather around a table in a Jewish house of learning at Sa'ad, a religious kibbutz in the area, and wait as McLean attempts to contact our interlocutors across the border.
After a few failed attempts — "Bad Skype connections are also part of reality on the Gaza border," he tells us — we decide to head out for lunch at the kibbutz mess hall and to try again afterward. This time, the call goes through and Rami Aman, a Palestinian peace activist arrested (and released eight hours later) by Hamas in March, sends us greetings.
After a round of introductions, the 37-year-old shares some information on a new peace initiative he is promoting: A joint Israeli-Palestinian bike ride on both sides of the Gaza border scheduled to take place this Friday.
He is asked by one of the participants to describe a typical day in the life of a child in Gaza, while another asks him to assess how representative his views are among the local population. "The majority are like me," he responds. "They want peace — but they need to be more brave."
From Sa'ad, we head out to another border kibbutz, Nahal Oz. From a lookout point near the fields, we get a view of one of the main sites of the weekly Palestinian demonstrations. Known as the "March of Return," these demonstrations have been held every Friday (and sometimes other days as well) for more than a year now.
Although many Palestinians have lost their lives or been maimed in the weekly protests, McLean explains why the demonstrators continue to show up. "Many feel that life is so bad they have nothing left to lose," he says.
Putting on his other hat, he proceeds to explain why Israelis find these protests so threatening. "As most Israelis see it, these Palestinians aren't just fighting the occupation. Their goal isn't just to get Israel out of the West Bank, but to eliminate the State of Israel altogether."
From Nahal Oz we head to the site of a kibbutz that was evacuated during Israel's War of Independence, after Egyptian forces moved in. Remnants of an old water tower dotted with bullet holes remain at the site, which has been transformed into a proper memorial with written explanations about what transpired here more than seven decades ago.
For the sake of balance, we also visit the ruins of the nearby Palestinian village of Najd, which was also abandoned in 1948.
"It could very well be that the grandchildren and great-grandchildren of those Palestinians who lived here are among those participating in the weekly March of Return," McLean tells us. The path to the ruins is obstructed by thorn bushes, so it is impossible to approach the site. Our guide contrasts this with how easy it was to access the site of the abandoned Jewish settlement.
Rocket-proof playground
A visit to the Gaza border would not be complete without a trip to Sderot, the largest city in the region. Here we meet Efraim, a bookkeeper at a local yeshiva who tells us about all the local children (including his own) who suffer from post-traumatic stress disorder. We stop outside the police station to take in an unusual exhibition: It's a large cage filled with pieces of rockets that have landed in the city.
We also pay a visit to the world's only rocket-proof playground: All the facilities, shaped like long-bodied animals, are made out of concrete and are hollow inside, so that when the rocket sirens go off, children can simply crawl inside for safety.
Because the situation on the Gaza border is so dynamic, the itinerary on this tour is constantly changing. This week, for example, we take a detour to see a brand new wall. Moshe Feder, 68, was killed at this spot the previous week when his car took a direct hit from an anti-tank missile from Gaza. The section of the road on which he was driving to work happened to be in the direct line of fire of Gazan militants. The new wall, erected just a few days ago, is meant to block that view.
Another detour takes us to the site of a near-disaster five months ago. Ten minutes after a busload of soldiers had disembarked at a military memorial, an anti-tank missile hit their bus. One soldier, who had remained on the bus, was badly wounded, but dozens of others were almost miraculously spared. Shards of glass from the destroyed bus are still evident on the ground.
We wrap up our tour at Netiv Ha'asara, an Israeli agricultural community barely a stone's throw from the border. McLean points to the sidewalks, which are being dug up in preparation for the next inevitable round of fighting, so that the electricity lines are no longer exposed.
Tzameret, a local resident, invites us to participate in a special art project she has initiated: It involves sticking colorful tiles on the ugly concrete wall built a few meters from her home to block sniper fire from across the border.
Our traveler from Iceland wants to know if she believes there will ever be peace between Israel and Gaza. "I want to believe," she replies.
Click the alert icon to follow topics:
ICYMI
Ken Burns' Brilliant 'The U.S. and the Holocaust' Has Only One Problem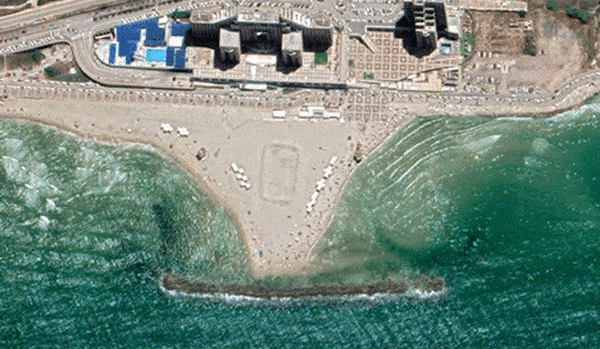 Facing Rapid Rise in Sea Levels, Israel Could Lose Large Parts of Its Coastline by 2050
As Israel Reins in Its Cyberarms Industry, an Ex-intel Officer Is Building a New Empire
How the Queen's Death Changes British Jewry's Most Distinctive Prayer
Chile Community Leaders 'Horrified' by Treatment of Israeli Envoy
Over 120 Countries, but Never Israel: Queen Elizabeth II's Unofficial Boycott