'Next Week We Will Ascend the Train and Leave': Last Letters From Jews Killed by Nazis
Yad Vashem exhibits 12 letters online, written by Jews on their last journey
A letter written by Bracha Iagaz. "Pray to the merciful God to have mercy on us, because this situation cannot be tolerated for long," she wrote to her husband.
Credit: Yad Vashem Archives, Jerusalem
"Now, my dear, we take our leave of you. I do not know whether we will meet again in this life. Pray to the merciful God to have mercy on us, because this situation cannot be tolerated for long." This letter was sent by Bracha Igaz from the Bekescsaba Ghetto in Hungary to her husband Yaakov in Debrecen.
She wrote it on June 16, 1944, the day when the ghetto where she had been imprisoned with her five children was destroyed. In retrospect it emerged that those were her last words. She and her children were deported from the ghetto to a tobacco factory near the city's train station. Ten days later, they were sent to Auschwitz-Birkenau, where they were murdered on arrival.
Yaakov, who was in a slave-labor battalion, is the only member of the family to have survived the Holocaust. After 1948, he came to live in Israel. He never married again or had a family. The picture of his wife Bracha, the last post card she sent him, and the memory of their five children are all he had left. The granddaughter of Bracha's brother, who was also murdered in the Holocaust, gave the letter to Yad Vashem. Another relative provided the names and ages of three of Yaakov and Bracha's five children – Tibor, 10, Miriam, 8 and Edita, 6. There is no information about the other two children.
"My dear," writes Bracha. "I tell you with a broken heart that I am prepared and ready for the carriage. To my great sorrow we are going to the tobacco factory. What shall I say? My heart is about to tear apart. You can imagine my mental state. I could come to terms with the move to the factory but I know that this will not be the end of the affair. It is almost certain that next week we will ascend the train cars and go out. Where to? Only the Creator knows."
She added: "Now imagine my situation, the indescribable suffering of five innocent little children. My heart is about to tear apart. Night and day I weep, because you are not with us here, perhaps it would have been easier, my dear."
>> Read more: 'Anne Frank of Budapest': Newly discovered diary chronicles Jewish girl's life in Nazi-occupied Hungary
At the end of the letter Bracha asks her husband to try and write her, even knowing that the chance she would still be alive would be small. "But try and write us anyway. Perhaps I will get the letter. Unfortunately I cannot write, because we're not even allowed to take a pencil with us."
The final paragraph was still full of hope. "The children are all right. I once again take my leave of you. The merciful God will allow us to meet again in great joy and we will raise our dear children together. God be with you. Many kisses. Your suffering wife and the children."
In the Yad Vashem archive are other, similar letters sent by Jews to their relatives in 1944, the year that the end of Nazi Germany could be seen on the horizon, but the destruction continued at full force. This was the year the last Jews from Greece, Italy, France, Holland and Slovakia were sent to their deaths, the year the Jews of Hungary were sent to Auschwitz and the last ghettos, in Lodz and Kovno, were wiped out. In that year, Minsk and Vilna in the east were liberated, and Paris and Rome in the west.
This collection of 12 letters is now in an online exhibit by Yad Vashem. They were all the last signs of life from Jews who were murdered. They were sent from home, from hiding places, from ghettos, prisons and camps. Most of them were contributed to Yad Vashem by their relatives.
"They allow us to tell the story of the individual in the Holocaust and give the victims a name, a face and a memory. Sometimes this is the only testimony we have of a person's existence," says Yona Kovo, the curator of the on-line exhibit.
'Do not pity us'
One month after Bracha's last letter was sent, another Jew, Leo Cohen of France, sent his last letter to his son. "My dear Ariel, your holiday is next week. How I wish I could be there with you, to kiss you and play with you ... but now I can only offer you this little word, this little sign of life. We will see each other soon. I kiss you, your father."
Leo Cohen sent this letter on July 26, 1944 to his son Ariel in honor of his fourth birthday. Five days later he was sent to Auschwitz on the last train to leave Drancy transit camp. Cohen, born in Lubeck, Germany, immigrated to Paris in 1933. In 1936 he married Rachel. They had three children.
Cohen was active in the leadership of the Jewish Scouts movement in France and founded the Scouts' choir, which sang religious songs and songs of the Land of Israel. He taught Hebrew and educated children toward love of faith and the Land of Israel. After the occupation of France in May 1940, the Scouts movement in southern France established a rescue and hiding network, and after the occupation of the south by the Vichy regime in 1942, the movement launched an armed struggle.
On May 2, 1944 Rachel and her three children were smuggled to Switzerland. Leo Cohen remained in occupied France and continued in his role as spiritual leader. On May 16 he was caught trying to smuggle a group of young people. He was interrogated by the Gestapo and sent to Drancy, and from there to Auschwitz. On the eve of his deportation to his death, he also wrote a letter to his comrades in the south.
"Despite all hope, they still have time to send us to the camps. Hold on so you do not fall into their net. In this place of all places [in the camp], a person proves every minute that he is truly a Jew and a Scout, if he is human in the best sense of the word. Do not pity us. See you soon, do not worry."
Leo Cohen was murdered. His wife Rachel and their three children, Naomi, Ariel and Aviva, survived and came to live in Israel. Last year Ariel Cohen, Leo's son, gave the letter to Yad Vashem that he had received to mark his fourth birthday.
One of the letters that stands out in the collection was not addressed to a family member, but to a woman who had agreed to adopt the daughter of the woman who wrote the letter, and thus save the child's life. "I ask you: Give her a mother's love so she will feel my absence less. Don't tell her where I am. I am certain and know that in her little soul there is much courage and questions without answers." That is what Isabella Fodor wrote to Mrs. Somor, the woman who adopted her daughter Gita.
Isabella and Haim Fodor lived in Cluj, Transylvania in Romania. In 1936, their only daughter Gita was born. In 1940, northern Transylvania was transferred to Hungary and remained part of the country until 1945. In 1942, Haim was drafted into the Hungarian Army labor battalion. In March 1944 the Germans occupied Hungary. Isabella sought any way possible to save their little daughter. She moved her to an orphanage and looked for a Hungarian family to take the child from there. The Somors took her in.
But after they adopted Gita a Hungarian neighbor informed on them, reporting to the authorities that a Jewish child was living in their home. Gita was taken to the ghetto in the city of Nagyvarad in May 1944. Janush Somor did not give up; he went into the ghetto and took Gita out. Because he feared for her life, he sent her to her aunt in Budapest. Gita and her aunt were saved and liberated by the Russians.
Isabella Fodor, Gita's mother, signed a declaration giving up her daughter to be adopted by the Somors. In late May, the Jews of the Cluj Ghetto began to be deported to Auschwitz. Among them was Isabella and her mother Emilia. They were both murdered.
After the war, Gita returned to Cluj and later married a Holocaust survivor from Romania. In 1959 they came to live in Israel and made their home in Rosh Ha'ayin, where a son and a daughter were born to them. In 2006, Gita gave her mother's last letter to Yad Vashem.
"Dear Mrs. Somor, A very sad mother turns to you, being taken with her family without knowing where. You have certainly heard about our current situation. I am sending you an adoption document of my little girl, in which I give her up for her own good. Perhaps in this way she will be saved and they will not take her," Isabella Fodor's letter begins. "I have no other choice. I beg you to use this adoption document to save her. Try to explain to her that she has moved to the Catholic faith and is now a Christian, and she must be educated in this religion. I know that you have a very hard task, but this is the way now."
Later, Isabella asked the Somors "to pray to God for us and the girl should pray too so that I will see and embrace my daughter again. I ask you to write me and be in regular contact with me. Ask the girl to write, it does not matter what, the main thing is for me to see her handwriting."
The letter was signed: "A million kisses to my dear girl from a very sad mother whose soul and heart are weeping."
Click the alert icon to follow topics:
ICYMI
Ken Burns' Brilliant 'The U.S. and the Holocaust' Has Only One Problem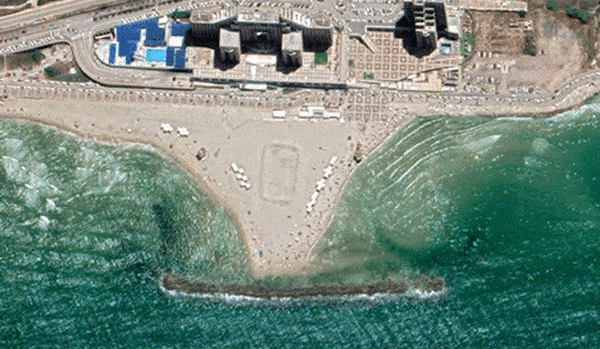 Facing Rapid Rise in Sea Levels, Israel Could Lose Large Parts of Its Coastline by 2050
As Israel Reins in Its Cyberarms Industry, an Ex-intel Officer Is Building a New Empire
How the Queen's Death Changes British Jewry's Most Distinctive Prayer
Chile Community Leaders 'Horrified' by Treatment of Israeli Envoy
Over 120 Countries, but Never Israel: Queen Elizabeth II's Unofficial Boycott