Analysis |
Israel's Likely Next Justice Minister Has the Supreme Court in the Crosshairs
Move over, Ayelet Shaked. Netanyahu's likely pick for the justice portfolio wants a license to kill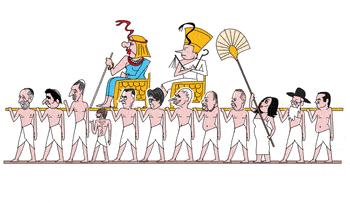 Illustration.
Credit: Amos Biderman
There are soldiers in the Israel Defense Forces who don't remember life without Benjamin Netanyahu as prime minister. They were nine years old in 2009, when he returned to power after a decade's absence. These young people don't have any political awareness. Ever since they can remember, it's been Bibi up top. His rivals come and go like those plastic ducks you shoot at at a county fair, while Netanyahu is eternal.
Some of them will find it hard to believe that other prime ministers have done things for their nation and their country. Ariel Sharon courageously aborted the madness of Jewish settlements in the Gaza Strip. Ehud Barak withdrew the IDF from Lebanon. Menachem Begin conceded every grain of sand in Sinai for the sake of peace with Egypt. Yitzhak Rabin and Shimon Peres signed the Oslo Accords in an attempt to end the conflict with the Palestinians, and won valuable legitimacy for Israel internationally. Ehud Olmert bombed a Syrian reactor and boldly went the longest distance with Mahmoud Abbas – who got cold feet and hightailed it.
In the past 10 years, Netanyahu has been the chief beneficiary of his predecessors' achievements in all sectors and on all fronts: security, diplomacy, economics. He's building on their backs, establishing the kingdom of Netanyahu with the fruits of their labor. It's no wonder that on the eve of the 2013 election, the popular singer Sarit Hadad crooned to him on the stage: "You're the best"; this week, at Likud's victory gathering, pop star Eden Ben Zaken warbled to him, "You are my life."
The upgrade is taken for granted. Next time, we'll need a song with a reference to the Divine.
In victory, Netanyahu was not generous. He again lashed out at television commentators who tripped up in their choice of words. He barely managed to utter what was an ostensibly inclusive comment: "I want everyone, Jews and non-Jews, to have a part in the tremendous success story that's called the State of Israel." He didn't dare say the word "Arabs" in that context, only when he boasted about the congratulations that he claimed were sent to him by "leaders of many Arab and Muslim states" who were delighted at his victory. On his menu, the only kosher Arabs are the Arabs outside of Israel's borders.
The ceremony at which President Reuven Rivlin tapped him to form the next government was an encounter between two worlds, two sets of values as far apart as East is from West. It's hard to believe that these two were educated in the same doctrine, that of Ze'ev Jabotinsky. It was difficult to tell from their body language which one of them was suffering more from being in the company of the other.
That occasion and the admirable, public broadcast of consultations with party representatives in the President's Residence this week showed how unfounded and base the wicked calumnies that Netanyahu spread about Rivlin were, from the so-called "scheme of the century" that the president supposedly concocted with Gideon Sa'ar to rob the premier of power, to the remark in a closed forum (which Netanyahu made public) that Rivlin would seek "every excuse" to deprive him of what is registered in his name.
Instead of an expression of contrition – even if contrived – for the allegations and maliciously cast fake suspicions from the politician most responsible for prostituting the election campaign and hurling it into a vast abyss, it was the vilified Rivlin who displayed statesmanship, conciliation and compassion. As though he were capable of anything else. As though both of them are capable of anything else.
Ins and outs
Netanyahu and his aides were aghast to see Avigdor Lieberman, arrogant and exultant, drawing his line in the sand about the military draft law. By stating that he will not agree to change so much as a comma in the formula that was proposed by the defense establishment – wording that passed the first of three readings in the Knesset on the way to becoming law – he painted himself into a corner, shackled his legs and tied his hands.
In the Prime Minister's Residence, Lieberman's assertions were analyzed (as far as that's possible with that enigmatic fellow) and it was concluded that the former defense minister was aiming at one of three goals:
1. He's convinced that he will force the ultra-Orthodox to blink first and that they will allow the legislation to pass as it is.
2. He's trying to compel Netanyahu to merge his Yisrael Beiteinu party into Likud on his conditions, even before the formation of the government.
3. The worst option of all: He's plotting to drag out the coalition negotiations to the end of the allotted time without compromising, thereby imposing the formation of a rotation government with Kahol Lavan and his buddies Yair Lapid and Gabi Ashkenazi – and with the defense portfolio assured for him in every combination.
Otherwise, a senior Likud figure reflected aloud this week, I have no explanation as to why Lieberman was so rigid at the Passover toast held by his party this week. The military draft law is a tough nut to crack, the senior figure affirmed. If one side doesn't give in, we're in big trouble, he observed. Lieberman has made clear where he stands. The problem of the ultra-Orthodox is that they're too strong: a combined 16 Knesset seats between Shas and United Torah Judaism. In which fantasy, exactly, will they hold up the white flag when challenged by a party with five seats?
And what about Moshe Kahlon? The outgoing finance minister and leader of Kulanu returned on Wednesday from a short vacation in Barcelona. For some reason, the simple process of assimilating him and his party into Likud is being delayed. All of a sudden Netanyahu is in no hurry. On top of which, one of the prime minister's mouthpieces, lawmaker Amir Ohana, said this week in an interview that he's against rolling out the red carpet for Kahlon or guaranteeing his representatives places in Likud's institutions.
This kind of talk coming from Ohana means that someone put the words in his mouth. He's in league with Yair Netanyahu, the prime minister's son. In the same way that outgoing Culture Minister Miri Regev draws her clout from the Lady, so too does Ohana and the firstborn son. During the campaign, Yair often shared posts by others that attacked Kahlon. He wouldn't have done that without Dad's okay.
Those messages were received loud and clear by Kahlon and his aides, and here, too, there are three possible explanations:
1. Netanyahu is playing a double game with Kahlon in order to gain time. With his right hand he is conducting negotiations with him about a merger, while sending one of his peons to cast a damper on the proceedings with his left.
2. Netanyahu wants to bring Kahlon in but at a lower price than is being asked. So he's made Ohana the bad cop to supposedly give expression to the prevailing mood in Likud.
3. Netanyahu has decided that he doesn't need all of Kulanu, given the price it's asking. He'll appoint the party's leader to his old job as finance minister (or foreign minister – an option that's being considered) and wait patiently for two of Kahlon's four MKs – Eli Cohen and Yifat Shasha-Biton – to bolt Kulanu and join Likud independently, without demands and a promise of representation in the party's various institutions.
License to kill
At the height of the roller-coaster ride in the Central Election Committee, as Ayelet Shaked and Naftali Bennett's Hayamin Hehadash party bobbed above and below the water's surface, at times grasping the elusive electoral threshold like a life jacket, at times losing their grip on it, Netanyahu called Yariv Levin, the outgoing tourism minister and one of the prime minister's confidants. "There's no alternative," he told Levin. "Our bloc is hovering around 64 seats. We have to make sure they get in. Go over there and see what can be done."
Levin, a team player, dropped everything and betook himself to the scene of the event in the Knesset. He found a holy mess. The members of the election committee, bleary-eyed, were sitting there with tattered notebooks, stacks of notepaper and calculators. The only things missing were Unifix cubes and a color poster of the multiplication table to give the scene the aura of a newscast from the middle of the past century.
Levin tried to make order of the chaos. Like in a cartoon, an angel and a devil hovered next to each of his ears. The devil said: Levin! Don't be a sucker! Don't go out of your way for Ayelet! If she's out, the justice portfolio is yours. No, Yarivi, the good angel interjected: The prime minister trusts only you, a stable coalition is more important than your ambitions. Please, see the big picture, rise above yourself.
The good angel won. Levin tried his best, he even called the shattered Shaked to tell her he would do everything to help.
We know the end: Levin will very likely be the next justice minister. To say that this is his life's dream would be the understatement of the decade. Furthermore, he has a plan to reform the justice system, and if only a fifth of it comes to fruition, the Supreme Court, the guardian of democracy, the last shield of human and civil rights and Israeli pride abroad, will look as though it's been struck by a cyclone right after being devastated by an earthquake. He's made it clear to Netanyahu that his condition for accepting the portfolio is a free hand to realize his vision. Levin wants a license to kill.
A week ago, this column noted that the identity of the next justice minister will attest to the next prime minister's plans for the judiciary. If he wants to offer the justices of the Supreme Court a peace pipe, he'll appoint Tzachi Hanegbi, Gilad Erdan or Yuval Steinitz; if he's bent on war, suppression and submission, Levin will be happy to wield the ax.
The decision has apparently already been made. It would be foolishly naive to think that in his fifth term, with his biggest victory yet, Bibi will reinstate the lost brakes, the system of checks and balances that existed in his second term, from 2009 to 2013. He needs Levin in the Justice Ministry not only as an ideological executioner and a contractor, but also as someone who won't exhibit signs of rebelliousness and through whom the premier can control the height of the flames.
The other politician who is after the justice portfolio is Bezalel Smotrich of the Union of Right-Wing Parties. It takes no little chutzpah for that extreme-right party to ask for two very senior portfolios: justice and education. In the end, they owe their existence to Likud. If not for Levin, who conceived the idea of the union with Michael Ben Ari and Itamar Ben-Gvir's Otzma Yehudit slate, and if not for Netanyahu's total, life-risking mobilization to make the merger succeed (he even postponed a visit to Putin in Moscow) and his readiness to guarantee Eli Ben-Dahan from Habayit Hayehudi a place on Likud's roster – it's very doubtful that they would have crossed the electoral threshold. With his own hands he ferried them to the other side of a crocodile-infested river, and they're behaving like he owes them something.
The unforgiving
During the campaign never did the justice minister dream for one minute that she would spend her summer vacation as a rank-and-file citizen. Hayamin Hehadash pollster Shlomo Filber, who turned state's evidence in the case alleging that Netanyahu offered benefits in exchange for positive media coverage, fed Shaked and Bennett with polls giving them six solid seats. Relying on this, they didn't mount an alarmist "gevald" campaign and didn't beg for their life – which would certainly have netted them the 1,400 votes they needed to enter the Knesset.
Shaked thought that five seats – even four – would have left her in the Justice Ministry. Six would have parachuted Bennett onto the helicopter pad of the Defense Ministry.
Only regret and depression have been her lot in the 100 days since she followed Bennett, contrary to her instinct, when he decided to split from Habayit Hayehudi. Had she stayed behind, she would have easily been elected the party's leader, remained in the Justice Ministry that she's become attached to and been liberated from Bennett's shadow.
The outgoing justice minister is sad, but the Lady is delighted. It's not the purpose of this column to pour salt, but Shaked should know that throughout the campaign, the prime minister's wife shared with people she encountered her hope that "they" would not get in. That was her second wish. In the past week, when the election committee was engaged in a partial vote recount, she lived through an intense drama while hoping for their perdition.
Sara Netanyahu's vengefulness has been a major driving force in Likud's annals over the past decade. She is the eternal flame. Her burning hatred for Shaked is also impelled by envy. That was likely part of the reason for her husband's declaration at Likud's victory celebration, with her at his side, that in the 23 years since he was first elected, Sara has remained "more beautiful than ever."
To everyone who's tsk-tsking, this is not folklore or gossip. Sara will still be at Balfour and her loyal envoy Hanni Bleiweiss will be in her office at Likud headquarters in Tel Aviv when Citizen Shaked will meet with Likud director general Zuri Siso and ask to join the party. She'll sign the form, but what might happen next?
Someone will submit evidence to Likud's internal court: screenshots of Shaked's remarks against Likud in the election campaign. She will be summoned to a meeting and asked to explain why she wants to join a party that she and Bennett accused of surrendering to Hamas, and so on. It will be very easy to make her life miserable.
And even if she's accepted into Likud, Shaked will have to wait 36 months before she can be elected, in accordance with the obligatory cooling-off period. During those three years we might find ourselves with a Likud new primary, on the eve of a general election. Netanayhu won't reduce the waiting period, just as he didn't for Gilad Sharon, Ariel Sharon's son who wanted to run in the Likud primary ahead of this election but was 100 days short.
Bibi won't spare any effort to heap obstacles on Shaked's path. Because the Balfour Street bunch doesn't forget and doesn't forgive.
Pulp fiction
On the morning of Election Day, Labor Party leader Avi Gabbay arrived at his polling station in north Tel Aviv's Tel Baruch neighborhood to vote. The people in the long line ahead of him couldn't look him in the eyes, and in their lowered gaze he saw looming defeat. An hour before the exit polls were made public, he received the results of a small polling station belonging to the Be'er Tuvia regional council, which had closed early: 83 ballots for Kahol Lavan, 26 ballots for Likud, 13 ballots Labor – in an area that's a traditional stronghold of Mapai, Labor's forerunner. The catastrophe became concrete.
The cannibalism leaders of Kahol Lavan perpetrated on their sister party in the final days of the campaign deprived Labor of three to four seats. The message that "the biggest party will get the nod from the president" – which all the political commentators derided and refuted – trickled deep into the hearts of the voters. Labor's leaders watched helplessly as the wall of fire raced toward them. Labor voters who had begun to come back to the party (as seen in polls giving them 10 seats) thought again, gritted their teeth and with a heavy hand voted Kahol Lavan.
In the past decade, leading the Labor Party has been the most masochistic and unrewarding job in the world. The shredder that never stops ripped into Gabbay, too, swallowed him up and spewed out the remnants. The party will hold a primary in five months. He will not run, of course. Five or six others will: Itzik Shmuli and Stav Shaffir, for sure, maybe also Danny Atar, Yair Fink, Erel Margalit and possibly also Amir Peretz and Eitan Cabel.
Until then, Gabbay intends to remain at the helm and prepare the party for its new era as a spindly structure, lacking funding and resources. Afterward, he intends to remain in the Knesset and work on committees: finance, economic affairs. He has no plans to leave and go back to the business sector.
After the election results became known, people started to send Gabbay messages of apology and contrition. We are guilty, we have sinned. Here's a typical WhatsApp message (with necessary deletions): "I, my family and my friends are Labor Party people. I joined Labor officially for the first time to help you in the primary… In this election my friends and I voted Kahol Lavan. We made our choice in full awareness. We knew we were voting for a party that does not represent our position faithfully, we knew that the prospect that voting for Kahol Lavan would lead to a change of government was slim… We felt we had to exhaust every possibility, even the most negligible and even at a steep price, to replace Bibi."
The writer ends on a positive note: "As far as I am concerned, you can get up tomorrow and feel great."
But no. The recipient of that message is far from optimistic. I'm sad, Gabbay said to his interlocutors, sad for what happened to us and for what will happen in this country. Netanyahu, he believes, is here to stay and is not going anywhere. The election was about Bibi yes or no, and the people voted yes, despite the suspicions, despite everything. We'll meet again in four years.
ICYMI
Gazans Are Tired of Pointless Wars and Destruction, and Hamas Listens to Them
Three Years Later, Israelis Find Out What Trump Really Thought of Netanyahu
The Rival Jewish Spies Who Almost Changed the Course of WWII
What Does a Jew Look Like? The Brits Don't Seem to Know
'I Have No Illusions About Ending the Occupation, but the Government Needs the Left'
Russia-Ukraine War Catapults Israeli Arms Industry to Global Stage