Analysis |
Now That He's Cornered, Netanyahu Is More Dangerous Than Ever
With the planned indictment, the attorney general called him out: Corrupt and corrupting. It's scary to think what Bibi would offer his coalition partners in return for a law to prevent him from standing trial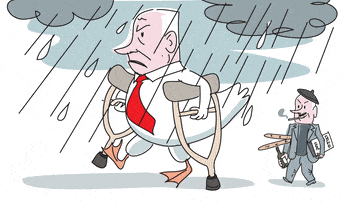 Illustration.
Credit: Amos Biderman
We have to get used to the idea: Prime Minister Benjamin Netanyahu will be brought to justice. He will sit in the defendant's box. If he's convicted of only some of the crimes attributed to him by Attorney General Avichai Mendelblit, he'll go to prison.
There's no scenario in which Mendelblit will reverse himself in the pretrial hearing and withdraw the charges he decided on with such restraint, eschewing the prosecutors' and police's recommendations. Mendelblit may have shown mercy on Netanyahu overall, but the 57-page letter he sent the prime minister is far from bland, and it's far from encouraging.
Mendelblit called out Netanyahu: corrupt and corrupting, rotten and baneful. The disgust he feels for the potential defendant seeps out of nearly every other sentence. He expresses contempt but also disgust and disappointment in the way our country's leader has behaved.
>> Read more: Netanyahu to be charged with bribery pending hearing ■ Israel's double rule exposed ■ This changes everything ■ Netanyahu's response is plea for putsch ■ What happens next ■ Facing charges, Netanyahu looks to world stage for help ■ Charges against Netanyahu are solid, embarrassing – and lethal
We can begin to recap Netanyahu's long term in office – a decade on the trot, 13 years in total, and now the twilight days.
These are also the most dangerous days. Netanyahu is a wounded animal with his back against the wall. Everything we have seen – the unbridled attacks on law enforcement and the media – are a quaint preview of what he's capable of in his despair, in his anger. If only we could put the entire country in the nuclear shelter built for the cabinet under the Judean Hills and wait for the fury to pass.
From now on the only rule that will guide Netanyahu is to rescue himself from the menace of the law, from the prison term awaiting him. He has seen the gray steel door of Ma'asiyahu Prison slammed behind a former prime minister, president, chief rabbi, ministers, power brokers and tycoons – and he knows that this is where he is headed. This should shame and depress not only Netanyahu but all of us.
We also need to get used to the idea that this election campaign, which began with a yawn, was rebooted Thursday – a week after the first Big Bang, the alliance between Benny Gantz and Yair Lapid. In enlightened Israel, someone is running for prime minister with an indictment for bribery, fraud and breach of trust hanging over his head. We've seen dramatic election campaigns before, but never anything like this.
The electoral implications will become clear only when the talk about the indictment fades a bit. Forty days before the election, many voters still haven't decided whom to vote for.
Will Mendelblit's stamp on the news fragments that leaked over the past two years make Likud voters think twice? It's hard to imagine that this will strengthen Likud. There's still a limit. Will it weaken, will it bleed badly?
And the main question: Where would the Knesset seats go? Would they stay in the right-wing bloc among Naftali Bennett's Hayamin Hehadash, Moshe Kahlon's Kulanu or even Avigdor Lieberman's Yisrael Beiteinu? Or would they cross the Rubicon to Gantz's Kahol Lavan? There's another possibility: Likud voters who feel they can no longer vote for a party headed by such a person may stay home on April 9.
Netanyahu must overcome two obstacles to remain in office and endure the hearing that will determine his fate while still prime minister. First, he must win the election. Second, he must forge a right-wing and ultra-Orthodox bloc so that President Reuven Rivlin has no choice but to ask him to form the next government, Netanyahu's fifth. (Even if old Ruvi has to grit his teeth and battle his nausea.)
Right-wing and ultra-Orthodox, that's the ticket. The option of Gantz's Kahol Lavan joining his government is no longer on the table. It's a shame that Gantz waited for Mendelblit's decision. Netanyahu should have been banned from being a partner even if he didn't have a conditional indictment hanging over his head – because of the long period he has been in office, his clear moral corruption, his style, incitement, divisiveness, attacks and lies.
Lacking a partner from the rival camp, if he wins, Netanyahu will be condemned to establish a narrow coalition once again of 61, 62 or maybe even 63 Knesset members. He'll be exposed to pressure and exploitation, and will be weaker and more vulnerable than ever.
His first act will be to try to pass a law preventing a sitting prime minister from being put on trial. The chances he can pass such a law aren't good, but it's still scary to think what he might give his coalition partners if they support such an abomination, the only thing that can save him from a trial.
It will be clear to everyone that he's living on borrowed time, with the coalition's days numbered. He won't be able to abuse his partners, and certainly not the Likud MKs. He'll need every vote in the Knesset, including those of the dishonorable far rightists Itamar Ben Gvir and Michael Ben Ari. In a certain constellation, they'll be the ones to guide the next coalition, Benjamin Netanyahu's final government.
Big little lies
The idea that you have to repeat a lie constantly for it to become considered truth wasn't invented by contemporary politicians. But in this election campaign it has seen its youth restored. Likud campaigners, with Netanyahu at their head, are leading this industry of lies. To use another metaphor, almost every day they launch total falsehoods into the atmosphere.
You don't have to be Woodward and Bernstein to prove the falsehoods. A short search on Google, a quick dive into the archive, a phone call to the person involved and the bluff is revealed. Even when the fabrication is exposed, the liars will never apologize or admit they were wrong. This is part of the doctrine, and lying is in their soul.
The lie that Zionist Union signed a surplus-vote agreement with the Joint List of Arab parties in 2015 was spread on the Likud messages page. Two cabinet members echoed it: Culture Minister Miri Regev, for whom credibility was never a calling card, and Immigrant Absorption Minister Yoav Gallant, who's trying to catch up to her.
This could be considered a midsized lie. But there are small lies too, tiny ones. At the beginning of the week, after the so-called permits committee at the State Comptroller's Office once again rejected Netanyahu's request to let him accept millions of shekels in donations to fund his legal defense, the prime minister tweeted in Hebrew: "A private person has no ability to face such enormous expenses, and they don't let the prime minister seek help, as they let MKs such as Tzachi Hanegbi and prime ministers such as Ariel Sharon."
Netanyahu had the bad luck that while he was crying about his financial woes and putting his hand out for charity, Forbes estimated his net worth at about 50 million shekels ($13.8 million), calling him the richest prime minister in Israeli history. A quick check found that Sharon, who as prime minister from 2001 to 2006 was investigated in three affairs – Greek island, Cyril Kern and Annex Research – never beseeched the permits committee.
During the entire period of investigations, Sharon paid his lawyer, Avigdor Klagsbald, out of his own pocket. No bitching and moaning. Ehud Olmert acted the same way; he paid up and shut up. He opened a fund for raising contributions only after he stopped serving as prime minister.
I asked a spokesman for Likud/the Netanyahu family for a clarification. Two hours later I was sent a copy of an article by Amir Oren of Walla News telling how Meshulam Riklis, the billionaire who died recently, helped his friend Sharon financially when Sharon spent time in New York during his libel trial against Time magazine concerning the Sabra and Chatila massacre in Lebanon.
That was the mid-'80s. Sharon was then a minister without portfolio. Netanyahu, who tweeted explicitly about "prime ministers" and used the plural intentionally, certainly wanted to hint about Olmert too.
At Likud campaign headquarters they continued to search for evidence to prove their claims. One unlucky person seems to have worked all night. The next day at 8 A.M. a copy of minutes from the Knesset arrived that included a parliamentary question by MK Yossi Sarid to Justice Minister Moshe Nissim (who served from 1980 to 1986) about financial aid given, or not, to Sharon by his friends during his New York trial.
Doesn't this funding completely violate the ban on ministers receiving gifts? Sarid asked. Nissim answered what he answered. I was surprised. This is the smoking gun? After all, in Case 1000, the affair in which Netanyahu received extravagant gifts from billionaire Arnon Milchan and others, the claim used in Netanyahu's defense is that you're allowed accept gifts from friends. Riklis was a close friend of Sharon. So what is Sarid's parliamentary question supposed to prove? That Netanyahu is a criminal like Sharon?
There was no reason or time to argue. I proposed that Netanyahu's spokesman admit he lied and that Prime Minister Ariel Sharon never received the permission that the committee denied to Netanyahu. "That's not what the announcement said," he insisted. "And as to the point of the matter and selective enforcement, we're right and it's appropriate to say so."
On second thought, I was forced to agree with him. The enforcement concerning Netanyahu is truly discriminatory. He's still receiving excessive leniency – which has never prevented him from slinging mud at others or crying that he's being screwed. Olmert was convicted of fraud and breach of trust and was sent to prison for eight months for taking money from his Jewish American patron Morris Talansky, using it for his own private purposes and not reporting it to the state comptroller.
Netanyahu took $300,000 from his cousin knowing it was forbidden. He declared it only after he renewed his request to the permits committee so that the panel would let him raise more money. He wasn't even summoned for questioning, he only had to return the money. Let's see if the country can extract a similar sum from Sara Netanyahu, who's capable of blowing the bullet-proof roof off the prime minister's residence in Jerusalem over a few shekels.
In the three criminal cases, Mendelblit gave Netanyahu huge discounts that would shame Black Friday: He closed the cases into Sara Netanyahu. And for all his efforts, Mendelblit is being paid back with an onslaught of vilification, incitement and character assassination that none of his predecessors suffered at the hands of any criminal.
Eyes wide shut
Ninety percent of the prime minister's energy goes to private matters. Ninety percent of the videos, posts and tweets he puts up address the investigations and the fallout. After improving Otzma Yehudit's chances of reaching the Knesset, continuing on late racist Rabbi Meir Kahane's path, he made himself available for a meeting with Russian President Vladimir Putin for the negligible matter of Iran's entrenchment in Syria.
He has dragged Likud, which was once a democratic party and is now a family branch, into his legal and personal mud. "Likud" is emblazoned on the press releases that defend the accused and attack whoever doesn't surrender to his caprice, whether it be the permits committee, the attorney general or Justice Minister Ayelet Shaked.
In fact, it's highly recommended that someone in law enforcement wake up and check that he's not committing the crime of using public funds, party funds, for his personal needs.
Netanyahu loves to compare himself to his predecessors. I'll go along with that. Sharon, in the years he was investigated, never used Likud as his personal spokesman against the legal authorities. It never occurred to him. Olmert didn't either. He hired a private communications consultant, Amir Dan, and paid him out of his own pocket.
Netanyahu is the most greedy, corrupt and cynical of them all. In the passing decade he has emptied the glorious Likud movement of its values, torn its flag and turned it into a crude and blustering force directed by Netanyahu personally or his bratty son and a few of his friends.
Likud ministers and MKs, who are compartmentalized in election matters, are silent. Even the anti-Gantz "graves broadcast" on Likud TV, Netanyahu's propaganda channel on Facebook, didn't stoke the weakest of protests. Senior Likudnik Gideon Sa'ar was the only one to call it "a grave error in judgment and a deviation from Likud's values."
Netanyahu too was quick to shirk it off, but he didn't apologize to bereaved families. In his way, the way of the "robbed Cossack," he didn't waste an opportunity for a reminder for the millionth time that he's a bereaved brother. He claimed that the people responsible for the video have been let go. Who was let go other than the guy who narrated the text with the graves of the Convoy of 35 – heroes from 1948 – behind him? We'll never know; maybe absolutely no one was let go.
It's very possible that this time Netanyahu really didn't approve the video. He's smart and experienced enough to anticipate the damage. If it wasn't him it was definitely someone close to him, someone he trusts with his eyes closed, someone in whose hands he's ready to entrust everything, not just during election time.
No stopping at the red light
If anyone still doubts his personal involvement in the video, Netanyahu's loss of control showed up in other places. When Bennett said Netanyahu and Donald Trump were conspiring over the timing of the publication of a U.S. peace plan that supports the creation of a Palestinian state, Likud published a response. It said that "Prime Minister Netanyahu protected the Land of Israel and the State of Israel from the hostile Obama government, and he will continue to do this with the supportive Trump government."
This is the first time Netanyahu has called Barack Obama's government "hostile." This is an utterance whose severity can't be exaggerated, not to mention its insanity. It illustrates just how much this man, who's now fighting for his political and especially his personal life, is turning into a strategic danger for Israel.
Obama, as chiefs of staff, intelligence chiefs, defense ministers and the president have remarked, supplied Israel defense aid at a level that even George W. Bush and Bill Clinton refused. Obama disagreed with the Netanyahu government's policies toward the Palestinians, he was revolted by the madness of the settlements and the settlers, and their personal relations were murky. But he will be remembered as a president during whose terms Israel grew stronger than ever – in security, intelligence and strategy.
Netanyahu's statement deviates from a simple personal insult. It's a kick in the face of the Democratic Party, which controls the lower house of Congress and is likely to return to the White House in 2020. Somehow, in all the chaos going on at home, this flew under the radar. It's a good thing he didn't accuse Obama of sucking that hostility from his mother's milk.
Click the alert icon to follow topics:
ICYMI
Ken Burns' Brilliant 'The U.S. and the Holocaust' Has Only One Problem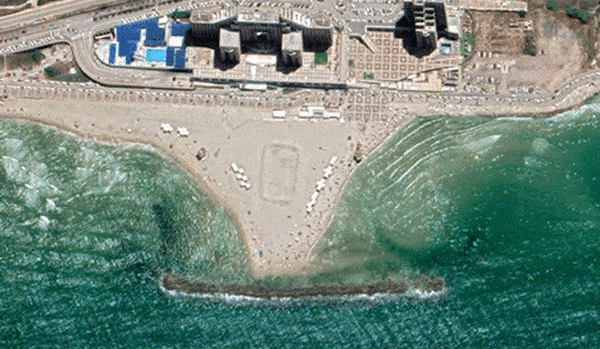 Facing Rapid Rise in Sea Levels, Israel Could Lose Large Parts of Its Coastline by 2050
As Israel Reins in Its Cyberarms Industry, an Ex-intel Officer Is Building a New Empire
How the Queen's Death Changes British Jewry's Most Distinctive Prayer
Chile Community Leaders 'Horrified' by Treatment of Israeli Envoy
Over 120 Countries, but Never Israel: Queen Elizabeth II's Unofficial Boycott