The Fine Line Between a Nobel and Jail: How a Renowned Israeli Botanist Ended Up in Prison for a Drug Op
The Kafkaesque story of a renowned Israeli botanist who found himself in jail for growing 1,000 cannabis plants on his roof for an unauthorized cancer trial
Nissim Krispil. "It's absurd to go to jail for sowing and growing a plant. Are they going to tell me what I can plant? Cannabis is a drug of salvation."
Credit: Tomer Appelbaum
One day in November 2016, as Nissim Krispil was sitting in the yard of his home in Moshav Tirosh, near Beit Shemesh – and two weeks after he received a lifetime achievement award from Ben-Gurion University – police raided his home and arrested the esteemed botanical researcher. "You see 40 policemen with long crowbars closing in on a 70-year-old plant-grower. The picture is still engraved in my memory," Krispil says about those traumatic moments.
This odd story had its genesis in 1993, when Krispil returned to the land of his birth, Morocco, to begin what would be a decade-long study of the history of the kingdom's rural Jewish communities. Like most of his research, this project, too, was conducted as his own personal, intuitive initiative, without funding or scientific oversight from academic or other sources.
"I felt that it was a mission," he recalls now. "It was an overwhelming experience, with every day different from all the others. I interviewed thousands of locals who lived with Jews in marvelous coexistence that continues to this day."
The 10,000-page study that came out of that research was never published. But Krispil, who has a Moroccan passport and speaks Moroccan Arabic and Berber, did publish two books about his experiences in his native land. One thing he learned from the archives and from conversations with elderly people there, is that Morocco's Jews dominated the kingdom's cannabis trade beginning in the 17th century. "For example," he tells Haaretz, "I found rabbinical questions and responses about what happens with an Arab who didn't pay for cannabis."
Cannabis crops in present-day Morocco are concentrated in the Rif mountains in the country's north, and provide Europe with its main source of marijuana. Krispil describes vast fields of the green gold. An autodidact botanical researcher, Krispil, who does not use drugs himself, set out to investigate the qualities of cannabis, as he had done previously with hundreds of other plants. He found that in Morocco cannabis tea, for example, is used to treat stomach ailments, and he was interested to discover that in the past cannabis grew wild in the country. "The original cannabis was nondescript in terms of the size of its flowers, and over time the farmers were able to domesticate and improve it," he explains, when we met last month at a Tel Aviv, just days after his release from prison.
Krispil scoured the country for the original wild strain of the species, until, in 1995, he became friendly with an elderly Moroccan who gave him a box containing hundreds of seeds of what he described as the "mother of cannabis." He brought the seeds back to Israel, where they lay in a storeroom for 20 years.
Three years ago, a host of articles began to appear about the connection between certain active components in cannabis and cancer treatment. Krispil decided to examine the ability of wild cannibis to alleviate or even cure cancer symptoms in a state of infusion. After calculating how much he would need for a research group of 300 patients, he covered the roof of his huge house in Moshav Tirosh, about 200 square meters, with some 1,000 seedlings.
"People ask me how seeds can survive for 20 years, but wheat seeds found inside the tomb of Tutankhamun in Egypt have been germinated," he notes.
He first tested the wild-cannabis tea on himself to ensure that it was risk-free. "I've never consumed drugs, but I've tested them in small doses," he says. "One time I put in an excessive amount of blossoms, and that was a nightmarish night." Finding the tea to be otherwise nontoxic, he found about 30 cancer patients who had exhausted conventional treatment options for a preliminary test. The results in the first months were positive.
Doron (who prefers not to give his surname), from Be'er Sheva, runs a fleet of vehicles to transport terminally ill patients, some of whom he referred to Krispil. "I sent him people who had little to lose," he says. "There were two women with breast cancer for whom he prepared infusions. They said that when they went for tests afterward, the doctors were amazed and asked what they had done. The cancer didn't disappear, but there was a regression. With my own eyes I saw a Parkinson's patient whose trembling was diminished significantly."
Krispil maintains that the symptoms in the patients in his study became less acute, particularly the cognitive and motor-related ones, and "people showed a great deal of vitality."
Didn't you consider the legal implications of what you were doing?
"I knew there was no chance I would get authorization as an independent researcher. There's a fine line between entering prison and the Nobel Prize. You can do something illegal and get a Nobel, and you can do something illegal and go to jail."
Krispil recalls the day he was detained: "The police took me up to the roof and tore out the plants from the roots. The interrogation was short. I had nothing to hide. I gave them a botanical tour and admitted that things were done there. They began to think the plants weren't mine and asked whether maybe an underworld figure had threatened me to get me to give him the roof. I said, 'No, it's me, I admit it: The plants are mine.' I told the officers about the amazing relationship I had with the plants. But when you tell the truth, they're sure you're a liar."
'There's a fine line between entering prison and the Nobel Prize.'
Asked if the patients who took part in his study paid him, Krispil says: "Absolutely not. I never took money for the service. I make a livelihood from giving lectures, tour guiding and a little from book royalties. People wanted to pay, I said no."
Sources in the state prosecution allege that you didn't have a research plan.
"I wrote the whole research procedure in a logbook, but for some reason the police didn't take it. One officer looked through it and gave it back. If they'd taken it, they would have a had a problem [with their case]. The search was aimed at incriminating me."
You had the right to present the logbook in court.
"I stated at the trial that I had a logbook, but by then it was already too late. The judge was 'locked in.'"
They also say that you didn't know what the active components of cannabis are.
"Nonsense. As an anthropologist I don't talk about active components, because if you extract one and synthesize it, it causes side effects. That's the problem with synthesized medications. I don't deal with specific active components, but with the totality of the components, which makes the medication less harmful."
But you knew that what you were doing [growing and distributing cannabis without a permit] was against the law.
"Certainly. But I had the feeling that I wouldn't be discovered, despite the huge number of plants on top of the house and their fragrance. Someone must have informed on me."
So it happened that the acclaimed researcher who claims he wanted to save the world was taken, handcuffed and shackled, to a detention cell in the police station at the Russian Compound in Jerusalem.
"It's terribly humiliating," Krispil says. "It's absurd to go to jail for sowing and growing a plant; it's like growing tomatoes in a hothouse. Are they going to tell me what I can plant? Is it a dangerous drug? Cannabis is a drug of salvation. Oleander is grown around kindergartens – a child could eat an oleander leaf and die."
'Autodidact from the field'
Nissim Krispil immigrated to Israel from Morocco in 1954, when he was 5, and he and his 10 siblings grew up in the town of Migdal Ha'emek, near the Jezreel Valley. His mother worked as a maid in nearby Nahalal, the historic moshav; his father, who suffered from various disabilities, was employed in public works projects run by the Jewish National Fund. Thanks to a brother who had arrived in Israel earlier with the Youth Aliyah program and attended the agricultural school in Kfar Hasidim, Krispil was also able to enter the school.
His love affair with plants sprouted when he began to guide visitors at the Har Gilo Field School, in the West Bank, south of Jerusalem, beginning in 1977: "In my spare time, I would talk about plants with the elders from the Palestinian villages. I would take the Hebron bus, get off at some village, spend a week there and then go back home. In those days there was no reason to be afraid, and I spoke excellent Arabic."
The encounter with the Arab elders provided Krispil with valuable information about the curative effects of local herbs, which made him something of an expert in a new field. "I became more knowledgeable, and the tours I led became more interesting. People said I should write a book. I decided to take myself in hand. I would write until 3 A.M., and then get up the next day to work as a guide at 8. I decided to write about all the beneficial wild herbs, in alphabetical order. The result was a 2,000-page encyclopedia of herbs," published in the 1980s by the Kana press.
What formal education do you have?
"I have a high-school education. No need for me to go to university to be taught about sacred trees or traditional crafts."
So, where did you get the budget for a decade of research about Moroccan Jewry?
"Two or three tour-guide jobs with the Geographical Society can pay for a year of research."
Krispil's independent studies, which run along the seam line between botany and anthropology, have become familiar to Israelis, thanks to his 15 Hebrew-language books, as well as his guiding. One book – "Medicinal Herbs: A Field Guide" – sold 60,000 copies, the author says.
'Cannabis is a drug of salvation. Oleander is grown around kindergartens – a child could eat an oleander leaf and die.'
"What's distinctive about Krispil is that he's an autodidact from the field," says journalist and travel-book writer Tzur Shezaf. "He's the closest thing to folk wisdom. An important aspect of his research is his connection to traditional Bedouin and Palestinian cultures. It's knowledge that is liable to be lost, because we are losing our connection to the soil. His knowledge makes Krispil one of the most important people in the realm of medicinal herbs and folklore, and the legends relating to them."
According to Yoram Bilu, emeritus professor of anthropology and psychology at the Hebrew University – who served as a defense witness in Krispil's trial – "in regard to Moroccan Jewry and the cult of holy men, Krispil did impressive work on his own." Krispil, he adds, is "a warm and generous person who helped me quite a bit, and I drew on his studies when I researched the Jewish shaman Yaacov Vazana. He's a more successful, adventurous traveler than I am. He's been to places I never got to. He took pictures of Vazana's mother's house in a remote village in the Atlas Mountains, and never asked for anything in return."
"We worked together for years," says Prof. Zohara Yaniv, an ethnobotanist at Hebrew University, "with me on the scientific side, and he as the person in the field. We investigated Israel's flora as a source of medications, with a grant from the Science Ministry. It hadn't been done before here, even though it's something that's done all over the world. Nissim is familiar with the plants and he speaks Arabic. We went to villages and interviewed people, we found out about the herbs and where they grew. It's an important, basic study. He possesses very important knowledge.
"It was very sad when he was arrested," she continues. "I'm the last person who would say anything against the law, but his detention was absurd. It's absurd that a researcher with an independent mind should be sent to prison as a criminal."
Absurd or not, the court ruled, in November 2017, that the naive herbalist was a drug dealer. In a plea bargain, Krispil was sentenced to a year's imprisonment, and he was ordered to turn over half of the value of his house, or 1 million shekels, to the state. For his part, he says now that if the authorities were really convinced that he was a dealer, the legal system wouldn't have been satisfied with a year in prison.
Judge Hagit Mac-Kalmanovich noted that although Krispil had grown a large amount of cannabis, he had no prior drug-related convictions. Her written verdict shows that she was aware he lived an ascetic life, and she cites no incriminating testimonies that he had actually dealt in drugs. She relied primarily on the fact that, in her view, Krispil himself was quoted in the indictment as having admitted to investigators that he was growing cannabis for profit. Krispi says, however, that he had scrupulously avoided admitting to monetary gain. An amended indictment omitted the word "monetary" and left only "profit," which Krispil said referred to scientific benefits from his research. The verdict states that even if the profit had been intended to advance cancer research for curing cancer, it was still profit, and in that case, too, Krispil would be categorized as a drug dealer.
In the words of Mac-Kalmanovich, "Even if the defendant had intended to make a profit that was not monetary, such as obtaining recognition for his research work, for our purposes it is profit nevertheless."
An intriguing point that attorneys Eitan Finkelstein and David Yiftah made in their appeal to the Supreme Court on Krispil's behalf was that the case was a precedent: It was the first time that the home of a person convicted of drug dealing had been seized by the court; seasoned dealers separate their hothouses from their home for precisely that reason.
The state prosecution referred me to the ruling. It states, "If the defendant had intended to study the possible use of the drug as an infusion, a few plants would have been sufficient. It's not clear why 77 kilograms were needed."
"According to my calculation, that's the quantity needed for research with 300 subjects."
Did you feel humiliated by the judgment?
"I thought that as a recognized figure in my fields, headlines about 'well-known herbalist growing [drugs] on the roof of his house' would hurt me. I told myself that my whole career was collapsing. But, on the contrary, it did me good. There is more openness concerning cannabis. People didn't understand what exactly we did that was bad."
The impression is that the judge was convinced that you're a dealer.
"My telephone was confiscated, but no [incriminating] correspondence was found, nothing that links me to dealing or to use. An odd thing happened while I was sitting in the yard of the Beit Shemesh police station, waiting to be questioned. The smell of cannabis permeated the yard, and the whole station. I spotted a detective throwing a black bag with something in it into a garbage can in the yard. And another officer took it out of the garbage can and went off with it. I realized that the police were profiteering from cannabis that came from my house."
'I've never consumed drugs, but I've tested them in small doses. One time I put in an excessive amount of blossoms, and that was a nightmarish night.'
Asked about the accusation, a police spokesperson told Haaretz: "Those are wicked allegations that are not consistent with reality. The searches in the suspect's home were conducted solely for investigative purposes. The Israel Police will continue to act fearlessly and with determination against those who grow drugs and harm the lives of law-abiding citizens for money."
Krispil goes on to criticize the judicial system: "The lawyer brought my 15 books, and professors testified and showed that I am a plant researcher. But the prosecution just didn't get it. They trample you. The seizure [of property] was a precedent. The lawyer who represented me didn't believe it. What it meant was that if I didn't have a million shekels [about $270,000] to give them, the state would take my house."
It's a hard to be without a home at your age.
"Whether I have a house or not didn't interest me. We appealed."
In the end, the Supreme Court accepted the appeal against the house-seizure precedent. Instead of a million shekels – half the value of the house at the time – the court ordered Krispil to pay a fine of 300,000 shekels. According to Justice Neal Hendel, one reason for reducing the fine was circumstantial. The justices' final ruling stated, "We considered the matter, including the aspect of precedence in the verdict, the appellant's personal circumstances and, of course, the circumstances in which the offense was committed."
'Burning passion'
Surprisingly, for Krispil, who became a free man in January, imprisonment was the one positive element in the whole weird affair. "I received a tremendous gift," he says now. "It's a privilege to be in jail. It's an opportunity to sit and think. You need to spend at least a year in jail, and regrettably I was only there for nine months in the end."
You say that another three months inside wouldn't have hurt?
"Yes."
He described his prison experiences – suffused with searing childhood memories of his immigration – in a diary hundreds of pages long, which he plans to publish as a book. He writes of his arrival at Ma'asiyahu, a minimum-security prison in Ramle, in a chapter titled "Prisoner No. 1121134": "[At the entrance] a voice booming from an intercom asks the reason for your arrival. I wasn't exactly ready for the question, and replied, 'I'm here for a good time.'"
Krispil found himself in Block No. 2, "the old people's wing," and he worked in the library. He describes his time there as a fascinating journey to an exotic destination. "There was an Algerian Jew of about 90 with me in the cell, who spent all his time chattering about himself like he was hallucinating," he recounts. "I was envious, because he thought he was in the Paris Metro. One day he left some papers in the cell and I discovered that he had been convicted of a terrible crime of child abuse. Instead of putting him in treatment, they left him in the cell and he drove everyone crazy.
"At night, before bedtime," he continues, "he checked to see that there were no demons under the bed. I had to shout in his ear, because they took his hearing aid. There was also a Russian of 86, a very nice guy, a huge man who lost himself in eating. He was doing a life sentence for having killed his wife. And then there was Ali, who had a disabled leg in the wake of a clan feud. There was a wonderful bond between us. Another prisoner, Costa, who was about 90, died in prison around a month ago. His condition got so bad that he would relieve himself in the corridor. We have so little compassion. It's cruel to leave them to die in prison."
But you still term the experience as positive.
"That cell block looks like a pathetic recreation center. There's neatly trimmed grass and a fountain that one of the inmates built. One of the advantages of Block 5 [to which he was moved] is that it has a large sycamore tree in the center. I communed with that tree. It made me happy. For that alone it was worth moving to Block 5. Time passed quickly. I didn't have enough time to do what I wanted. I played chess with the Russians; they were wizards. There was a chess group, and my game really improved. I devoted a lot of time to reading books and writing. I walked 14 kilometers a day [in the yard]. I lost 10 kilos."
So you have no complaints about the incarceration.
"They are mainly about what the other inmates endured. They would all come to me, especially the Arabs, and I helped them write appeals. I was very popular and very much liked. In prison you learn how to respect others. I arrived in prison with summer clothes – sandals, shorts and zero cold-weather gear. When winter came, I had no warm clothing, and the authorities wouldn't let me bring any in. But good inmates gave me some; one gave me a blanket, another a pair of pants. Just wonderful."
Even though this interview took place less than a week after Krispil's release, he didn't seem distraught. With his full, tour-guide voice, he sounds as though he's relating an exotic tale that involved somebody else, a historical figure. But he is indeed angry and disappointed.
"I have decided to leave the country," he asserts. "I have been up and down this country, but I've had it up to here with the state; it's hard for me to be in a place where so much injustice exists. This country is defiled. It's not just what was done to me, but to the other inmates as well. I'd be happy to end my life in a village by a river in the Atlas Mountains of Morocco; to build a tourist center and use the opportunity to help the villagers."
But you have four children and five grandchildren here.
"They can visit whenever they want, and I will come here, too. The problem is that my girlfriend isn't enthusiastic about the idea. She prefers Tuscany. In Morocco I will be able to choose where to be buried. For example, on one of the hills. Why are [Ariel] Sharon and his wife allowed [to choose their place of burial, outside a cemetery]? Maybe my grave will become a holy tomb. Everything is so simple there. I thought about it even before everything that happened, but didn't follow through. Now it's a burning passion."
Click the alert icon to follow topics:
ICYMI
Ken Burns' Brilliant 'The U.S. and the Holocaust' Has Only One Problem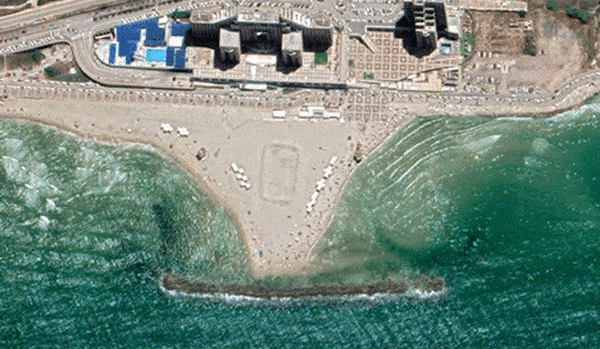 Facing Rapid Rise in Sea Levels, Israel Could Lose Large Parts of Its Coastline by 2050
As Israel Reins in Its Cyberarms Industry, an Ex-intel Officer Is Building a New Empire
How the Queen's Death Changes British Jewry's Most Distinctive Prayer
Chile Community Leaders 'Horrified' by Treatment of Israeli Envoy
Over 120 Countries, but Never Israel: Queen Elizabeth II's Unofficial Boycott