Analysis |
After Attacking Media and Law Enforcement, Netanyahu Moves to Next Target
The imperial family has no intention of moving out of the Balfour Street residence quietly. They want to leave scorched earth behind them, a Ground Zero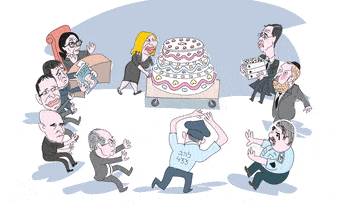 Bibi's step-by-step plan
Credit: Amos Biderman
History professor Zvi Yavetz used to tell his students the following tale: He once had a younger friend, and on Saturdays they'd go to soccer matches. Yavetz was a fan of Hapoel and his friend was a fan of Beitar. When Hapoel scored its first goal the friend would shout: "The referee is a son of a bitch!"
After the second goal, he would boil over: "The Histadrut is to blame!" And at the third, when all hope was lost, he would mutter in defeat: "There is no God."
When it became clear to Prime Minister Benjamin Netanyahu and his people that the Lahav 433 anti-corruption police investigators, backed by Police Commissioner Roni Alsheich, were leaving no stone unturned, they launched an unprecedented mudslinging and delegitimization campaign against them. That was the first goal in Yavetz's parable.
>> Netanyahu bemoans 'unprecedented' campaign against him. Then launches unparalleled attack | Analysis ■ Netanyahu's ill-conceived attempt to turn the Attorney General into a political rival | Opinion
When they realized that the prosecution was getting cozy with the investigators and concurring with their conclusions – that was the second goal; State Prosecutor Shai Nitzan and, beginning this past week, Attorney General Avichai Mendelblit have been taking a lot of flak. After that, perhaps it will be the turn of the Supreme Court, and then the moment will come when Netanyahu announces to his base: There is no God.
On that day Israeli democracy will be in grave danger. "The millions who will take to the streets" if it is decided to indict the prime minister, as coalition chairman David Amsalem has promised, are not just figments of his fevered imagination. This is the big plan. Or at least the way the wind is blowing at the prime minister's Balfour Street residence. When push comes to shove, the signal to attack will be given to the incited mob whose mind has been inflamed well in advance with messages of hatred and revenge.
Netanyahu has no God but the one that gazes out at him from the mirror every morning. He is a desperate man. When the head of a crime organization senses that his days are numbered and the pincers of the law are closing in on him, he ices a state's witness or blows up a police station. As the noose is tightening around Netanyahu's neck, he is aiming to topple the institutions enforcing the law, make them illegitimate, the long arm of the media, and issue a din rodef, a talmudic license to kill.
The hard core of his supporters needs a Satan against whom to aim its darkest urges and, heaven forbid, an actual blow. Netanyahu has given this hard core more than one: Portraits of journalists on a billboard, "the propaganda channels 12 and 13," as he calls them in a video he posted this week, the police and the law enforcement chiefs who are deliberating on his cases. By the time the prime minister and his lackeys are done slandering the denizens of the Justice Ministry on Saladin Street in East Jerusalem, Mendelblit and Nitzan will be more heavily guarded than the pope.
Despair meets despair
In his despair, in his fear of what is to come, Netanyahu has drawn aside the mask of constructive fog that accompanied the Israel Defense Forces' actions against Iranian targets in Syria. Instead of the sensible policy of ambiguity, day by day we are getting a concentrated dose of machismo and inflammatory boasting from him in the style of Kim Jong Un's news readers.
This is a new phenomenon: The man who always behaved responsibly and with restraint in security matters, and who on more than one occasion reprimanded cabinet ministers who shot their mouths off in the media, changed his spots overnight. If we've always said of him that he doesn't champ at the bit to go to war, that he is cautious and considered in his use of force, it is possible that even this last boundary is about to be crossed.
In this election, everything is kosher. He has to bring in a big achievement, 34 or 35 Knesset seats, brandish them as a certification of good conduct from the public and depict any attempt to charge him with crimes as a putsch by the judicial-media-leftist elite and against the people's will.
At the moment, this looks like an achievable goal, though there is no way of predicting the effect of a draft indictment that will apparently be issued next month, and of the wealth of recordings and testimonies that will be released to the media by interested parties on all sides.
Clearly, from the moment the indictment is issued, the election campaign will revolve entirely around the cases against Netanyahu. If Likud is weakened, presumably most of its votes will remain within the parameters of the Likud-led bloc. If Likud is strengthened, as some believe will be the case, this will necessarily come at the expense of Likud's "natural partners": Kulanu, Shas, Yisrael Beiteinu and perhaps also Hayamin Hehadash and Habayit Hayehudi.
Netanyahu's main concern is about unexpected difficulties in putting together a government. Ostensibly, the coalition as currently constituted is promising to go along with him as long as he is awaiting a hearing, a process that could take up to a year until its completion. But what if someone, for example Finance Minister Moshe Kahlon, changes his mind as a result of public pressure or one or more of the partners doesn't make the electoral cut?
According to a number of surveys, Kulanu, Habayit Hayehudi, Shas and Yisrael Beiteinu – or some of these parties – are in the danger zone with regard to winning the required four seats in the Knesset. In a situation in which a lack of "natural partners" emerges, Netanyahu will have to turn to parties in the other bloc. The heads of some of these parties have already promised not to join a coalition he heads. Who will come aboard, who will not and under what conditions?
The obvious condition, from Benny Gantz for example, would be to demand of Netanyahu that he publicly declare he will resign the moment the indictment becomes final, after the hearing. In such a scenario, Netanyahu will begin his fifth and final term weaker than ever, a sitting duck and tantamount to a dead man walking. Which brings us back to the beginning, the Samson Option.
There's no point in scrutinizing him according to the norms and rules of earlier prime ministers, nor even those that characterized his own two terms in office between 2009 and 2015. Netanyahu produces a new model every day, rules of engagement the likes of which the country has never experienced before. Fear of a trial and prison are also evident in posts by his son. The effluent from Yair Netanyahu's poison pen is getting sicker and more violent by the day.
There are no manifestations of self-control in Balfour Street. There are signs of breakdown and loss of control and there is not even the soothing and calming Zen-like presence of the wife and mother of the family, who flew off abroad three weeks ago in the wake of her younger son and his security detail and since then has vanished from view.
The imperial family that weekly affords us another glimpse of its madness has no intention of moving out of the Balfour Street residence quietly and trotting off into the sunset. Bibi, Sara and Yair want to leave scorched earth behind them, a Ground Zero that even the two prime ministers who follow this one will not be able to fix, as in Culture Minister Miri Regev's paranoid slip of the tongue.
Click the alert icon to follow topics:
ICYMI
What if the Big Bang Never Actually Happened?
Why Palestinian Islamic Jihad Rockets Kill So Many Palestinians
'Strangers in My House': Letters Expelled Palestinian Sent Ben-Gurion in 1948, Revealed
AIPAC vs. American Jews: The Toxic Victories of the 'pro-Israel' Lobby
'This Is Crazy': Israeli Embassy Memo Stirs Political Storm in the Balkans
Israel Rewards Hamas for Its Restraint During Gaza Op