Opinion |
Yes, I Still Care About Israel; I Often Feel Shame and Disgust, but I Do Care
During my stay in my sister's settlement, I learnt (again) that emotional blackmail is a Jewish tradition for the ages. But I also realized that her political views weren't the real barrier standing between us. Final part of a three-part report
The annual removal of the notes placed in the Western Wall by visitors before Passover. 6 April 2011
Credit: Tomer Appelbaum
Both my parents are buried in Jerusalem. My father mainly for practical reasons: my sister was about to give birth to her fourth child when he passed away in Amsterdam in 1991, and she was not allowed to fly. So we flew with my father's body to Israel. My mother wanted to be buried next to her husband.
Neither had ever shown great interest in being buried in Israel, it just turned out that way. That's not to say that both my parents didn't otherwise feel warmly toward Israel, but you can also have very warm feelings for a person without moving in together.
>> Read Arnon Grunberg's previous reports from Dolev: I Detest My Sister's West Bank Settlement. That's Why I'm Going to Live There >> When You're Staying With West Bank Settlers, Here's How to Break the Ice >> My Settler Sister Knows Her Enemies. First of All, She Hates the Germans. Then the Arabs
My sister had invited my mother to spent her last years in Dolev, the West Bank settlement where she lives, to which my mother always said, "When I'm really old I'll move in with you." But she postponed her belated aliyah until it was too late; she passed away in 2015.
And during the last years of her life, when she was living with two caregivers from the Philippines in her house in Amsterdam, she never mentioned going to Dolev anymore. When push came to shove, she preferred her caregivers and her own house to active bodily Zionism.
After my mother fell ill in 2010, my sister visited her for a week once a year - reluctantly, I would say. Of course, my sister had her work, her children, grandchildren, but I always felt that there was unspoken anger that my mother, despite all her promises to spend the last days of her life in the Holy Land never could bring herself to live in Dolev.
Also, my mother had changed a bit during the last years of her life. She had always kept more or less kosher, though she loved German pastry and, to her, all German pastry was kosher. During her last years, however, she suddenly took a strong liking to non-kosher sweet and sour candies. When my sister would come over, my mother asked me to hide the non-kosher candies, which says a lot about the relationship between them. My mother was slightly fearful of my sister's warmhearted, but also severe and pious gaze.
Also, my mother used to say: "I didn't tell your sister that you fly on Shabbat, it would make her so sad."
My sister loves family, but the family, as all other Jews, have to come to Israel to see her, they have to make a step in her direction. During my days in Dolev she remarked a couple of times that it was so difficult for her that I hadn't shown more interest in her children all those years.
Emotional blackmail is a Jewish tradition for the ages. It would not even come to mind for me to tell her that it was slightly upsetting to me that she hadn't shown more interest in my books. As a matter of fact, not one of her children has, as far as I know, ever read my novels, even though a few of them have been translated into Hebrew. I believe that my books are forbidden in my sister's family, which is not something I complain about. Censorship can also be a compliment.
Standing near the graves of my parents, I hear my sister talk to them in Dutch. Suddenly I see her as a child again, and perhaps besides all the other things that make her who she is, settler, believer, child psychologist, she is above all a child.
A bit like Oskar in Günter Grass' novel "The Tin Drum", somebody who refuses to enter the treacherous world of the adults. On this level I can relate to her, can laugh with her, can feel the same benign competition I felt four decades ago, even though I would not want to talk to my parents through their graves. I'm too self-conscious to do that, I don't want to be ridiculous in my own eyes.
After the visit, we go to a restaurant in Jerusalem where she picks up the bill, against my wishes, and I realize that her political views are not the barrier standing between us. Yes, I still believe that settlements are an obstacle to peace, but then there are many other obstacles. In my opinion, the settlements are unjust, however, we probably face a plethora of even more urgent injustices in this world.
What's standing between us is more fundamental and goes beyond religion. To me, the world and humanity are fundamentally broken - and there is no way out of this brokenness, there is no real healing, there won't be a future with a complete and unbroken world, there is no messianic solution not for our politics or for our religious lives.
To me, the acceptance of this brokenness, of tragedy and uncertainty, is fundamentally ironic, you know that you are standing in quicksand, and by recognizing the imperfection of all our attempts to attach meaning to our lives, you accept that your own attempts may be misguided or unsuccessful.
The human comedy is not only a bloody, but also an ironic, comedy and by recognizing the clown in yourself you don't have despise other people's clownish behavior anymore. And you can live with this brokenness, you can even live well with it.
When I was 16, in Israel, I took my sister to a movie that had made a deep impression on me: "Betty Blue", directed by Jean-Jacques Beineix. Without doing it proper justice, it's a movie about a struggling writer and a young woman who nowadays would've probably been diagnosed with a borderline personality disorder, and their amour fou.
My sister despised the movie and to this day she speaks about it in horror. The depiction of tragedy, even if it's a beautiful depiction, prompts in her a visceral feeling of disgust. Yes, she appreciates stories of Holocaust survivors and their children, but somehow the Holocaust managed to have a happy ending: the birth of the State of Israel.
I'm not so sure about that happy ending. And above all, I don't need a happy ending.
And there's one more thing that separates us. Voluntary assimilation has been part of the emancipation process of all minorities: I'm very much in favor of that. To my sister, assimilation is more or less the Holocaust of the Jewish soul.
Before we drive back to Dolev we visit the Western Wall; my sister wants to show the Kotel to my girlfriend. Afterwards my sister is disappointed that the Wall didn't make a bigger impression on my girlfriend. My girlfriend whispers in my ear: "To be honest, I'm more in awe with an average kitten than with the Wall." I understand this. Nietzsche, Freud and Joseph Roth left a greater impression on me than the Torah did.
One of the last evenings in Israel I spend in a bar in Tel Aviv with an acquaintance of mine, the Israeli author Nir Baram. He tells me half-drunk and in jest: "You still care about this country. We are beyond that." As if you can only care about Israel when you don't live there, which does make sense to me. Disengagement and detachment are viable and often necessary survival strategies.
It was of course a joke, but there's always more to a joke. Yes, I still care; often my feelings consist of shame and disgust, but I do care. Even though it seems even further beyond the bounds of possibility for me to believe in the nation state, any nation state, than belief in God.
My opposition to nationalism, to the insistence that humans should always identify as members of this or that community, means that it's not only with my sister I part ways. There are many people, like some of my friends in the Netherlands, who believe that my antipathy to nationalism is snobbish, elitist and maybe even dangerous. And perhaps they are right, probably it's elitist to believe that you don't need the nation-state, that you are above tribalism.
But states and tribes are abstractions, they don't break their ankles, they have no heartbreak, they don't know what comic relief is.
The humanistic cliché that we should love mankind has been sufficiently discredited. But how can you care for the people around you if you refuse to care for individuals that don't belong to your tribe, your group, your state, how can you care if you believe that the monster is always the other, how can you care if you don't see that the enemy is also living inside you.
If you accept the concept of us against them, of perpetual war, you just don't care.
Arnon Grunberg is the author of the recent novels "Good Men" and "Birthmarks." As a reporter he has been embedded with, among others, Dutch and German troops in Afghanistan and U.S. troops in Iraq, in a nursing home in Flanders, with a fire crew in The Netherlands and is about to travel all 50 U.S. states to explore God, love, work, race and punishment. He was born in Amsterdam and lives and works in New York. Twitter: @arnonyy
Click the alert icon to follow topics:
ICYMI
Ken Burns' Brilliant 'The U.S. and the Holocaust' Has Only One Problem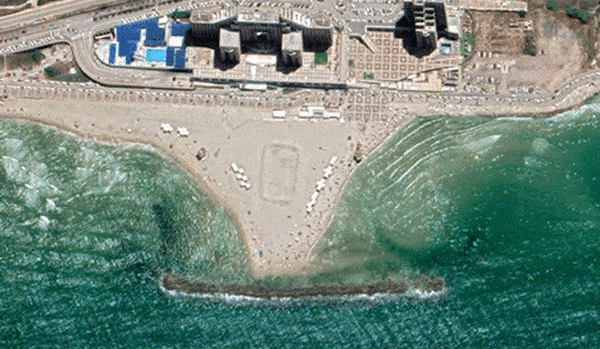 Facing Rapid Rise in Sea Levels, Israel Could Lose Large Parts of Its Coastline by 2050
As Israel Reins in Its Cyberarms Industry, an Ex-intel Officer Is Building a New Empire
How the Queen's Death Changes British Jewry's Most Distinctive Prayer
Chile Community Leaders 'Horrified' by Treatment of Israeli Envoy
Over 120 Countries, but Never Israel: Queen Elizabeth II's Unofficial Boycott