Opinion |
Amos Oz, My Father, Left Us With Words That Can Still Change the World
Those who think that the hope for a better, different Israel died with Amos Oz did not really know him. His words were a kind of invention - so hope would not die
Late Israeli novelist Amos Oz posing for a photo at his house in Tel Aviv, November 2015.
Credit: Dan Balilty,AP
My father died on Friday.
Truly righteous people die on Shabbat. Now I understand that writers should die on Friday. The word got out just before this wintry Shabbat, and throughout this long weekend, in Israel and abroad, tens of thousands of people read about father and words by father. A writer should die on Friday.
At the age of four, I discovered death. I came to father and said that I was terribly afraid. Father answered me: Don't be afraid Fania, because by the time you grow up I'll come up with a kind of invention that would stop people from dying.
>> Amos Oz: A warrior on the intellectual battlefield for Israel's character ■ Amos Oz challenged Israelis. Now his work should be our moral compass ■ Two warm, generous and encouraging letters Amos Oz sent me <<
That's exactly what he said, in those words. See for yourself: The 25-year-old father who spoke this way to his daughter was actually the boy from Sumki, the boy from the panther in the basement, the boy from the hill of evil counsel, and from the tale of love and darkness. That boy suddenly became a father. Mine.
And some people will say, in my opinion rightly so, that you shouldn't tell a little child who is afraid of death that father will invent something against death. As if the words alone can bring redemption, complete and final healing, or at least buy time, postpone the fear of death of a child and an adult and an old man and coddle them in a completely made-up magic spell of dreams of the future.
And this criticism can also be of father's politics. Yes, I'll speak here about his politics because for him and for me, politics were also personal. Not everything that is personal is political, certainly not, but everything that is political is personal.
Some people thought that the political optimism that accompanied Amos Oz throughout most of his life, not in the last year or two but most of his life, was a kind of fantasy of world peace; of mankind, which in its tangle of complications can actually be good; of human society that can actually be repaired, completed and repaired with hoes and shovels and books and pens.
Some people disparaged this optimism and were even frightened of it, as if the stubborn hope for peace between Israel and the Arabs, and particularly between Israel and the Palestinians, is an insane illusion, an invention of writers, a passing shadow in a Platonic cave.
And father insisted and said, even at the end, toward the end, that men and women can become better with time, more complex and better, thanks to some touch of the proximate other, and of the pain of the far-off and foreign other, through the ability to tell each other stories and to hear stories and to live for a brief moment in the foreign skin of the heroes of the stories.
And father said to me: All the moral instructions and the Ten Commandments and the good characteristics I can bring down to one commandment: Do not cause pain. That is all. Do not cause pain. And if that is impossible, at least cause less pain. As little as possible.
He tried not to cause pain, his whole life he tried, and sometimes he failed at it. Well, I know that sometimes he caused pain. But how many were those who wrote and said over the past few days how much father gave them an ear or help or patience and heart.
And so it seems that it is truly possible to work hard, get up every day at 4 A.M. and start to cause less pain. To cause less pain, and to write. This, too, he did from 5 A.M., after a walk, with the black pen and the blue pen, in his voice of the storyteller and his voice of the citizen-speech maker.
He created haunted characters and sought proper rest for them. He cast a spell on the darkness so love would break forth, and between loves and darknesses, no less tangled than the love of a woman, he lived tangled all his life with love of this land and this state, the state that trickled to us out of the tears of his parents.
In all the hopes of his Zionism-in-realization, in all the innocence of the faith of a member of the generation that established a state for the Jews in Israel, he also sought for us this deep Zionism, almost the last that had that had not been realized, that there would also be peace here with the Arabs.
Good and wise men and women, he told me many times, are growing up here and will take the wheel of this state. Unexpected people, people who had only recently arrived, not famous and not glory-chasers, will come and lead from the places where the great hopes of tomorrow are secretly sprouting.
Not optimism. Hope. Optimism is the color of a forecast, hope is the realization of a deep value or something of an enormous imagination. This hope that there would be peace here and justice here. The delicate and uncruel justice of a society of solidarity, maturity, a society that is not greedy nor zealous for any theory. Just one founded on love of human beings.
An Israeli society that has Judaism and humanism, the combination incised on the gate of the home of our uncle Joseph Klausner, that same Judaism whose secret powers, even if there is no faith in God, are the children, the books and the conversation. And with us, conversation is permitted with any person, and debate is beloved, even if it is heated, as long as it does not cause pain.
And out of the solid nature of this great hope, out of the fact that this hope, as much as people here today disparage it or fear that it will weaken us and deliver us into the hands of our enemies, many know that this hope is in fact the secret core of Zionism, and also the secret core of humanism. Hope is good for the heart, it expands it, it tears open a horizon and moves to action. It is arena as well as heritage for the grandchildren living here.
Father died, and anyone who thinks that hope of this kind died in Israel with the death of Amos Oz, did not really know father, because father knew that we would go on. He invented a kind of invention so hope would not die. We will die but it will not, as long as he has here children and grandchildren and friends and students, and readers, and interlocutors and fair people who disagree with him and who are worthy of him, it will not die.
I am talking about the hope that there will be true peace here between democratic Israel, a state of the Jews and of all its citizens, a state of law and social justice, a state in which the language of Torah will flourish, as well as Jewish and Hebrew culture, and with them Arab and world culture.
It is not a comforting invention for a child afraid of the dark, it is not an idle tale for grown ups to release the heart from pangs of conscience and the hands from action. No, because this is a call to action, because words change history. Words like here in the land our forefathers cherished all hopes will come true.
We changed history once, father's parents and the parents of my beloved mother, and the pioneers of Kibbutz Hulda and the Jews who walked or rode or sailed here with great intent from all the places of their dispersion, out of the jaws of the devil, they changed history, out of a horrific world they changed history — and we, can we not here and now hope and act?
Father cannot hear what I'm saying now. He was a very secular Jew, and I also am not a believing person, and I don't think he hears. But I am certain, truly certain, that he is nodding his head.
And so it is possible to invent a kind of invention that our human and Israeli hope does not die. Sober, wise, very Jewish hope in a certain sense, human-loving and world-loving, that it will be good here for most of the people. And that everyone, or almost everyone will tell stories and will certainly listen to stories, and will truly listen. And that out of this they will begin, one after the other, not to cause pain, or at least to cause less pain.
I loved him profoundly and our souls were close. Most of you know this. I thought that I would stand here today and there would be no more words, and here, I still have them. We have words and they have much power, and their power is not going to die. Father left us them and there are others, and there will be ten thousand more. Words change a view, words change the world. They do not die and we will yet make a few hopes come true here. Father, thank you.
Click the alert icon to follow topics:
ICYMI
Ken Burns' Brilliant 'The U.S. and the Holocaust' Has Only One Problem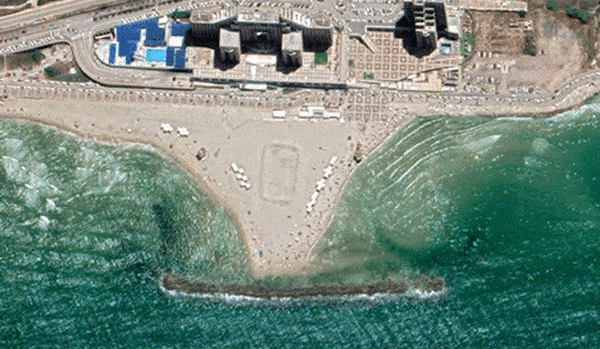 Facing Rapid Rise in Sea Levels, Israel Could Lose Large Parts of Its Coastline by 2050
Lapid to Haaretz: 'I Have Learned to Respect the Left'
The Mossad's Fateful 48 Hours Before the Yom Kippur War
As Israel Reins in Its Cyberarms Industry, an Ex-intel Officer Is Building a New Empire
How the Queen's Death Changes British Jewry's Most Distinctive Prayer