Analysis |
Waning Support for Netanyahu Hits His Party in the Gut
Netanyahu is worried that smaller right-wing parties will be left out of the Knesset in the election – but he's really looking out for himself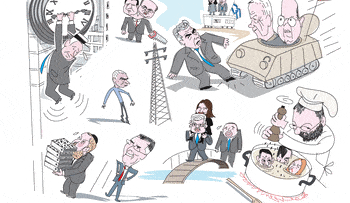 Illustration
Credit: Amos Biderman
Benjamin Netanyahu is starting his seventh election campaign as a weaker Likud leader than he was a few months ago. It's all relative, of course. He is weaker compared to where he himself was but still significantly stronger than the other players.
An Israel Television News Company survey found that 52 percent of the public does not wish to see him return to the Prime Minister's Office, while 34 percent do. Not so long ago, the numbers were reversed, in his favor. Something has apparently dented this support.
>> Ten years of Bibi-nomics: Israel thrived as Netanyahu slept | Analysis ■ How Netanyahu plans to stay in power and beat criminal charges ■ Don't expect Netanyahu to shout 'Make Israel great again' | Opinion ■ The fake election: Why Netanyahu will lose, even if he wins <<
Should he be indicted in any of the cases against him, 62 percent of those surveyed said he must resign. This figure has already made a deep impact on Netanyahu's right-wing base, and hit his party in the gut. Should the attorney general announce in the midst of the election campaign that charges will be brought against the prime minister, it will be a harsh blow. Which is why Netanyahu decided to head for an election as soon as possible once he saw last week that the state prosecutor backed the view of the head of the state prosecution's taxation and finance department, and of the Israel Police, that he should be charged with bribery in at least two of the cases: Case 2000, involving Netanyahu's suspected quid pro quo arrangement with Yedioth Ahronoth publisher Noni Mozes; and Case 4000, involving alleged improprieties in connection with the Bezeq-YES merger.
Likud has been weakened too. For quite a long time, the ruling party was looking at the number 30 – its number of seats in the present Knesset – from on high, with visions of 34-35 seats coming its way. In the latest polls, it is down to 28-29.
Like a bout of the winter flu, pre-election feebleness is afflicting all of the coalition parties: Moshe Kahlon's Kulanu looks nowhere near being able to equal its current 10 seats. Avigdor Lieberman's Yisrael Beiteinu is stuck somewhere around five seats. Same for Shas.
Netanyahu is worried that the latter two won't even pass the minimal threshold of support for entering parliament. Not that he cares particularly about Lieberman or Arye Dery; he's not altruistic. He's concerned about his ability to create an "obstructive bloc," the seeds of a new coalition. At the Monday meeting where party heads agreed to call for a snap election, Netanyahu dredged up his long-buried proposal to lower that threshold from four seats to three. "Forget it, Bibi," Dery told him, "anyone who doesn't pass the threshold shouldn't be in the Knesset."
The latest poll shows Naftali Bennett's Habayit Hayehudi increasing in strength from its current eight seats to 9-10, and that should be a worrying sign, since the party always does better in the polls than at the ballot box. In every election campaign, its immune system always turns out to be no match for Netanyahu, who knows well the way to the settler voters' hearts.
About the meeting of party heads: When it was convened for an ad hoc session, it was more or less clear to Treasury Minister Kahlon, Interior Minister Dery, Deputy Health Minister Yaakov Litzman (the Agudat Yisrael faction of United Torah Judaism), and Knesset Finance Committee chair Moshe Gafni (UTJ's Degel Hatorah faction) that the die had been cast: Netanyahu announced that he'd decided to go for an early election, citing all kinds of dubious arguments that completely contradicted declarations he'd made just days before about keeping things as they were, especially because of complex security concerns.
As usual, the odd man out was Bennett: The education minister was by chance not present at the meeting in question (he was attending the funeral of Simcha Rotem, one of the last surviving fighters of the Warsaw Ghetto Uprising). Netanyahu asked to get him on the phone. It's a unanimous decision, he tersely informed Bennett: We're going to an election. Bennett agreed. What could he say? No one asked him.
Netanyahu gave his partners a whole host of reasons for his decision. Among other things, he whined about rebellious MKs who would cause trouble for the 61-member coalition. He also had something to say about the man who wasn't in the room. "To keep Bennett, I'd have to conquer Ankara," he grumbled.
Not Gaza, not Damascus, not Beirut. Ankara. After who-knows-how-many rounds of trading insults with President Recep Tayyip Erdogan this week, it was the name of the Turkish capital that leapt to mind. Maybe the comment actually reveals something about Netanyahu's real, heartfelt wishes.
Brainstorming
The initial polls can't accurately predict the final result of the upcoming election – far from it. But, it is possible to say at least at the current time that none of the parties that ran our lives for the past four years has reason for optimism regarding the outcome.
The surveys reflect the public's disappointment with the politicians it has been saddled with since May 2015, for good but especially for ill, when the outgoing government was formed. This is why former army chief Benny Gantz and Orli Levi-Abekasis are seen winning nearly 20 seats between them, if the election were being held today. He's still a largely unknown quantity, and she spent years in Lieberman's shadow, in Yisrael Beiteinu. Since she fled the party (in March 2017) – not for ideological reasons but because she was offended that she wasn't appointed a minister – polls have predicted she'd win a minimum of five seats.
Kahlon, who is peerless when it comes to gauging the Israeli mood, put his finger on the trend some time ago: "A party that doesn't reinvent itself will take a beating," he said. "The voters easily grow weary. They're looking for something fresh."
True to his word, it seems the 2019 version of Kulanu will no longer aspire to look like a government in miniature, with a finance minister, defense minister and foreign minister. It's not looking for a former general or ex-ambassador to decorate its fir tree. It will focus purely on social issues. Kahlon's decision to insert his bureau chief at the treasury, Nadav Sheinberger, and his close aide Lihi Golan, on the party slate for the next Knesset makes perfect sense: Everything revolves around him anyway. He doesn't need stars and overly ambitious types; he needs loyal troops who will follow his lead and not start casting sideways glances at other parties before the soldiers' votes are even counted.
The situation in the opposition is no great shakes either. Certainly not in the gloomy and suicidal Zionist Union, which is in the final countdown to oblivion. The 24 seats gained by Isaac Herzog and Tzipi Livni in the last election, even as they faced a malicious, deceitful and no-holds-barred campaign by Netanyahu and Likud, look like a fantasy today. And they were severely berated for not having won.
The possibility of a split or of individual members defecting to other parties is not so unlikely. It doesn't really matter. Without some big drama, like the surprising merger between Hatnuah and Labor ahead of the 2015 election, they have no hope of salvation. Labor Party leader Avi Gabbay sees and hears what is happening. This week, while all around him was turmoil, he was in a mood of calm stoicism.
"I'm staying no matter what, that's a pledge – mark my words," he says. "In the election, I will lead the Zionist Union. Whatever happens, happens. Whoever is there, is there. And whoever isn't – fine, so be it."
Yesh Atid is also weaker compared to past polls that predicted it would garner more than 20 seats. Benny Gantz's expected entry into the campaign will hurt it the most, proving once again that Yair Lapid's party is the most popular holding pen in politics. Voters flock there when they're disappointed with the alternatives, only to fly out as soon as a new alternative pops up. He's the "buddy" that former girlfriends turn to for solace until they fall in love with the next cute guy who comes along.
And who else is there to fire the imagination right now, if not Gantz? Israel Defense Forces Maj. Gen. (res.) Gantz? When the former chief of staff was about to put aside his uniform, in 2015, he came to a farewell meeting with President Reuven Rivlin. The political option was already hovering in the air, almost palpably. "You know why you're lucky?" Rivlin said to him. "You're a handsome guy."
Yesterday, with 103 days to go until the election, Gantz executed the formal act of registering a party, which he has called Hosen L'Yisrael (Resilience for Israel). Next week, he is expected to declare: Here I am, ready and waiting. If his first speech is going to resemble the list of goals of the party, which amount to little more than a heap of hollow cliches, he would do better to pass up the opportunity.
Gantz could get Moshe Ya'alon – the man who was himself both a chief of staff and Gantz's defense minister, but who, as a politician, is having difficulty breaking through on his own – to join forces with him. Such a list would certainly have potential. It projects something clean, sane, ethical, something with integrity. If the two do join forces, the question arises: What happens the day after the election, if Netanyahu wins and invites their party to join his coalition? We know what Ya'alon thinks about the prime minister, in the submarine case for one thing. He pledged that he would never sit in the same government with him. Is Gantz on the same page on this? Have they agreed on something?
When Gantz deigns to step out into the light of day (or the heat of the political kitchen), we'll ask him. His ongoing silence as he bides his time deciding has elicited plenty of criticism, even scorn. But it doesn't faze him. As he recently told someone who asked about it: "You know what my philosophy is? I was raised in the Paratroops. If there's one thing I learned there, it's that when the time comes to charge ahead you do so full-force and from short range."
Smoke gets in your eyes
Former Prime Minister Ehud Barak has a plan for a center-left bloc. It's all put together, well thought-out, logical and perfectly constructed. There's just one problem: It lives in his brain, drifting between the two hemispheres, totally cut off from what's happening outside.
All the parties and leaders of this bloc must unite, Barak preaches daily, and at every opportunity. Netanyahu would like nothing better than to run against three separate entities: Zionist Union, Yesh Atid and Gantz's party. That's his insurance policy. Each one of these lists will end up with 10-15 seats. Each will try to outdo the others in seats, but this is an illusion: Individual size isn't what counts. What counts is the bloc that is formed, a post-election obstructive bloc that will make coalition-building difficult for Netanyahu.
It is critical that personal ambitions be put aside in order to create, here and now, an alignment of parties headed by the person who is the most experienced, the most suitable, the most capable of securing an upset and tossing out Netanyahu and his wacky government. Barak sees six possible candidates: Gantz, Ya'alon, Gabbay, Livni, Dan Meridor – and himself. Yair Lapid doesn't cut it, in his book. If these six and their parties (for those who have one) join forces, not only will the whole be greater than the sum of its parts, Barak is convinced, it could tip the whole election.
Who should lead this new unit? Not to worry, Barak has a plan. Neither open primaries, there's no time for that, nor a series of popularity polls – they're too random and unreliable (not to mention he surely wouldn't come out on top).
The six of us, or as many as are interested, will sit down together in a closed room in total secrecy, he says. We'll sit there for two, three, four days, whatever it takes until we reach a decision. Until the white smoke appears. If the bishops in the Vatican, who have their own giant egos and scores to settle and ambitions and pretensions, have succeeded in selecting a pope by this method for centuries – there's no reason we can't do it as well, Barak reasons.
What will happen if, in light of such a merger, the right makes a similar move? Likud and Habayit Hayehudi and Yisrael Beiteinu won't just sit around doing nothing if they see such a killer asteroid coming at them. They'll find a way to come together too. That is something for which Barak has no answer.
Home sweet home
This time it's no cliché, but a real warning: The 2019 election will be the most important since Israel's founding, 70 years ago.
The country is heading for an election when the candidate with the best chance of forming the next government is a man whom the police and the state prosecution want to see charged with at least two counts of bribery. It's doubtful there's a precedent for this in any Western democracy.
This man is more determined than ever to be elected to a fifth term. For him, to be a reelcected prime minister when Attorney General Avichai Mendelblit makes his decision on whether or not to indict him is a matter of "to be or not to be," of life and death.
It is crucial to come to the hearing that will determine his fate, with the election behind him. The people demonstrated their confidence in me knowing the claims and suspicions against me, he'll argue, and in the end, the people are the sovereign.
On the strength of this Netanyahu will try, if reelected, to force his future coalition partners to agree to pass some version of the "French law," which would prevent prosecuting a sitting prime minister. Take note, he will say to the exhausted politicians. I have been elected again, and the people know what I have been suspected of, and have given me a vote of confidence. What am I asking for here? To come to terms with the fact that I'm in office. To put me on trial afterward.
Netanyahu has the most to lose in the general election on April 9, and that will have a bearing on his conduct during the 100 or so days until then. Without morals and without restraint, without justice or judge. On Wednesday, before the Knesset voted to dissolve itself, we got a sample of what's to come.
"In this election, there will be an effort by the left to effect a change in government by mobilizing the media and other elements," he told local council heads of West Bank settlements. "They are fully mobilized. This is a war over our home."
Don't be confused. The "home" he was referring to isn't what you think: It's the official residence on Jerusalem's Balfour Street. It's the not-so-happy home of Bibi and Sara — a suspect and defendant in her own right — along with their son Yair, the online bully. They've lived there for nearly a decade. It's practically registered in the land registry in their name. The possibility that they might be evicted by the voters is perceived by them as a conspiracy to commit a crime. If the so-called Gideon Sa'ar affair and attempted putsch was the plot of the century – democracy and elections are the plot of the millennium.
By "other elements," Bibi means the police, who have already completed their work, but the claim that they have been hostile and biased, and their findings tainted, will serve him. And of course, there's the prosecution. He won't come out against it or against Mendelblit. That would be foolish; his fate is in their hands. For the real dirty work, he has coalition whip David Amsalem, who predicted this week that millions would rise up against a decision to bring the boss to trial, as well as internet trolls and other "confidants" who will know well how to express the spirit of the commander.
The first sign of this was evident Thursday on the front page of the Israel Hayom freebie, the mouthpiece of the residents of Balfour Street. The daily was distributed in two successive editions: In the first, in a story about Netanyahu's determination not to resign even if indicted, we could read how he had threatened that Mendelblit will be fiercely attacked if he dares to publish his decision concerning an indictment before the election. In the second version, the threat was extracted from the horse's mouth and inserted into the mouths of Likud sources. Someone spoke, someone panicked, and someone picked up the phone. In the good old days, when the page proofs would be sent in advance for clearance by the bureau, as Nir Hefetz has testified, such accidents didn't happen.
For its part, Likud says that nothing of the sort happened. Neither the prime minister nor his aides have any intention of threatening the attorney general.
Click the alert icon to follow topics:
ICYMI
This Bedouin City Could Decide Who Is Israel's Next Prime Minister
A Women's Rights Lawyer Felt She Didn't Belong in Israel. So She Moved to Morocco
'It Was Real Shock to Move From a Little Muslim Village, to a Big Open World'
'There Are Similarities Between the Hasidic Community and Pornography'
'RRR': If Cocaine Were a Movie, It Would Look Like This
Yair Lapid's Journey: From Late-night Host to Israel's Prime Minister