The '90s Pop Star Who Left Sweden for Israel in Pursuit of a Less Stressful Life
Swedish pop sensation Army of Lovers scandalized sexual convention in the '90s. But one member of the band, now living in Tel Aviv, doesn't miss stardom. He only wants to do yoga in the sun
Jean-Pierre Barda.
Credit: Meir Cohen
Picture a long-haired man in S&M-style leather underpants, his hirsute chest bursting through a white shirt with dangling buttons, and wearing women's gloves, one hand waving an ornate lace fan. The man is dancing in a glistening white bathtub that stands in a luxurious, palatial room, while around him two other, no-less extravagantly dressed people dance and sing. One is a woman in a puffed-up, especially loud and revealing white dress, an artificial rose thrusting out of her panties, and exuding provocative sexuality; the other is a man attired in a flaming-red suit of the type sported by 18th-century European noblemen. Together they resemble nothing so much as three distant cousins of Marie Antoinette who have embarked on a singularly mad celebration of flagrant sexuality and gender fluidity, with nary a thought about the guillotine that awaits those who flaunt the consensus.
We're watching the video clip of "Crucified," the first big hit of Army of Lovers. Released in 1991, it turned the almost esoteric Swedish pop group into an international sensation. With dance-able music, evocative texts relating to holiness, redemption, Christianity and Jerusalem, too, and a colorful camp look drenched in sexuality and flamboyance, the clip became a huge hit in Europe – one of the biggest-selling singles that year on the Continent – then crossed the Atlantic to scorch the dance floors in the United States and land in a slot high up on the hit parade.
Army of Lovers became a tremendous success: a mix of kitsch, queerness and sensuality fused with elaborate production values in both live performances and clips. A series of pulsating disco-Eurodance hits followed, laced with plenty of self-humor. The world took the band to its heart, and the threesome continued to thumb their nose at religion, acclaim sexual liberation and occasionally mention Israel. The group went on international tours; limos and private planes became part of their routine. Along with ABBA, Roxette and Ace of Base, Army of Lovers became one of the most famous bands ever to emerge from Sweden and leave an international imprint.
Nearly 30 years after that first hit, the film "Army of Lovers in the Holy Land," was screened in the documentary competition at the recent Haifa International Film Festival, offering a refreshing, merry and notably pleasurable change of pace amid the films about significant topics, interesting but unutterably depressing, that Israeli reality provides nonstop. The panel of judges awarded the film, directed by Asaf Galay, its prize for best Israeli documentary, and a man in sharp leather boots with heels – whether they were thinner or higher, it was hard to determine – was there to leap on the stage with joy.
Two weeks later, the same man, Jean-Pierre Barda, emerges from his small Tel Aviv apartment for an interview with Haaretz. Yes, one of the members of Army of Lovers has lived in Israel for the past three years, enjoying relative anonymity. In Sweden, he's famous and readily recognized, accustomed to the looks and furtive whispers he gets from passersby on the street, but in Tel Aviv he's just another oleh hadash – a new immigrant – no more.
Barda, 53, is pleased with this new phase in his life. He likes the anonymity, likes living in this country and doesn't for a moment regret his decision "to make aliyah." After three years, he feels quite at home. "When I was an oleh hadash, the most common question I encountered was, 'Why?'" he says with a smile.
"But it's so obvious, isn't it?" he says. "And then I explain that I wanted a change to a less stressful life, and they almost always ask, 'So you came here?!' But actually, there is a big difference between here and Sweden. Because if I had tried to do it in Sweden – to step off the treadmill – it would have been impossible. The whole system grabs you there and doesn't let you disconnect. But here, parallel to the crazy fast lane, there's a slow lane. Even in Tel Aviv, you have the beach, the yoga, the grass [i.e., marijuana]. It's the total opposite of my life in Sweden. Here I feel relaxed, here I'm a lot less famous, I don't feel like people are looking at me all the time. Sitting with you here in a café, for example, I don't have to think about whether people are listening to us or not."
Jean-Pierre Barda was born in Paris in 1965, the eldest of three children. His father, who was from a religious Jewish Algerian family, was a barber and later a waiter and a maître d', and his mother a homemaker. When he was 7, the family moved to Stockholm. Judaism played a central role in his life, he tells me. They weren't religiously observant, didn't pray every day, but he and his siblings attended a Jewish school where they learned Hebrew and imbibed Judaism. At age 12, he joined a group from the religiously observant Bnei Akiva youth movement on a visit to Israel, where they and their rabbi did the usual tour of holy places.
Already then, Barda had begun to realize that being straight was not his thing. It was equally clear to him that his father would not accept his homosexuality with understanding.
Barda: "I knew that religion played an important role in his life. And besides that, whenever my father noticed something about me that wasn't masculine or anything like that, he would tell me, 'Stand straight,' 'Behave like a man.' So I knew where he stood on those matters." He adds, "It's a generational thing. It's not that he wanted to be cruel to me – he just couldn't handle it."
Things came to a head when Jean-Pierre was 16. The family went on vacation to Paris, and a girl who was a good friend of Barda's and whom his parents were certain was his girlfriend, visited them there. He lived with her in a studio apartment that belonged to his parents, who resided in another nearby studio apartment. One evening, when Barda was on a hot date with a boy, his parents invited the girl for dinner.
"They started to ask her questions about where I was," Barda recalls. "She of course knew I was gay and was on a date, and finally said to them, 'It's not for me to answer these questions. You have to ask him yourself.'"
When he got back, he saw his parents standing in the window of their apartment, waiting for him. "I saw them there and I thought, 'Uh oh, something's really wrong here.' On the way up the stairs I ran into my father, and I turned and ran. He chased me and we had it out on the street. In the end, I slept with the guy I'd gone out with that evening. And the next day, when I got home, my things were already packed and I was on the way back to Sweden. After that I didn't talk to my parents for almost 15 years."
Barda studied humanities in high school and was certain he'd become an artist, actor or fashion designer, but a job he got as a makeup person landed him in that profession. He worked as a makeup and hairstyling artist in magazine and television productions, gained a reputation in the field, and in the mid-1980s was invited to do the makeup for "Barbie," a drag show with Alexander Bard that was a hit in Stockholm at the time.
"It was the same genre as Divine," Barda explains, referring to the stage name of the late drag queen. "Alexander was on the stage in drag, not as a beautiful woman but as an avant-garde cross-dresser. His name was Barbie, he was the secret child of Marilyn Monroe and John F. Kennedy, the CIA sent him to Mars when he was a baby and that's where he grew up."
Bard invited Barda and a model named Camilla Henemark ("La Camilla") to appear with him onstage as backup singers. Within a short time the three decided to drop the act and to form a band, which they called Army of Lovers. For Barda, the band was a new home, replacing the one he'd been kicked out of at 16.
Sleeping with the enemy
There's an interesting internal contradiction in the name "Army of Lovers," Barda says at one point in the new documentary. On the one hand there's the word "army," which is associated with war, and on the other, "lovers." Fellow band member Dominika Peczynski (who followed Michaela Dornonville de la Cour, who replaced La Camilla) rolls her eyes at him and comments that he's obsessed with sleeping with everyone. But Barda says insistently: Maybe that's the solution, simply to sleep with the enemy. Bard, the third member of the band, who's sitting next to them on a sofa, leaps up and says that all this is "very Army of Lovers." Yes, he continues, we'll sleep with them all. If that will solve anything, they'll show up immediately. They will be "the sex workers of the world."
Quick cut to a live performance by the band, in which Barda, in a red dress, vinyl boots and heavy makeup, sings an amazingly exaggerated, melodramatic solo, while Bard and Peczynski take advantage of a gilded royal couch behind him to simulate an act of passionate intercourse before the eyes of thousands of amused onlookers in the audience.
In the film, the three make the point that they are not professional musicians, but amateurs. Bard relates that he decided to establish a band that would be so charismatic that it would make no difference whether its members could sing or dance, and Peczynski sums it up by saying that they may not know how to sing, but they're really good at wearing high heels.
Indeed, even if they are not virtuoso singers, they knew a few things about a magnetic stage posture, sophisticated design, flaunting the conventions and, above all, fun. Lots of fun. In an era when MTV dictated the developments in the music industry, the elaborately bizarre, irreverent and just plain funny clips of Army of Lovers did the job. Their songs, notably "Sexual Revolution," "Obsession" and, of course, "Crucified," joined the top 10 in the charts of a host of countries.
They wrote the songs themselves but didn't hesitate to draw on the help of professional singers in recording studios so they'd sound better. They also took a lot of flak and scorn for their constant use of playback in concerts. But for the band such put-downs were like dust in the wind, no more.
"It wasn't important to us if we were singing with playback or without it," Barda tells me. "The main thing for us was ... for it to be special. For us, the criticism we got for using playback was cultural snobbism, that's all. Why is playback less good than a live act? We write the material ourselves. We get the ideas ourselves. We are in involved in the whole production, even the videos, including the costumes. It's our production."
Did you come to have a good time, or did you have messages or an agenda you wanted to promote?
Barda: "At first we didn't think about messages and things like that. But when you find yourself in the limelight, it somehow comes up by itself. You feel that people are looking at you and you think, 'Oh, I can say something.' So along the way we had other motivations than just, 'Hey, look at me' or 'I just wanna have fun.'"
What did you realize was worth saying?
"Our message was to take down boundaries. Something very liberal, have sex with everybody all the time. We are all three very liberal, though Dominika and I have our roots in something that is not so liberal – we both grew up in conservative, Jewish families."
You started off as part of an avant-garde, humorous drag show, and Army of Lovers also started off with humor and irony. What's it like to wake up one morning and discover that your fun thing has become a global hit?
Barda laughs. "We were in our bubble, and because even before success struck we were pretending that we were the greatest band in the world and that we were super-famous already, it was actually pretty natural. But it wasn't all that sudden. Because right at the start, even before 'Crucified,' we had a taste of success with another song, 'Ride the Bullet.' That was a small hit on MTV and people like [fashion designer] Jean-Paul Gaultier discovered us through it, and it prepared us a little for the big success we had with 'Crucified.'"
But still, success on that scale isn't something that usually happens. How did you cope with it? What was enjoyable about this story and what was difficult?
"'Crucified' took off so fast we didn't have time to think. Suddenly we found ourselves traveling on a daily basis to all kinds of places, sometimes three countries in one day. We would do a morning show in Holland, an afternoon show in Belgium and an evening show in Prague. It was very intense. For me personally – not in the beginning, but in the long run – it was fun doing promotions, fun doing TV shows, fun getting dressed and rehearsing. But after a while it got to be a little too much.
"I felt I was losing contact with my surroundings, with my good friends. It was a kind of empty feeling. Maybe it would have been different if it all happened when we were younger. But each of us already had a life, had a different career outside music, and the success required us to disconnect from the other parts of our lives. It wasn't easy. For me, for example, it was important to keep in touch with my everyday life by still working in the [hair and makeup] salon where I'd worked before. Sometimes I would go straight from the salon to the airport or vice versa. And coming to the salon was always a relief for me, because there I wasn't the one in focus – my client is always the focus. So for me it was very therapeutic to keep my day job."
Hint of Moshe Dayan
In 1993, following a string of hits, the band released a new song and was taken aback to discover that it stirred up an extreme furor. This was after Peczynski joined the band, creating a Jewish majority in it. Together, all three wrote "Israelism," which got the usual Army of Lovers treatment, including a sampling of "Hevenu Shalom Aleichem," a clip with a variety of figures relating to Judaism and to Israel, and the band's signature provocative style. Bard played a tart wearing a one-cup bra, in black, an allusion to Moshe Dayan's eye patch; Barda pulled out a gilded dagger that performed a circumcision on Bard; and there were plenty of Israeli flags, Stars of David and Hanukkah menorahs alongside scandalous cleavages, daring garters and sexuality that burst the banks.
The reactions were swift in coming. In the documentary, we see one of the more amazing responses. It was on Israel Television's current events program "Popolitika," featuring a guest who proved that the present culture minister didn't invent a thing – namely, then-MK Ovadia Eli (Likud), who chaired a Knesset committee aimed at combating anti-Semitism.
"Complaints from irate Jewish viewers have reached me," Eli said, "and in their wake we asked the British broadcasting station [referring to MTV] to examine the complaints. We drew their attention to the fact that the subject offends the sensibilities of Jews in Israel and abroad. [There are] motifs of aggressive sexual activity and in the background national symbols." The MK did not hesitate to admit that he himself had not viewed the clip. Following a flood of outraged complaints, MTV finally banned the song from broadcast.
"We never intended to be provocative – it just happened," Barda tells me. "We thought it would be great to do a song that was a tribute to Jewish culture and to Israel, because we're all pro-Israel. So we did it in our way, with a lot of humor. If you do a tribute to Israel and write it seriously, it comes out like propaganda, so for us that was the only way to do it. You also have to remember that the genre is pop, so it has to be fun, entertaining. I never thought religious people would get upset over it."
Peczynski, too, recalls in a phone conversation that the band was stunned by the hullaballoo.
"We were quite shocked that those were the reactions we got, we didn't understand them," she told me. "Of course it was a different take on religion, any religion, because it has a lot of humor in it, and a lot of cleavage. We worked with what we had. We had two Jewish members in the band, we put on lots of makeup and sexy clothes, and we combined it with a sense of humor. We had fun writing this song. It's absolutely not derogatory from our point of view. It doesn't have to be so serious, this religion thing. And of course I understand now that a lot of people thought it was disrespectful, but that was not our intention. Maybe it was an attempt to glamorize [Judaism] a bit."
In 1994, after five albums and 20 clips, Barda, Bard and Peczynski felt they had reached the end of the line. Army of Lovers has since done a few reunion shows, and in recent years, the band has hit the road three or four times annually to do invitation performances – including one in the 2017 Tel Aviv Pride Parade – but lately, after immigrating to Israel, Barda has told the others that he's decided to forsake the Army of Lovers for good. "I'm not saying we'll never do it again, because never say never, but I want to get on with my life. I'm here in Israel now, exploring a new chapter of my life, and for me it's mostly a distraction."
In the past two decades he's gone back to working as a makeup artist and hairdresser, appeared as such on a successful TV variety show in Sweden, and in the past decade found himself spending time in Barcelona. "I spent a lot of time there, it's not so far from Sweden and it's sunny and it's by the sea," he notes. "I met a lot of Israelis at gay parties there, and then I started to reeducate myself, to go back to my original plan from when I was young, to move to Israel."
Barda made the move officially in 2015 and works in a salon here, too. In the documentary, when a Swedish journalist interviews him in his Tel Aviv apartment, he's astonished to discover that Barda has given up a spacious five-room apartment in Stockholm in favor of a modest two-room apartment there. Barda explains that he was happy to get rid of all his stuff, that the downsizing came as a relief. Now, in the café where we're meeting, Barda – whose Hebrew isn't bad at all but who still prefers to do the interview in English – explains that it was no problem for him to leave his life behind and move to a different place. The only thing that stressed him out was the realization that his immigration would entail parting from his parents, both of whom are now elderly and ill.
Did you really feel at home here as soon as you arrived, as you say in the film?
"From the start it was, wow. I arrived and started going to an ulpan [intensive Hebrew course], and, yeah, wow."
And today, three years after arriving, what's left of that '"wow"?
"I still feel like wow. But I'm feeling like now it's time to make use of getting better with Hebrew. And actually I think maybe the real fun starts now. At the beginning I spent a lot of time getting to know the neighborhood, discovering the streets. I really love simple everyday stuff."
The gold necklace he wears carries a Star of David pendant, and a small gilded hamsa, a palm-shaped amulet, dangles from both of his earrings. "I feel more fulfilled here," he says. "I mean, like look over there, look at that woman. How cool is she? You never see people her age like that in Sweden. Here you see all ages. In Sweden older people are flipped aside. The further south you go, the more you start to feel that all the generations are involved. It's like that in Spain, too. But in Scandinavia you don't have this family bonding, because it's all taken care of by the state. Here you still have family values. People still take care of each other. Here for example, when I'm sick, my friends bring me food. That never happened in Sweden, never. Not even my family comes to make me food in Sweden. It's, like, heavy. Here I feel like if I were to die tomorrow, within a week somebody would find out; in Sweden, it would take at least two weeks." He laughs.
Do you sometimes miss home?
"Not at all. It's scary. I miss friends sometimes, but no more than that."
And here in Tel Aviv, do people you meet know Army of Lovers?
"When they hear the songs they suddenly recognize them. 'Oh, that song! Oh, is that you?' They recognize the songs but don't connect them to Army of Lovers. They're better known in the LGBT community, and some people there do remixes of the songs."
Speaking of community, you morphed from a boy who was forced to hide his sexuality into a pop star who appears around the world in extroverted drag and exudes sexuality. That's an extreme transition.
"After I came out of the closet, at age 16, I felt tremendous relief, I just exploded in self-expression. But it was a long and gradual process of liberation, and sometimes I think I'm still in that process – maybe not vis-a-vis my parents, but in terms of conservative people. Even though there is greater acceptance today of the LGBT community, there are still parts of society that don't accept it, especially right-wing and religious extremists of all faiths."
In the film all your interviews were done in full costume. Was that the band's idea?
"If we do an interview as Army of Lovers we always do it in full dress."
So I'm the only journalist who gets you in a tank top and flip flops?
"Because it's the Israeli version," he laughs. "I've changed my life. Now it's a combination of the flip flops and high heels. But I take every opportunity I get to wear high heels. I love to wear high heels."
Click the alert icon to follow topics:
ICYMI
Ken Burns' Brilliant 'The U.S. and the Holocaust' Has Only One Problem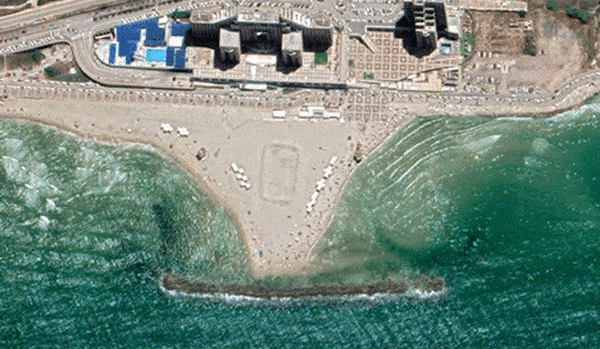 Facing Rapid Rise in Sea Levels, Israel Could Lose Large Parts of Its Coastline by 2050
As Israel Reins in Its Cyberarms Industry, an Ex-intel Officer Is Building a New Empire
How the Queen's Death Changes British Jewry's Most Distinctive Prayer
Chile Community Leaders 'Horrified' by Treatment of Israeli Envoy
Over 120 Countries, but Never Israel: Queen Elizabeth II's Unofficial Boycott