Analysis |
Despite His Recent Triumphs, Netanyahu Is Terrified of Elections
Netanyahu survives Lieberman's resignation (and takes the defense portfolio for himself), beats Bennett and avoids the evil decree of an early election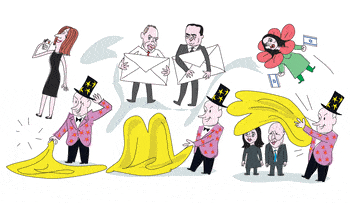 Illustration.
Credit: Amos Biderman
In the 1970s, before the dramatic election upset by Menachem Begin, young Moshe Kahlon was a member of the Likud branch in Givat Olga, a neighborhood of Hadera. It was a small group, fired by ideals, that loathed Mapai (the longtime ruling party and forerunner of Labor). They called themselves "little, vigilant Beitar," referring to the Revisionist movement from which Likud sprang.
This week, with Benjamin Netanyahu's post-Yisrael Beiteinu coalition reborn with 61 MKs, Kahlon recalled those times. "We won't be the ones to topple a government," he told me. "In the end, it will fall on its own. Let them try to conduct business like this. I'm freeing Bibi of the noose, but I have no illusions: It won't last long."
Some would say that Finance Minister Kahlon gave Prime Minister Benjamin Netanyahu the rope to hang himself. In the meantime, the minimalist coalition got through its first parliamentary week practically unscathed. There was full mobilization of the ranks. The opposition, however, looked less good. MK Avigdor Lieberman, the outgoing defense minister, didn't want to sit next to MK Ayman Odeh, head of the Joint Arab List, in the Knesset plenum, and asked fellow party member MK Sofa Landver, the outgoing immigrant absorption minister, to act as a separation barrier. Zionist Union was dealing with a childish spat between its factional chairman, MK Yoel Hasson, and MK Hilik Bar, who had traveled to China to disseminate his crucial political message without asking permission.
It's so typical of this group that even when they can finally enjoy a little grace – through no act of their own – they manage to shoot themselves in the foot. It's no wonder that their great white hope, former Israel Defense Forces Chief of Staff Benny Gantz, is telling interlocutors that he isn't even considering entering that cuckoo's nest (my phrase, but that's the spirit of what he's saying).
But back to the key players. On Tuesday, after Education Minister Naftali Bennett's capitulation in the Knesset – he backed down on his threatening demand for "the defense portfolio, or early elections" – Netanyahu met with Kahlon, chairman of Kulanu, along with Tourism Minister Yariv Levin, the government's liaison with the Knesset, and Jerusalem Affairs Minister Zeev Elkin, whose advice is always welcome.
The prime minister was on a high after the Bennett debacle in the plenum, and projected determination. "We can do it," he said. "I will provide a personal example: I will be present for every vote in the Knesset." And he was as good as his word. At least on Wednesday.
Kahlon took advantage of the occasion to announce that henceforth Kulanu would support only legislation of economic and/or security-national importance. Personal caprices (such as the so-called "Gideon Sa'ar bill") would remain wet dreams. Kahlon didn't say it in so many words, but if the security situation is truly as grave as Netanyahu says, then better he should deal with that than with his fears.
Before Lieberman's resignation, Kahlon intended to back the Sa'ar bill, by means of which Netanyahu sought to deprive the president of the possibility, after an election, of deciding for himself to whom to entrust formation of a government. It was to Kahlon's benefit, too. He liked the clause stipulating that only party leaders, and not just any "MK who has agreed," as the law now reads, would be eligible to form a government.
Kahlon was less enthusiastic, however, about the second clause, which stipulated that only the party leader who obtains the most recommendations of MKs would be entrusted with the mission. Let's imagine a situation in which 61 MKs recommend Netanyahu, and 59 MKs recommend Kahlon, in their consultations with the president – but hovering over Netanyahu is an indictment for bribery and it's clear that his days are numbered. In that situation, shouldn't the president exercise his discretion and give the nod to the other guy?
In any event, the wording of the legislation, as submitted by the coalition whip, MK David Amsalem (Likud), will probably not enter the law books. "The public atmosphere has changed," Kahlon says, explaining his reasoning. "With 61 MKs, on the eve of an election, we're in a different situation. All irresponsible, populist legislation has to be blocked."
Just how far the MKs, particularly from the ruling parties, will allow themselves to go as they keep their eyes on party primaries, we'll see in the weeks ahead. One senior member of Likud had a solution for a situation in which private bills get approved in a preliminary vote by the Knesset. "Never mind," he said, "we'll bury them in committee." Not very democratic, but effective.
At the end of this week, the puzzle remained: Why did Netanyahu – who a year and a half ago wanted to dismantle his government over the creation of the Public Broadcasting Corporation, and ditto about nine months ago, because of the dispute over the conscription law – go out of his way this time to prevent the fall of the government, which he had so devoutly wished for, especially with the polls looking good and his reelection apparently a foregone conclusion? Why?
His considerations are unknown to us. With Netanyahu, there is always something hidden from us that no other politician or aide even knows; one guess is as good as another. The investigations against the premier, most of which have ended and now await the decisions of the attorney general, are of course a central factor. That's between him and his lawyers.
There are some who think that he wants to keep his seat until July 2019 and thereby become the longest-serving prime minister in Israel's history. Others will argue that he's afraid he's being set up, that just before the election a coalition against him will crystallize – of Kahlon with Benny Gantz, for example. (A private poll commissioned by one of them predicts that a slate along those lines would win almost 30 Knesset seats.) And there are other options, too.
Netanyahu is the embodiment of the proverb, "Happy is the man who is always anxious." It's obvious to him that the political map in the 2019 election will be different from the present one, but it's not clear from which direction the evil winds will blow. This week, in a private conversation, when asked about his reluctance to bring the election forward, he said: "Our bloc isn't tight enough." With that as his assessment, the rest is understandable.
Comic relief
"Two pals walked carefree, bim bam boom," an old Israeli children's song says, "one got a smack on the knee, bim bam boom." Naftali and Ayelet, two pals, this week walked the walk. Both got a smack on the knee. More accurately, on the head. The episode of the ultimatum about an early election and the defense portfolio is a political comedy skit that will be long remembered. Another entry in the Pantheon of political bloopers.
It might not cost the two, and their party, Habayit Hayehudi, in the polling booths, which will remain shut for now because of their decision to retract the ultimatum. People in these parts have short memories. The record of the person who vanquished the pair (maybe that's what Netanyahu was referring to when he thundered at his press conference, "We will overcome our enemies!") is also studded with no few embarrassing U-turns.
The echoes of laughter having faded, we can now see that the incident reveals something about the depth of political distress felt by Bennett and Shaked as numbers 1 and 2, in a single-sector party that, ultimately, is the successor to the National Religious Party.
The two are caught in the isolation trap. On the one hand, they're dying to look like the epitome of all-Israeli statesmanship since they know that if they cannot capture the minds and hearts of the secular soft right they're going nowhere. They will always remain a niche party of Hardalim – a fusion of Haredim (ultra-Orthodox) and religious Zionists – in which extremist, benighted rabbis who hate Arabs and gays set the tone.
On the other hand, despite their efforts, they have not succeeded in looking more right-wing than Likud and Netanyahu. All those places have been taken.
When these two try – such as this week, when Bennett implicitly accused the IDF military advocate general of being responsible for the fact that the army isn't defeating our enemies, or in the case of deputy attorney general Dina Zilber (whom Shaked attempted to fire after Zilber was critical of the "loyalty in culture" bill backed by the government), or in Shaked's war against the independence of the High Court of Justice and against the attorney general – they look more radical than Likud.
Bennett and Shaked have big dreams: First he'll be prime minister, then she will be. But they are mired in pettiness. A faction of eight MKs in a coalition that now numbers 61 has limited ability when it comes to repeatedly challenging the prime minister.
Bennett occasionally creates his own passing crises. The most dramatic one was during the formation of the current government, when he made his entry into the coalition conditional on Shaked being appointed justice minister. He pulled it off, but this week the two of them totally failed to decipher the mood of their target audience.
Their voters are an ideological group, in part messianic. Personal issues are less important to them than the "Land of Israel." Bennett believed they would back him, but when he looked behind he discovered, to his horror, that his followers had turned their back on him. And not for the first time, as we learned in the final week of the 2015 election campaign.
Back then, the moment the settlers heard the prime minister utter the words, "toppling of the right-wing government in 1992" and "Oslo" – they leaped to attention and saluted the leader, eyes glazing over. Netanyahu knows what makes that group tick. They're like rag dolls in his hands. He gave a speech, activated some rabbis, stained the honor of the National Security Council by sending its head, Meir Ben-Shabbat, to reveal various security-related developments to Rabbi Haim Druckman – and got what he wanted.
Shaked is willing to admit that confronting the prime minister with a public ultimatum was a mistake. Chivalrously, she shares the responsibility with her party leader. To an outsider it looks as though she was dragged after Bennett, but she claims they were in this boat together from the first.
On Sunday night, about an hour after Netanyahu concluded his speech in defense establishment headquarters in Tel Aviv, Bennett and Shaked met in the former's office in the city. One glance was enough for them to grasp that this was it, the game was over. Cell phones were placed in flight mode. They devoted themselves to formulating the declarations they would deliver the next day in the Knesset. "We wrote with our heart's blood," she said.
There was something odd in their statements. They sounded like summing-up speeches, like statements presaging withdrawal from political life. The whole nostalgic mini-drama ended with an anticlimax. I asked Shaked how much damage they had suffered. "It only strengthened us in terms of the [electoral] base," the justice minister replied. "People were very moved."
In and/or out
Next week will see a cabinet reshuffle. In the wake of Yisrael Beiteinu's departure from the government and the decision by Netanyahu to retain the defense portfolio for himself, the premier will bid farewell to the Foreign Ministry. The Immigrant Absorption Ministry is also orphaned. Both portfolios will go to Likud. That initial move could, of course, lead to secondary tremors, depending on who gets the two vacant posts.
Foreign Affairs is of course the sprinkles atop the whipped cream on the Hanukkah donut. After three and a half years in which Netanyahu plundered its powers and spheres of responsibility, which he then handed out, like Santa Claus, among restive ministries and ministers, the Foreign Affairs Ministry is now an empty shell. It's an exclusive travel agency – and even that has to be qualified, because with a coalition of 61 MKs the new foreign minister will be more of a ground attendant than a frequent flier.
Still, it's a job that's filled with glory. Two senior Likud figures each have a written promise from the prime minister to get the portfolio if it's given to Likud: Transportation and Intelligence Minister Yisrael Katz, and Public Security Minister Gilad Erdan.
No, that's not a mistake: He made the identical promise, in writing, to both those gentlemen. First to Katz, afterward to Erdan. Bibi doesn't blink in cases like this. With him it's always two for the price of one. Whoever isn't appointed is liable to whip out the embarrassing document. Or not. Maybe he'll get a tempting follow-up letter that will smooth his ruffled feathers.
And it's always possible that Netanyahu will opt for a third path and give the ministry to someone who doesn't have a letter from him. Yuval Steinitz, for example, the current energy minister, who is not perceived as a threat to senior party figures come primary time.
If Netanyahu wants to appeal to the party's central committee on the eve of a possible election, he might want to favor Katz, who is chairman of the party secretariat and can pull strings when he wants to. Erdan will find it hard to forgive Bibi for being slighted, but he's used to it. If Erdan becomes foreign minister, Netanyahu might install Miri Regev – the woman whose sycophancy toward him and his wife is second only to her baseness and vulgarity – in the Ministry of Public Security. This week we saw Ms. Regev in action again, when she accused former Chief of Staff Gantz of indirect responsibility for the death of a 4-year-old Israeli boy, Daniel Tragerman, in the 2014 Gaza war. The timing of that assertion vis-à-vis the cabinet reshuffle can't be a coincidence, at least not in her mind.
There's another possibility: that Netanyahu will opt for outsourcing foreign affairs. There's no shortage of people outside the political arena who would be suitable. He took that path toward the end of his first term as prime minister, in January 1999, when he appointed Moshe Arens, who had run against him for party leader and lost, as defense minister in the transitional government.
The immigrant absorption portfolio is a simpler matter. Netanyahu's industrious deputy in the Foreign Ministry, Tzipi Hotovely, would be happy to accept it. She met with him to make her case, too. It's likely, in the spirit of the time, that Netanyahu will prefer to replace one woman (the outgoing minister, Sofa Landver) with another.
Hotovely also brings him another bonus: She's from the national-religious community. When Netanyahu goes back to fighting Bennett, Shaked and Habayit Hayehudi over support of the right-wing electoral base, Hotovely's presence at the cabinet table and by his side in visits to yeshivas and army preparatory courses might help, and certainly won't hurt.
It goes without saying that the question of the portfolios is the only issue that's of interest to the ministers and MKs in the ruling party. Maybe that rush of emotion is what prompted Erdan and Katz to take the podium at this week's Jerusalem Post conference and hurl threats at the Gaza Strip. They certainly figured that in the wake of the prime minister's Sunday speech – in which he warned of the need for "sacrifice" – they too were required to unleash threats and give the impression that war is just around the corner ("We're closer than ever to conquering Gaza," Erdan said). But things turned out differently. Netanyahu called them and demanded that they stop rattling their sabers. That's his prerogative, right?
Future perfect
Polls are a type of guilty pleasure that politicians often sin with. They instruct the pollster which questions to ask and hope the results will be pleasing. Flattering results are then passed along by word of mouth and sometimes make their way to the media. Less complimentary ones are shelved for all time.
An in-depth, reliable, professional public opinion survey, one that's not biased in favor of the person who commissions it, is an essential tool for every politician, just as it is for commercial companies checking their markets. It's a foundation on which to build a future plan of action. The polls on election voting preferences are mostly bread and circuses for the media. As long as the political map isn't clear and orderly, they are of very little value. The numbers change as rapidly as pictures in a slot machine.
MK Tzipi Livni (Zionist Union/Hatnuah), a serious consumer of polls, is at a crossroads. Her position as No. 2 to Avi Gabbay doesn't augur well for her. She's making immense efforts to establish a center-left bloc – first, by recruiting Benny Gantz to the listing ship, on the reasonable assumption that his entry would force the stubborn Gabbay to disembark.
The most recent survey she commissioned, about a week ago, was conducted by a well-known pollster and was analyzed by a leading expert who isn't inclined to pleasing the clients. The poll presented a scenario in which a center-bloc was formed, headed alternately by all the usual suspects (Livni, Gantz, Ehud Barak, Moshe Ya'alon, Gabbay & Co.), their names appearing in changing order. The average result for the bloc was 33 Knesset seats.
Livni also examined what the future holds for Zionist Union if it doesn't join forces with other opposition factions, and she heads the slate: The poll said 20 Knesset seats – as opposed to 12 to 14 seats under Gabbay.
The question is why Livni, who undertook in writing and orally to be second on the party slate, and in return was appointed leader of the opposition, is examining a completely unrealistic scenario: Gabbay has no intention of leaving.
Livni's office didn't have an answer to that question. Maybe it's intellectual curiosity on her part, a theoretical exercise. Or not. In the meantime, she is saying no to Labor MKs who are imploring her to seize the reins and declare unilateral disengagement from Gabbay. In a situation where everything collapses, everything goes; she might go along with a "decision of the movement."
To be fair to Livni, it needs to be made clear that replacing Gabbay by one means or another (such as by encouraging the split that's erupting in Zionist Union as a first step) is not what she's after. She is genuinely striving to bring about something new. She has no problem giving up the top spot in favor of Gantz, who at the moment looks like a walking reservoir of Knesset seats. In such a situation, with Gantz taking the lead, she believes, Gabbay would wake up, hear the music and do the right thing.
Click the alert icon to follow topics:
ICYMI
Netanyahu's Israel Is About to Slam the Door on the Diaspora
Head of Israel's Top Art Academy Leads a Quiet Revolution
Ken Burns' Brilliant 'The U.S. and the Holocaust' Has Only One Problem
Israel May Have Caught the Worst American Disease, New Research Shows
Why the Head of ACLU's Human Rights Program Has Regrets About Emigrating From Israel
Netanyahu's Election Win Dealt a Grievous Blow to Judaism